Hi Friends!
Time for another round of Bean Bytes!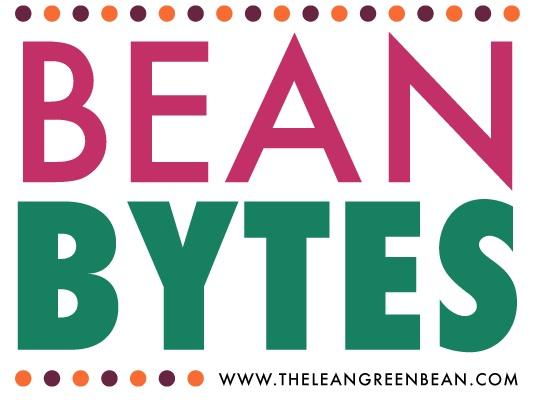 Monday
Writing tips:
6 Things Your Cover Letter Should Never Say but Probably Does via Brazen Careerist
6 Editing Tips To Make Your Writing Rock via The SITS Girls
Read and learn:
Why Organic and Conventional Milk Are Not the Same via Eating Made Easy
Another awesome ebook you can pre-order now!!!
Gluten-Free Breakfasts via The Healthy Maven
Work it out:
Beat the Heat: 6 Treadmill Boredom Busters via Babble
Love this:
Happiness: Why Owning It Can Change Your Life via MusselFit
Good tips:
3 Tips for Public Speaking via Brazen Careerist
9 Silly Pinterest Mistakes Only Rookies Make via Hubspot
Tuesday
Think about it:
Negative Body Image Knows No Body Type via The Lunchbox Diaries
Good Food, Bad Food, Guilty Food via An Avocado A Day
A Note on Fattism and Fat Shaming via Food & Nonsense
The Hypocrisy of Women's Fitness via Feminine Muscle
Are you doing it right?
5 Ways To Truly Brace Your Core via Your Trainer Paige
More great meal planning tips:
How To Meal Plan Without Losing Your Mind- Part 2 via Gabby's Gluten Free
Good advice:
The Do's & Don'ts of Handling A Picky Eater via Eating Made Easy
So important for women:
It Whispers, So Listen via Grab Your Kicks
Wednesday
Good life lessons:
The More You Take Away, The Better It Becomes via A Gutsy Girl
27 Things You Won't Regret When You're Older via Buzzfeed
If Mama Ain't Healthy, Ain't Nobody Healthy via Carla Birnberg
Note to Self: Stop Standing In Your Own Way via Fit & Free Emily
Do you agree?
Dear Companies, Love Bloggers via Olive to Run
Make meals easier:
5 Tips For Easing Mealtime Stress via Real Mom Nutrition
Read and learn:
Planks & Bridges for Core Stability via EleVEN
Thursday
What do you think?
I've Always Hated Dr. Oz But Don't Think He's 100% To Blame via Erica D House
Read and learn:
Social Media and Self- Promotion- How Much Is Too Much? via Buffer
Zooming In On Brands & Industry- Part 2 via Sound Bites
Great read:
Is Your Body Bikini Ready? Should You Care? via Jacki Hayes
Friday
Love:
The Sum Of Small Efforts Repeated via Cotter Crunch
What's The Best Way To Get Fit via Better with Veggies
On my list of things to do:
Two Food Photography Surfaces via Slim Sanity
Yes:
Why Muscle Mass Trumps BMI via Babble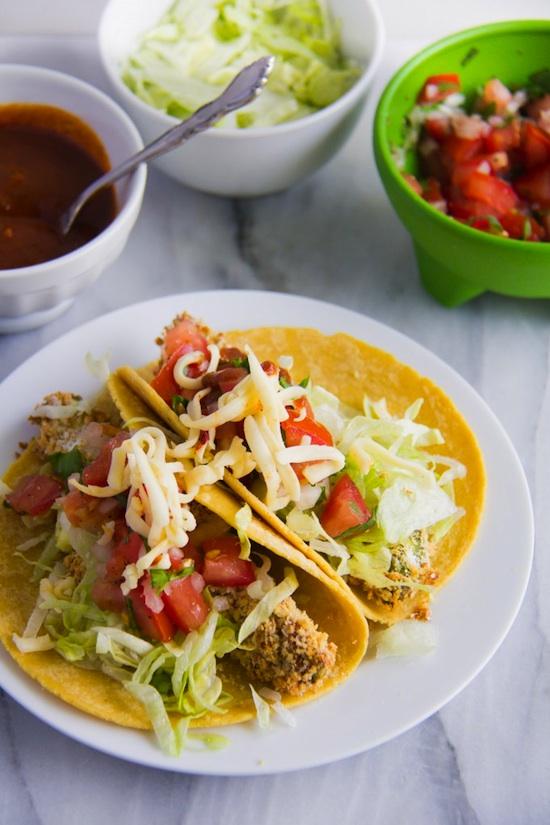 Healthy White Bean Dip with Avocado
Key Lime Pie Smoothie
Cold Brew Coffee
How To Sub Ground Turkey For Sausage
Lemon Blueberry Waffles
19 Healthy Summer Salads
The Best Dark Chocolate Granola
Gluten Free Summer Berry Skillet Crisp
Sprouted Quinoa Black Bean Burgers with Pineapple Salsa
Chopped Greek Salad
Wild Blueberry Breakfast Rolls
Pineapple Avocado Salsa
Inside Out Grain Free Oreos
Greek Turkey Burgers
41 Sneaky Ways To Eat More Veggies
25 Healthy Green Bean Recipes
Chicken Noodle Salad
One Pot Fudge Brownies
How to Brew Kombucha
Avocado Chocolate Grilled Cheese
Fruit Salad with Mint and Maple
Watermelon Mint Slushies
Nutter Butter Butterscotch Smoothie
Bell Pepper Pizzas
Summer Chicken Chili Verde
Blackberry Mojito
Easy Chicken Parmesan
Cinnamon Whole Grain Power Pancakes
Crispy Avocado Tacos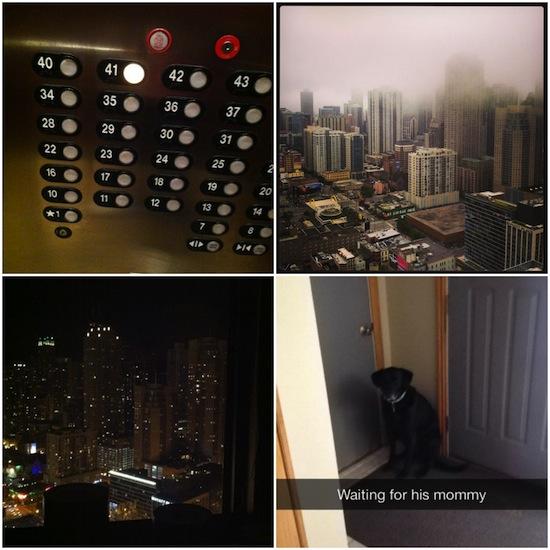 This weekend was a bit of a whirlwind. My BFF since middle school was having her bridal shower in Chicago. Her wedding is one week before my due date so I won't be able to make it to the actual big day, so I wanted to be sure to be there for this! My sister lives in Chicago and my mom was going to the shower as well, so we crashed at my sister's place. She lives on the 41st floor- wayyyyy up high. But the view is killer.
Tucky missed me.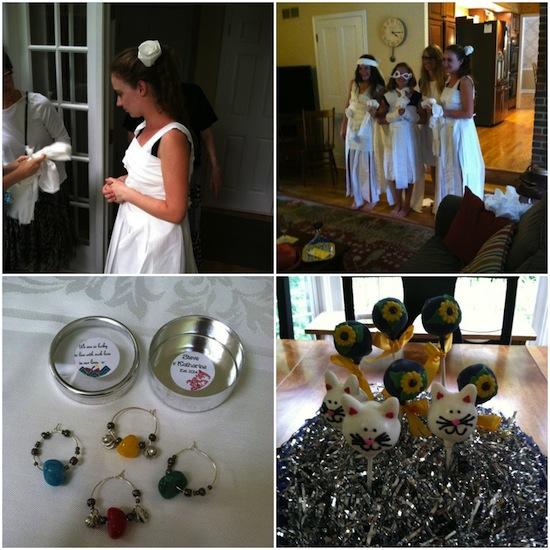 I flew in around 8:30AM on Saturday since I didn't want to leave hubby to fend for himself one-armed for too long. My parents are thinking about moving to Chicago so I went and looked at some places with my mom for a few hours and then we headed to the shower. We made toilet paper dresses- her nieces were the models. See that rose in her hair? I made that. I've got skillz. We also made wine charms to take home…and there were cat cake pops 🙂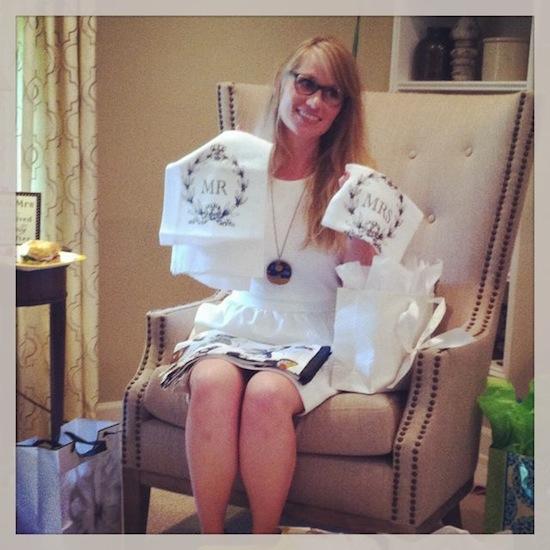 She got lots of great stuff and it was great to see her, if only for a few hours.
After the shower my mom and I drove back into the city in a torrential downpour and then headed out to dinner with my sister.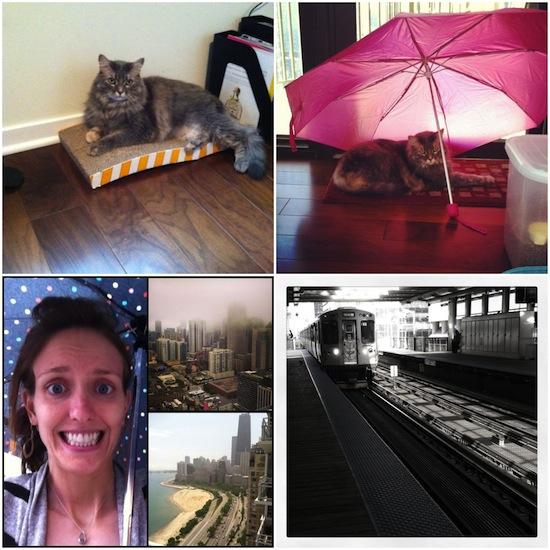 That's my sister's cat Bella. We experienced all kinds of weather in 24 hours- fog, rain, sun, etc! And just 24 hours after I arrived, I was back at the airport heading home.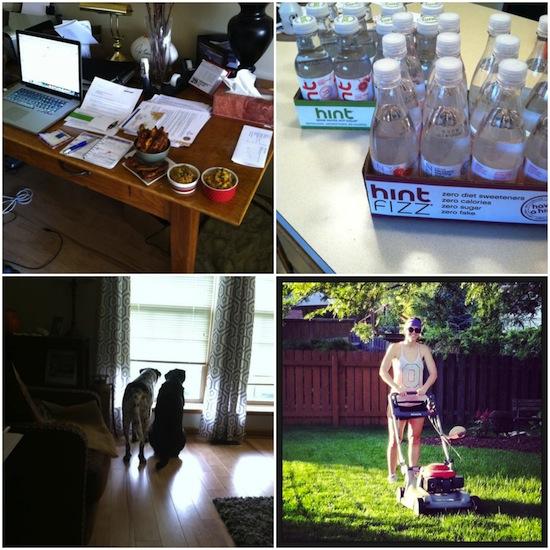 I got home around 2:30 Sunday afternoon, took a 2 hour nap and then mowed the lawn.
Typical scene on my desk. Computer…papers everywhere….food waiting to be photographed.
I was sent some Hint Water to try. Have you tried it? They generously sent me both the fizzy and regular kinds. I like the product because it's calorie-free, there's no artificial sweeteners and it's non-GMO. I'm usually not a fizzy water kinda girl, but I tried the blackberry and I actually liked it better than the regular peach that I tried next!
There are so many delicious-sounding flavors…I'm excited to try them all. I'll keep you posted on which I like best. Thanks again to Hint for the samples!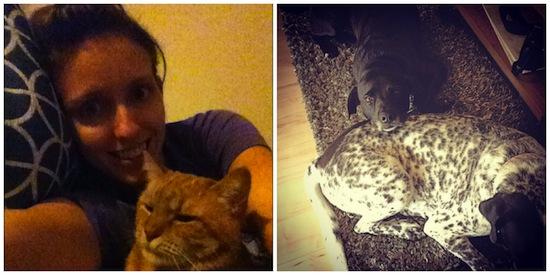 And just a few pics of the buddies to round things out 🙂

My Healthy Living Philosophy
15 Minute Social Media Audit
Non Dairy Milks- From Solution to Problem
Fat: Ending The War Nobody Started
Feeding Heavy and Thin Kids Together
Don't Call Me Beautiful
Keeping Yoga Real
Hypothalamic Amenorrhea Q&A
Dr Oz Grilled In Congress
I Don't Want Kids
How To Remove A Tick
Social Media Cleanse Reflections
9 Little Things We Forget To Be Thankful For
FDA Prepping Long Awaited Plan To Reduce Sodium
Create A More Sustainable Household This Summer
Mental Energy
While We're At It, Let's Ban Sorry
15 Things You Don't Owe Anyone At All
BPA Free Chemicals in Bottles Still Harmful
How To Cut A Cake- We've Been Doing It All Wrong
Life Is A Typo
Is It Rude To Eat Differently From My Family And Friends?
That's all for today!
Enjoy!
–Lindsay–