Hi Friends!
It's Monday again. Sit back and enjoy another round of Bean Bytes!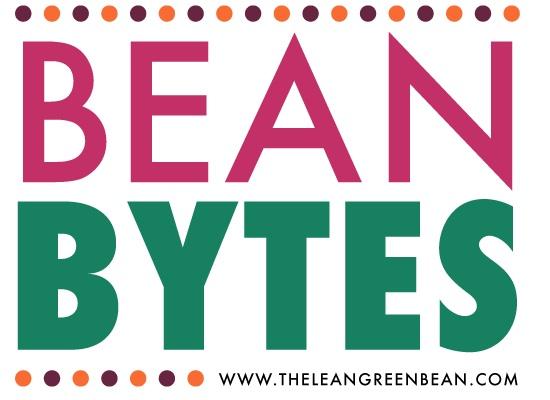 Monday
Wanna take better photos?
Food Photography Styling via Handle The Heat
What would you say?
A Letter To My Body via Jill Conyers
Work it out:
Tank Top Arms & Core via Purely Twins
Tuesday
Lots of good ones on this list:
25 Convenience Foods That Are God For You via Eating Made Easy
Get up and go!
Make Waking Up Easier via Wildly Fit
Crazy:
What Happened When I Went To McDonald's HQ via Real Mom Nutrition
On breastfeeding:
Breastfeeding Q&A via Food Fitness & Family
8 Tips For Breastfeeding A Newborn via A Healthy Slice of Life
Work it out:
Full Body Workout via She Rocks Fitness
Interesting:
Why Life As A Food Writer Isn't As Glamourous As You'd Think via Greatist
Eat when you're hungry:
Hunger Calling? The Clock Says No via The Big Man's World
Wednesday
Good reminder:
Look Up! It's Good For You via CandyFit
Love these:
Blessings of a Shattered iPhone via Carla Birnberg
How To Make Friends With Food via Guilty Kitchen
To The Class of 2014 via The Wannabe Athlete
Living with food allergies:
Easing the Burden of Food Allergies via Side of Sneakers
Bring Your Own Food via Living With Food Allergies
Breaking it down:
Juicing for Weight Loss via Food and Nonsense
Do this:
How To Remember Where You Planted Things via DIY Playbook
What exercises do you love to hate?
Posture & Stability via Miss Zippy
On nutrition:
Can Drinking Diet Soda Really Help You Lose Weight via Erica D House
Sports Nutrition- Should We Stop Counting Calories via Run to the Finish
Work it out:
20 Minute Bootcamp Workout via Peanut Butter Fingers
33 Ways to Exercise At Work via Greatist
Do you agree?
7 Outrageous Requests To A Food Blogger via Will Write For Food
Love:
I Don't Care If You Don't Crossfit via I Failed Fran
Thursday
Work it out:
2 Awesome Strength Workouts for Runners via According To Elle
Hill Sprints for Endurance via Lindsay's List
Push-Pull Kettlebell Workout via Blonde Ponytail
Good tips:
Work From Home? Don't Make These Mistakes via Brazen Careerist
3 Mindful Breathing Techniques For Wellness via Energy We Bring
Friday
Are you?
Hate To Cook? You Might Be Making These Mistakes via Eating Made Easy
Good read:
A Healthy Baby Is Not ALL The Matters
Need to work on this:
Easy Ways To Add Balance Training To Your Workouts via Fit Knit Chick
Work it Out:
The Lure of the Run Streak & Why I'm Not via Run To The Finish
3 Step Fitness Plan for Shift Workers via Thrive Fitness
Things to think about:
Designing A Meal Plan via A Couple Cooks
5 Reasons Your Child Eats Differently Than You via Raising Healthy Eaters
Amazing:
How To Make Your Own Wedding Cake via A Doctor in the House
5 Surprising Questions About Body Love via Corinne Dobbas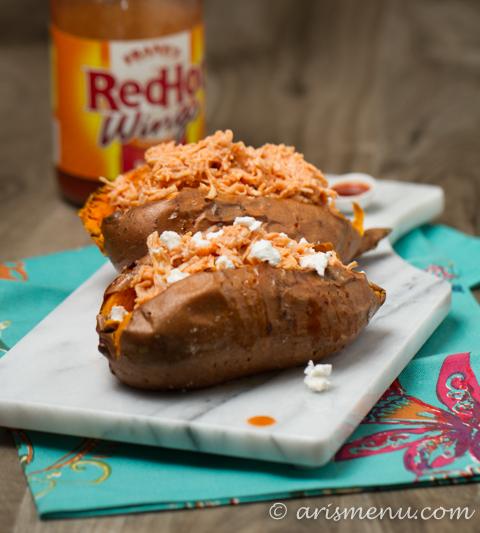 Pesto Stuffed Turkey Burgers
Sweet Potato Gnocchi with Asparagus & Onions
Super Seed Chocolate Chip Cookies
Buffalo Chicken Stuffed Sweet Potatoes
Salted Chocolate Oatmeal Smoothie
Vegan Whole Grain Pancakes
Chocolate Chip Zucchini Muffins
Smoked Cheddar Mac & Cheese with BBQ Tofu
Spinach and Feta Salmon Burgers
Thai Veggie Bowls
Summer Caprese Burger
Wheatberry Chicken Salad
Breakfast Pizza Sandwich
83 Healthy Recipe Substitutions
Chocolate Peanut Butter Protein Pancakes
Peach & Tempeh Hash
Cilantro & Chili Lime Almond Pesto
Cream Cheese Frosting For Breakfast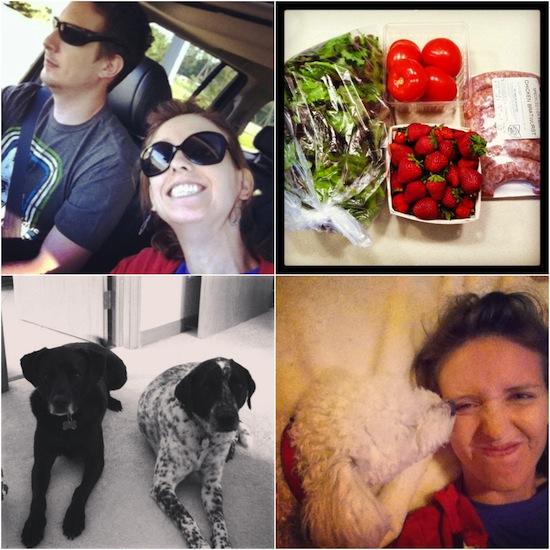 First trip to the farmer's market this year.
Love my pups.
Kisses from Muffy, our friends' pup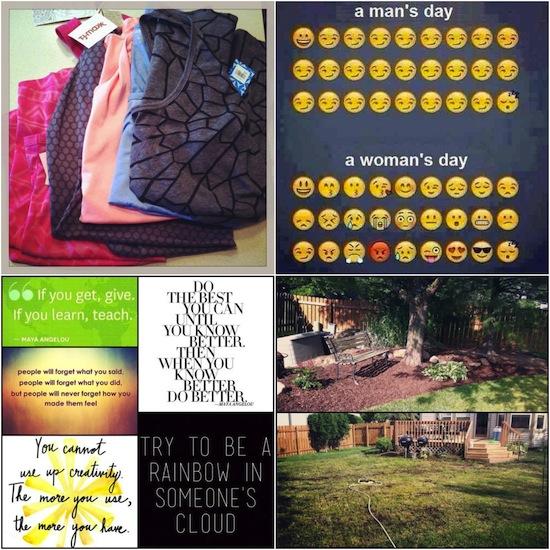 Needed some new, cheap workout tanks that were looser fit.
Had success at Marshall's, TJ Maxx and Old Navy.
Hilariously true.
Maya Angelou quotes – RIP.
Weekend yardwork- worked on the back bed and then leveled and reseeded half the backyard to fill in some of the holes the dogs have dug.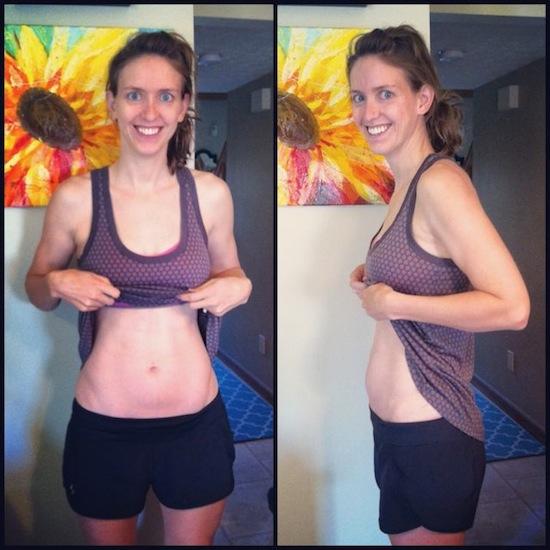 20 weeks! This week was a little rough. The nausea is getting a bit worse again. Still better than the early weeks but after a couple of decent weeks, this one was tough. Breakfast was also tough this week. It hasn't been a problem my whole pregnancy so I'm still trying to figure it out…but my oatmeal was making me sick so I settled for Cheerios and milk most days which seemed to go alright. Other than that, just looking forward to our big appointment today! Will keep you guys posted 🙂

Easy Herb Garden
How To Tell If Your Body Is Bikini Ready
Changing Expectations About My Body
No Need To Refuel After Routine Workout
Blogger Trips Make Dollars & Sense
Advice From A Former Herd Follower
A Letter To My Growing Baby
So Where Do Men Fit In To The #YESALLWOMEN Movement
Sensitive To Gluten? A Carb In Wheat May Be The Real Culprit
How I Got Started Freelance Writing
All Joy & No Fun – The Paradox of Modern Parenthood
What If You Had Nothing To Lose?
Hungry For Truth- Why Identification Is The First Step
Don't Like Crossfit? We Don't Care
Want To Grow Your Business? Stop Lying To Yourself
Diet Lures & Diet Lies
 That's all for today!
Enjoy!
–Lindsay–