Hi Friends!
Time for Bean Bytes…so let's get right to it!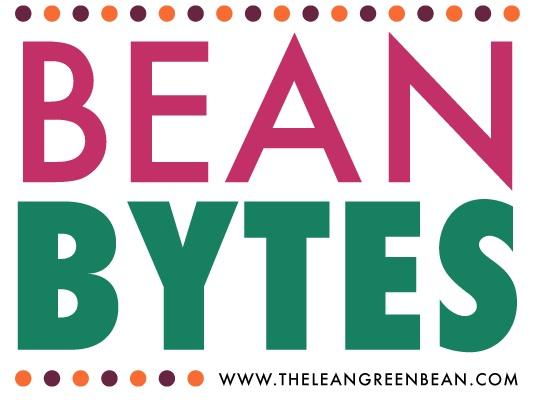 Monday
Helpful:
How To No-Follow A Link via My Crazy Good Life
How To Buy Used Stuff Without Getting Screwed via LifeHacker
Beginning A Meditation Practice via Zen & Spice
Interesting reads:
My Writing Process via Love Life Surf
Stop Attacking Looks, Start Attacking The Problem via Olive to Run
Chemicals In Beauty Products via Reach Your Peak
Why You Should Timestamp Your Blog Posts via Hubspot
Love this:
9 Habits of People With A Healthy Relationship To Exercise via Huff Post
Tuesday
Good reads:
Mother's Day Is Hard For Some But Doesn't Mean We Shouldn't Celebrate via The Sweet Life
How Marriage Is Like Fitness via MCM Mama Runs
Awesome, free download:
5 Steps To Finding Exercise Happiness via Fit Knit Chick
Great list:
Healthy & Affordable Pantry Staples via Kath Eats
Read and learn:
7 Super Nutritious Gluten-Free Grains To Add To Your Diet via The Spicy RD
Food Photography- Capturing Motion via Edible Perspective
3 Actionable Tips To Improve Your Blog with Google Analytics via Blog Genie
Workouts:
Full Body Resistance Band Workout via Workout Nirvana
Lucky 13 Min Workout via Crazy Running Girl
Tabata Workout via Peanut Butter Fingers
10 Min Workouts You Can Do At Your Desk via Peanut Butter Fingers
Full Body vs. Split Workout Routines via Reach Your Peak
20 Minute AMRAP via Blonde Ponytail
Wednesday
Lessons learned:
Letting It All Hang Out via Mom's Little Running Buddies
Master Morning Motivation via Fit 2 Flex
What do you think?
Photoshop: Harmless Fun or Loaded Gun via Food and Nonsense
Good tips:
How To Be PR Friendly With Your Blog via The SITS Girls
Great idea for new moms:
Breastfeeding Essentials Kit via New Leaf Wellness
So many good ideas here:
Lazy Guy Dinners via Kath Eats
So fun!
Edible Finger Paint for Toddlers via Steph's Bite By Bite
Thursday
Helpful:
What To Do When Your Blog Content Gets Stolen via The SITS Girls
Loved:
8 Habits To Stop When I'm A Mother To A Daughter via Feminine Muscle
Real Tiny Wins via Healthy Helper
Weekly Cleaning That Works via Fit Mama Real Food
How Playing Freeze Tag Will Make You A Better Parent via Love Life Surf
Fun contest:
CA Avocado Snack Photo Contest via The Scoop
Great food ideas for the kiddos:
Baby Bites via Peas and Crayons
Been waiting for this girl to start a blog forever! We did our dietetic internship together and she's awesome:
Spiced Oatmeal Pear Bake via Whole Living Lauren
What do you think?
Why It's Ok To Say I'm Proud of You via Bendiful
Friday
Good tips:
How To Start A Blog via Running With Spoons
11 Tips & Tricks That Don't Actually Work via Hubspot
Healthy Eating on a Budget via Teaspoon of Spice
What To Do If You Hate Counting Calories via Corinne Dobbas
Texas friends, check this out for the kiddos:
Camp Spark via Cotter Crunch
Can you relate?
I Feel Sexy Naked & Fat In My Clothes via The Little Honey Bee
Important:
Tips To Stay Cool While Exercising via Fit Knit Chick
Embracing Our Post Baby Bodies via Girls Gone Strong
Awesome:
Spring Clean Your Blog In 10 Steps via Katy Widrick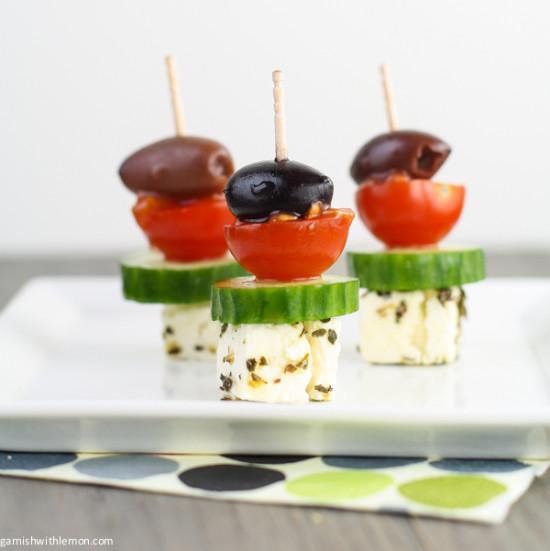 Berry Crisp Lemon Ricotta Pancakes
Sweet & Salty Roasted Pepitas
Slow Cooker Orange Shredded Beef
50 Ways To Enjoy S'Mores
12 Healthy Recipes For The Grill
Cinnamon Sugar Banana Pecan Bread with Raspberry Butter
Gluten Free Chocolate Chip Cupcake
Greek Salad Skewers
Birthday Cake Ice Cream Sandwiches
Gluten Free Sweet Potato Pancakes
16 Spring Cocktails
Baked Pita Chips with Za'atar
Protein Fudgesicles
Mughlai Paratha
Banana Wheat Germ Pancakes
How To Make Chia Seed Jam
10 Healthy School Lunch Ideas
50+ Gluten Free Recipes
Pesto Chicken Salad
High Protein Breakfast Ideas
Almond Joy Bars
Pineapple Mojito Chicken
Cornmeal Crusted Scallops & Watermelon Feta Salad
Spicy Lime Chicken
Bacon Lime Sweet Potato Salad
Plantain Tortillas
400+ Healthy Recipes
Margarita Shrimp Tostadas
Dark Chocolate Strawberry Ice Cream
Thai Peanut Dipping Sauce
White Chocolate Lemon Raspberry Tart
Boozy Citrus Whipped Goat Cheese Popsicles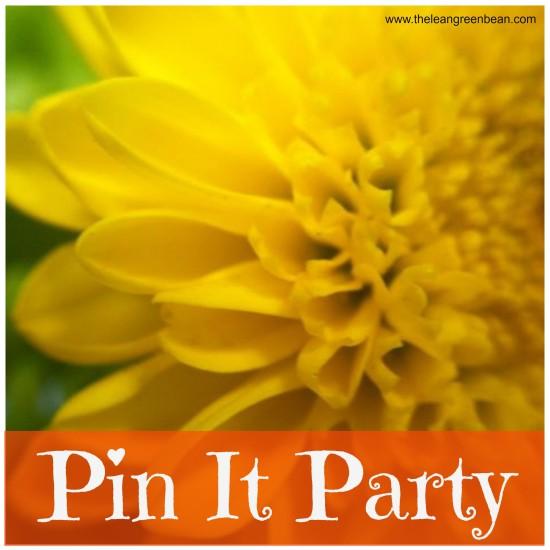 I'm hosting another Pin It Party! This one will be on Thursday, May 22nd! In case you missed the last one, here are the details:
All bloggers are welcome to participate! Here's what you do:
Round up 5 blog posts you've written that you would like to see on Pinterest.
Make sure there is a nice, pinable image or photo included in each post.
Write a short post featuring the posts you chose- ie, put 5 nice images & links to the posts all in one place, along with a short description of each post.
On Thursday, publish your post, then visit The Bean and add your post to the linkup! (If you're just reading this today and still want to participate, just publish in the next few days…I'll leave the linkup open for about a week!)
The only rule is this:
If you add your post to the linkup, please take a few minutes to visit at least three other posts  and pin some of their images!
Check out my last Pin It Party Post if you want an example!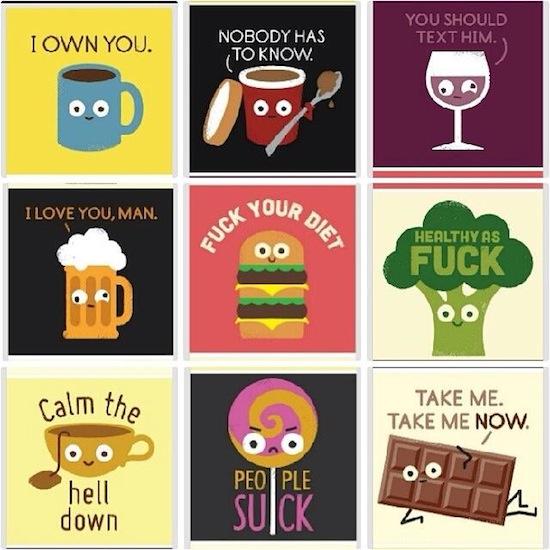 So awesome.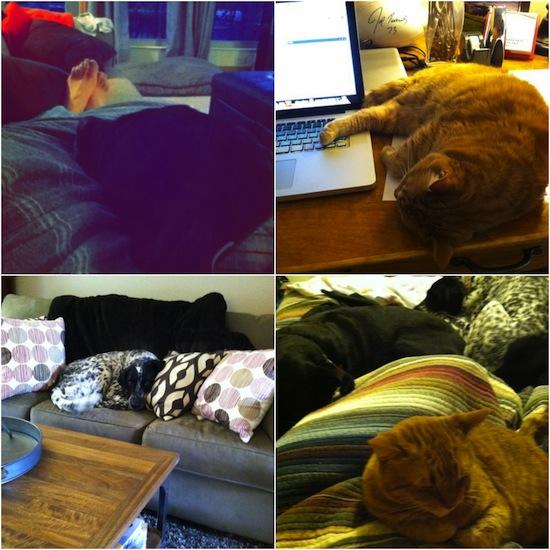 Rainy nights with Tucky.
Go ahead and make yourself comfortable Marcus.
Abner sneaking up on the good couch.
Animal pile at bedtime.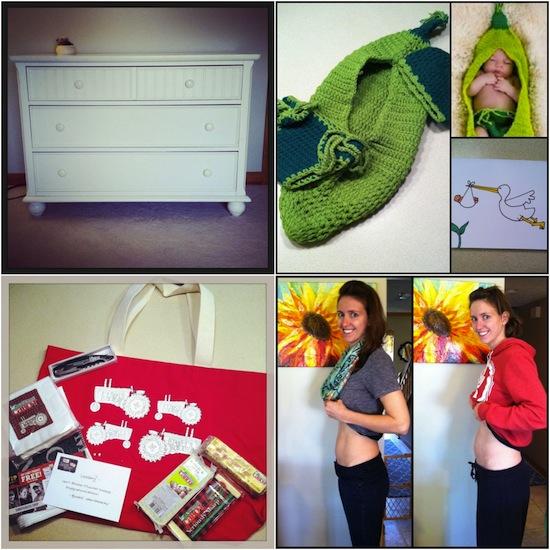 We found an awesome dresser for baby bean on Craigslist!
My BFF found baby bean a bean pod!
Can't wait to take pics in it.
Goodies from my friends at Cabot. How awesome is that tote bag.
Bump update: 13 weeks vs 18 weeks.
Last week was much better than the week before. I've finally gotten to the point where I'm not nauseous all day every day. Thank goodness! I'm still getting nauseous, but there are at least spans of time throughout the day where I feel good. This led to a few great days early in the week, a few so-so days mid week and a pretty good weekend. I spent a lot of the weekend laying around watching the live stream of the Crossfit Regionals competition. Loved it. Hubby and I also ran a lot of errands and made some productive purchases including a new TV and lamp for our bedroom and some curtains for the nursery! Here's to another good week hopefully!

5 Hidden Sources of Gluten Cross-Contamination
The Secret To Peeling Hard Boiled Eggs
Why You Don't Want To Look Like A Model
15 Things I Don't Pay For Anymore
My Gluten-Free Pet Peeve
Blogger Guidelines For Personal Sponsors
Looking Back on Motherhood
The Best Organic Ice Cream
Louis CK Apologizes To The Fat Girls
Diet The Diet For Intuitive Eating
Being Bullied Is Bad For Your Health
25 All-Time Favorite Vegan & Gluten-Free Dishes
Be Grateful For Your Worst Day
Dear Katie Couric- Let's Do School Lunch
How To Break Out of Scale Jail

Are Cleanse Diets Really A Good Idea?
Breakfast Cereals Have Too Much Sugar
Exercise "Snacks" To Control Blood Sugar
That's all, friends!
Enjoy!
–Lindsay–