Hi Friends!
It's Bean Bytes time again!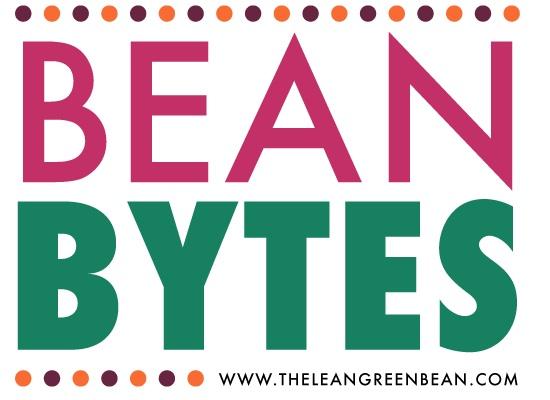 Monday
Good ones:
10 Truths About Parenting via Making Good Choices
Get started!
How To Plan A Garden via Back To Her Roots
Work it out:
Boost Marathon Performance with Walking via Run To The Finish
8 Kettlebell Exercises To Tone Your Thighs via Feminine Muscle
How To Successfully Stick To Your Workout Program via Your Trainer Paige
Good tips:
Food Prep: Where to Begin via Nut Butter Runner
On BMI:
A Number That May Not Add Up via The New York Times
Beautiful…on adoption:
Not Flesh Of My Flesh via A Gutsy Girl
Read and learn:
Dehydration and Performance via The Fueled Athlete
A must watch. Tell your mom you love her:
24 People Applied For The World's Toughest Job
Tuesday
Interesting:
The Difference Between Building Muscle & Building Strength via Cotter Crunch
Workout Nutrition:
What To Eat Before, During & After Exercise via Precision Nutrition
Fueling For Sports via Kath Eats & Fresh Food Perspectives
Adorable:
22 Photos That Prove Why Babies Need Pets
Yes:
When Fitness Degrades Women & What We Can Do About It via Lift Like A Girl
Embracing Your Own Standards via Gabby's Gluten-Free
Helpful:
A Guide To Salad Greens via Oh My Veggies
How To Set Up Gmail As Your Browser's Default Email Client via Hubspot
8 Things That Trip You Up When Blogging & How To Fix Them via Hubspot
Wednesday
Looks like a good one:
A Peek Inside My New Cookbook via Real Mom Nutrition
Love this:
A Weekend Lover's Approach To Marathon Training via According to Elle
How longer runs can affect dogs too:
5 Tips For Running With & Fueling Dogs via Running Escapade
What do you think?
Will Walmart's Latest Move Be The Tipping Point For Organic Foods via Fooducate
Travel often?
Healthy Airport Eats via The Get In Shape Girl
Good tips:
5 Tips To Improve Your SEO via The Healthy Maven
Thursday
Get that heart rate up!
25 Best Heart-Thumping Exercises via Feminine Muscle
Help them out:
New Mom-Friendly Meal Ideas via An Avocado A Day
What's your fav?
76 Ways To Use Coconut Oil In Your Everyday Life via Greatist
Liked these:
14 Habits of People With A Healthy Relationship With Food via Huff Post Healthy Living
Friday
So important:
Preventative Maintenance: Massage & Chiropractic via Better With Veggies
Single leg movements:
Single Leg Lift with Windshield Wiper via Katy Widrick
Single Leg Deadlifts via Girls Gone Strong
Get up and get fueled:
5 Simple Breakfast Foods To Fuel An Early Workout via According to Elle
Lots of good ones!
11 Helpful WordPress Plugins via Running with Spoons
Another great tip:
How To Make An Object Float- Photography Tutorial via Fit Food Finds
Eye-opening:
What I Learned From My Grandma's Dishes via Real Mom Nutrition
Love:
Strong Is The New Pretty via Athleta Chi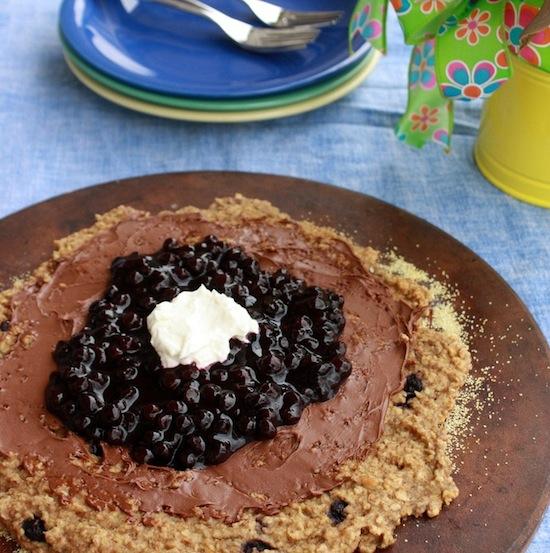 Apple Cheddar Stuffed Chicken
Peanut Butter Sesame No-Bake Bars
Peanut Butter Cookie Dough Brownies
5 Ingredient Inside Out Peanut Butter Cups
25 Recipes for Cinco de Mayo
Strawberry Cobb Salad
Banana Bread Protein Bars
Gluten-Free Banana Oatmeal Bars
Lemon Berry Angel Food Trifle
Flourless Lemon Poppyseed Muffins
Soft & Chewy Skillet Chocolate Chip Cookies
6 Ways To Eat A Hardboiled Egg For Lunch
Loaded Chicken Salad with Yogurt Ranch
Sweet Potato Breakfast Bars
Apple Cider Vinegar & Grape Antioxidant Drink
Tahini Swirl Brownies
Fudgy Paleo Skillet Brownies
Spicy Peanut Chicken Soba Noodles
Bacon Wrapped Candied Butternut Squash Bites
Black Bean Hummus
Baby Pops!
Caprese Salmon Quiche
Rhubarb Upside Down Cake
Vegan Strawberry Scones
Sea Salt Dark Chocolate Waffles
Wild Blueberry Breakfast Pizza
Mixed Berry Chia Seed Jam
Sweet Potato Protein Chocolate Chip Cookies
Cinnamon Sugar Roasted Radishes
Smarter Sushi Choices
Chocolate Maca Hemp Spread
Grain Free Super Fruit Bread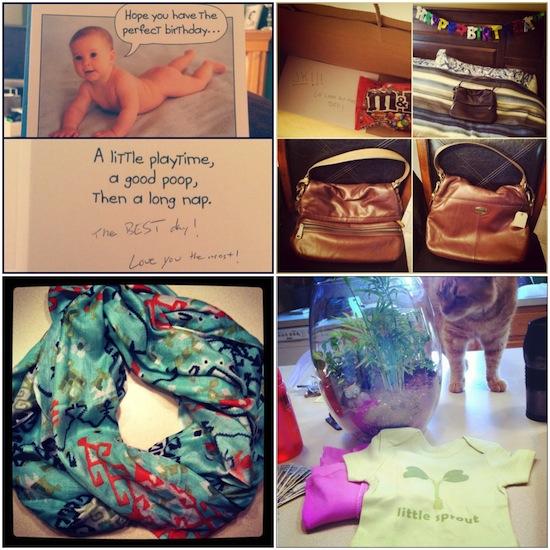 Birthday loot!
Hilarious card from hubby.
Hubby surprised me with the new purse I've been wanting!
New scarf from my BFF.
My inlaws got baby bean an adorable onsie and my MIL made me a terrarium!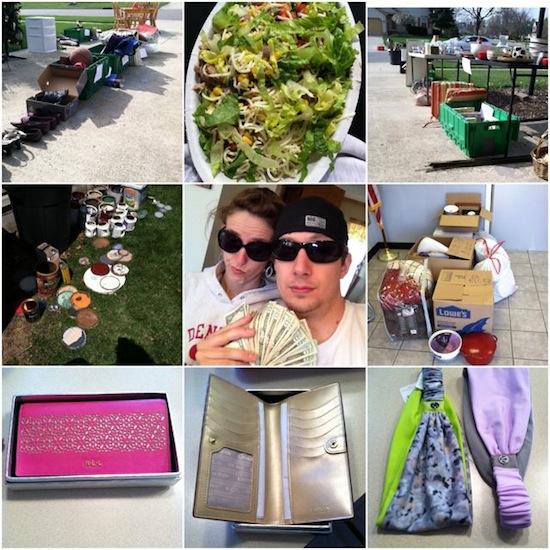 Weekend scenes
Garage sale with Chipotle lunch.
Drying out old paint cans.
Garage sale swag.
Donating what didn't sell.
Bought myself a new wallet with some bday money.
New lulu headbands from my frands!
We had a very successful garage sale. Friday is definitely the day to have them. We had almost no traffic on saturday and shut down after only 2 hours. Luckily, we got rid of a TON of stuff on Friday and didn't have all that much left to donate when we were done. The future nursery, which we'd been using as a storage room, is now empty, which was the main point of the sale…so that's good!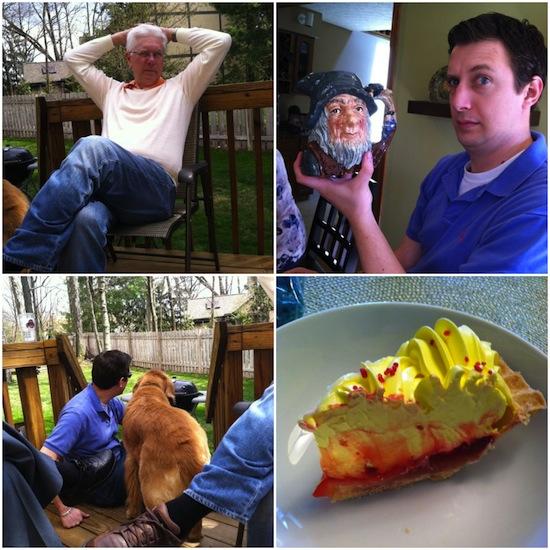 Easter scenes.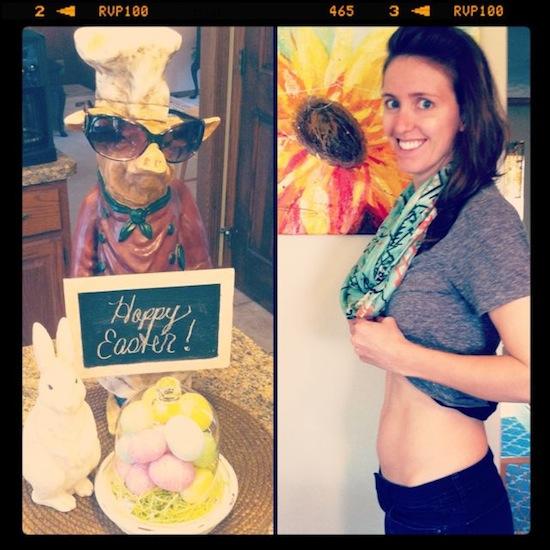 For those of you who have been asking, Sunday marked 14 weeks so here's my "officially done with the first trimester" bump 🙂
And a quick update: Still feeling sick…especially in the late afternoon, evening and night hours. I'm hoping sometime in the next 2 weeks it will start to improve. Also definitely getting more tired. Getting ready for and having that garage sale definitely wore me out. On the plus side, I ate raw veggies with hummus twice this week, which hasn't happened since before I found out I was pregnant…so that's progress!

Make Your Own Eye Makeup Remover
15 Famous Landmarks Zoomed Out
Blogger Pulls of $30,000 Sting To Get Site Back
How To Write A Professional Social Media Bio
Honeymaid Has Beautiful Response To Hateful Comments
The Secret To A Gazillion Blog Post Ideas
10 Healthy Meal Ideas To Make With A Spiralizer
Latest Trends in Headline Creation
Can Heavy Lifting Make You Bulky
34 Ways To Make Your Stuff Last As Long As Possible
How Your Thoughts Fool Your Stomach
Organic Is Not A Synonym For Healthy
10 Tech Commandments To Avoid Digital Shame
Married to A RD
Why We've Become So Obsessed With Judging Other Peoples' Food Choices
99 Sites Every Professional Should Know About & Use
How To Make A Bento Box for Kids
Why I Need A Law To Help My Daughter's Body Image
How To Raise An Independent Child
That's all for today!
Enjoy!
–Lindsay–