Hi Friends!
Time for more Bean Bytes!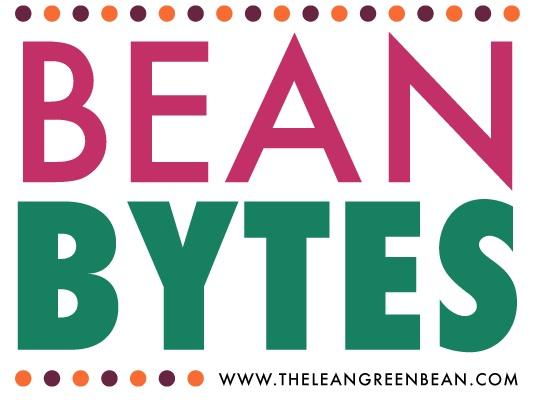 ———–
Link Love
———-
Monday
Pay it forward:
Creative Ways to Pay It Forward via Olive to Run
25 Ways to Pay it Forward via Mind Body Green
Blessing Bags for the Homeless via Lauren Conrad
This is AWESOME:
Change our #fitspiration via Healthy Helper
Eat more veggies:
How To Get Excited About Eating More Veggies via Run To The Finish
This:
10 Things I Want My Boys to Know About Girls via FoodTrainers
Take note:
Most Important Things Young Professionals Should Know About Personal Finances via Brazen Careerist
Do you?
Girls, Do You Fuel Properly For Your Sport? via Food & Nonsense
On recovery:
I'm Not Your Hero & Do We Ever Get Past 80%? via The Soulful Spoon
Watch them:
10 Inspirational, Funny & Beautiful TED talks via Oatmeal in my Bowl
Give back:
PBF Gift Guide: Gifts That Give Back via Peanut Butter Fingers
Tuesday
Fun crafts:
DIY Glittery White Mason Jars via How Sweet Eats
Homemade Cinnamon Ornaments via Back To Her Roots
Polka Dot Holiday Door Mat via DIY Playbook
Build one!
How To Build A Super Salad via Fit 2 Flex
Truth:
It's Not The Fat via The Gypsy Dietitian
Wednesday
Informative:
Don't Be Fooled By These 6 Freelance Job Posting Scams via Brazen Careerist
7 Common Misconceptions about SEO via Hubspot
Thought Provoking:
What If Wednesday via Life to the Full
Be kind:
A Holiday Plea: Let's Be Nicer on Facebook via Real Mom Nutrition
Thursday
Helpful:
How to Chop Herbs via Sweet Foodie
Bookworm? Read these:
10 Books to Read in 2014 via The Sweet Life
What do you think?
Can You Cheat Clean? via Food Trainers
Must read:
How To Learn From The Blogger Uproar via Katy Widrick
Friday
Easy, Inexpensive Gifts!
DIY Homemade Lip Gloss via I Dream of Pretty
DIY Holiday Decor Under $5 via Pomegranate Bandit
28 Gifts to Make When You're Broke via Buzzfeed
Awesome cookbook for a great cause:
BLD: Breakfast, Lunch & Dinner via Inspired RD
Are you doing it?
Leading a Life Filled With Grace & Kindness via It Started With Lipgloss
Awesome:
7 Dynamic Warmup Moves for Runners via Matters of Course
Best advice:
Self Esteem & The Victoria's Secret Fashion Show
Local. Fresh. Preservative Free. Beware of Labels via A Gutsy Girl
Interesting:
Why I Stopped Drinking Almond Milk via The Kitchen
Yes:
Supplements Are Not The Cure via The Fueled Athlete
If You Don't Have Anything Nice To Say, Skim My Article & Leave a Comment via Thought Catalog
Self – Love: What Your Facebook NewsFeed Won't Tell You via Striving Onward
Teaching Our Kids Giving Over Greed via Mothering From Scratch
Awesome:
Use Instagram to Plan Your Next Trip via Live Do Grow
——-
Yum
——
Gingerbread Cookie Dough Cups
Chocolate Chai Snickerdoodles
Roasted Sweet Potato Soup w/ Grilled Cheese Croutons
Streusel Topped Blueberry Coffee Cake
Maple Syrup Snow Taffy
Peppermint Hot Chocolate Bites
Caramel Stuffed Ginger Molasses Cookies
Gluten-Free Blueberry Bundt Cake
Chocolate Gingerbread Brownies
Brussels Sprout Salad with Cranberry Dressing
Healthier Banana Pudding
Dark Chocolate Gingerbread Ice Cream
Slow Cooker Cinnamon Almonds
Cranberry Orange Vodka
Gingerbread Spiced Nuts
Pumpkin Beer Bread
Dark Chocolate Almond & Blueberry Clusters
Healthy Chocolate Cake
————
Scenes From The Week
————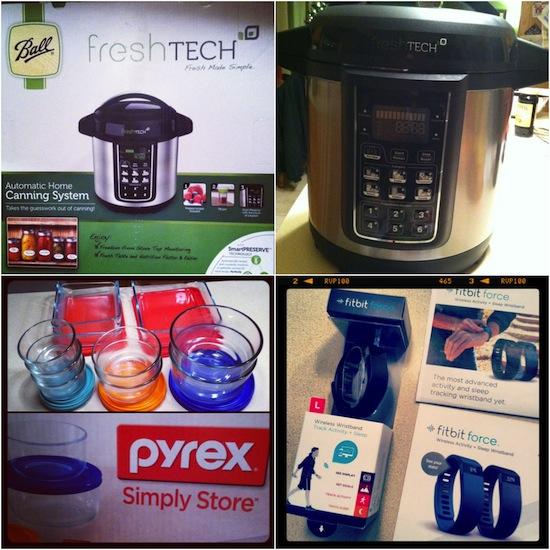 1 & 2. Excited to review this automatic canner thanks to Food & Nutrition magazine! Stay tuned!
3. Got my Black Friday pyrex…so in love. Wish I'd bought two sets!
4. Look for a review and giveaway of the Fitbit Force on the blog Friday!
1. Hah.
2. Hubby and I donated 6 bags of clothes to AmVets this weekend!
3. The Little Mermaid was on TV Saturday night. Night made!
4. Handy little chart about produce shelf life.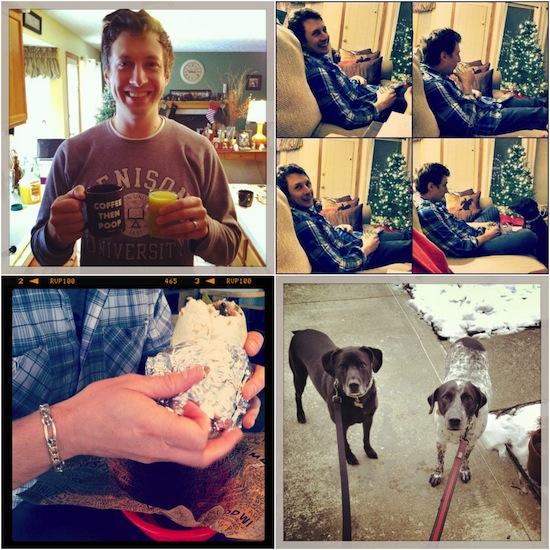 1. Love this guy and his two favorite drinking glasses
2. Love him 🙂
3. Chipotle and hubby showing off the sweet bracelet I got him last xmas. So stylish.
4. Instead of driving, we leashed up the boys on Sunday morning and walked to the post office to mail our xmas cards, dropped off a book to our friend at the gym and deposited checks at the bank!
————-
Twitter Favs
————
7 Reasons People Unsubscribe From Your Email
Best Gloves For Winter Running
7 Solutions to Flawless Communication
Removing Seasonal Labels
Do Sugar Sweetened Beverages Cause Cancer
10 Things Parents Should Never Do
Barbell Squats vs Leg Press
Unleash Your Creativity At Work
Is Facebook Making Us Forget?
The Best Body Image Advice I Could Possibly Give You
11 Life Lessons From Ellen Degeneres
To Get Kids To Exercise, Schools Are Getting Creative
Best Worst Logo Designs
Why Sitting Is Killing You & 9 Things You Can Do About It
5 Things I Wish I Knew Before Building My Brand
The Biggest Social Media Updates of 2013
38 Reasons Your Life Will Be Better in 2014
Crossfit, The Good, The Bad, The Ugly
How to Store Cheese
———–
In the News
———–
Women and Drinking, Time to Talk Risks
Ideas for Healthy Holiday Gifts That Don't Scream- You're Fat
3 Food Label Changes That May Change The Way You Shop
Dietary Supplements Linked To BP Changes
Drs & Patients Don't Talk About Weight Management
BPA Is Still Everywhere & It's Dangerous
More Helpful Fatty Acids Found in Organic Milk
People Are Eating More Meat Than Ever Before
Keep Guests Safe At Your Holiday Party
12 Tips To Get Healthier By Christmas
Consumers Often Confused About The Type of Sugar in Drinks
Thanks all for today!
Enjoy!
–Lindsay–