Hi Friends!
Time for another round of Bean Bytes!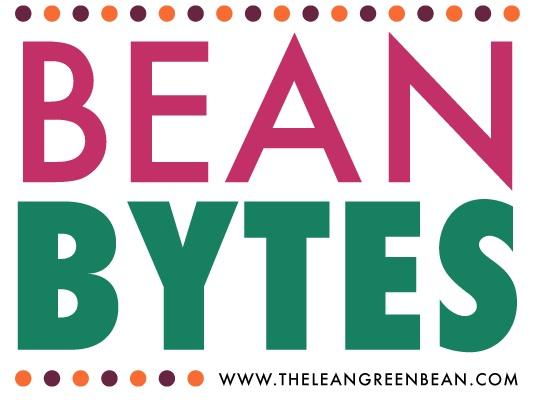 ———–
Link Love
———–
Monday
Honesty is beautiful. Proud of her:
Real Talk via Meals and Moves
Good reminder:
I Know It's Cliche, But Here's Why You've Gotta Love Your Body via Mind Body Green
Great tips:
13 Life Hacks for Career-Minded Moms & Dads via The Daily Muse
Tuesday
Good things to have on hand:
Stocking Your Pantry for Asian Cooking via The Lemon Bowl
Truth:
Change Your Lifestyle, Don't Go On A Diet via The Candid RD
Thought Provoking:
Hurt People Hurt People via Katy Widrick
Fun!
30 Date Ideas Under $30 via Greatist
So true:
Habits of Happy People via Peanut Butter Fingers
Wednesday
LOVED this:
I Need 5 Wake Up Calls Daily via Olive to Run
Talk about INSPIRING!
Ironman Florida 2013 Race Recap via Meals and Miles
Me too:
I'm Still A Baker Even Though I Use Measuring Cups via Joy The Baker
Love love love:
Stop Facebooking What You're Thankful For: 10 Ways To Do Thanks via Feminine Muscle
Proud of her:
15 Healthy Decisions I'm Making via Then Heather Said
True:
5 Things To Make Your Blog Stand Out via The SITS Girls
Good advice:
How to Network For A Job While Still Employed via Brazen Careerist
Great graphic:
Ultimate Illustrated Guide to a Healthy Thanksgiving via Greatist
Thursday
Are you guilty?
Stealing My Own Joy via  Determined To Be
What do you think?
Running For The Little Blue Box- Or Not? via Live Do Grow
Yes or No?
Fatspiration Is Just As Bad As Thinspiration via Erica D House
Think about it:
Pros and Cons of a 529 College Savings Plan via Our Freaking Budget
THIS:
Close the Thigh Gap via Jen Sinkler
Friday
Truth:
Being a Mom Is Hard No Matter Where Your Kids Come From via The Shine Project
Dear Chipper, Thanks For Helping Me Quit Lululemon via The Great Fitness Experiment
What do you think?
Should Food Bloggers Be Responsible For Teaching Us To Eat Healthy via Greatist
Bloggers- take advantage of this:
Let Me Helpout You via Katy Widrick
Good read:
I Got SixPack Abs in Six Weeks- Here's How I Feel 1 Year Later via Greatist
Good info:
Behind The Headlines: Aloe Vera For Weightloss via Food & Nonsense
HUGE news in the nutrition world:
FDA Targets Transfats in Processed Foods
Love:
67 Things I Wish I Had Known At 18
21 Things You Should Force Yourself To Do Every Day
13 Good Deeds For World Kindness Day
How To Clean Your House in 20 Minutes A Day For 30 Days
——–
Yum
——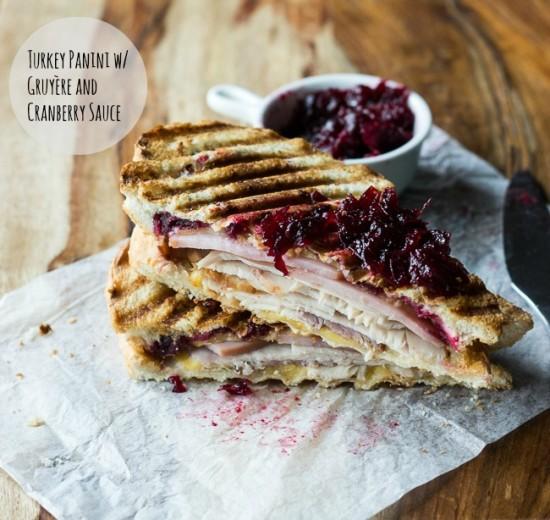 Turkey Panini w/ Gruyere & Cranberry Sauce
Sweet Potato Dip
Copycat Dave's Killer Bread
50 Vegetarian Main Dishes for Thanksgiving
How To Roast Garlic + Roasted Garlic Hummus
How To Make Fresh Pumpkin Puree
Greek Quiche for One
Healthy Beef & Mushroom Stroganoff
Loaded Vegetarian Lentil Sloppy Joes
Spaghetti Squash Pad Thai
Pumpkin Coconut Chicken Curry
Autumn Skillet Granola
Homemade Salad Dressings
Chickpea Cookies
Tofu Jalapeno Poppers
Homemade Refried Beans
Fluffy PB Banana Cookies
Post Marathon Recovery Meals
25 Healthy Pancake & Waffle Recipes
BBQ Lentil Stew
Crockpot Caramelized Onions
———
Move
——
Tip Toe Into Leg Day
15 Minute At Home Workout
15 Minutes Is All It Takes
5 Workouts To Help Increase Speed
The Foam Rolling You Should Be Doing
———
Scenes From The Week
———–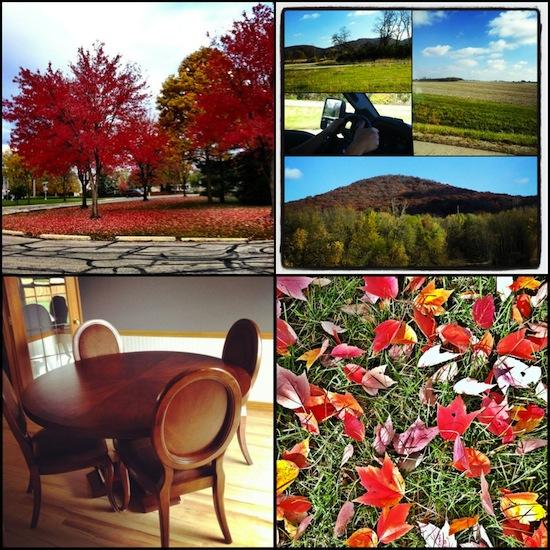 Fall is beautiful.
On Friday, we took a little drive to southern Ohio to pick up our new dining room table that hubby found on Craigslist. Isn't it gorgeous?! It's solid wood and we got it for a great price. Probably his best craigslist find to date!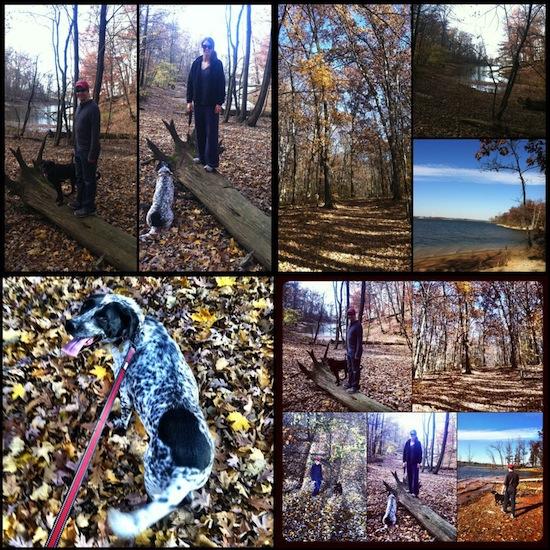 Took a walk with the boys. Tucker is quite nible and loves jumping up on logs, etc…see the picture of him and hubby. Abner is not quite that advanced & is much happier on the ground…see the pic of him and I!
———-
Twitter Favs
———-
Eat The Pizza
Common Myths About Eating Disorders
4 Things You Can Stop Worrying About (Because They Just Don't Matter)
Why Pinterest Is Seriously Valuable & What It's Teaching Men In Power
20 Ways To Repeat Tweets Without Being Annoying
My Daughter Was Teased Because Of Her Healthy Lunch
25 Apps To Help You Save Money
The 10 Things Every Child Should Be Taught
Marriage Isn't For You
The 35 Best Signs From The NYC Marathon
Big Bird & Elmo Encourage Kids To Eat Produce
Why I Hate Being Told To Shop For My Body Type
How The Thigh Gap Became The Latest Pressure Point on a Woman's Self Image
Embracing The Backslide
How To Eat Intelligently Over The Holidays
Using Google Analytics To Better Understand Your Blog
Dear 20 Year Old Self
One Activity You Should Do On Your Blog Every Day
4 Ways To Embrace Slow Change
——
In the News
———
Food Stamp Cuts Create High Demand For Food Bank Supplies
Apps That Help You Get Dinner On The Table
Getting A Workout In At The Airport
Fast Food Experts Analyze Kids Meals
Young Men May Have Unrecognized Eating Disorders
Pesticides Linked To Endometriosis
Calorie Counts May Be Off By 20%
Whew!
Ok, I think that's all for today!
Enjoy!
–Lindsay–