Hi Friends!
Time for another round of Bean Bytes!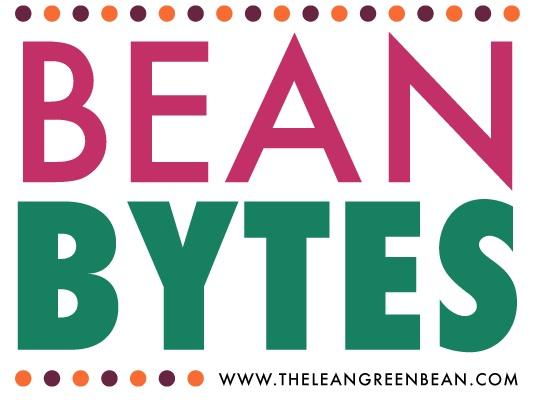 ———-
Link Love
———
Monday
Great info:
Why Gluten-Sensitivity Is Not A Joke via Healthy Aperture
Gluten-Sensitivity: What We Know Is That We Know Very Little via Fooducate
So inspiring:
The Truth Behind The Before & After via The Misadventures of a Darwinian Fail
I got a shoutout in the Huffington Post!
The Single Habit That Helps Me Eat Healthy & Save Money
Good ideas:
10 Food Free Ways To Celebrate School Birthdays via Real Mom Nutrition
A great challenge! Join her:
Count Your Blessings via Olive To Run
This is the editorial calendar I use!!
How To Use  Post Calendar For Your Blog via Freeing Imperfections
10 Great Workouts To Try:
Move It Monday: Top Ten via Best Body Fitness
Loved this:
10 Surprising, Healthy Eating Habits From Around the World via Greatist
Tuesday
New app to check out:
7 Minute Workout App via Peanut Butter Fingers
Work that core:
My Favorite Core Exercises via She Rocks Fitness
Great review:
Jawbone Up vs Fitbit Flex via Mom Running on Empty
Fun question:
Your Laundry Tag: What Would It Say via Mizfit Online
Great info:
Batch Cooking Primer via We Can Begin To Feed
Wednesday
Get your spouse moving!
How To Get Your Spouse To Workout & Lose Weight via Feminine Muscle
Add your own:
Advice For Injured Athletes via Olive to Run
Tips for a healthier grilled cheese:
Food Love: Toasted Cheese Sandwiches via Food & Nonsense
So cute:
DIY Bootcuffs via The SITS Girls
Life lessons:
20 Life Lessons Running Has Taught Me via Happy Fit Mama
This:
Weighing the Balance Between Obsession and Health via The Tabata Times
Love:
Do I Need To Detox via Love & Zest
Thursday
What do you think?
Halloween Parties: Are Parents The Problem? via Healthy Aperture
Interesting info:
Child Nutrition via Gypsy Dietitian
Good reminder:
Be Kind. Always. via Family Fitness Food
Very cool:
Evernote PostIt Integration via Raspberries & Running Shoes
Good tips:
5 Tips To Keep Your Shoulders Healthy For The Long Haul via Greatist
LOVE:
7 Diet Habits You Should Drop Now via Huff Post Healthy Living
Friday
Good ideas:
10 Ways To Use Leftover Halloween Candy via Nutritious Eats
Different for everyone:
Is There A Right Time & Amount to Eat For Weightloss via The Candid RD
Important:
4 Things We Can Learn From Kraft's Removal of Artificial Dyes via Fooducate
All great ideas:
5 hacks For A Healthier November via Nutritionella
Good ones:
25 Things Every Woman Needs To Know via Hannah B.
Absolutely yes:
9 Fitspiration Photos Corrected via Buzzfeed
Great advice:
5 Steps to Stop Worrying About the Competition via Brazen Life
This is kinda awesome:
This Bracelet Lets You "Touch" Your Long Distance Lover via Greatist
——-
Yum
——-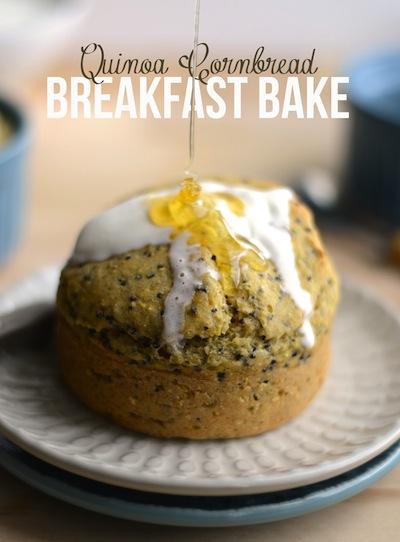 Fall Spice Nut Butter
Pumpkin Chocolate Chip Maple Muffins
20 Soup Recipes for Fall
No Bake Granola Bites
Sweet Potato Chocolate Chip Pancakes
Quinoa Cornbread Breakfast Bake
Pumpkin Pecan Waffles
Basil & Arugula Lemon Pesto
Pumpkin Hummus
Homemade Pumpkin Spice Latte Syrup
Homemade Tootsie Rolls
Roasted Cauliflower Soup
Pumpkin Ginger Muffins
Microwave Pumpkin Oatmeal Cookie For One
Spicy Bacon Tator Tots
Homemade Sriracha
Slow Cooker Mashed Potatoes
Blueberry Pecan Cornbread Bread Pudding
How To Cook Spaghetti Squash + 5 Sauces
Cranberry Cheddar Sausage Bites
Best Mac & Cheese Recipes Roundup
Raw Mini Snickers Bars
Thai Sweet Potato Veggie Burgers
———-
Twitter Favs
———-
Yoga Poses For Digestion
We Should Still Be Paid For Paying Our Dues
Proper Layering
Farmplicity- Farm to Table Meets 21st Century
10 Things You Should Never Say To Your Child About Food
15 Signs You're Obsessed With Your Dog
Beginners Guide to Google+
How To Be As Awesome As NYC Running Mama
Networking For Introverts
How To Sell Ideas Like Gladwell
What's Really Making Us Fat & Stupid
10 Clever Google Search Tips
Dirty Dozen Endocrine Disrupters
Food For Healing Body Heart Soul
10 Amazing Articles About iPhone Photography
40 Point Blogging Checklist
Infographic- How To Followup After A Job Interview
Ode To The Medium Sized Women
Flawed Federal Nutrition Guidelines
Our Storage Spaces: The Plan vs The Actual
Trademarking Your Blog Name
How Yoga Transforms Your Body
Most Things Are Best When They're Imperfect
Not All Domestic Abuse is Physical
5 Ways To Kick An Unhealthy Habit
An Exercise In Patience & What I've Learned During Recovery
Social Media Isn't Always To Blame
11 Things I Gained When I Lost My Smartphone
Why Deep Squats Are Best
How To Answer the 5 Trickiest Job Search Questions
Best Apps For Eating Healthy On The Go
What To Do When You Take The Leap & Fail
5 Steps To Choosing A Healthy Nutrition Bar
10 Things You Should Never Say About Yourself
———
Scenes From The Week
———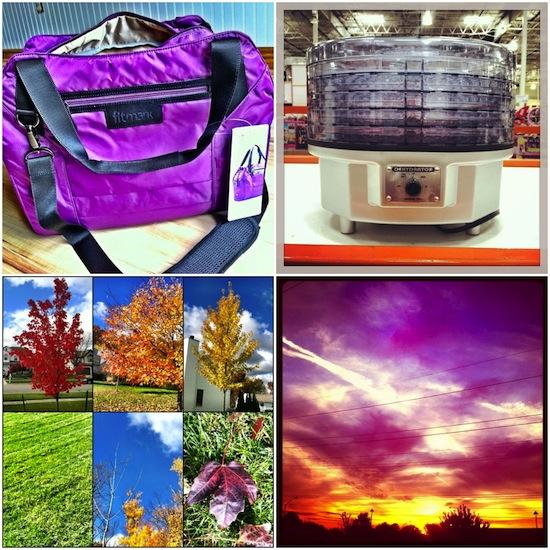 1. So in love with this new bag I was sent from Fitmark Bags. Full review and giveaway coming soon!
2. Latest Costco purchase! A dehydrator! Can't wait to make homemade dried cranberries, banana chips and jerky for the hubby!
3 & 4. Nature is beautiful!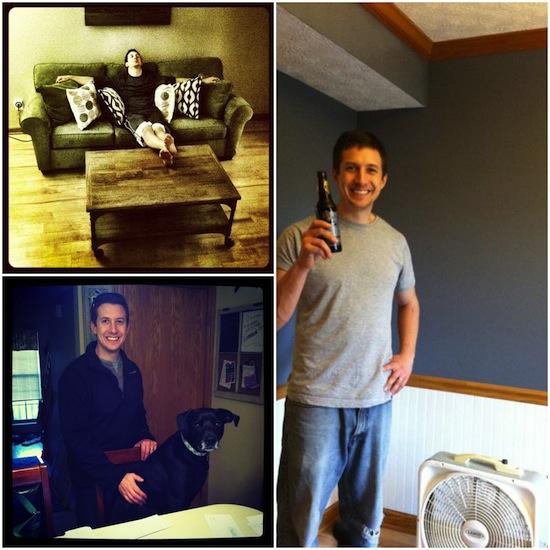 1. Hubby relaxing after installing our new floors
2. Tucky making himself at home on the bar stool
3. Proud hubby after painting the dining room in record time!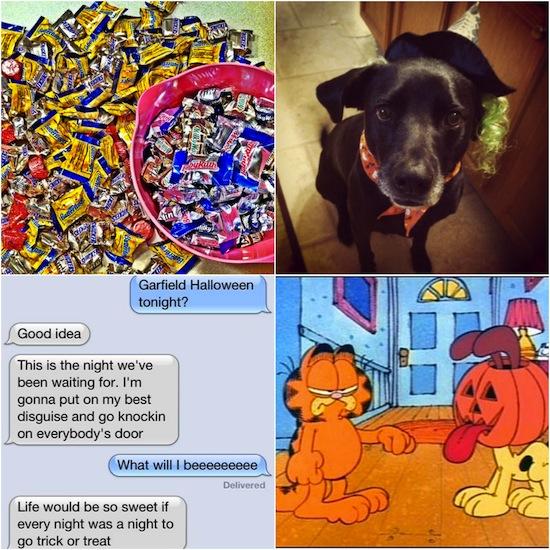 1. This is how I do: Sort the mixed candy BEFORE the trick-or-treaters come and give  away the stuff I don't like first 🙂
2. Just plain adorable.
3. Hubby & I watch Garfield Halloween every year. We know all the words and like to text them to each other. Yes, we're cool.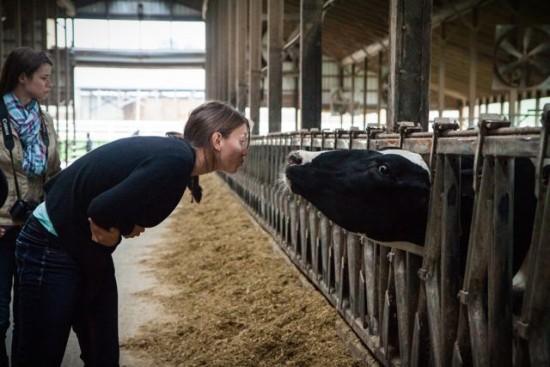 Love this pic of my from my dairy adventure a couple of weeks ago 🙂
——
In the News
——
The Insanely Effective 15 Minute Workout 
5 Reasons To Buy Frozen Vegetables
5 Top Food Trends of 2014
Food Stamps Cut By 5 Billion Dollars This Week
Consumers Want To Avoid Pesticides But Don't Know How Labels Help
16 Tips For Halloween Fun Without The Sugar Coma
6 Great Whole Grains
Some Nutrition & Diet Studies May Overstate Results
———
Laugh
——–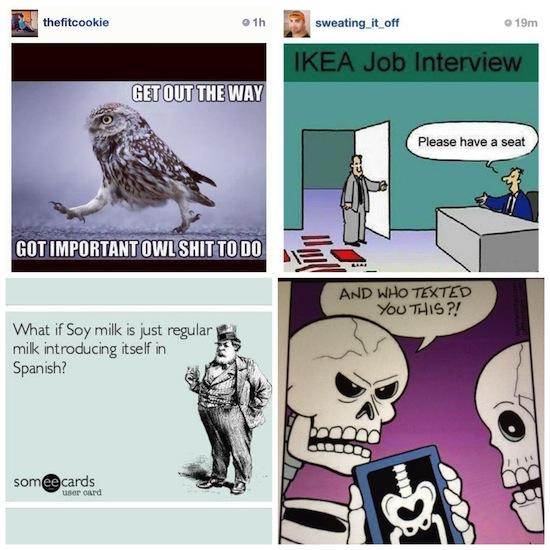 Because seriously? Freakin. Hilarious.
Happy Monday!
Enjoy!
–Lindsay–