Hi Friends!
Time for another round of Bean Bytes!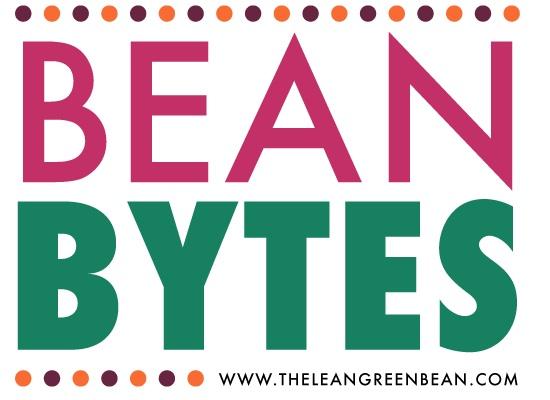 ———-
Link Love
———
Monday
Want these:
Vegan Peanut Butter Banana Whole Wheat Waffles with PB Sauce via Cait's Plate
Love this:
3 ways my pedometer made me a better mother via Mizfit Online
Read and learn:
5 reasons you're not getting blog comments via The SITS girls
Tuesday
Great yoga info:
Basics of the 7 chakras via Love Life Surf
Online bake sale for a great cause:
Feed10 Online Bake Sale via Run to the Finish
Wash your produce:
Cyclospora Outbreak via Side of Sneakers
Great ideas:
How to spice up your salad via Delights and Delectables
Wanna know what the Crossfit Games was like?
2013 Reebok Crossfit Games via Fannetastic Food
Wednesday
Powerful:
The Real Tragedy of Postpartum Depression via Fit Mom in Training
Great date ideas:
12 inexpensive date ideas via Peanut Butter Fingers
Do it:
How to freeze berries via Wanna Be A Country Cleaver
Important:
Google Analytics: 3 Key things you can learn via The Daily Muse
16 tips from blogging experts for beginners via Buffer
Interesting:
Why we won't need college in 15 years via Brazen Careerist
4 clever ways to use an infographic to get hired via Brazen Careerist
Get planting!
The 16 best healthy, edible plants to grow indoors via Greatist
Read and Learn:
How to analyze recipes using My Fitness Pal via The Healthy Aperture Blog
Love these ideas:
Top 8 Ways to eat a healthy burger via Guard your Heart
Real life:
Parenting behind the social media curtain via Our Knight Life
 Thursday
An informative post:
Living with exercise induced asthma via Live from Laquinta
Great tips:
How to set boundaries in any relationship via Greatist
Great recipe ideas:
Kid-Friendly Vegetarian Recipes via Oatmeal in my Bowl
Squats, are you doing them right?
Squat Progression via Your Trainer Paige
Beautiful:
I married my duckie via The Wannabe Athlete
Good advice:
How to deal with your email on vacation via The Daily Muse
Yum!
Layered smoothies via Guard your heart
Potato chocolate truffles via The Candid RD
Wanna know what it's like to become an Ironman?
Ironman Lake Placid Recap via NYC Running Mama
Friday
Thought provoking
How facebook has changed the way young girls view themselves via Thought Catalog
Great tips:
A workout plan to lose weight when you're a caregiver via Fun and Fit
LOVE:
Not keeping up with the joneses via Weight off my Shoulders
100 wise words via Girl Meets Life
The first and final word on body image via 20-Nothings
Change things up:
3 ways to keep your workout challenging via Thrive Personal Fitness
Read and Learn:
Natural Flavoring via A Gutsy Girl
Great perspective:
Living a life full of regrets-with no regrets about it via The Fit Spirit
 ————-
Scenes from the Week
————-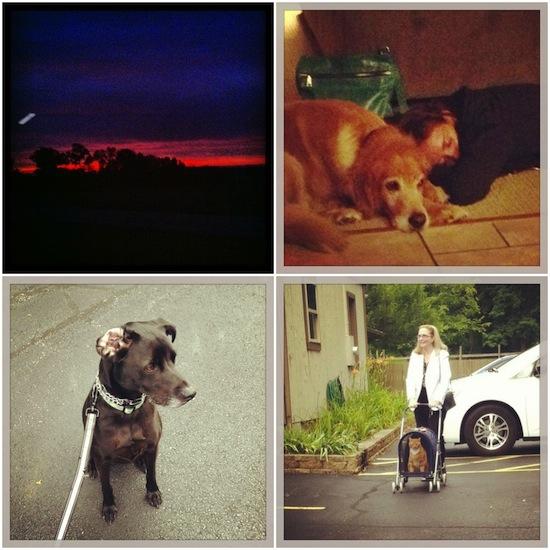 1. Tail end of the sunset
2. Snoozin' with my in-laws dog Max
3. Had to take Tucker to the vet when we got home bc we thought he got kennel cough. Turns out his sinuses just got really inflamed from all the dander and fur at the kennel. He literally could not stop sneezing for severl days. Poor guy. He seems to be recovering with the help of some Benedryl.
4. Saw this gem at while at the vet. Think Marcus would like riding around in one of those?!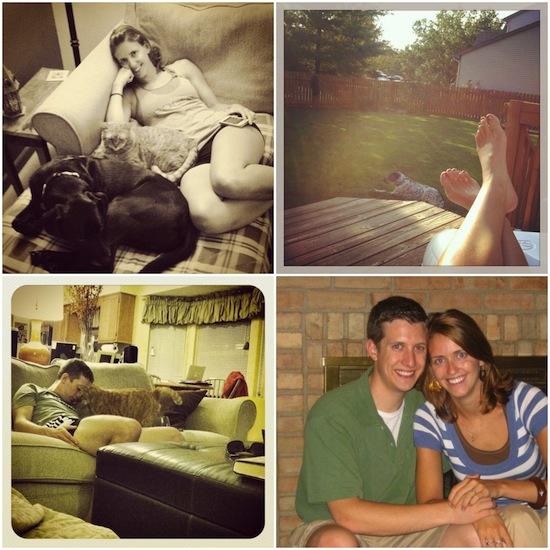 1. Couch snuggles
2. Had the perfect weekend weather for some reading on the deck.
3. Marcus spreading the love with his head butts.
4. Six years ago yesterday, hubby asked me to marry him 🙂 Flashback to a pic from the night we got engaged!
———–
Twitter Favs
———–
3 Myths about hiring your first intern
Photographer helping young women thru eating disorder project
I will always be the fat kid
Avoiding Me Too Blogging
10 surprising social media statistics
Why men need women
Why I quite crossfit
22 things men should be required to do
25 things more exciting than the royal baby
12 things that show who you really are
Why some people are more prone to mosquito bites
17 Lifehacks to help you save time
Orange you ready for a tall glass of gmos?
Why ellipses are so common and what they're really for
People over pageviews
The different genres of cat callers and how I'd like to fight them
How dirty is your makeup?
Sitting is the new smoking
How exercise changes fat and muscle cells
Chipotle is going GMO free
How google can keep you from getting a job
How to talk to your daughter about her body
Is big and famous always best for hospitals?
BPA may harm human fertility
This is why i quit my job
The craziest ways to eat avocados
Should you do a wedding juice cleanse
Dads don't cry
Juice cleanse- the new eating disorder?
I support you: The convo we should be having about breastfeeding vs formula
How the internet can help you stop wasting time on the internet
Lululemon admits plus size is not part of its formula
Healthy lifestyle ads from big soda- hypocritical?
4 basic aspects of being a bro
Kate Middleton and the mom in the mirror
My definition of healthy is better than yours
———–
In the News
———–
How to escape the diet plateau
Freezing helps capture the flavor of herbs
When eating healthy becomes an obsession
What really motivates people to diet? Being healthy or looking good?
More evidence that breast feeding boosts IQ
3 facts every parent should know about vegetables
Food with more nutrition than shown on their label
Reach for correct 100 calorie snacks
Modest changes in overweight teens can reduce diabetes risk
Don't sabotage your diet with healthy toppings
5 august superfoods
Yoga Poses for Kids
3 reasons to unplug
That's all for today, friends!
Enjoy!
–Lindsay–