Hi Friends!
Time to play catchup again with Bean Bytes!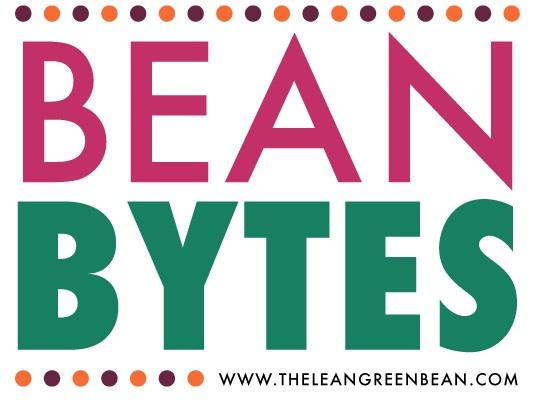 ————
Link Love
———–
Monday
Good tips:
When "don't get too hungry" backfires via Foodtrainers
On impulse buys:
How we avoid impulse buys via Our Freaking Budget
Love this:
4 ways you're lying to yourself about being productive via The Daily Muse
For runners:
7 Summer running tips via 300 pounds and running
So inspiring:
Find your why via Journey of a Dreamer
Tuesday
For the app lovers:
App Happy via Meals and Moves
Great tips for moms:
How to grocery shop like a pro with a toddler via A Healthy Slice of Life
On why research is important even if you don't like it:
Med School Series #6: Research even if you don't like research via A Doctor in the House
This is the #1 thing i've learned over the past year- THINK before asking someone when they're going to have kids:
Infertility Sucks via Itz Linz
Thank your child's teacher- they deserve it:
Good Ole Fashion Education via Olive to Run
Wednesday
Good to know:
What to do when your health insurance doesn't kick in right away via Brazen Life
Great tips:
How to train for your fitness goals via CHAARG
Learn it, do it:
How budgeting works, Part 2 via Our Freaking Budget
Everyone should know this:
Tips for perfect chocolate chip cookies via Pinch of Yum
Yes. This:
Why is healthy food such a joke via Real Mom Nutrition
Thursday
Awesome idea if you're on a strict food budget:
Budgeting: Food Lockdown via Running Hutch
Everyone should know this:
12 steps to perfect sea scallops via Sprint 2 the Table
I love this:
Claiming Heather via Heather's Dish
Yummmm:
Homemade Ranch Dressing via Nutritious Eats
Carrot Cake Date Bars via Powercakes
Triple Chocolate Almost Vegan Everything Cookies via Cait's Plate
Cheesy Chicken Stuffed Eggplant via Running to the Kitchen
Friday
What's the best choice?
Froyo vs gelato vs icecream vs sorbet via Candid RD
Spice it up!
5 tips to keep your workout challenging via Food & Fun on the Run
So amazing:
Reuniting Three Hundred Military Families via Lift Love Life
———-
Scenes from the Week
———-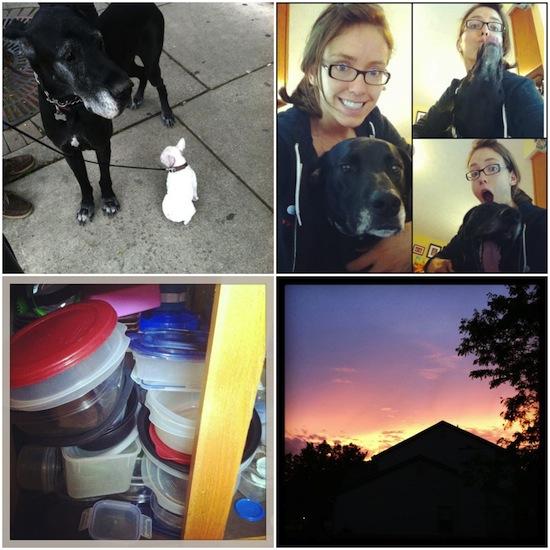 1. Giant great dane and a french bulldog puppy
2. Somebody missed me after last weekend. #50poundlapdog
3. How I can tell I skipped sunday food prep- an overflowing tupperware cupboard
4. Pretty sunset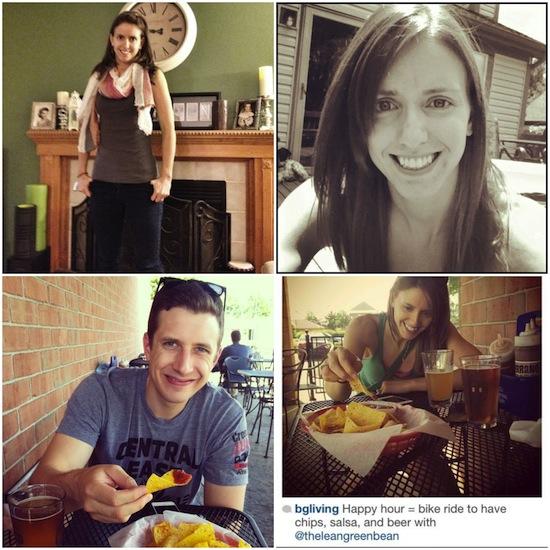 1. Me 🙂
2. New haircut. Best one I've gotten in like 5 years.
3 & 4. Happy hour with hubby 🙂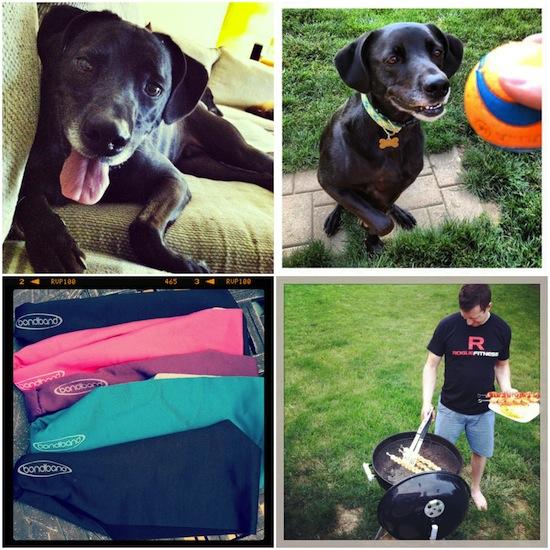 1 & 2. My baby 🙂
3. I bought my first BondiBand at regionals and then promptly ordered several more for a friend and I. They're amazing.
4. Nothin' better than a hubby who grills!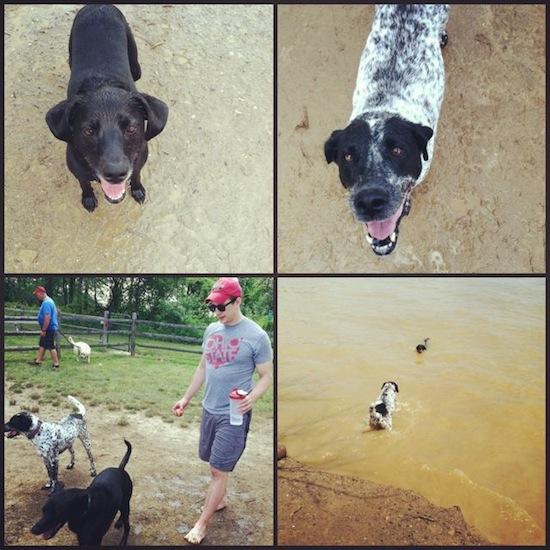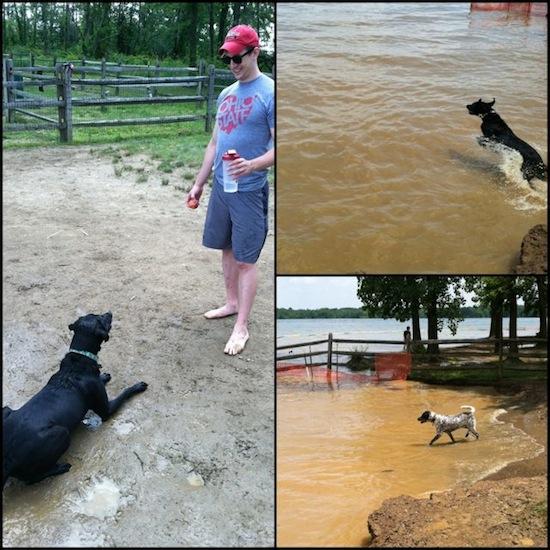 Took the boys to the swimming dog park for the first time this summer. Tucker LOVES the water and will swim after his ball until he collapses in exhaustion. Abner prefers to patrol the shore and keep a watchful eye on his brother as he swims out and back. He also enjoys biting the water…but refuses to go in and actually swim.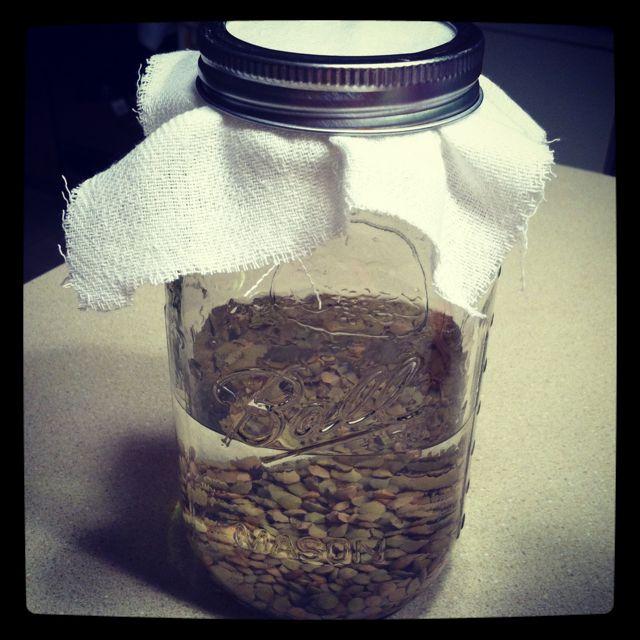 Sprouting lentils! Post coming soon 🙂
———-
Twitter Favs
———-
New study shows reputation trumps money
41 camping hacks that are borderline genius
5 tips for taking better food photos when you travel
10 dishes to make in your slow cooker
How to fix a broken diet
Why even health conscious consumers have unhealthy diets
What should you do when your child hits you
How to survive a rip current
How to prevent head rushes in yoga
5 tips for building blogging community
6 things we need to start teaching boys in school
How I learned to stop asking "Is this paleo?"
You are always saying yes to something and no to something else
DIY hair conditioner
Why the best leaders are vulnerable
4 simple truths to remember if you're struggling
Teaching your child charity
He said he was leaving. She ignored him.
Is the food industry health washing you?
The new rules for sunscreen
The pain of constipation
Slowing down
Rules for Life
Why I stopped listening to the blogging experts
You have the power to change someone's day
You've been tying your shoes wrong your whole life
How to protect your digital life
Do I look fat in this post?
 ———-
In the News
———–
The food journal: A little tech could make it stick
With a little planning, you can make healthy meals in 30 min or less
Orthorexia becoming a popular eating disorder
Vegetarian children in omnivorious households
Worried about type 2 diabetes? Go for a walk
The just one bite rule
What's really in those squeezable yogurt tubes for kids
Proper handwashing. Only 5% of us do it right.
Why consequences work
Students taking advantage of farmer's markets
There's good news and bad news about eggs
Eyeball licking fetish causing pinkeye
How accurate are fitness trackers
Improving male fertility with Diet
Food packaging chemicals linked to obesity in girls
Stretches all desk workers should do
That's all for today, friends. Except for one special request. This guy is having shoulder surgery tomorrow: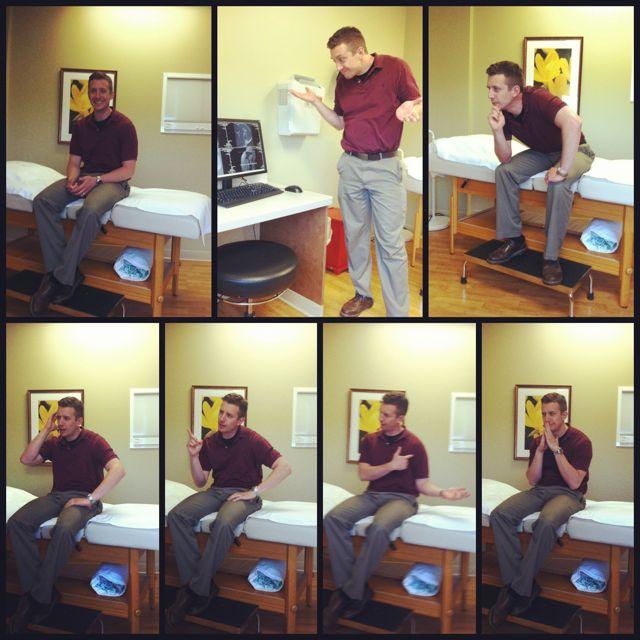 We won't know what the recovery time is until the doctor actually gets in there during the surgery, so please keep him in your thoughts and send positive recovery vibes his way!
Enjoy!
–Lindsay–