Hi Friends!
Be sure to check out yesterday's post if you missed the details about the Elf for Health challenge- CLICK HERE! We already have over 200 elves signed up already!! Plus lots of great companies signing on to give prizes! We'd love to have you join us 🙂 OK,  today it's time for another round of Bean Bytes!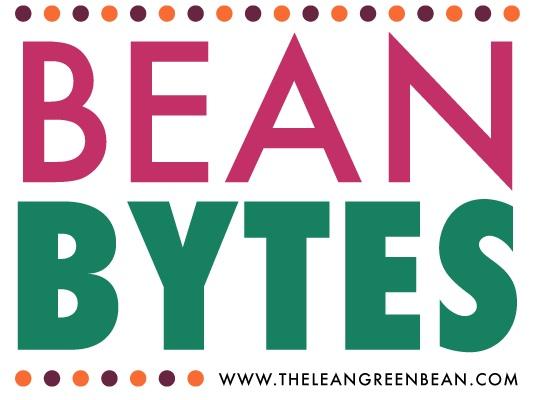 ————–
Link Love
————–
Monday
hubby would love these
Coffee Spiced Oatmeal Cookies via Cait's Plate
fb info
Never miss an update from your favorite page via Katy Widrick
a great review!
Insanity- My experience so far via Eat Spin Run Repeat
loved this
Life is about the Journey via Wild Things Run Free
beautiful
To my body i promise via Misadventures of a Darwinian Fail
for all you yoga lovers
12 apps to become a better yogi via Greatist
Tuesday
stretching is SO important
Importance of stretching hamstrings and hip flexors via Berry Happy Bodies
thinking about moving your blog?
Reasons why you should move to a self hosted wordpress blog via Fitness Cheerleader
Wednesday
loved this.
The trouble with calorie counting via A Health Slice of Life
such a great running attitude
The No Numbers Runner via Cotter Crunch
this.is.awesome. Take action!
Anger Management: Turning a rant into action via Real Mom Nutrition
an easy DIY
Brown Sugar Body Scrub via Wanna Be A Country Cleaver
a great Thanksgiving Roundup
22 Healthy Thanksgiving Recipes via Mommy Run Fast
ummm yes.
Pumpkin Spice Donuts with Cranberry Frosting via Better with Veggies
Thursday
everyone needs one of these.
In Case of Emergency via Joy the Baker
on being thankful
5 ways to live more thankfully via Running Hutch
a great lesson to teach kids
School of hard knocks via Miss Zippy
putting more happy in your day
Married to Bliss via Fitness Way of Life
a must read
Content of Complacent via Strong Inside Out
making this ASAP
Homemade taco seasoning via Fit Mom in Training
Friday
just starting crossfit?
A beginner WOD via Your Inner Skinny
great post on intuitive eating!
Mind over numbers for weightloss via Mizfit Online & Run to the Finish
overnight cinnamon rolls. yes please
Overnight apple cinnamon rolls via Yes I Want Cake
——————
Twitter Favorites
——————-
Founds some REALLY good ones this week!
Giving myself credit via Stroller Adventures
Thought time capsule via The Foodie Diaries
Learning to Fly via Balance Not Scale
Why you shouldn't become a blog world via Epicuriousities
22 Things you're doing wrong via Buzzfeed
Positive language = positive results via Dr. Greene
12 ways to accept yourself via Psych central
The scoop on nuval via Food Calc
5 steps to choosing your kids over your phone via Happy Family Mvmt
Are food dyes bad for kids via  Better for You
So maybe your job makes you crazy via Paige Lysaght
How to google via The Atlantic Wire
25 social media tips you probably didn't know via Simply Zesty
Put Down your dumb phone via Competitor
The Almost Perfect Mom via Working Mom
Healthy Living via Family Fitness & Food
34 Insanely Simple 2 Ingredient Recipes via BuzzFeed
5 Ways to get more traffic via Copy Blogger
————–
In the News
—————
Food allergies outgrown by more than 1 in 4 kids
Is rice dangerous
Smart pasta vs. regular- which is better
Los Angeles declares meatless mondays
Healthbeat: The versatile cranberry
Quinoa: hard to understand, easy to love
Flu and fever in pregnancy linked to autism
———————-
Scenes from the Week
———————-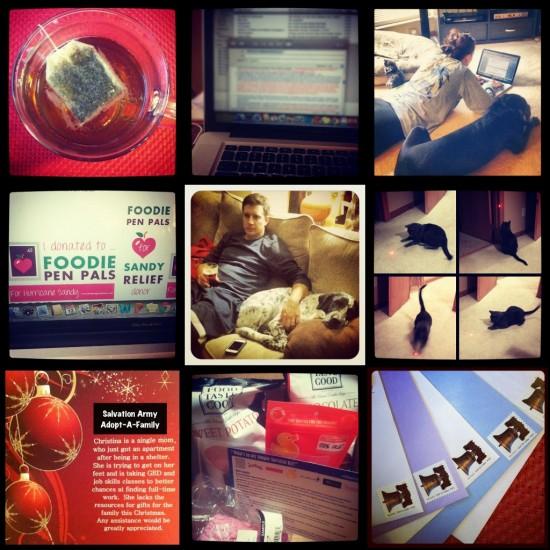 1. Green Tea- I get kinda obsessed with it when it gets cold out
2. planning session for Elf for Health with Nutritionella
3. Tucky and I getting work done
4. Awesome badges for the upcoming Foodie Penpals for Charity!
5. TV time
6. Animals chasing laser pointers- it will never not be funny.
7. Got our info on the family we're buying Christmas presents for-
best part of the holidays!
8. Surprise care package from Larabar & Food Should Taste good!
Thanks guys!
9. Mailing cards to friends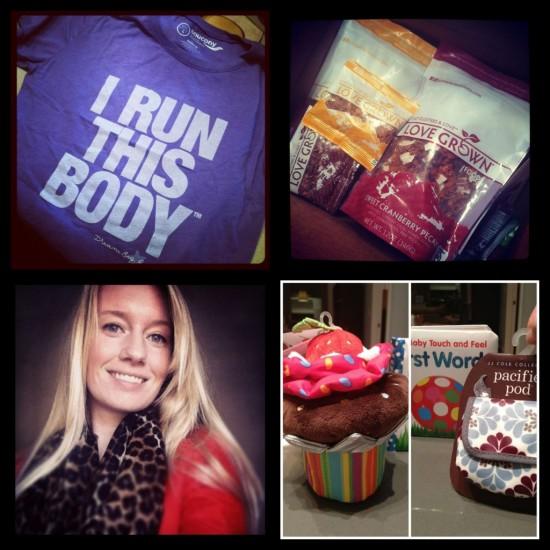 Mail call!
1. Got my "I Run This Body" from Mile Posts!
2. A nice little Love Drop from my friends at Love Grown Foods!
3. How cute is Elle rockin' the leopard scarf I sent her as a "congrats on finishing your dietetic internship!" present?!
4. See that cupcake? Most perfect baby present ever for my friend Rachel!
It comes apart in layers so baby can stack it up!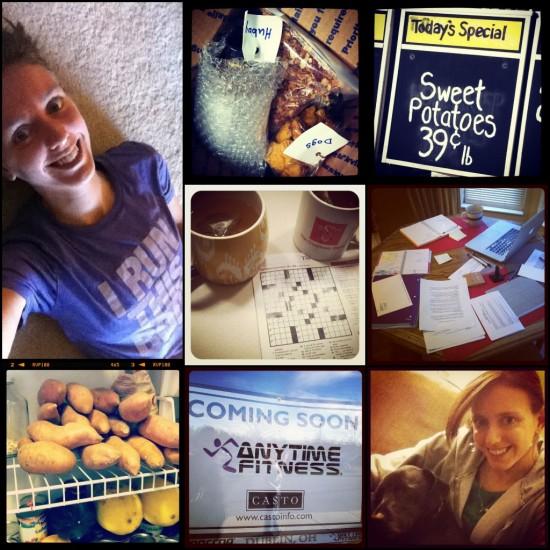 1. After crossfit on Saturday- rockin' my new shirt
2.  my Foodie Penpal thought of the whole family this month!
3. Major sale on sweet potatoes
4. Crossword and tea time with hubby
5. So much work to do Sunday
6. See #3- i also found them on sale for .17/lb the next day.
So I bought more.
Should be all set in the sweet potato & squash department
7. So pumped this is opening like .5 miles from my house
8. Puppy love
——————-
Enjoy!
–Lindsay–