Hi Friends!
Time for another round of Bean Bytes! Here's what you may have missed last week.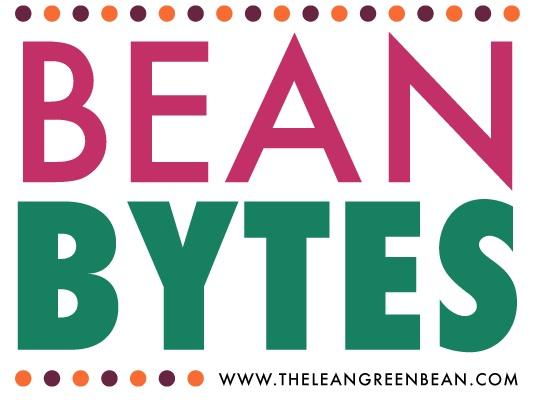 Monday
Tips & Tricks:
Easy Guide To Brewing Kombucha via Delights & Delectables
Keep These 5 Items At Your Desk For A Healthy Office via Wildly Fit
How To Get The Most Out Of Your Library Card via Inspired RD
How To Master The Art of Self Confidence via James Clear
20 Ways To Help Your Brand Stand Out  via By Regina
15 Moving Tips via Sprint 2 The Table
5 Ways To Get Control of Your Inbox via Katy Widrick
The Rules We Eat By- 7 Healthy Habits For Our Family via Real Mom Nutrition
Does the body good:
You Too Can Pushup via Katrina Elle
10 Jumps A Day To Keep Osteoporosis At Bay via Be Truly Nourished
How To Go From Base to Speed Running via Miss Zippy
For the mind:
11 Tips For Successful Meditation via The Foodie Dietitian
6 Ways To Fuel Your Creativity via Earnest Home Co
Why Being Mean Never Helps via Run Wiki
35 Body Positive Mantras via Greatist
Tuesday
For your health:
3 Supposedly Healthy Products You Should Remove From  Your Kitchen via Eating Made Easy
3 Tips To Restore Balance In Your Life via FitAspire
Caution: This Food Is Natural via The Nutty Nutritionist
Good reads:
Top 10 Lessons Blogging Has Taught Me About Life via The Healthy Maven
Healthy Feeding Tips For Happy Toddlers via Enjoy Every Bite
Overcome Adversity In 10 Easy Steps via Educated Momma
Ways To Spice Up Your Child's Palate via The Foodie Physician
Everything You Need To Know To Be A Fitness Success via Fit Knit Chick
Wednesday
For the body:
How To Know If You're Race Ready via Miss Zippy
6 Exercises For A Strong Back via Happy Fit Mama
Why Using A Heartrate Monitor Is Totally Worth It via Greatist
How Do I Get Into Crow Pose via Reach Your Peak
How To Manage Exercise with Pain via What's For Eats?
As a former preschool teacher, all true:
5 Things Your Child's Preschool Teacher Wants You To Know via Scary Mommy
Love this so much:
33 Types of Blogger Collaborations via By Regina
Good tips:
Creating A Healthy At-Home Work Environment via Nourish RDs
15 Benefits of Mindful Meditation via An Avocado A Day
Fun craft:
DIY Kate Spade Earrings via Life Modifier
Thursday
Good info:
How Your Diet Affects Your Child's Body Image via Enjoy Every Bite
Nutrition Advice For Sleep Deprived Parents via Mom to Mom Nutrition
How To Know When You Need A Rest Day via Fannetastic Food
5 Email Apps That Will Change Your Inbox via The Muse
Truth:
Breastfeeding – This Sh*t Is Hard via Life's Next Big Step
Love:
10 Kitchen Tasks For A 3 Year Old via A Healthy Slice
Fostering A Healthy Relationship With Food via Eating With A Purpose
Learning To Let Her Go via Coffee Cake and Cardio
Be The Same Person In The Dark via Enjoy Your Healthy Life
Friday
Get moving:
4 – 30 Minute Workouts via Peanut Butter Fingers
So much yes:
Why Eating A Brownie Can Be Good For You via Love and Zest
Why You Should Be Nice To Your Post Natal Body via Lindsay's List
Take What You Need via Carla Birnberg
Tips:
A Millennial's Guide To Life Insurance via Our Freaking Budget
14 Tips To Stay Sane, Organized & Inspired As A Blogger via Cotter Crunch
30 Ways To Increase Your Pinterest Traffic via The Work At Home Mom
How To Make A Product Collage In Photoshop via Hello Brio Studio
5 Tips For Active Family Living via Iron Rogue
30 Tutorials That Will Make You A Better Photographer via Hello Neverland
7 Ways To Exercise When You Don't Feel Like It via Mommy Run Fast
Good reads:
How To Build A Healthy Lunch For Your Kids via Enjoy Every Bite
How I Stopped Stressing About Grocery Shopping via Real Mom Nutrition
The Art of Accepting A Compliment via Thrive Fitness
2015 Dietary Guidelines- What you Need To Know via Raising Healthy Eaters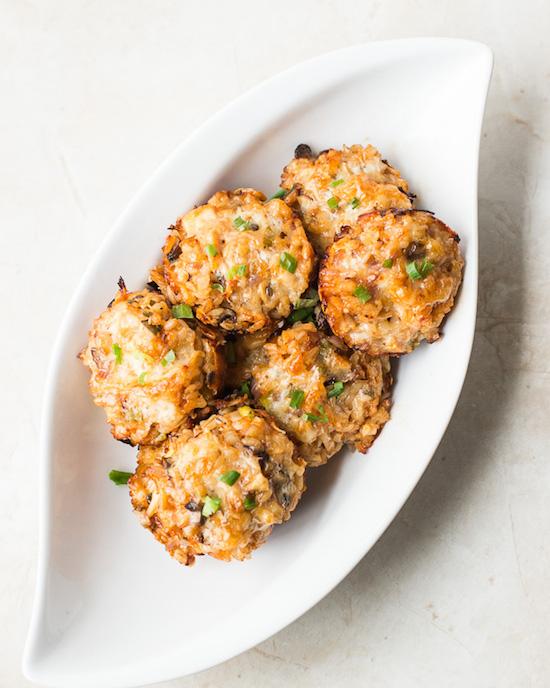 Monday
Cuban Shrimp Bowls with Fried Plantains
Tag A Long Brownie Bites
Ginger White Tea Concentrate
Baked Asian Chicken Rice Balls
Mocha Breakfast Cookies
Dark Chocolate Granola with Zaatar
10 Minute Spinach Dip in a Bread Bowl
Grapefruit Margarita
Vegan Raspberry Chocolate Chip Muffins
DIY Kombucha 101 + Recipes
Mediterranean Quesadilla + Crushed Pita Chips
Banana Fritters
Snow Ice Cream
Pear Granola
Chocolate Hemp Seed Butter
Masala Chai Hot Chocolate
Tuesday
Creamy Taco Macaroni Skillet
Cinnamon Turmeric Sweet Potato Fries
Deep Dish Chocolate Cake with Almond Butter Swirl
Slow Cooker Chicken Gyros
10 Ways To Use Shredded Chicken
GF Orange Chocolate Chip Muffins
Wednesday
Fried Chicken and Waffle Tots 
35 Minute or Less Skillet Dinners
Homemade Protein Powder
Garlic Baked Shrimp
Butternut Squash Mac and Cheese
PB&J Grain Free Breakfast Pancake
Vegan GF Pancakes
Chocolate Cinnamon Coffee Cake
Homemade Chocolate Sauce
Easy Veggie Lo Mein
Paleo Banana Bread
Thursday
Roasted Vegetable Lasagna For Two
Vegetarian Pad Thai
Almond Fudge Ripple Ice Cream
Healthy Shamrock Shake
Brussels Sprouts with Sriracha Aioli
Cinnamon Chip Snickerdoodle Bread
Maple Bacon Popcorn
Perfect Oven-Roasted Vegetables
Homemade Teddy Grahams
 Friday
Kimchi Fries
Ultimate Meatball Sandwiches
Honey Ginger Lime Soda
Gluten Free Maple White Chocolate Blondies
Cinnamon Roll Waffles
Blueberry Sweet Potato Waffles
Crispy Buffalo Chicken Bites
Banana Hemp Hearts Cookie Dough Parfait
Apple, Brie and Berry Turkey Sliders
Chicken and Stuffing Baby Pot Pies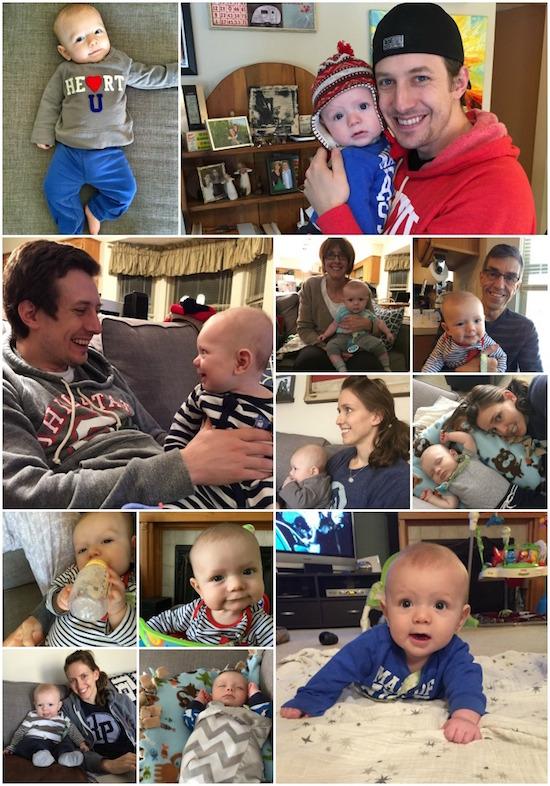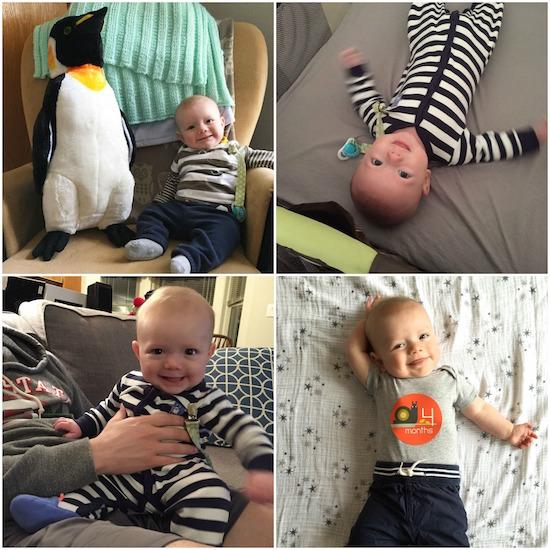 Squish turned 4 months over the weekend. You can check out his 4 month update for more details if you're interested! Oh and big news- this happened on Friday!

To Get Press, Don't Pitch Your Product
How To Create A Healthy Dinner System
Some Thoughts On Professional Etiquette
6 Rules For Post-Workout Meals
Allergy Risk Tied To How You Wash Your Dishes?
5 Tips For The First Year of Motherhood
7 Ways Summer Camp Encourages Self-Realization
A Glossary of Basic Financial Terms
Take Every Risk Possible
Pregnancy After Infertility
4 Ways To Tell Our Eating Culture Is Broken
Is Fitspo Dangerous?
7 Ways To Prevent Shoulder Pain and Injury
5 Compound Exercises To Add To Your Workout
10 Beauty Products You Don't Need
The Science of Why No One Agrees On Dress Color
7 Ways To Cultivate Positive Energy
Enjoy!
–Lindsay–