Hi Friends!
Time for another round of Bean Bytes!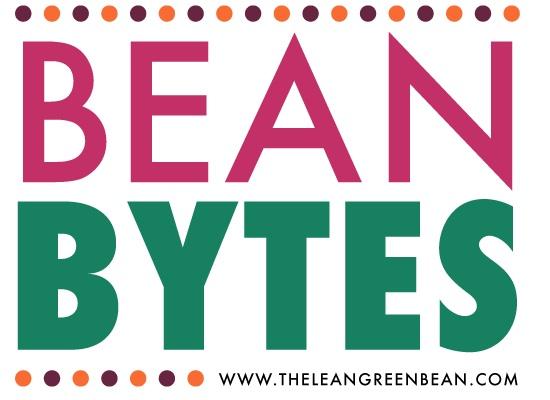 Monday
Traveling?
10 Workouts You Can Do In A Hotel Room via Pumps & Iron
Tips & Tricks:
How To Hardwire Happiness via The Foodie Dietitian
5 Tips To Find Time To Workout via Musselfit
5 Ways To Amp Up Your Nutrition via Courtney Bentley
How To Layer For Winter Running via Eat Spin Run Repeat
Non-Techie Guide To SEO For Bloggers via By Regina
How To Create Workout Images with PicMonkey via Peanut Butter Fingers
Love:
Nailhead Upholstered Corkboard via Earnest Home Co
3 Ways To Be More Confident via Lora Hogan
The Science of Smiling via Be Truly Nourished
Good read:
The Struggle Between Fitness & Wanting A Family via Feminine Muscle
Tuesday
Tips & Tricks
Easy Ways To Learn Portion Control via Food Faith Fitness
Mindful Eating With An Organized Whole Foods Pantry via Zen and Spice
How To Take Your Homemade Pizza From Good To Great via Real Mom Nutrition
Fitness finds:
Train Like An Athlete via Survive & Thrive
3 Tips For Surviving Taper Madness via Pavement Runner
25 Must-Try Med Ball Exercises via Greatist
10 Crunch-Free Exercises For A Stronger Core via Fit Knit Chick
Nutrition news:
Where Dietary Fat Guidelines Went Wrong via TIME Health
Love
Cherishing The Small Moments of Motherhood via Enjoy Every Bite
Wednesday
Good reads:
7 Inevitable Truths About Blogging via A Healthy Slice of Life
What Would Tami Taylor Do via Carla Birnberg
Why Diets Don't Work via Mommy Run Fast
Tips & Tricks
Easy Cheats For Way Cooler Smartphone Pics via Life Blooming
Fitness:
18 Partner Workouts via Ex Sloth
15 HIIT & Tabata Workouts via Fitfluential
Thursday
Good ideas:
29 Fun Date Ideas via Greatist
Homemade Lip Balm via The Spiffy Cookie
Great info:
Which Camera Lens Is Right For You via SITS Girls
Women's Beginner Strength Training Guide via Lift Like A Girl
What This Food Allergy Mom Wants You To Know via Real Mom Nutrition
Love:
Jeans & Genes- How I Learned To Love My Body via The Healthy Maven
Friday
Good reads:
Starbucks Debuts Coconut Milk That's Not Coconut Milk via Body Rebooted
12 Ways To Create Good Karma via Energy We Bring
10 Tips On Cooking For One via Gimme Some Oven
3 Nutritional Jobs You Have As A Parent via Eating Made Easy
Mega Omegas via Muffin Myth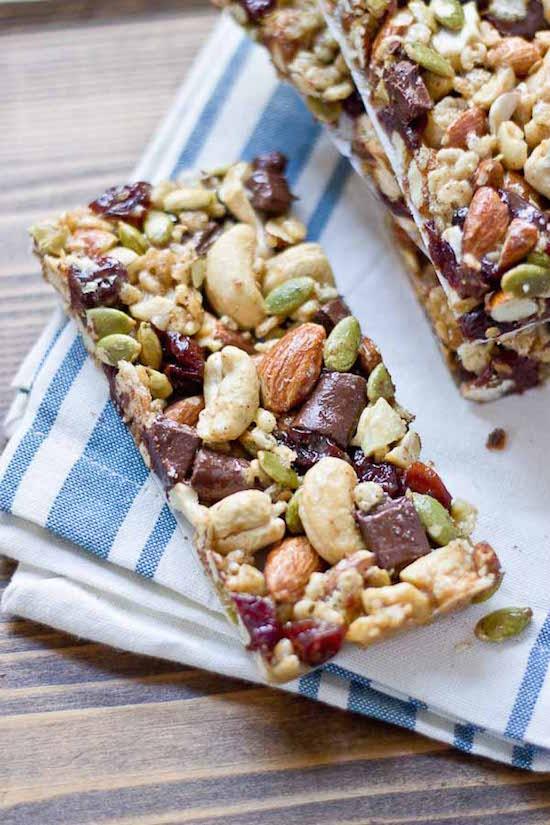 Monday
DIY Homemade Healthier Salad Dressings
3 Ingredient Paleo Flatbread
Madras Lentil Soup
Maple Oat Muffins
Tempeh Bacon Carbonara 
Ginger Sesame Brittle
Triple Chocolate Whole Wheat Pancakes
Tart Cherry Chocolate Cashew Granola Bars
Peanut Butter Caramel Sauce
Gluten-Free Chocolate Chip Mug Cake For Two
Healthy NoBake Dirt Cake with Welch's Chia Pudding
Tuesday
Asian Pan Seared Salmon Salad for One
Everything Bagel Seasoning Blend
Loaded Oatmeal Cookies
Bacon Sriracha Mac and Cheese
Ginger Grapefruit Cocktails
Creamy Crockpot Steelcut Oatmeal
Low Sugar Dark Chocolate Granola
Weeknight Coq au Vin
Dark Chocolate Raspberry Hemp Truffles
PB & J Granola Clusters
Wednesday
Shredded Chicken Tacos with Strawberry Balsamic Tacos
Cocoa Dusted Almonds
Gluten-Free Chocolate Chocolate Cake
Homemade Graham Crackers
Chocolate Coffee Cookie Ice Cream Sandwiches
Chocolate Waffle Ice Cream Sandwiches
Slow Cooker 5 Spice Chinese Beef Stew
Maple Glazed Sour Cream Donut Holes
Thursday
Crockpot Shredded Chicken Chili Colorado Tacos
4 Ingredient Grain Free Crepes
Toasted Honey Pecan Butter
26 Healthy Ice Cream Recipes
Light Creamy Italian Dressing
Friday
Pink Cashew Cream Smoothie
No Bake White Chocolate Raspberry Protein Cookies
Paleo Coconut Flour Banana Bread
Gluten-Free Breakfast Pizza with Hashbrown Crust
Carrot Cake Breakfast Cookies
Cake Batter Chia Pudding
15 Minute Ginger Pork
Cranberry Chocolate Quinoa Bars
Flax Cranberry Breakfast Cookies
Skillet Rolls For Two
Turkey Sausage Patties From Scratch
I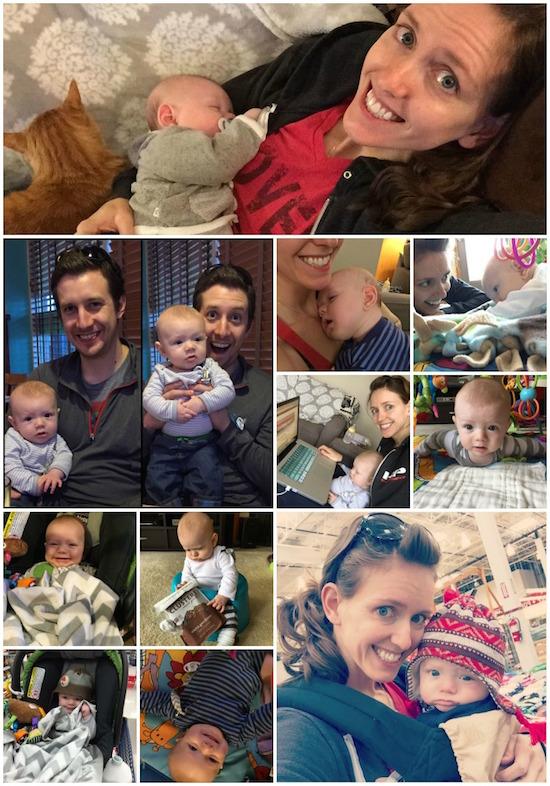 Could he get any cuter?!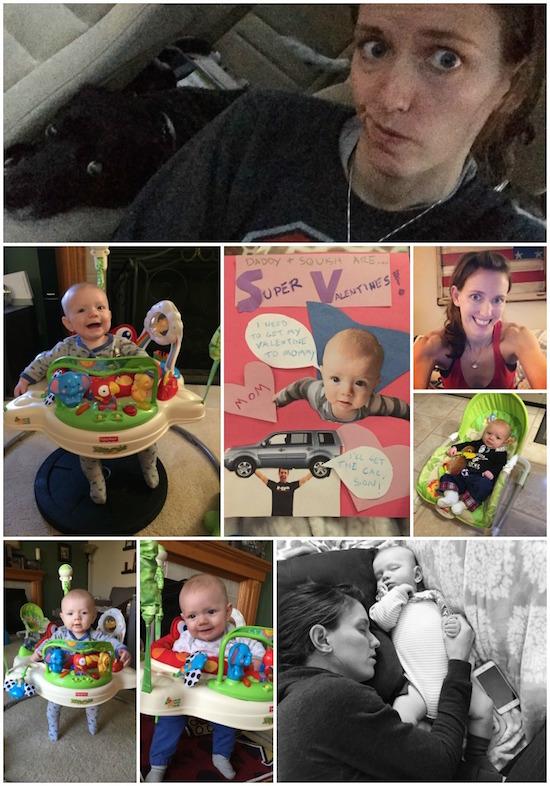 That top one….our faces when you take their dogs to get their nails trimmed, wait 40 minutes and the lady never shows.
Squish got a new toy- a jumparoo- he's taking his time getting used to it but I think he's really going to love it in a couple weeks once he figures it out completely.
Hubby made me an amazing Valentine as usual.
Squish and I are party animals, sleepin at 9pm on a Friday night.

9 Red Flags That Could Trigger A Tax Audit
Heating Pad or Ice After An Injury
5 Ways To Make Your Photos Look Better In Blog Posts
On Looking At Myself
Jon Stewart Leaving Fake News Desk Is Loss To Real News
Calling All Nutrition Experts: An Open Letter and Bet
How To Fight Without Ruining Your Marriage
Everything That's Happened Since The Serial Podcast Started
7 Steps To Dealing With Sentimental Clutter
15 Things You Can Do With Silica Gel Packets
Mommy Somebody Needs You
5 Things You Might Not Know About Fat Loss
Enjoy!
–Lindsay–