Hi Friends!
Happy Monday! Time for another round of Bean Bytes!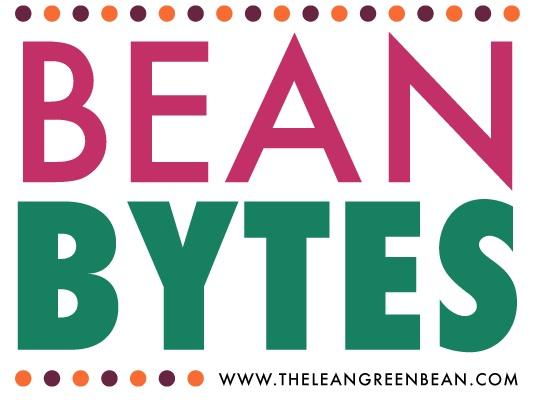 Monday
On working out:
5 Ways To Counter Inflammation From Running via Mommy Run Fast
Be A Butter Burner via Miss Zippy
Gender Differences In Running via Run To The Finish
How To Embrace Mental And Physical Rest via Cotter Crunch
On labels:
Are You A Vegan, Vegetarian, Paleo? via Foodtrainers
Things You Should Consider When Reading My Blog via Chelsea's Healthy Kitchen
What do you think?
Would Your 20 Year Old Self Approve of You via Feminine Muscle
Great reads:
Stop Comparing Yourself To Others via The Foodie Dietitian
The Day I Stopped Saying I Don't Have Time via Scissortail Silk
Tuesday
Working on this!
Building Your Virtual Community via The Adventures of MJ & Hungryman
Great way to help the community
What Is Milk Sharing via Food Fitness & Family
One of my favorite pieces of workout equipment:
Kettlebell Training For Beginners via Fit Knit Chick
Tips and Tricks:
5 Ways To Increase Post-Workout Burn via Your Trainer Paige
How To Eat Intuitively: A Guide To Mindful Eating via Fannetastic Food <– awesome
Why Toddlers Make You Fat & How To Avoid It via Feminine Muscle <– interesting
How To Race With Your Significant Other via Relentless Forward Commotion
The Best Parenting Advice I've Ever Received via Making Mine
Nailed it:
What Beauty Means To Me via Brittany Lesser
Look How Far You've Come via Bonnie Lang
Wednesday
Tips & Tricks
Natural Shaving Cream via Energy We Bring
How To Schedule Posts in Hootsuite via SITS Girls
Why Am I Sore After Some Workouts- What Foods Speed Recovery via Fitfluential
5 Questions To Ask When You're Not Making Progress via Gabby's Gluten-Free
Good reads:
Fear or Love: Where Are You Coming From via Eat Run Sail
Women's Greatest Threat Isn't Misogyny, It's Counting Calories via The Washington Post
How Much Sugar Is Too Much via Eating Made Easy
Truth:
What Matters Most via A Gutsy Girl
Things I've Learned Since Turning 30: Money via Cupcakes & Cashmere
Thursday
Tips & Tricks:
How To Be More Productive Working From Home via Hubspot
Breastfeed Nutrition via Itz Linz
10 Things To Do Before & After Your Next Track Workout via Reach Your Peak
General Child Safety Tips via The Wise Baby
Blog Brulee Recap (Photography Tips) via The Foodie Dietitian
In the news:
Artificial Sweeteners Could Spike Blood Sugar via The Washington Post
Friday
Stay safe!
Run Before The Sun Safety Tips via Healthy Helper
What do you think?
Steve Jobs Didn't Let His Kids Use Electronics So Why Should You?
Great tips!
9 Food Presentation Tips via Army Wife to Suburban Life
Good read:
I Wear Large Bikini Bottoms via Eat Lift Be Happy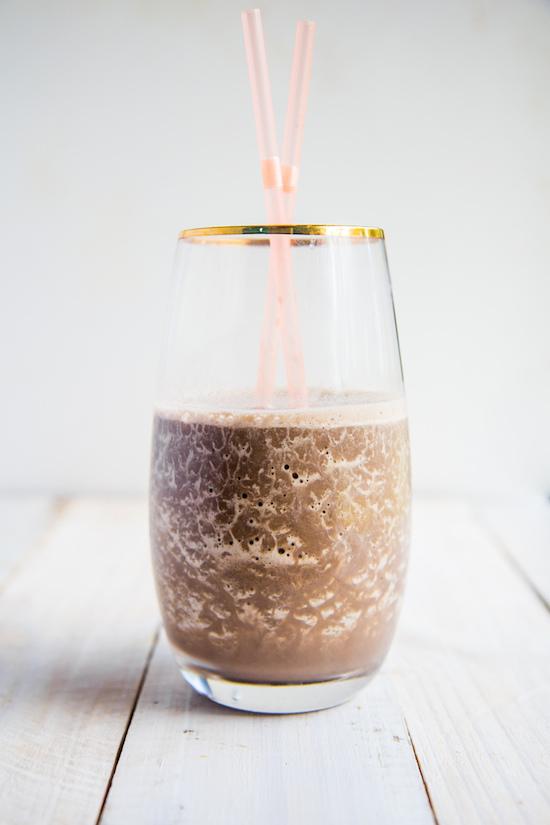 27 Ways To Use Leftover Wine
Cinnamon Sugar Apple Muffins
Chai Tea Latte Milkshake
A Guide To Tofu
Apple Cinnamon Pretzel Twists
Curried Carrot Soup
Lentil Sloppy Joes
Paleo Pesto Meatballs
Greek'd Out Sweet Potato Fries
Curried Almond Granola Bars
Single Serve Peanut Butter Muffin
Small Batch Cinnamon Rolls
Asian Soba Noodle Salad w/ Spicy Peanut Dressing
Flourless PB Chocolate Chip Cookies
Pear Cookie Crisps <– dying over these
Asian Pork Tenderloin
Pumpkin Spice Browned Butter Protein Bites
Slow Cooker Ginger Spiced Apple Butter
No Bake PB&J Thumbprint Cookies
Crispy Brussels Sprouts with Thai Sauce
Baked Breakfast Taquitos
5 Layer Baked Hummus Dip
Mini Pumpkin Pie Smores Tarts
Oatmeal Raisin Cookie Dough Dip
Bento Style Lunch Ideas
Vanilla Pumpkin Chickpea Pancakes
3 Minute Egg White Oatmeal
No Bake Coconut Raisin Oat Crunch Bars
Pear Honey & Cheddar Biscuits
Pumpkin S'mores Bars
Autumn Chopped Salad with Apple Maple Vinaigrette
Pumpkin Rice Krispie Treats
Salted Cinnamon Salmon
Caramel Apple Cider Floats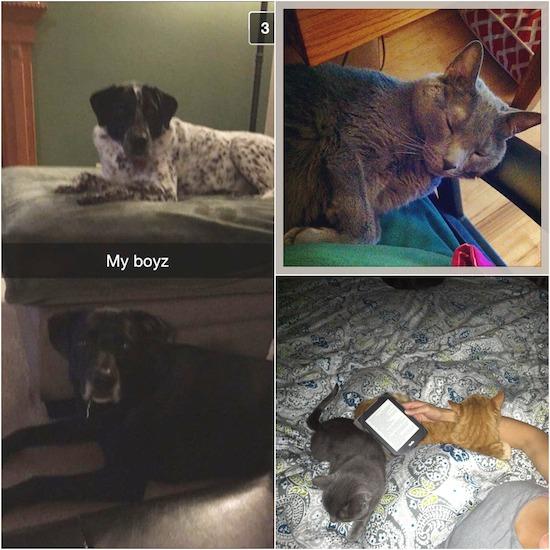 The furry children.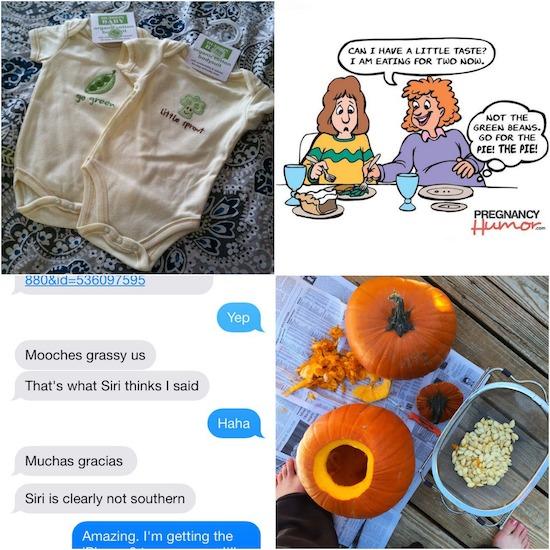 More cute onsies from friends!
Someone shared this cartoon with me & I loved it.
Texts with Regan make me laugh.
Truth- I buy pumpkins in September just so I can roast the seeds 🙂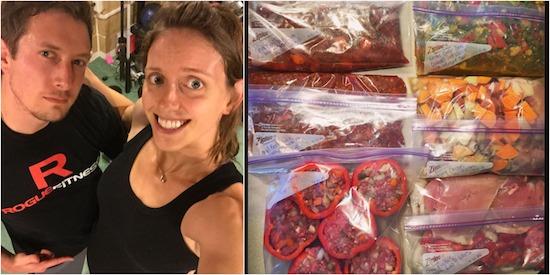 Love working out with hubby. He, baby bean & I did a great basement wod yesterday.  Speaking of baby, we have our 36 week appt this week and also have another appointment to monitor the fluid in the kidneys so hopefully both of those will go well. This weekend we put one of the carseat bases in hubby's car, washed all the clothes and blankets we have so far and I made a dent in my freezer meals prep plan! Hoping to do a post on all the meals and snacks I prep soon so stay tuned!
In other news, my parents were here Thursday afternoon- Saturday morning. It was great to see them one last time before baby comes. I also got my new phone and it is AMAZING!. The fingerprint login = clutch.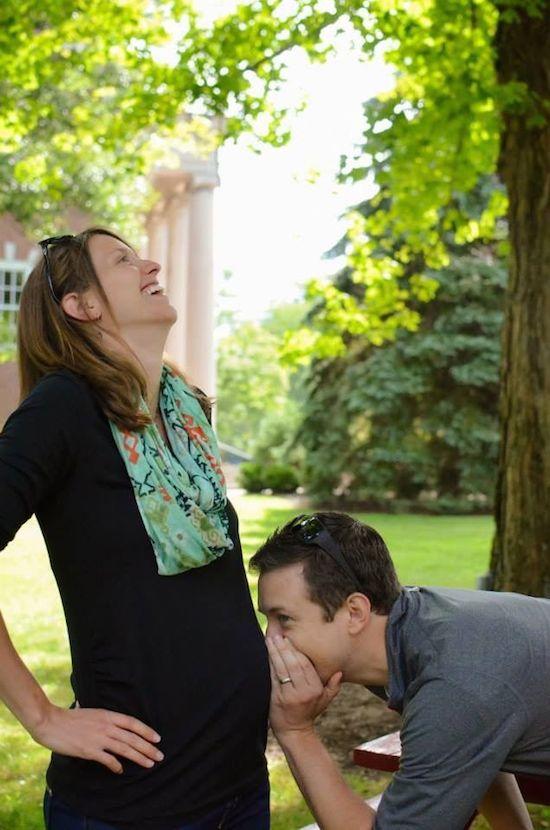 We got the pics back from our maternity shoot and we love them!! I'm planning a post to share them with you guys, as well as pics of the nursery so be on the lookout for that! This is ones of the best ones though 🙂

 Why Pinterest Made Me Reconsider How I Create Blog Posts
Stop Apologizing For A Messy House
Preserving Memories While Wedding Planning
Celebrating the Lessons of Julia Child
10 Natural Remedies For Your Medicine Cabinet
7 Fantastic Email Lists
5 Everyday Things That Are Really Hard When You Can't Get Pregnant
Don't Downplay The Easy Days
11 Ways I'm Trying To Achieve A Sane Relationship With The Internet
22 Intellectual Jokes You Have To Be A Little Nerdy To Understand
7 Life Lessons From A Flying Trapeze Class
The Importance of Youth Sports From A Coach's Perspective
What To Do When You Have A Bad Body Day
How To Make Old Workouts New Again
Is Adulthood Dead?
9 Things No One Tells You About Conditioner
Should You Run With Music? Depends on your goals
Have a great week!
Enjoy!
–Lindsay–