Hi Friends!
We're kicking off a new week and that means it's time for another round of Bean Bytes!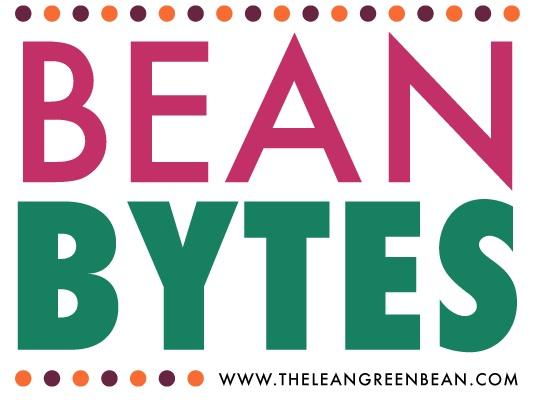 Monday
On the PR mindset:
PR = Personal Record via Love Life Surf
Tips and Tricks:
8 Tips For Taking Better Photos With Your Smartphone via Modern Wife
Backpacking Tips For Beginngers via Just A Colorado Gal
Ultimate Cookie Troubleshooting Guide via Handle the Heat
7 Things To Do Every Single Day via Nosh and Nourish
Top 5 Reasons Your Workout Isn't Working via Eating Bird Food
How To Start A WordPress Blog In 5 Minutes via Danielle Zeigler
3 Ways To Get Involved In School Wellness via Real Mom Nutrition
Love this project:
50 States In A Year
On current events:
What an ALS Family Thinks About The Ice Bucket Challenge via Bo Stern
Thoughts on Ferguson via Neighbor Food
Tuesday
Important:
Your Favorite Body Wash Might Be A Danger To The Environment via Greatist
3 Hip Stretches To Do After Running via Your Trainer Paige
Tips and tricks:
5 Smartphone Apps Every Young Professional Should Use via Brazen Careerist
How To Pace Yourself While Running Outside via Run to the Finish
DIY Gallery Wall For Less Than $20 via Back To Her Roots
How To Tell If You're Wearing The Right Sports Bra Size via Keep It SimELLE
Training Tweaks For Muscle Definition via Workout Nirvana
10 Tips For Roadtripping With Kids via Mom's Little Running Buddies
5 Easy Weight Loss/Maintenance Tips via Hungry Hobby
Yoga: What To Know Before You Practice via Fine Fit Day and Love Life Surf
How and When To Use Common Image Files via Hubspot
Love these:
Trying To Lose Weight? Give Yourself Some Grace via Well of Health
5 Ways A Fit & Fabulous Lifestyle Begins Now via The Sweet Life
Why I Will Never Lie To My Children About Food via Raise Healthy Eaters
Yes:
Stop Calling It Morning Sickness via Huff Post Parents
Wednesday
Want to spice up your workout?
New Great Fitness Moves via Cotter Crunch
Good thoughts:
I Am Anxious via Carla Birnberg
4 Ways Not To Measure Your Happiness via The Shine Project
We're Not Always On- It's OK via Truth To Being Fit
How To Respond When Life Kicks You In The Ovaries via Lift Like A Girl
Good lists:
The Classes You Should Take In College via Almost Getting It Together
23 Inspirational Yoga Instagram Accounts via Running on Real Food
6 Easy Ways To Be Healthier via I Heart Vegetables
Tips and Tricks:
How To Start A Blog In Less Than 30 Minutes via Fit Foodie Finds
Pumping At Work via Itz Linz
Meal Planning Tips and Strategies via Prep Dish
How To Pack Easy School Lunches via Foodlets
Get more sleep!
How Sleep Affects Weight, Cravings and Performance via Mommy Run Faster
Great Recap:
Fitness Isn't About Building A Better Body, But A Better Life via Peanut Butter Fingers
Thursday
Tips and Tricks:
6 Tools and Apps To Help Grow & Manage Your Blog via Running on Real Food
How To Grow  Your Blog and Make Money via PB Fingers
Parenting:
On Maternity Leave In America and a Call For Change via Lindsay's List
12 Things I've Learned In My First Year of Parenting via Sweet Tooth Life
Do you agree?
The Problem With Reality TV via Slim Sanity
Friday
Need to work on this!
Desk Posture Tips via Reach Your Peak
This is awesome:
What Pregnancy Feels Like- As Told By Cats via Huff Post
Great tips:
How To Get Started Freelancing via Our Freaking Budget
5 Tips For Overcoming Weight Loss Plateaus via The Lemon Bowl
3 Strength Training Updates for Goodness via Fit Knit Chick & Workout Nirvana
Sports Nutrition: Who Should You Work With via Run To The Finish
14 Simple Food Photography Tips via Clean Eating Veggie Girl
5 Things You Need To know From Idea World Fitness Convention via Thrive Personal Fitness – love #2
Truth:
10 Reasons Why I Love Your Blog via Huff Post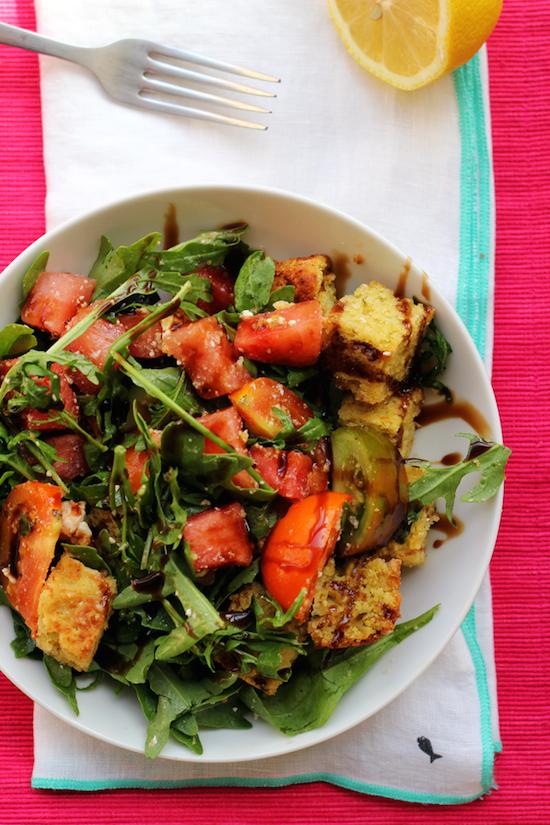 Summer Panzanella w/ Pesto Cornbread, Watermelon & Feta
Make Ahead Fruit and Yogurt Protein Parfaits
Homemade Chai Tea Latte
Maple Chocolate Chip Zucchini Bread
18 Easy ways to Eat Your Greens
Strawberry Mint Yogurt Parfaits
Shrimp & Pickled Veggie Soba Noodle Bowls
Rainbow Salad with Poppyseed Dressing
Honey Roasted Peaches
Butternut Squash Red Curry
Chocolate Cherry Recovery Smoothie
Lemon Blueberry Zucchini Bread
Tart Cherry Pecan Bars
Salmon Peach Quinoa Salad
Easy Breakfast Cookies
Peach Crumble For Two
Blueberry Goat Cheese Drop Biscuits
Vegan Caviar
Herb Whole Wheat Monkey Bread
Moroccan Coffee
Peach Oatmeal Squares
Skillet Buckwheat Banana Bread
No Cook Heirloom Tomato Sauce with Burrata
Tart Cherry Chinese BBQ Pulled Pork Sliders
Brownie Ice Cream Sandwiches
Summer Harvest Grilled Pizza
Asian Chicken Tacos
Southwestern Hashbrown Waffles
Hatch Chili Cherry Breakfast Wraps
Peach Caramel Sauce
Avocado Fried Egg Sandwich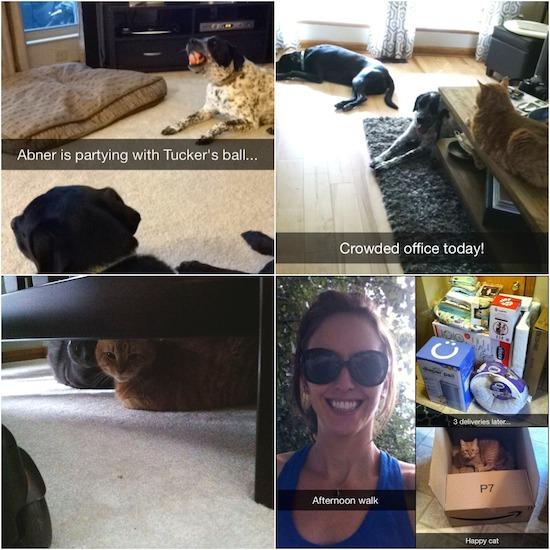 Just some snaps from the week. We ordered pretty much all the remaining stuff on our registry after the shower AND we finally signed up for Amazon prime, which resulted in the Fedex truck coming to our house 3 times in one day last week. But now we feel like we have pretty much all the stuff we'll need, at least initially.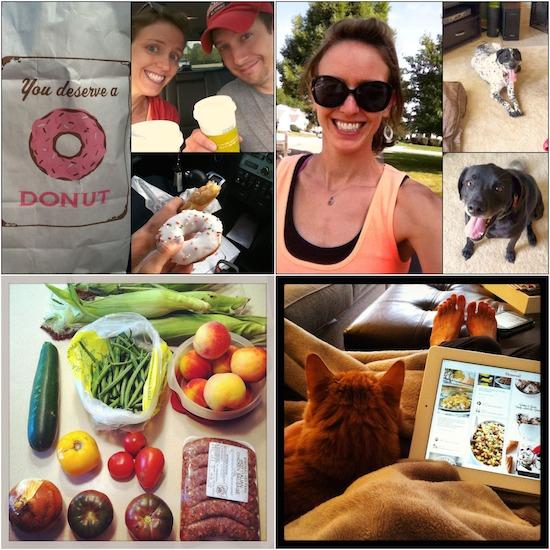 Over the weekend, we treated ourselves to donuts and coffee, then headed to the Farmer's Market. After getting groceries and heading to Costco, we came home and I threw an egg bake in the oven that I'd prepped the night before and took the boys for a 2 mile walk while it was baking. Afterwards, I snuck in a quick basement workout and a nap, followed by some lounge around/pinterest time.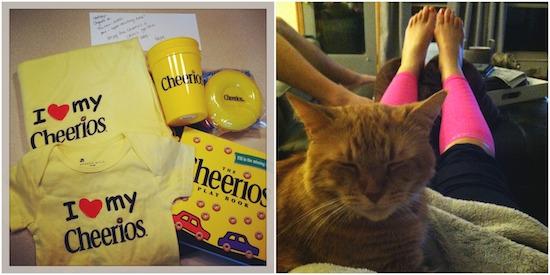 Baby bean is going to be a Cheerios baby like his mama. They sent me a sweet little package full of Cheerios goodies for the baby and some cereal for me 🙂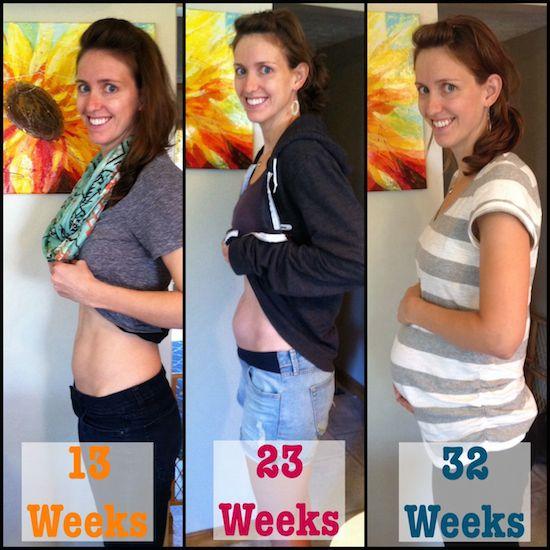 Baby Bean continues to grow. We hit 32 weeks this weekend. This past week was the first time I dealt with swollen feet. I woke up the Monday after my shower with a lot of swelling, which I'm sure was a combination of being on my feet a lot over the weekend and eating a lot of sweet at the shower. I made a special effort to wear my compression sleeves, put my feet up and drink lots of water and the swelling went away by mid-week.
Other symptoms- my feet cramp up a lot when I work out, which sucks but it's manageable. One of the most annoying pregnancy symptoms I've had so far is that I can actually feel my ab muscles stretching and ripping…especially where they connect at the top of my rib cage. It feels like I have 10 bee stings and a super bad sunburn all rolled into one so it's constantly itching, burning, tingling. Weird and annoying…and nothing makes it better. It happens when I'm just sitting there doing nothing and when I'm up moving around.
This week we have our 32 week appt with the OB, a breastfeeding class, another ultrasound to recheck his kidneys with the specialist and we'll be in our baby class all day next Saturday….so it'll be a busy week! This weekend we found frames and hung up all the art/prints we'd bought for the nursery, cleaned out the nursery closet to make room for baby stuff, figured out how to set up and take down the pack and play and set up the vibrating rocker thingy. We have the tags off all the clothes and blankets we've gotten so far so they're ready to be washed in a couple of weeks!

 Guide To Hidden Sugars
Everything You Need To Know About GMOs
15 Junk Food Favorites Healthier & Cheaper at Home
How To Get More Likes On Instagram
12 Steps To Becoming Well-Informed
Ditching The Diet Mentality
When Healthy Goes Unhealthy
7 Awesome Ways To Get Your Morning News Fix
Naked and Imperfect
The Difference Between Giving Up and Letting Go
My Blogging Journey: Pushing Through Darkness
Feeding Your Canine Athlete
5 Morning Inspiration Mantras
10 Things I Don't Care About Now That I'm 29
The Most Valuable Advice
Ultimate Guide To Food Blogging
Treats, Cheats & Negative Language About Food
That's about it for now. Come back tomorrow- The Bean turns 4 and I'll be recapping the best recipes and posts of year 4!
Enjoy!
–Lindsay–