Hi Friends!
Today we're kicking off a series of guest posts over here on The Bean while I take a little break. Not to worry though, I've left you in good hands! I've got some of my very favorite bloggers filling in for me. My hope is that you'll love the posts they've written as much as I do and find a few fun new blogs to follow!
First up is Morganne from NutButter Runner. Morganne and I have connected on Twitter over the past few months and she's become one of my blog's biggest supporters. In turn, I've come to love her blog as well. She is a Sunday Food Prep rockstar, always sending me amazing submissions for my Sunday series! Plus, she a rockstar runner and she's amazing in the kitchen. She's always whipping up delicious recipes like Lentil Almond Burgers and we share a love of dillas- like this Garden Baked Turkey Dilla. Plus she puts together great workouts- like this Tank Top Arms circuit to share with her readers. Go check out her blog!
Today she's sharing a fabulous recipe with all of you. I didn't even tell her that french toast is my favorite 🙂 She just knows the way to my heart!
—————
Hi Lean Green Bean readers! I'm Morganne and blog at NutButterRunner. As a long-time reader of Lindsay's blog, I was so excited when she asked if I would write a post while she is away this week. How fun is it that she gets to spend a week in California doing something she loves surrounded by amazing people?
To share a little information about me, my blog is mainly focused on food and fitness, with my number one loves being nut butter and running (hence the name…clever, right?). I'm a big fan of Sunday food prep and love Lindsay's posts regarding the topic. I thought it would be fun to share an easy recipe that you could make ahead of time for the week that is a great healthy breakfast!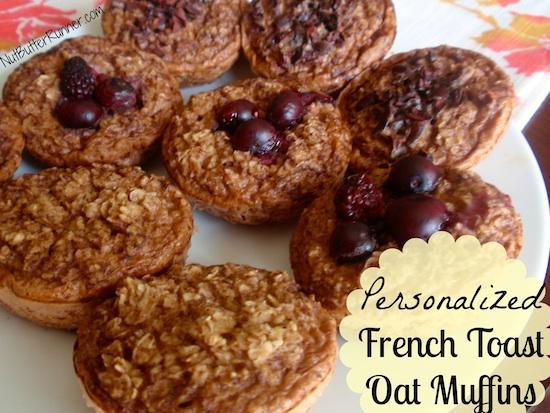 Print
French Toast Oat Muffins
Like portable portions of French toast, these muffins are surprisingly nutritious. Add your favorite mix-ins or toppings and the possibilities are endless. Pass the syrup, please!
Author: Morganne
Serves: 9
Ingredients
1 cup Old Fashioned Oats
½ cup Milk of choice (I used almond)
¾ cup Liquid Egg Whites (equivalent to 4 large egg whites)
1 tsp Nutmeg
2 tsp Cinnamon
3 tsp Vanilla Extract
Mix-ins/toppings of choice
Instructions
Preheat oven to 375 degrees. Prepare a muffin tin by spraying it with nonstick cooking spray.
Combine all ingredients in a large bowl and mix well.
Bake for 20 minutes, until a toothpick comes out clean.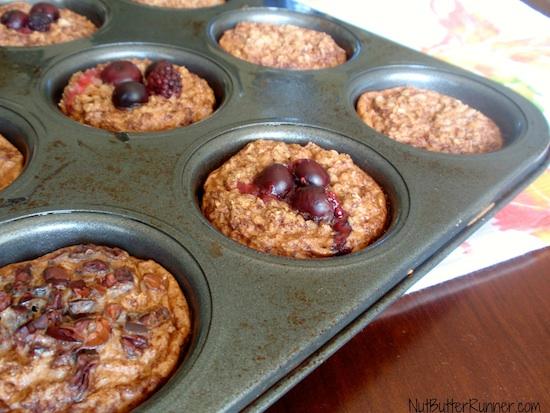 I stored these in the refrigerator and ended up having some cold, which was the perfect snack! I also enjoyed these warmed in the microwave for 45 seconds or you could rewarm them in an oven or toaster!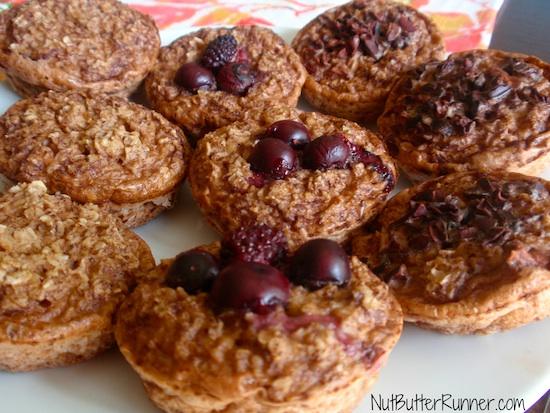 What I love is that they can easily be personalized to include any of your favorite mix-ins and toppings. I made one large batch, with different toppings on each. The first kind I made was with chocolate chips mixed in and chocolate shavings on top.I also made some with mixed berries.
And lastly I left some plain for those mornings that I may want something different! I topped these with nuts, but you could also do any fruit (fresh or frozen), nut butter, syrup, honey, etc.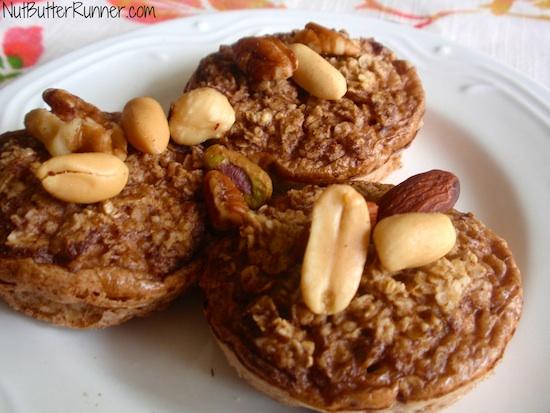 Breakfast just happens to be my favorite meal of the day, but the mornings can quickly become hectic around our house. I love having versatile options on hand for the week; it certainly makes life a little easier! I hope you enjoy this recipe as much as we have!
If you have any questions or comments, please feel free to email me at NutButterRunner(at)gmail(dot)com. You can also find me on twitter, Instagram, and Pinterest @NutButterRunner.
————
Huge thanks to Morganne for sharing this recipe today!
Let's chat:
Are you a french toast, pancake or waffle kinda person?
Enjoy!
–Lindsay–
LEARN HOW FOOD AFFECTS YOUR BODY.
Get my free Table Talk email series where I share bite-sized nutrition information about carbs, protein, and fat, plus bonus information about snacks and sugar!