Sheet Pan Gnocchi with Sausage and Green Beans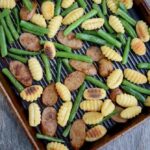 This Sheet Pan Gnocchi with Sausage and Green Beans recipe is a quick, healthy dinner the whole family will love. Ready in 20 minutes and easy to customize with your favorite veggies.
Scale
Ingredients
1 pound gnocchi (shelf stable or frozen)
3–4 fully cooked chicken sausages, sliced
1/2 pound (about 2 cups) green beans, cut to bite-sized pieces
3 Tbsp oil (i use avocado oil)
salt and pepper to taste
optional- sprinkle of oregano or italian seasoning
Balsamic vinegar and parmesan cheese, to taste
Instructions
Put gnocchi and chicken sausage on a large sheet pan. Drizzle with oil and stir until well coated. Sprinke with seasonings.
Bake at 425 degrees F for 10 minutes.
Remove sheet pan and add green beans to the pan. Stir everything and add a little extra oil if desired.
Return to oven for another 10 minutes.
Plate, drizzle with balsamic vinegar and top with parmesan (or desired sauce) and serve.
Notes
You could sub broccoli for green beans or add cherry tomatoes. If using tomatoes, add them to the pan at the beginning.
For additional sauce options, try tossing or dipping in marinara or going with a spicy sausage and adding a spicy green sauce before serving.