Lemon Blueberry Cheesecake Oat Bars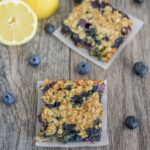 These Lemon Blueberry Cheesecake Oat Bars are the perfect summer breakfast. Make them ahead of time and enjoy all week long for a quick, healthy meal or snack!
Scale
Ingredients
4 oz plain cream cheese
1/4 cup maple syrup
juice and zest of one lemon
2 eggs
1 tsp vanilla extract
2 cups old fashioned rolled oats
1 cup blueberries
1 tsp baking soda
Soften cream cheese in a microwave safe bowl for 30 seconds.
Add maple syrup, lemon juice and zest, eggs and vanilla and stir to combine.
Stir in oats, baking soda and blueberries.
Spoon into 9×9 pan lined with parchment paper.
Bake at 375 for 20-25 minutes.
Let cool, then slice. Store in the fridge and eat warm or cold.
Notes
You could likely sub plain yogurt for the cream cheese but I haven't tried it myself.
You can omit the maple syrup for a less sweet version or sub mashed banana but it may make the lemon flavor less noticeable.