Instant Pot Sweet Potato Chicken Soup (with slow cooker option)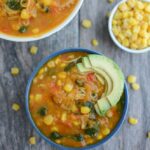 This Instant Pot Sweet Potato Chicken Soup is the perfect dinner for a cold winter night. Made with simple ingredients, it's easy to throw together and can also be made in the slow cooker.
Scale
Ingredients
1.5 pounds sweet potatoes (approx 2 large or 4 cups roughly chopped)
2 cloves garlic
1 red pepper, diced
1.5 pounds boneless, skinless chicken thighs
1.5 cups chicken broth
1 cup corn kernels (frozen, canned or fresh)
3 giant handfuls fresh baby spinach
2 tsp Old Bay (or seasonings to taste)
pinch of salt
Instructions
Peel and roughly chop sweet potatoes.
Place sweet potatoes, garlic, peppers, chicken thighs, Old Bay and broth in the instant pot.
Seal and manually set the timer for 12 minutes.
Quick release. Remove chicken thighs to shred. Use a fork or potato masher to gently break about sweet potato chunks as you stir. Switch to saute, return chicken to pot and stir in corn and spinach.
Let simmer 2-3 minutes, taste, adjust seasonings and serve. If you want to thin it out a little, add an additional half cup of broth.
Notes
For additional flavor, you could dice 2 strips of bacon and saute it in the instant pot with the garlic before adding the first set of ingredients.
To make it in the slow cooker, increase broth to 2 cups, cook in low for 6-8 hours until sweet potatoes break apart easily. Add spinach and corn for last 15 minutes.