Hi Friends!
It's time for another edition of WIAW. This one's gonna be a little non-traditional…but hey, that's what I do best!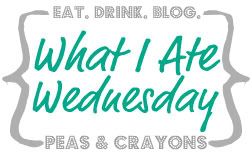 So, let's go ahead and skip breakfast shall we?
Only in spirit though, because really we all know that i NEVER skip breakfast. I just eat the same thing every single day and i'm sure you guys are getting pretty tired of it 🙂
Moving on to lunch:
I tried something new to me this week: Starkist Flavor Fresh Pouches! A few weeks ago I was contacted to see if I would be interested in trying some after they saw my Curried Tuna Melt Panani. I'm pretty picky about my tuna, so I opted to just try the low sodium versions, not any of the flavored kinds, but I must say I was impressed. The thing I hate most about tuna is having to drain it out of the can. These pouches save that step! I'm not sure I would buy them all the time, since they're more expensive than cans…but I'm definitely going to start keeping one or two on hand in the pantry for times when I have to make lunch REALLY quickly. In a pinch, I could even throw one directly in my lunchbox! They're single serving, not messy and packed with protein & omega-3's!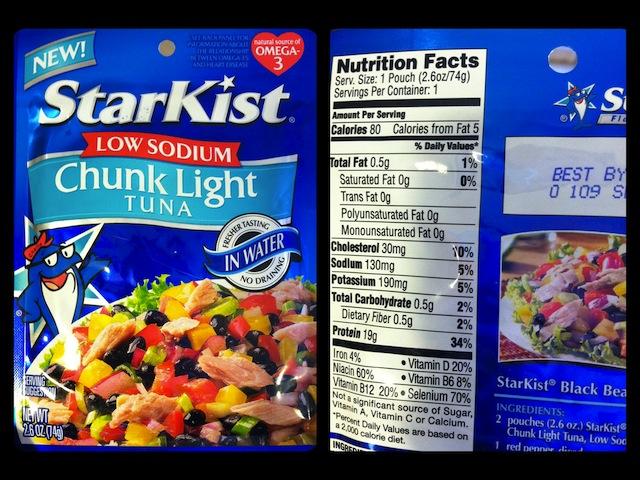 The low-sodium Albacore Tuna pouch has even less sodium (only 70 mg) and more protein (21 g)! I really enjoyed that one.
I tried out the Chunk Light first and made myself this wrap in about 3 minutes: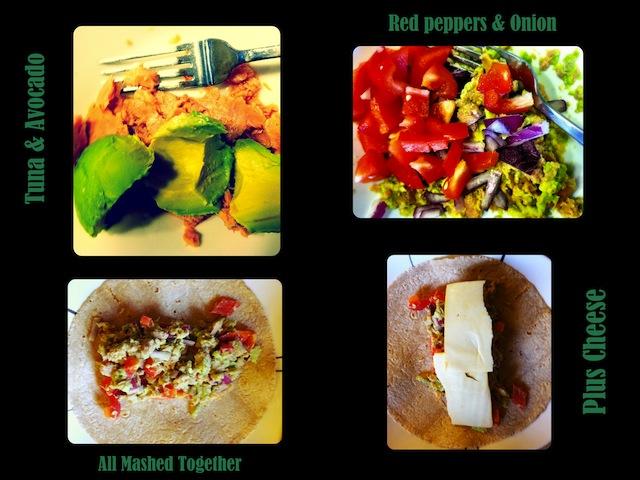 Eat it cold, or throw it in the microwave for 30 seconds to melt the cheese!
This definitely kept me full all afternoon!
Now let's talk about dinner. Last week I made a few dinners that didn't make it on the blog. Not because they were bad, but because they just weren't 100% great. They needed a few little tweaks but were still edible. Anyways, in true Lean Green Bean spirit, I wanted to share them with you anyways. You guys know I don't hide my failures from you 🙂
First up…the good: Roasted Veggies w/ Peanut Curry Sauce
Lately I've been craving a peanut butter based sauce for some reason. After doing some research, I found a couple recipes for sauces that involved peanut butter AND red curry paste…which sounded phenomenal to me…so I set out to make my own, and served it over roasted vegetables, chickpeas & rice. I'm gonna keep working on this one, because it has great potential. But I didn't like the way the curry paste and peanut butter kinda separated and made the sauce look kinda gross. Anybody have a good peanut sauce recipe that I could work with? This one used coconut milk, natural peanut butter, and curry paste…among other things.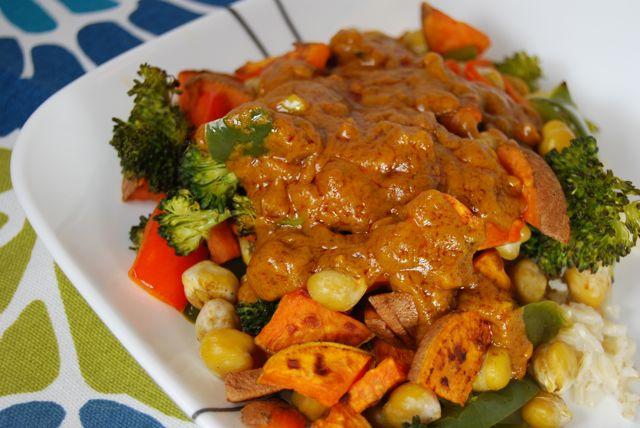 Better: Baked Sweet Potatoes w/ Feta & Black Beans
You guys know how often I eat sweet potatoes…like all the time. Usually when I'm running short on time or feeling lazy and I just zap them in the microwave. But there's something to be said for actually taking the time to bake a sweet potato in the oven. SO GOOD.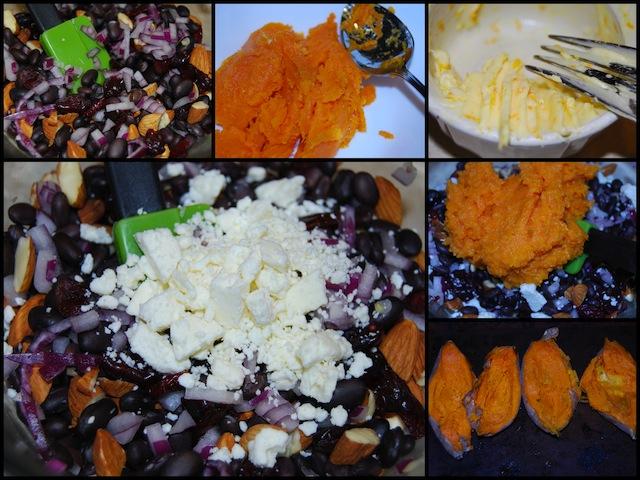 This time I wanted to change up our usual fillings  a little bit, so I mixed together some black beans and red onion. Then I added some chopped almonds for texture, craisins for sweetness and some crumbled feta for a little salty flavor. When The sweet potatoes were done baking, I scooped out some of the middles and mixed them with a little butter that I had mixed orange zest into. That was the mistake. The orange flavor totally overwhelmed the dish. I mixed everything together and re-stuffed the potato shells before putting them back in the oven to heat through…then I served them over rice. Hubby & I both thought the rest of the flavors really worked well together….so I'd probably make these again, just without the orange zest 🙂 Live and learn.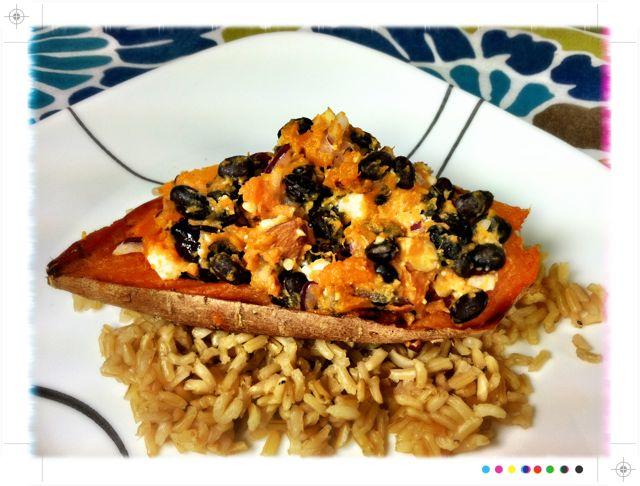 And now for the BEST part: Indian Stuffed Peppers a la The Hubby
One night last week, I came home from work to the hubby cooking up a storm. It smelled so wonderful when I walked in the door that I knew I was in for a treat! Since I didn't do the cooking, I don't have a recipe for you. But just LOOK at what he served me: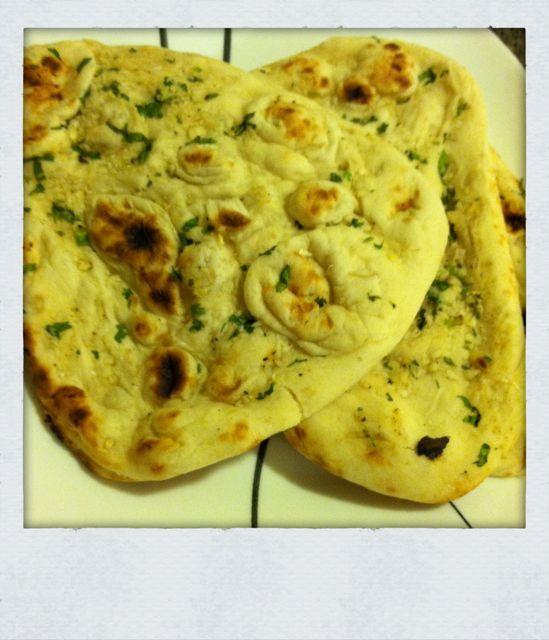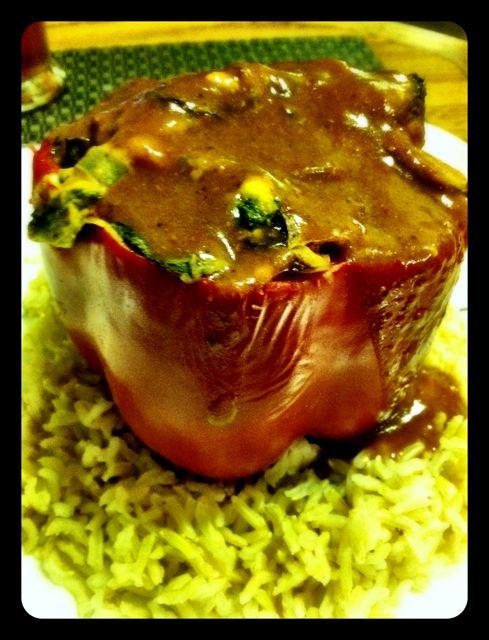 I literally cannot remember the last time I cleaned my plate that fast. I ate the ENTIRE thing in about 5 minutes. So delicious! I love my hubby 🙂
So there you have it…what I've been eating lately! A new lunch and a few experimental dinners, with a real winner thrown in!
Does your significant other cook for you?!
Enjoy!
–Lindsay–