Welcome to another WIAW, my friends!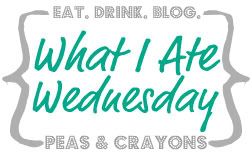 Here's the thing about me…I have a nervous stomach. That means, that on test days, I either have to get up and eat waaaaaaaay before (like 4 hours) my test…or I can't eat until it's over.
Like I mentioned, yesterday I had my last final and it wasn't until 11:30. I chose to get up at 7:30 and eat a small bowl of cereal and call it a morning. That means I was extra hungry after my test was over!
In celebration of being done with another quarter…I really only wanted two things: pizza and frozen yogurt. My willpower was truly tested because I had to stop by the UPS store to mail my books back and it's literally RIGHT NEXT to a frozen yogurt place.
But I resisted! Instead I went home and made myself a big bowl of deliciousness. So delicious, in fact, that it's the exact same thing I ate for lunch the day before:
Plain oatmeal, Greek yogurt (a mix of plain and lemon), a peach, some blueberries and a sprinkle of leftover of leftover No Bake Chocolate PB Oatmeal Balls.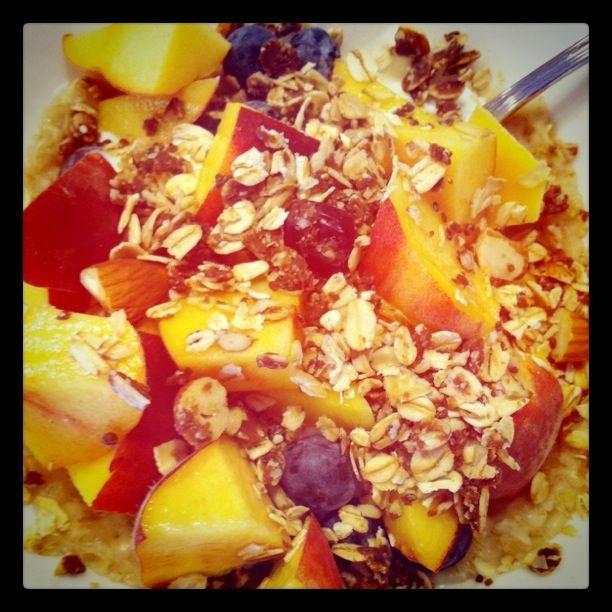 And then, to satisfy my fro-yo craving, I turned to the infamous Banana Soft Serve. But this time I really took it up a notch and even impressed myself 🙂 I added a few frozen blackberries to food processor with some bananas and blended them up. Then I added some crumbled animal crackers to the mix. Then I promptly gobbled it all up. Craving satisfied!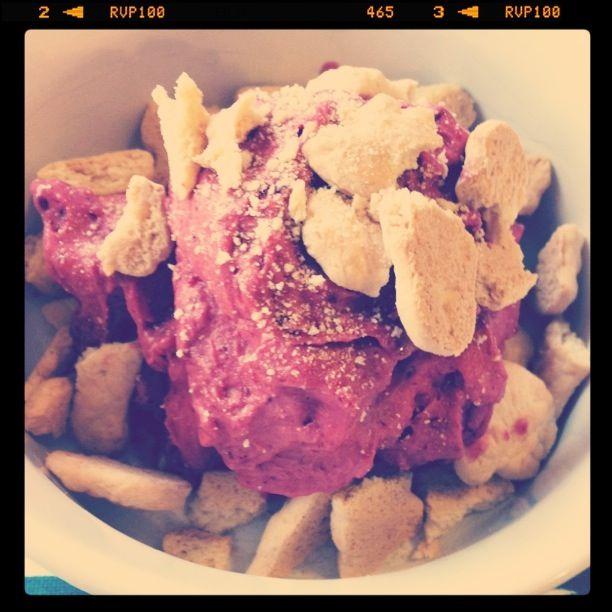 For the rest of the afternoon, I got organized, went for a run and made some pizza dough. I had high hopes of satisfying my pizza craving with a made-at-home pie. Bad news was, whenever I made thick crust pizza dough in the oven, I can never get the dough to cook all the way through in the middle unless I pre-cook it like half way before adding any toppings. Last night I tried again with little success. The good news was, all wasn't lost! I'd been thinking about hummus on pizza for a while now and when I realized I didn't have enough mozzarella cheese to make the second pizza with the dough I made, I turned to some frozen naan from Trader Joes. I popped it in the oven to heat it up, then added a thick layer of sweet potato & roasted garlic hummus, abunch of veggies and a tiny bit of cheese. Back in to the oven for a few more minutes and then I dug in. DELICIOUS! Hubby is currently mad at me because I may or may not have failed to mention that I was using frozen naan for my crust and not the dough I made for him! Whoops!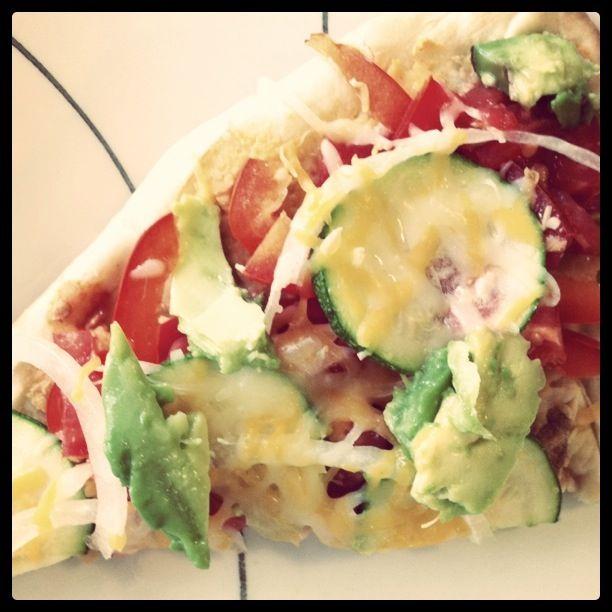 Craving #2 satisfied!
How do you satisfy your cravings at home?
Enjoy!
–Lindsay–