Hi Friends!
As promised, I'm back today to give you the recipe for the banana crunch pancakes I made for lunch on Monday…oh, and again for lunch yesterday!
I've been teasing you on instagram & facebook with pictures like this:

That wasn't nice, was it?!
Well have no fear…I'm here to share today. But first, let's talk about a few things:
I made these pancakes as kind of my own version of my all-time favorite Banana Crunch Pancakes from a restaurant we eat breakfast at sometimes called First Watch.
I've tried to replicate these before using banana slices like they do and failed miserably…the banana slices were always sticking to the pan, or burning, or creating pockets so the batter right around them didn't cook. I decided to see if I could solve this problem by just mashing the banana up to begin with to give them the banana flavor without having to deal with the slices. Success!
Their version uses sliced almonds…I used chopped pecans a)because I had them and b) because chopping is a lot easier than slicing when it comes to nuts.
Oh, and the most important thing. If you make these and expect them to be light, airy and bisquick-like you are going to be VERY disappointed. You'll probably cry. These are not light, airy pancakes. They're dense, and chewy, and packed with protein, healthy fats and whole grains! They're actually quite similar to my all-time favorite Whole Wheat Oatmeal Pancakes but with a few changes of course.
Are you ready for the recipe?
Whole Wheat Banana Crunch Pancakes
Prep Time: 5 min
Cook Time: 15 min
Keywords: stovetop breakfast healthy vegetarian agave greek yogurt oats banana
Ingredients (8-10 pancakes)
2/3 c mashed banana (2 medium)
1/4 c Skim milk
1/4 c Chobani non-fat greek yogurt
1 egg
1 Tbsp agave nectar
3/4 c white whole wheat flour
1/2 c oats
1 1/2 tsp baking powder
1/2 tsp baking soda
1/2 – 1 tsp cinnamon
1 Tbsp ground flaxseed
1/4 – 1/2 c chopped nuts
1/4 – 1/2 c Love Grown Foods Simply Oats Granola
Instructions
1. Combine the wet ingredients in a small bowl.
2. Stir in the dry ingredients until just mixed.
3. Let sit while griddle heats up.
4. Ladle onto a hot, greased griddle.
5. Top with chopped nuts and granola and press lightly down into batter with your fingers.
6. Flip when bubbles form and cook through.
Note: These pancakes will be moist, especially from the banana so I leave them on the griddle for a while, and press down on them with the spatula to help them cook.
I definitely suggest topping these pancakes with yogurt (read: more chobani!!) and sliced fruit. SO GOOD!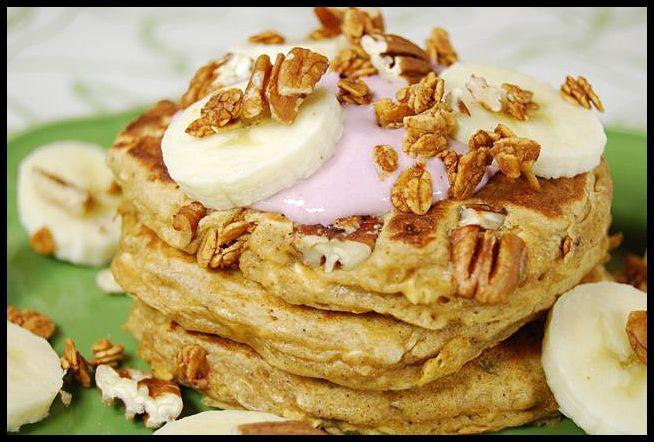 When I made them for lunch yesterday, I topped them with peach Chobani and a fresh peach. AMAZING. I really liked the peach/banana combo.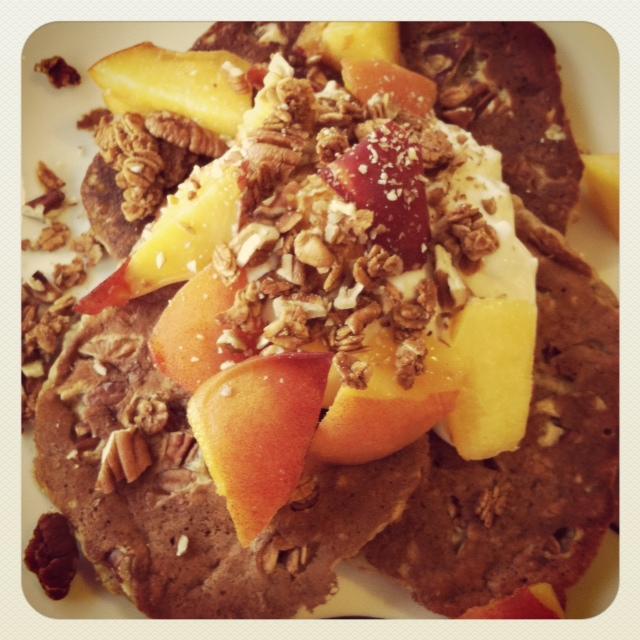 Either way, you really can't go wrong 🙂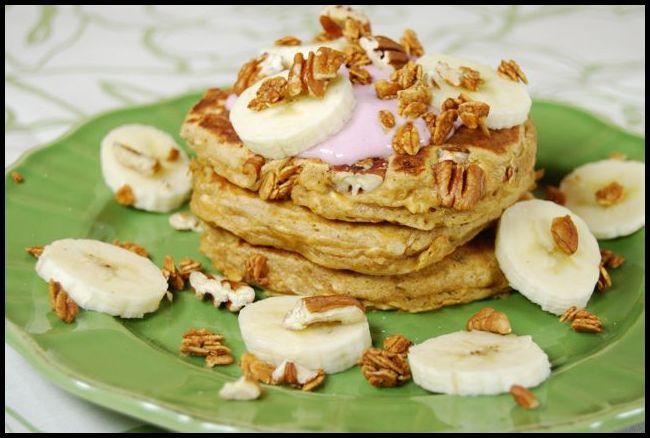 Enjoy!
–Lindsay–
LEARN HOW FOOD AFFECTS YOUR BODY.
Get my free Table Talk email series where I share bite-sized nutrition information about carbs, protein, and fat, plus bonus information about snacks and sugar!