Hi Friends!
I took a little break from the blog world to enjoy the holidays with my family. Here's a glimpse into what I've been up to: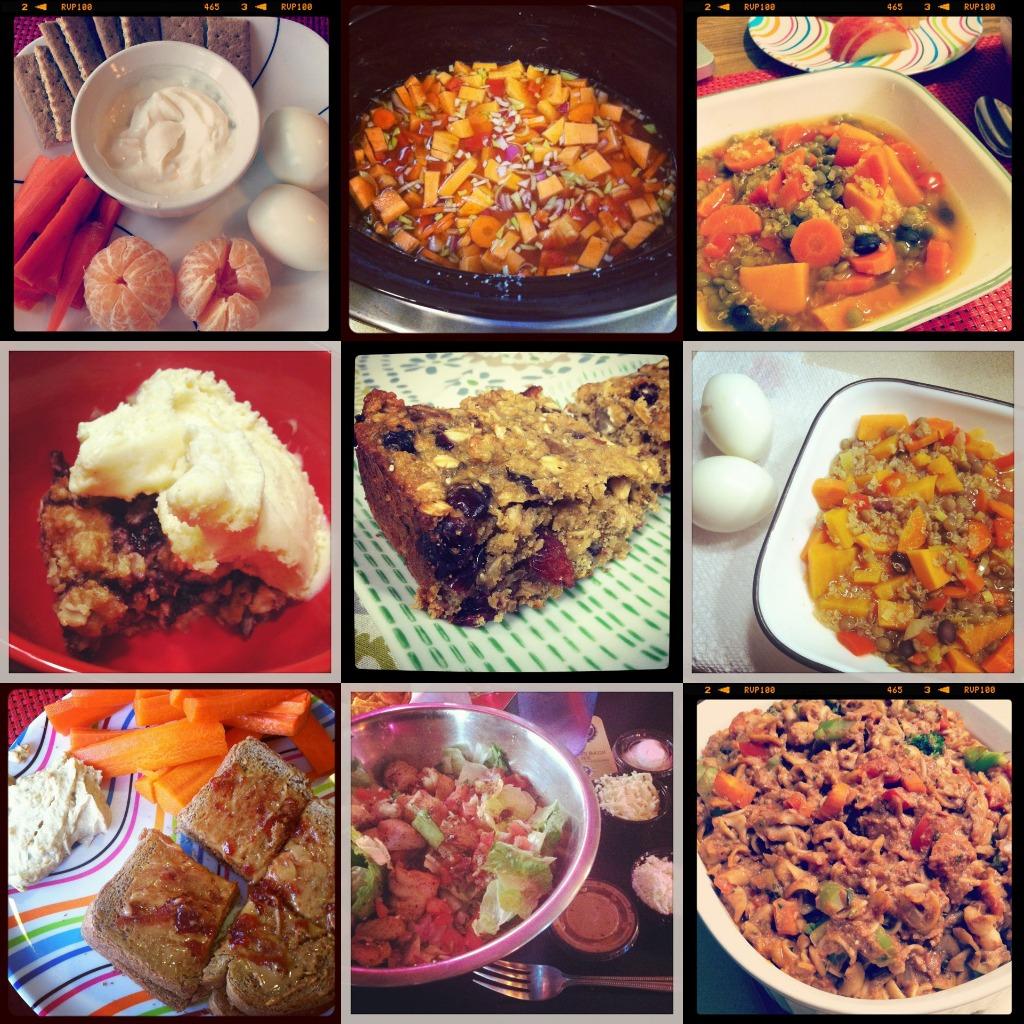 Some pre-holiday eats:
1. eggs, clementines, yogurt & graham crackers & carrots
2. Lentil Veggie Soup w/ quinoa in the Crockpot
3. Soup with a side of apples
4. Blackberry oatmeal bar with ice cream
5. Cranberry Peanut Butter Quinoa Bars- recipe coming soon!
6. More soup 🙂
7. Pb & J toast with hummus & carrots
8. Fish salad-
Tip: order cheese & dressing on the side…
That way YOU control the amount
9. Protein-packed Baked Ziti
For the Soup:
I chopped up veggies (sweet potato, red pepper, onion, etc) and threw them in the crockpot with some veggies broth for about 6 hours with lots of curry powder and red pepper. About an hour before we ate, I added some cooked quinoa and lentils and let everything heat through. SO easy.
For the casserole:
I pureed some cottage cheese and white beans in the food processor and then added some pesto and oregano. Then i sauteed some veggies, added a can of no-salt added tomato sauce and stirred in the bean and cheese mixture. I added some cooked noodles and a handful of mozzerella cheese and then put everything in a casserole dish and baked it for about 20 minutes to heat through. Such an easy way to add more protein with the cottage cheese and beans, and you couldn't even taste a difference!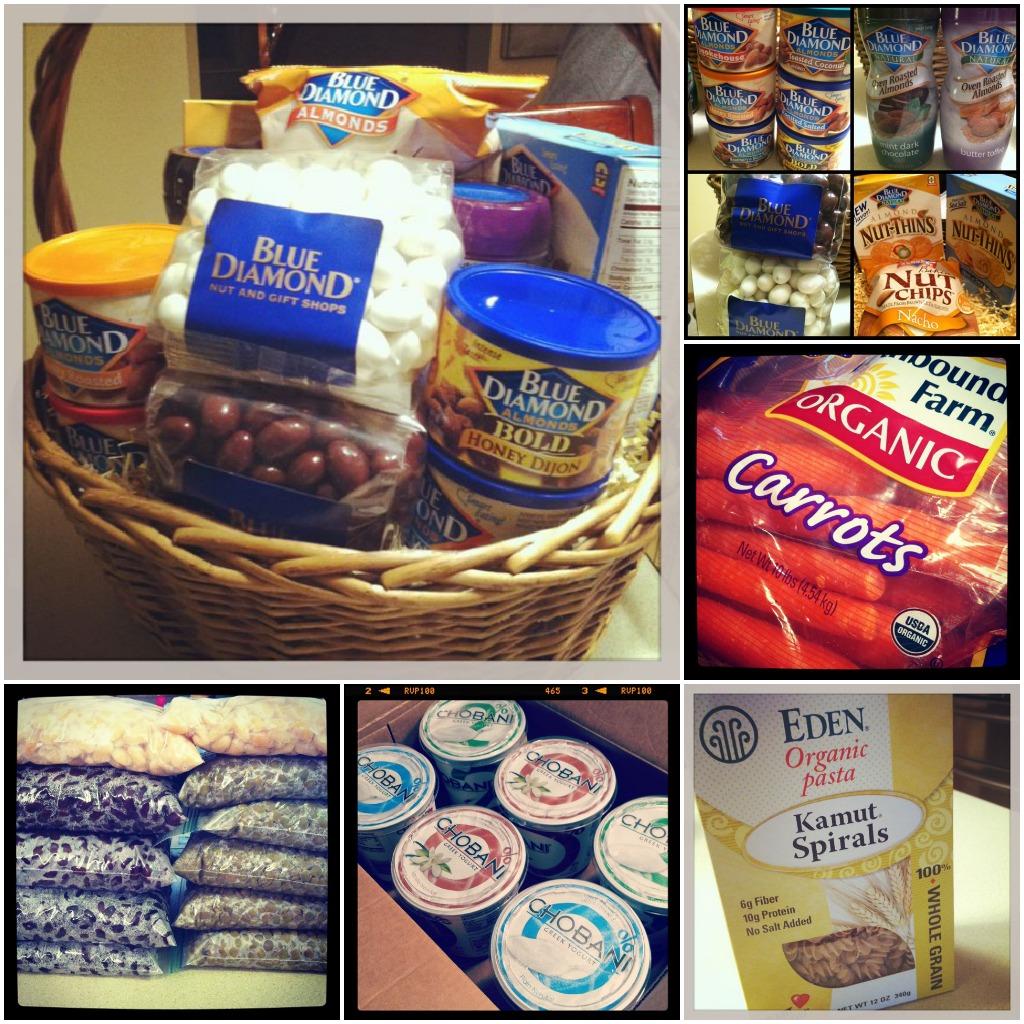 Randomness:
1 & 2. My friends at Blue Diamond Almonds sent me a HUGE gift basket filled with flavored almonds, chocolate and yogurt covered almonds, nut thins and chips! They're such a great company.
3. Yeah we buy the 10 pound bag of carrots at Costco..
Yes there are just two of us in the house.
Favorite snack.
4. Tried this new pasta from Kamut Wheat.
They're one of our Elf4health sponsors.
It's awesome. Way better than most 100% whole wheat pasta.
5. Another of my fav companies, Chobani, sent me lots of yogurt!
Can't wait to start whipping up some recipes!
6. I restocked my freezer with beans and lentils.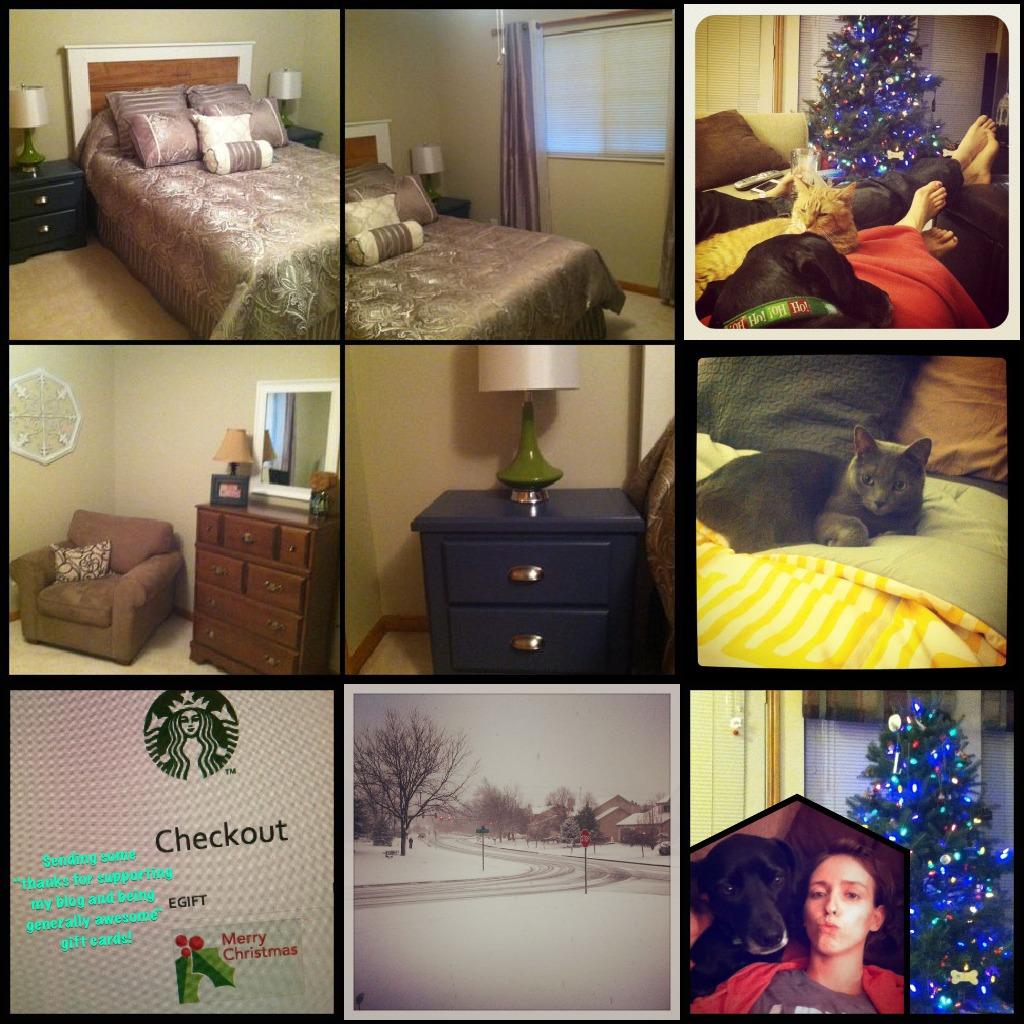 Around the house:
1. We turned our office into a new guest room.
It was a surprise for my parent's visit.
They loved it and so do we.
2. Couch time with the pets.
3. Poco waiting on my sister's bed for her to come!
4. Tucky and I with the tree.
5. We got our first snow a few days before Christmas.
6. Paying it forward by sending some Starbucks giftcards-
sent them to some of my blog's biggest supporters!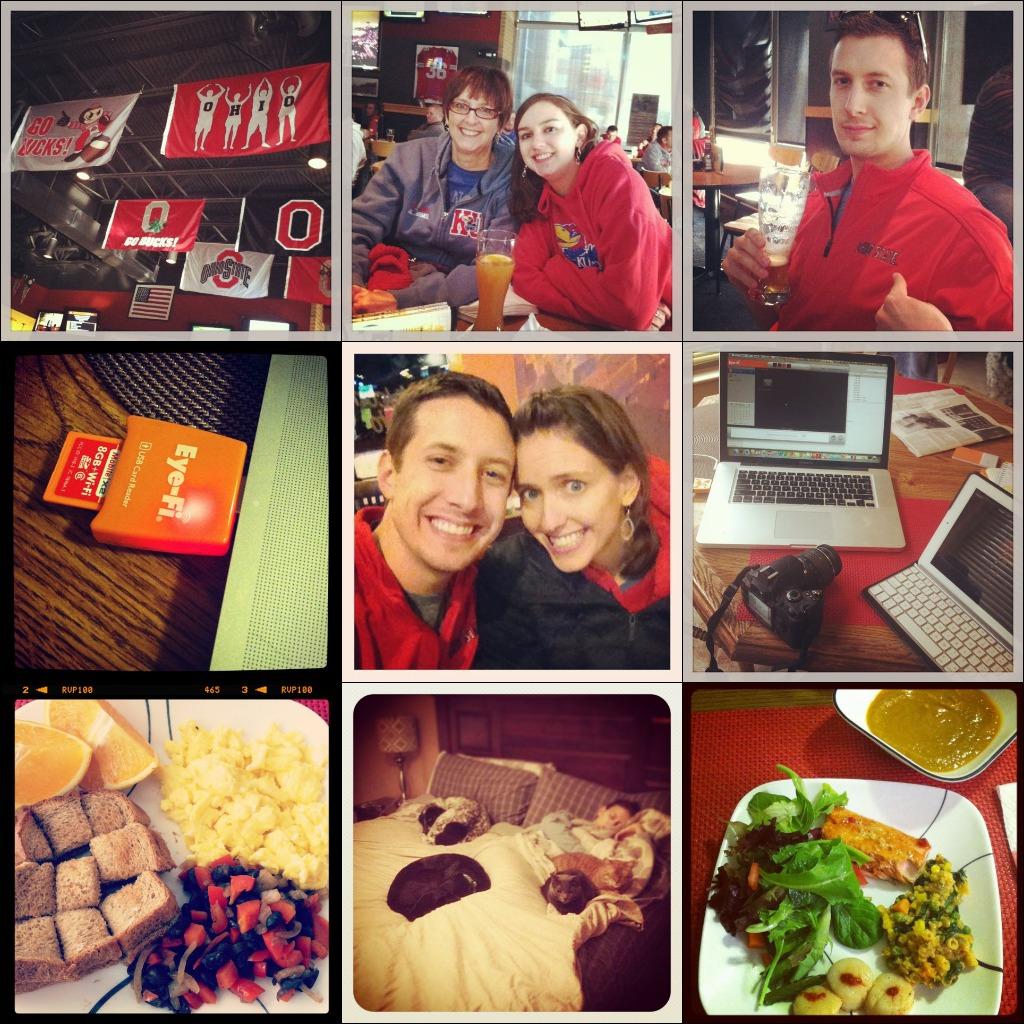 Christmas with my fam:
My parents and sister came into town the weekend before Christmas.
1-3. We went to the OSU vs. Kansas bball game.
4. I got an Eye-Fi.
It wirelessly transfers pics from camera to computer/ipad.
SO PUMPED!
5. Love him.
6. Trying to get the Eye-Fi all set up.
7. Breakfast with the fam.
8. Hubby captured all 4 animals on the bed for the first time ever.
9. Christmas dinner #1
We had salad, scallops, salmon, lentil veggie mac & cheese
and curried sweet potato soup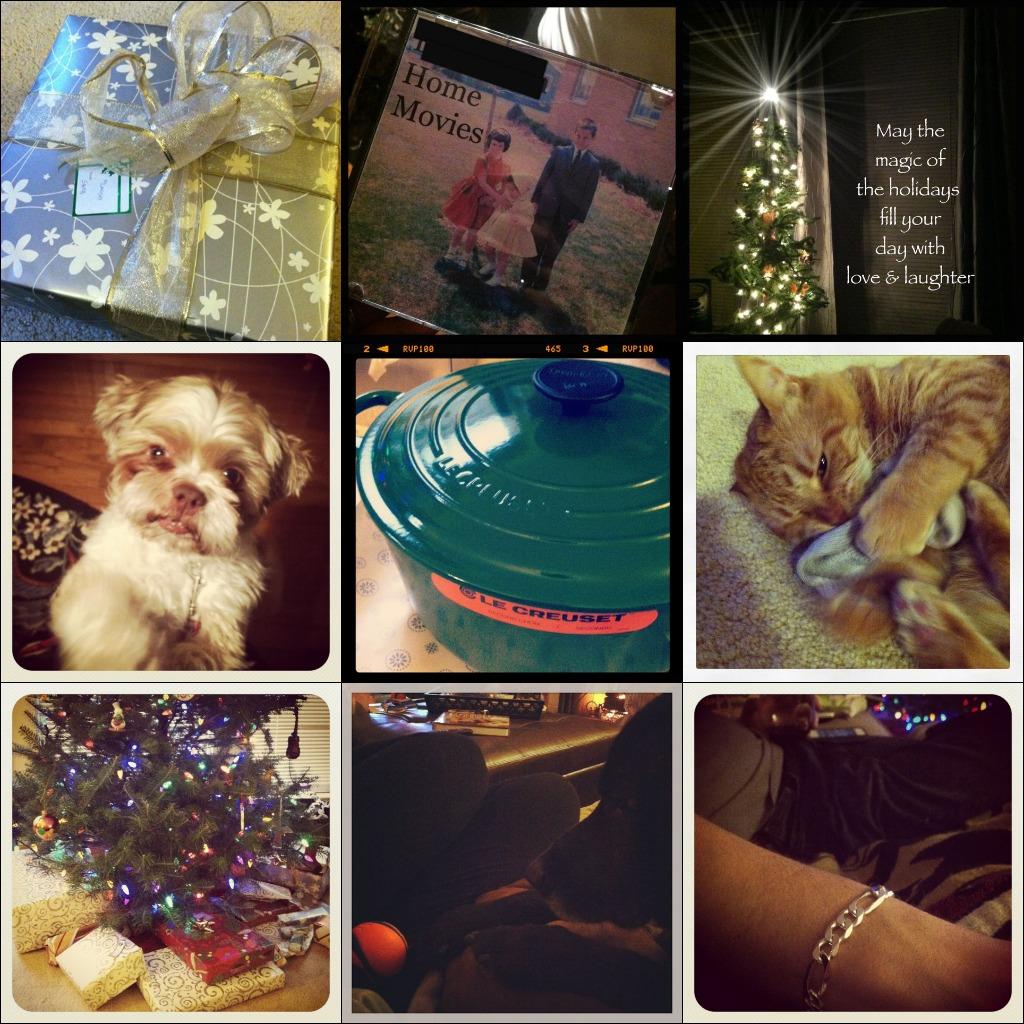 1. My hubby is the best at wrapping presents.
2. For my FIL's side of the family, we stole his old 8mm film and had it converted to a DVD. On Christmas Eve we watched it with them and gave them some prints we had made of photos as well. It was a big hit!
3. The holidays are magical 🙂
4. Hubby's grandma's dog, Oliver. So cute.
5. Hubby got me a Le Creuset.
I've been wanting one FOREVER!!!
6. Marcus got catnip in a sock. Crazy cat.
7. Santa came!
8. Tucker got a new ball.
The only kind he likes are those orange ones.
He's obsessed.
9. Hubby got a fancy man bracelet.
He's so stylish 🙂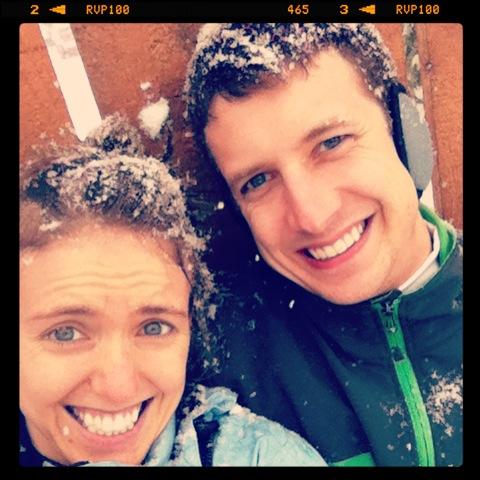 The day after Christmas we had a huge snow storm.
Hubby and I had a great time running around the backyard!
The dogs were there too 🙂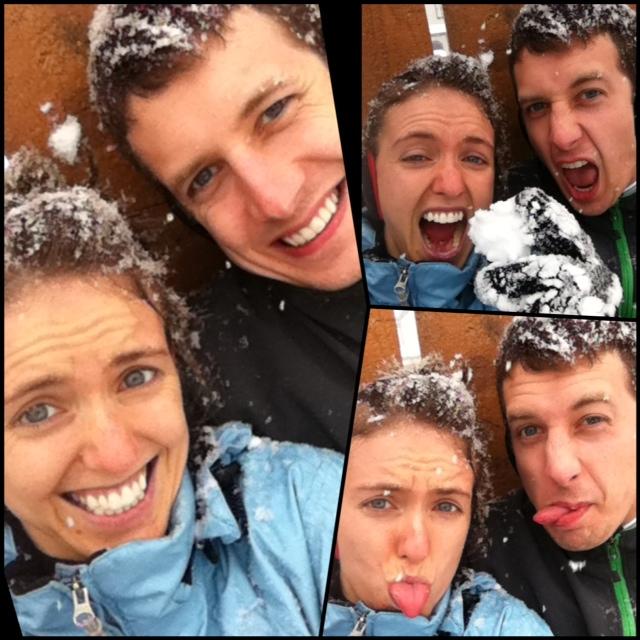 You're never too old to play!!!!
Let's chat: Did you celebrate Christmas? How was it?!
If not, what have you been up to??
Enjoy!
–Lindsay–