Hi Friends!
I hope your New Years celebration was wonderful! We had a low-key evening. We went to a wedding for one of our friend's from college. It didn't start until 7pm so we went for a while but wanted to be home early- hubby has a cold and we're getting old 🙂 We spent a few hours at the wedding and then came home to drink tea and watch the ball drop by the fire! It was wonderful.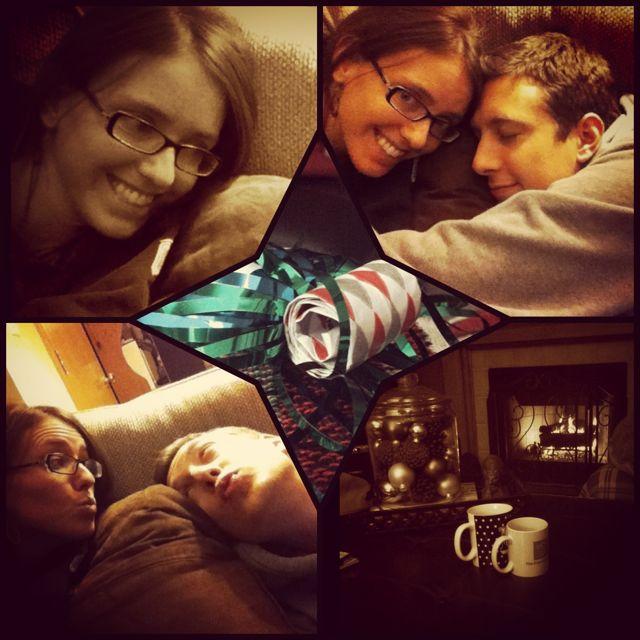 Then we cooked up a fancy dinner to eat at home last night for New Year's Day!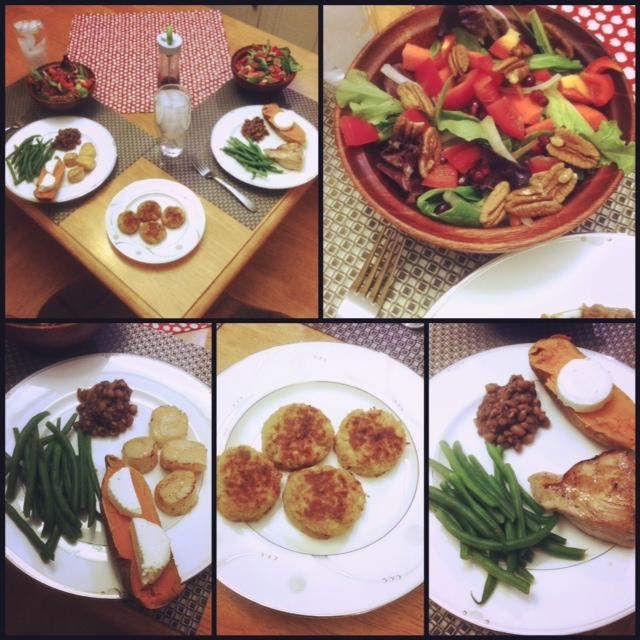 It was delicious! We had mini crab cakes for an appetizer, a delicious salad and then hubby made scallops for me and ahi tuna for him. (He's the best at making scallops for me!! Love him!) We also had green beans, sweet potato with goat cheese and some black eyed peas for good luck! It was a feast!
So, what else have I been eating?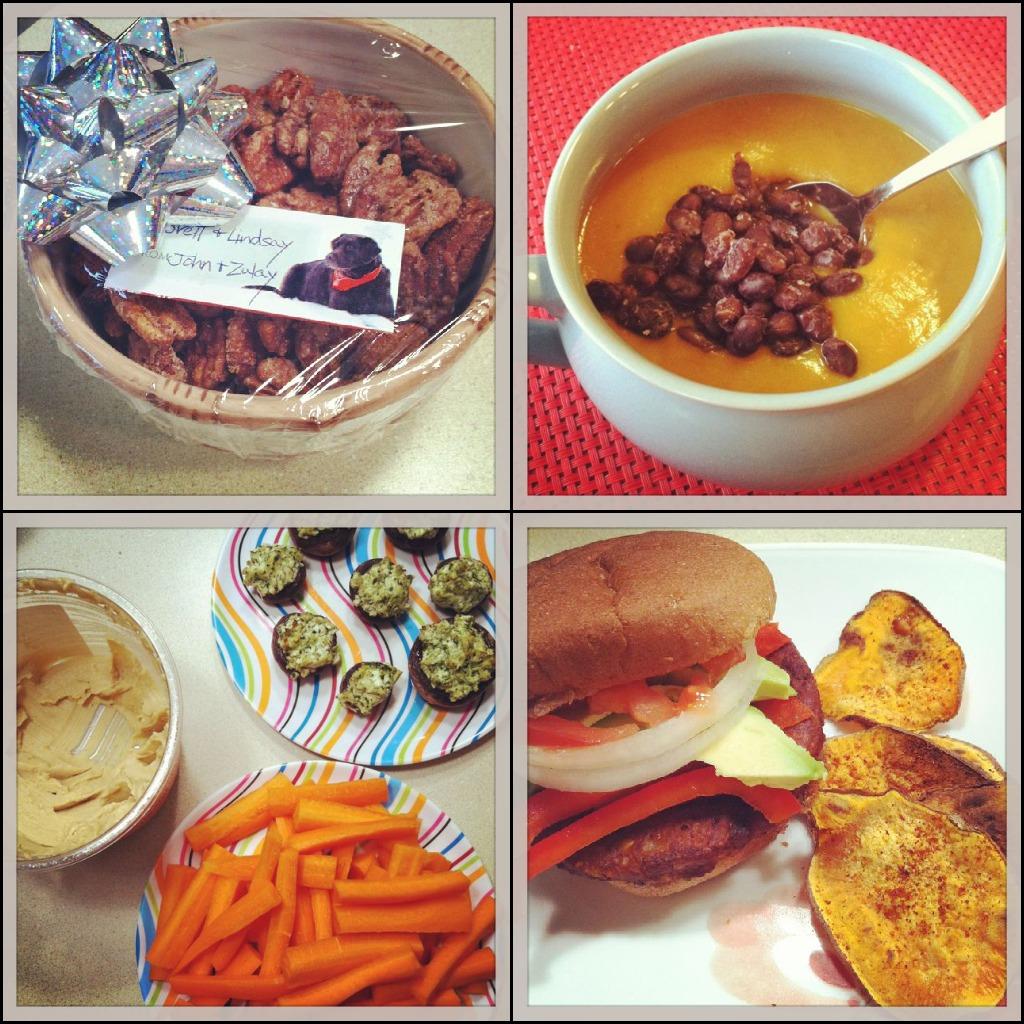 1. Our neighbor made us candied pecans- YUM!
2. I made more curried sweet potato soup and added some black beans
3. Carrots & hummus and some pesto & goat cheese stuffed mushrooms
4. Morningstar black bean burgers & homemade sweet potato chips
1. Tuna Quinoa Cakes on salad
2. Hubby made one of his best salads ever: Lettuce, quinoa, black beans, shrimp, cottage cheese, pomegranate arils & pecans
3. Taco salad w/ quinoa and black beans, tomato, red pepper, avocado, onion and cheese
4. PB toast, hb egg and a clementine for a light lunch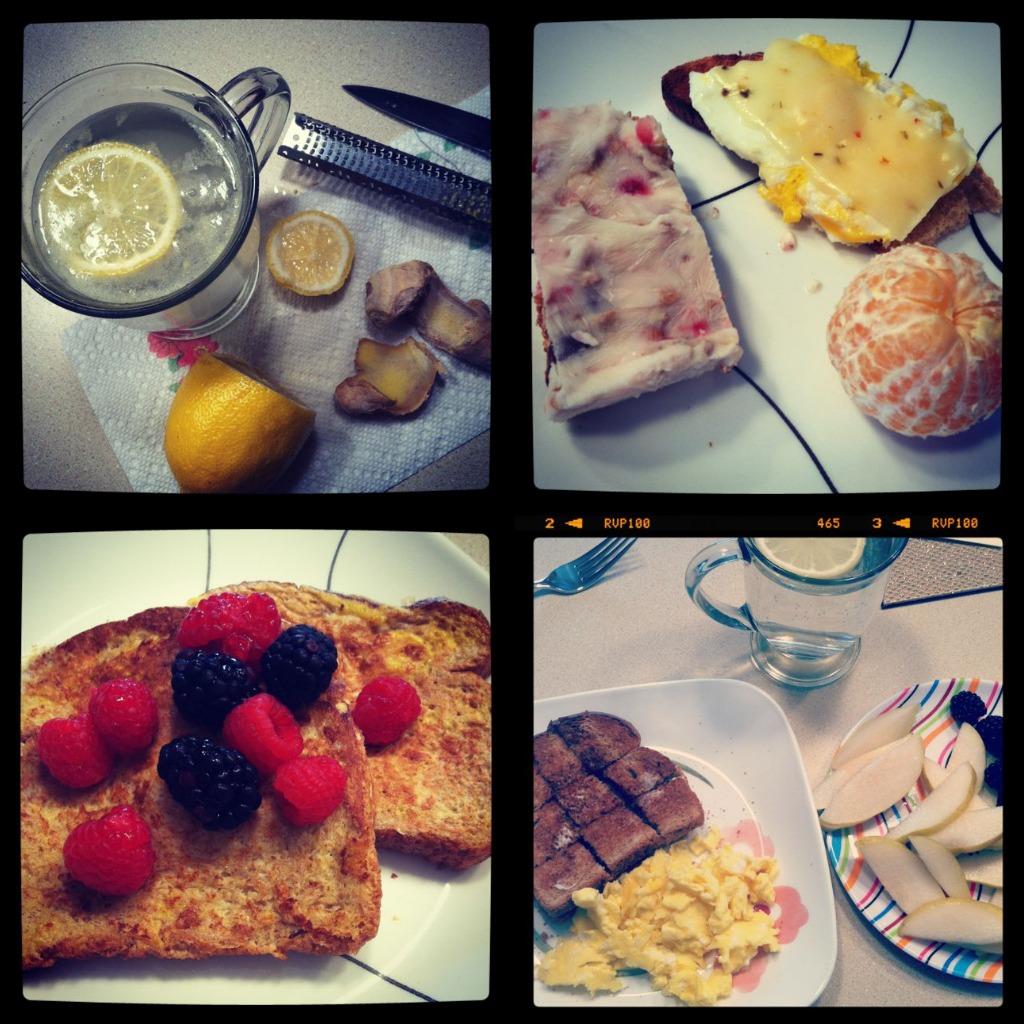 1. Hubby caught the cold my dad had at xmas so we've been drinking a LOT of hot lemon ginger water
2. Open faced egg sandwich, Frozen Greek Yogurt Trailmix Bar and a clementine
3. French toast with berries
4. Eggs and toast with a pear and blackberries
——————–
I've also been snacking on A LOT of these: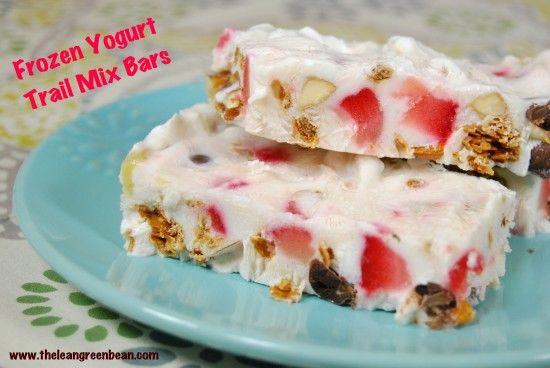 Frozen Yogurt Trailmix Bars were posted yesterday in case you missed it!
——————–
——————–
And finally, the last thing I'm working on: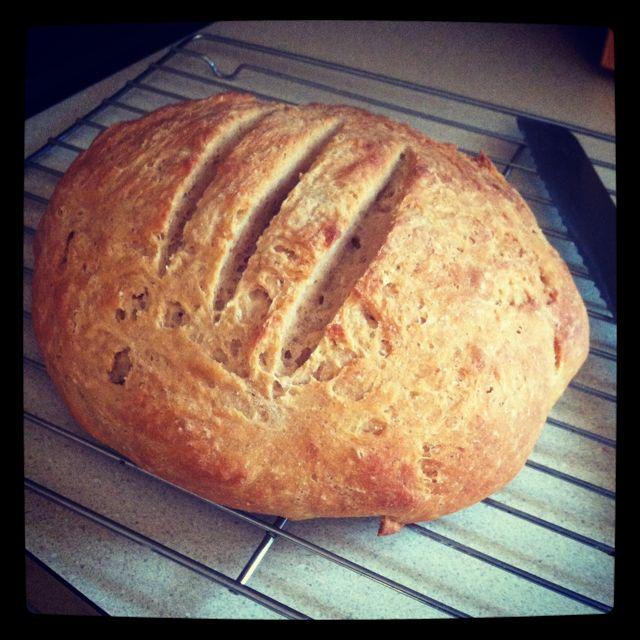 That, my friends, is Greek Yogurt Bread. It's delicious, but I haven't quite perfected the recipe yet so stay tuned! I'll share it as soon as I do 🙂
——————-
Enjoy!
–Lindsay–