Hi Friends!
Time for another weekly eats…combined with some scenes from the week since I haven't done Bean Bytes in a couple weeks! (It's coming back on Monday I promise!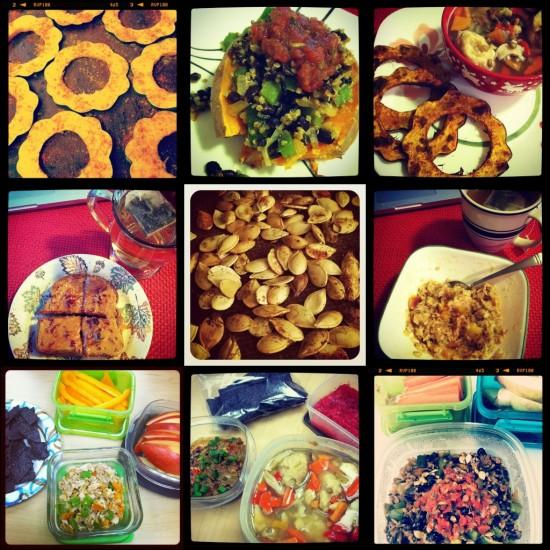 1. Roasted acorn squash rings
2. Loaded sweet potato for hubby
3. Squash rings and leftover soup for me
4. Ran out of cereal so pb&j toast with tea for breakfast
5. Roasted my acorn squash seeds
6. Peaches and cream oatmeal and tea
7. Tuna salad with chips, orange peppers and an apple with pb
8. Leftover dumpling soup, leftover mexican layer dip with chips, cran apple pear sauce
9. Farro with black beans and peppers, squash seeds & some squash rings on the bottom
Plus carrots and hummus and an apple
For the squash rings: i just sliced them as thinly as possible, misted with EVOO and baked at 400 for about 20 minutes, flipping once
For the seeds: I just threw them in the oven once the squash was done baking for about 10 min. A few burned since the temperature was so high, but most were ok.
For the oatmeal: Make oatmeal with milk instead of water and some diced frozen peaches, added a splash of vanilla and cinnamon
For the cran apple pear sauce: Chopped up an apple and a pear and threw them in a saucepan with 1/2 c cranberries and 3/4 c water. Brought to a boil and then let simmer for about 1/2 an hour. Mashed everything with a potato masher, added cinnamon and enjoyed. Most people would probably need to add a little sweetener, but i liked it kinda tart from the cranberries.
1. Egg sandwiches with black beans and salsa for hubby
2. Egg and cheese on a piece of toast plus cereal for me
3. Kashi Heart 2 Heart cinnamon
4. Clementine and trail mix for a snack (almonds, raisins and pumpkin seeds)
5. Better Beans
6. Nature Valley protein bar- always in my purse
7. Stirfry veggies with quinoa and lentils
8. Homemade veggie broth
9. Salmon quinoa chowder with an apple for lunch
For the chowder: I made my own veggie broth, then I sauteed some pepers and onions, microwaved a diced sweet potato and added that in, then dumped in a bunch of veggies. I covered the veggies with broth and let them simmer while i cooked the salmon. Then i added about 2.5 c skim milk to the broth, along with the salmon and some old bay seasoning and black pepper. At the very end I stirred in a bunch of cooked quinoa for more protein.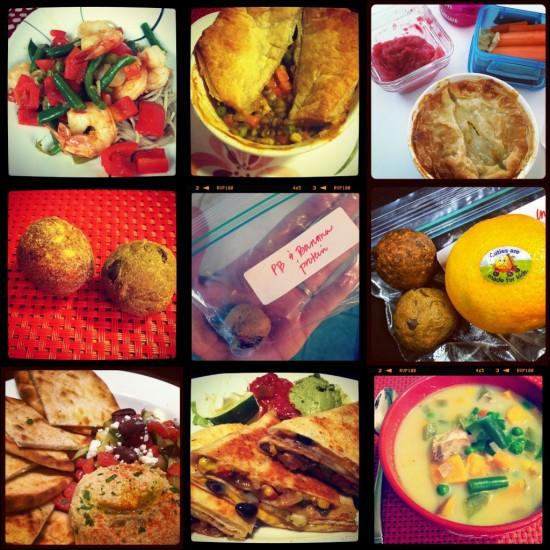 1. Sweet and Spicy Shrimp with soba noodles
2. Lentil pot pies
3. Leftover pot pie, carrots and hummus and cran apple pear sauce
4- 6. Healthy Bites up the wazoo!!!! so good AND they're an #elf4health sponsor
7. Hummus from our fav restaurant
8. Black bean quesadilla loaded with extra veggies from our fav restaurant
9. Salmon Quinoa chowder
And just a few scenes from last week!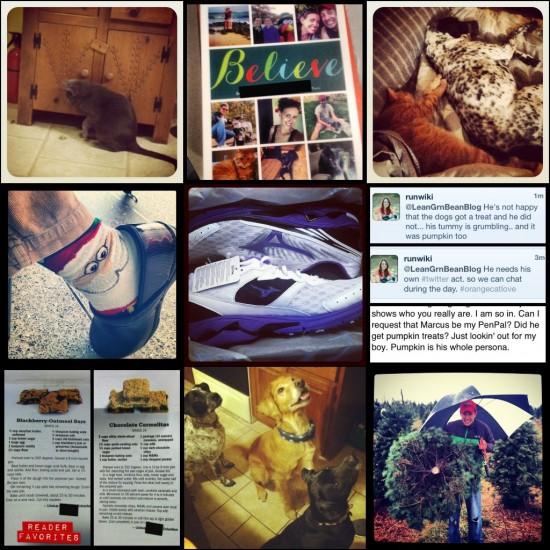 1. Cat stalking leaves…it's never not funny.
2. Our xmas cards came. I love them.
3. Spooning
4. My preceptor has the best socks!
5. I won some mizuno running shoes in a giveaway and they came!
6. I have friends that love my cat as much as I do.
7. 2 of my recipes were featured in the newspaper's reader favorites section of the holiday cookie insert
8. Dog sitting for uncle Max the golden retreiver
9. We got our xmas tree in the pouring rain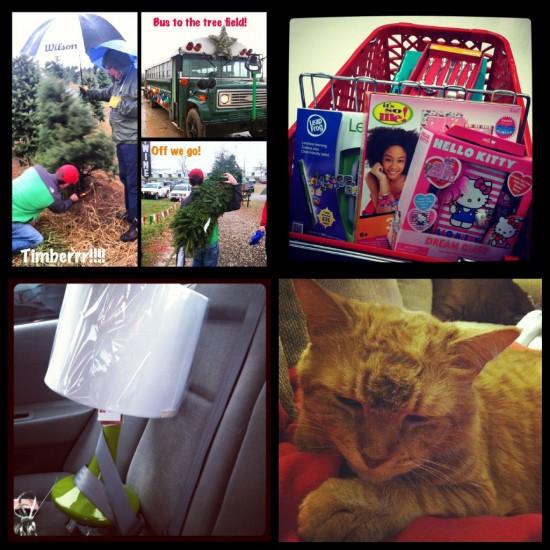 1. More xmas tree adventures
2. We shopped for our salvation army family over the weekend
3. Got some new lamps and buckled them up for safety
4. Cat. Enough said.
Ok, I think that's all. Happy Wednesday!
Enjoy!
–Lindsay–