Hi Friends!
It's been a couple weeks since my last Weekly Eats post so I have lots to catch you up on! Ready?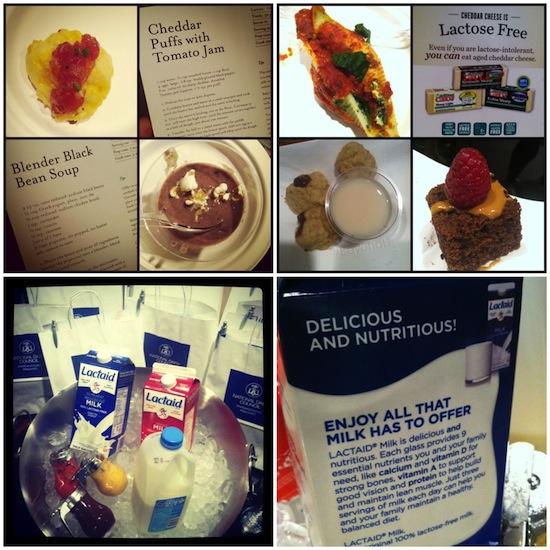 Some of the delicious eats from the Cooking with Caitlin event I went to in Cincinnati.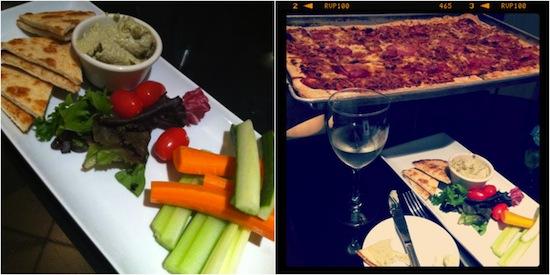 Afterwards we went back to the hotel for more food. Y'all…that pizza was literally as big as the table and was only $8. The bartender tried to warn the two of us that it serves 6-8…we didn't believe him. Turns out he was right and we ended up giving 3/4 of the pizza away to the rest of the people in the bar!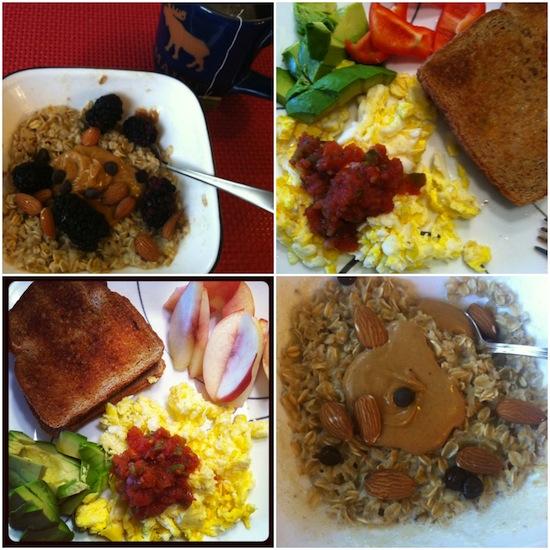 Some typical breakfasts:
Oatmeal with nut butter, fruit and nuts
Eggs, salsa, toast, avocado & fruit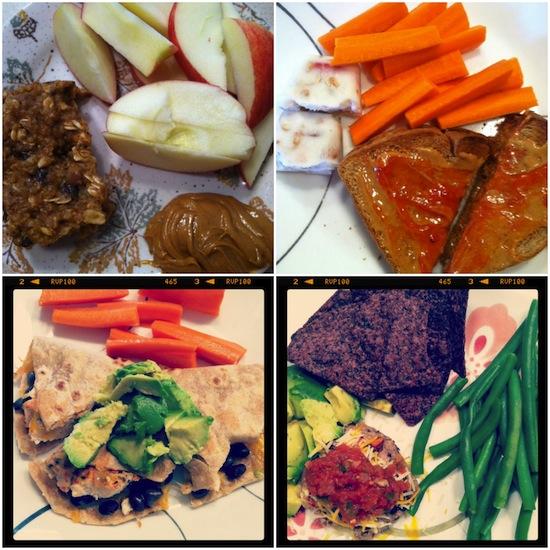 Snacks
Pork & black bean quesadilla with carrots
Greek black bean burger with green beans, chips & avocado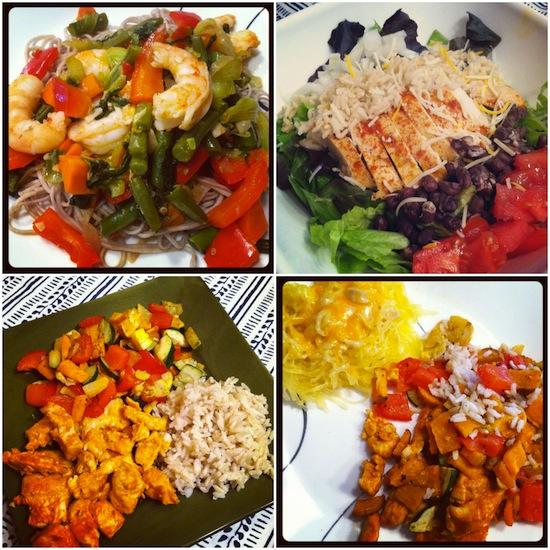 Sweet & Spicy Shrimp with Soba Noodles
Burrito Chicken Salad
Greek Yogurt Chicken w/ roasted veggies & rice
Greek Yogurt Chicken with cheesy spaghetti squash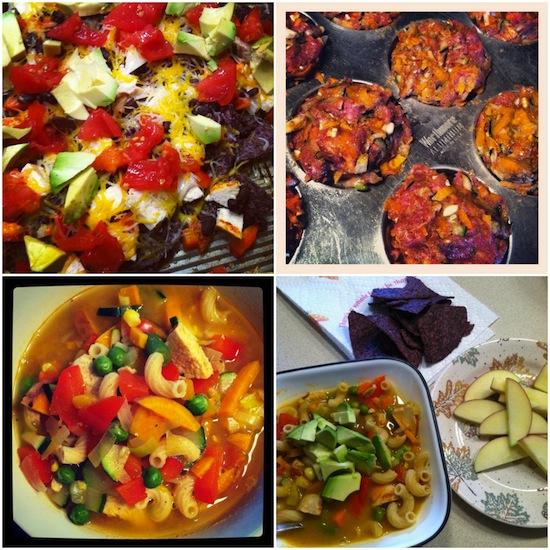 Chicken Nachos, easy on the cheese much to hubby's dismay
Veggie Packed Meat Muffins for hubby:
I didn't measure anything- it's a pound of ground beef, probably about 1 1/2 cups grated vegetables (i used zucchini, carrots and sweet potato), 1 egg, about 1/2 c breadcrumbs, a couple cloves of garlic, lots of paprika and cayenne pepper, some feta cheese and a couple tablespoons of bbq sauce. Just mixed it all together, put in muffin tins and baked at 400 degrees for about 25 minutes!
Chicken & Veggie Soup
No recipe, just a bunch of veggies sautéed, added some broth, noodles and leftover chicken. Threw in some paprika, cayenne pepper and a little mccormicks grill seasoning and simmered until the veggies were tender!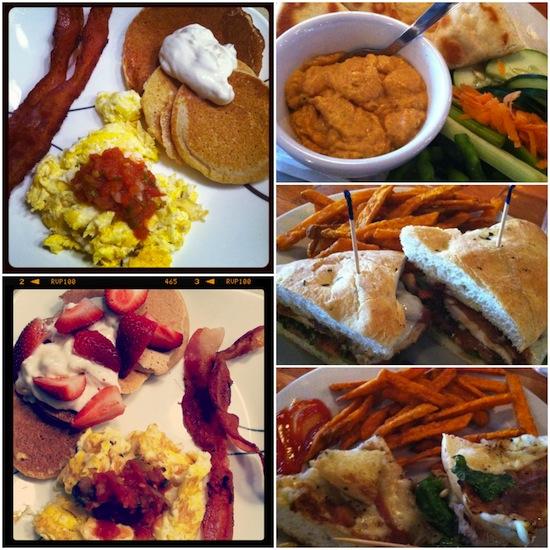 Pancakes made with my new fav Kodiak Cakes mix
Anniversary lunch
Chicken pesto sandwich was heavy on the bread
Left the tops and only ate half my fries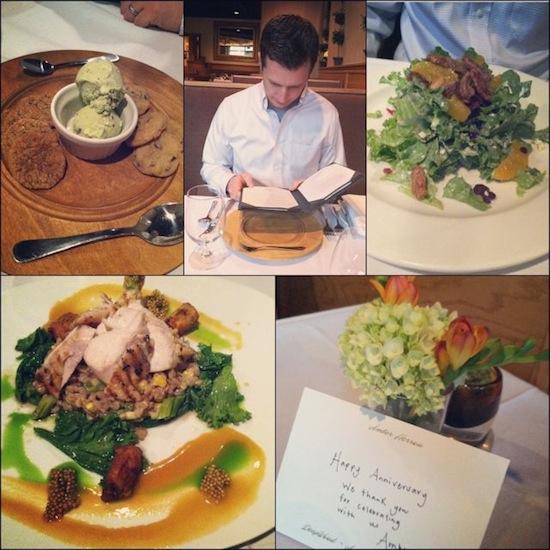 Anniversary dinner
Salad
Roasted chicken over farro, corn and asparagus
Free dessert- House made mint ice cream with mini cookies
Delicious!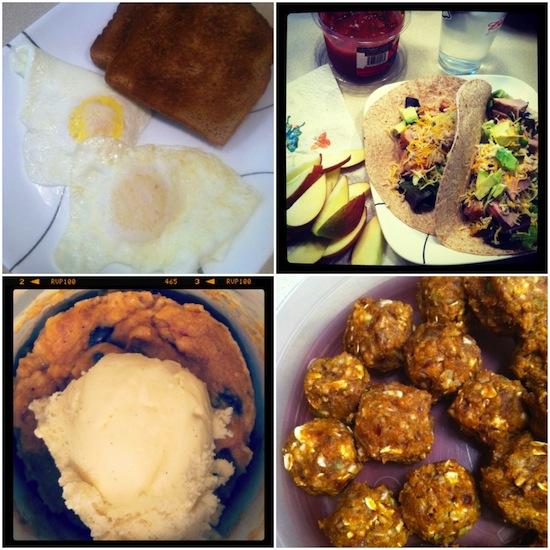 Weekend breakfast & lunch for hubby:
Eggs over easy with toast
Pork tacos
Microwave pumpkin muffin with ice cream:
I used my microwave sweet potato muffin recipe but subbed 2 Tbsp pumpkin for the sweet potato and used 1.5 Tbsp white whole wheat flour
Pumpkin pie bites- recipe coming soon!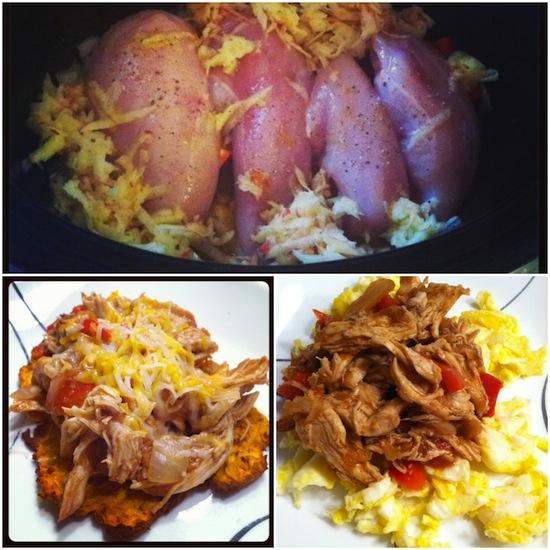 Crockpot BBQ Apple Chicken
A small chopped onion, a chopped red bell pepper and a large grated apple, plus 4 chicken breasts and 2 cups broth. Cook on low for about 4 hours. Take the breasts out, shred, return and remove everything with a slotted spoon. Mix some BBQ sauce with some of the liquid left in the crockpot (helps it spread so you don't have to use as much sauce) add any spices you want and then mix the sauce in with the chicken!
Served over sweet potato socca & topped with cheese
Chicken & Eggs!
Whew! Food overload!
What have you been eating lately?
Enjoy!
–Lindsay–