Hi Friends!
It's Wednesday. I have the rest of the week off from my internship and I couldn't be happier 🙂 Hope you get to enjoy some time with your family as well! Let's take a quick look at what I've been eating lately!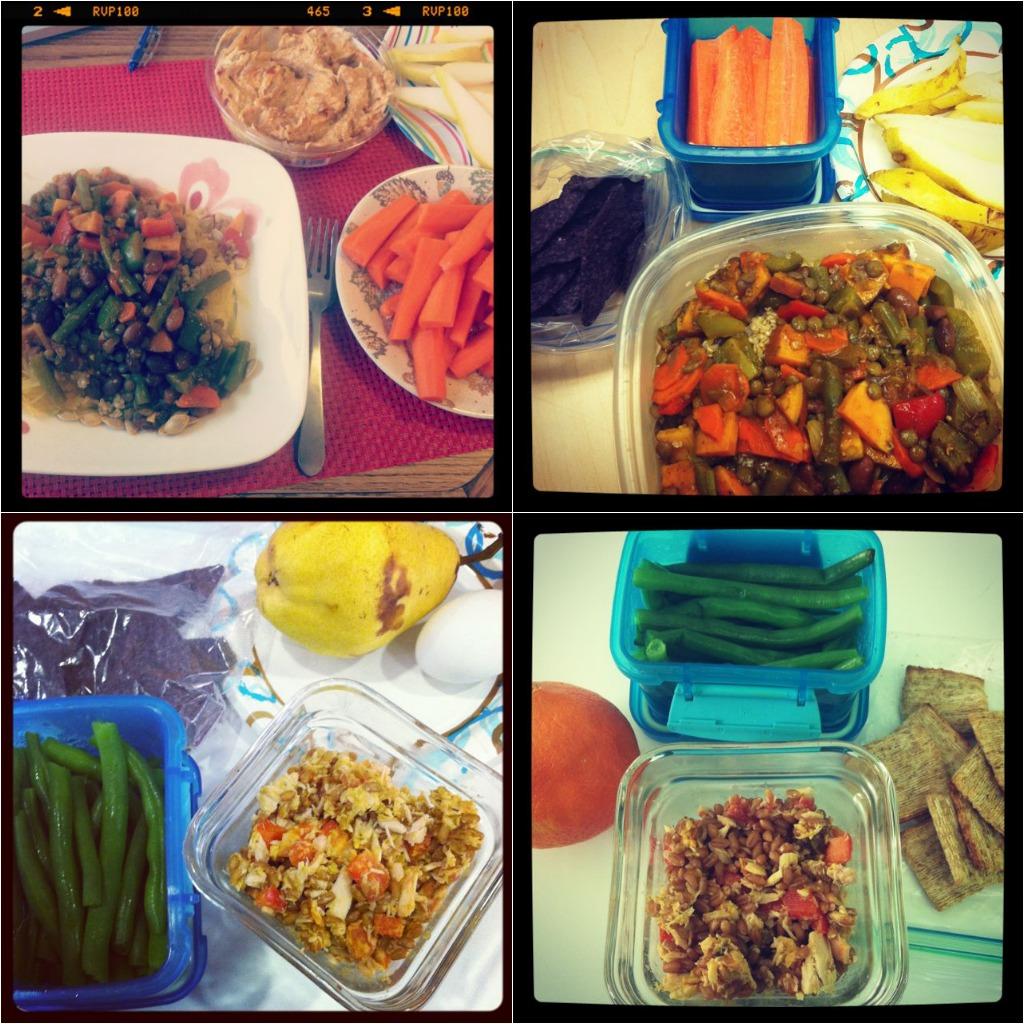 1. Lunch with hubby 🙂 Lentil Veggie Curry over quinoa and spaghetti squash plus carrots & hummus & a pear to share
2. Lentil veggie curry with quinoa and spaghetti squash underneath,
plus carrots, a pear and chips!
3. Tuna salad with chips, green beans, pear and an egg
4. Tuna salad with crackers, green beans and an orange
The tuna salad is tuna, wheatberries, red peppers, onions, hummus and salsa.
Add your favorite spices- I use curry powder!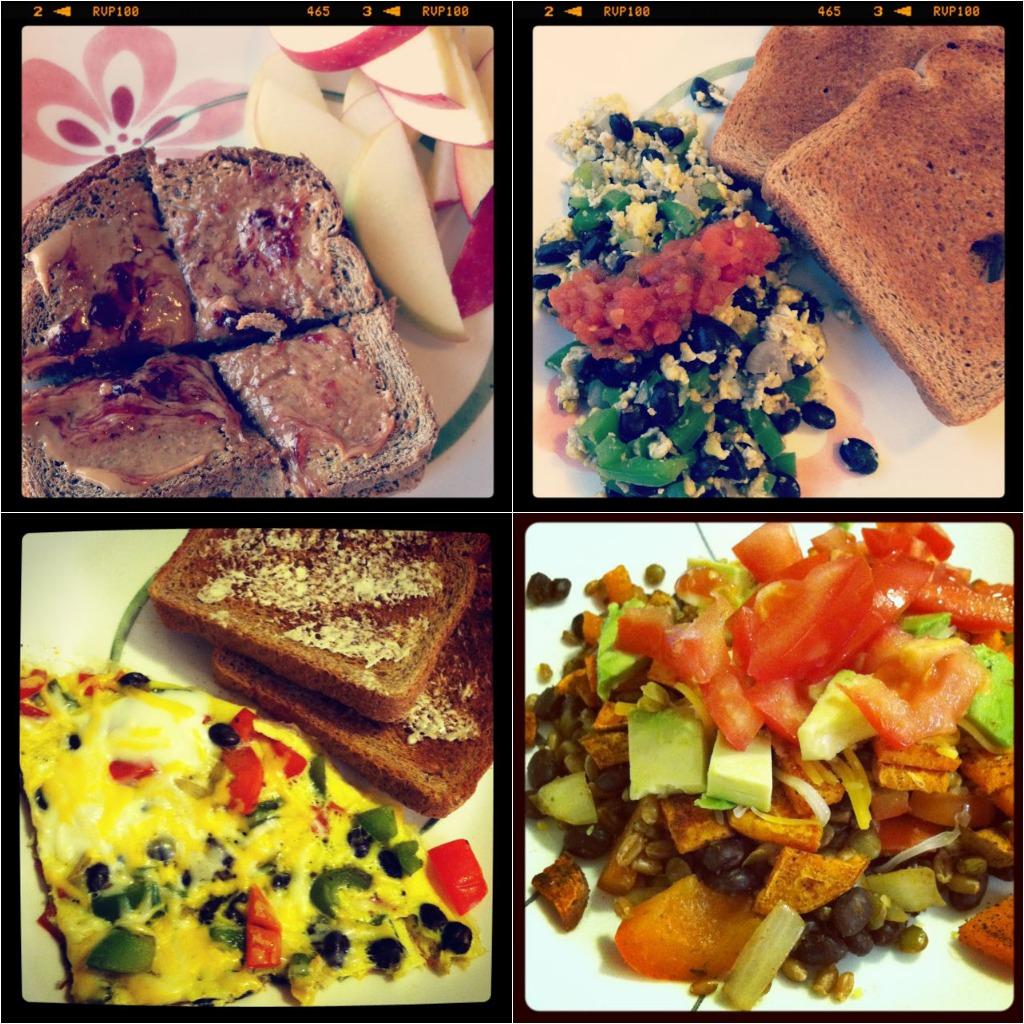 1. pb and j toast with apple slices for a light weekend lunch
2. weekend bfast- scrambled eggs w/ veggies, topped w/ salsa & toast
3. breakfast for dinner- fritatta with black beans and veggies
4. Mexican night! Wheatberries, black beans, lentils, peppers & onions, topped with roasted sweet potatoes, tomato, avocado and cheese!
Plus some cayenne pepper, cumin & paprika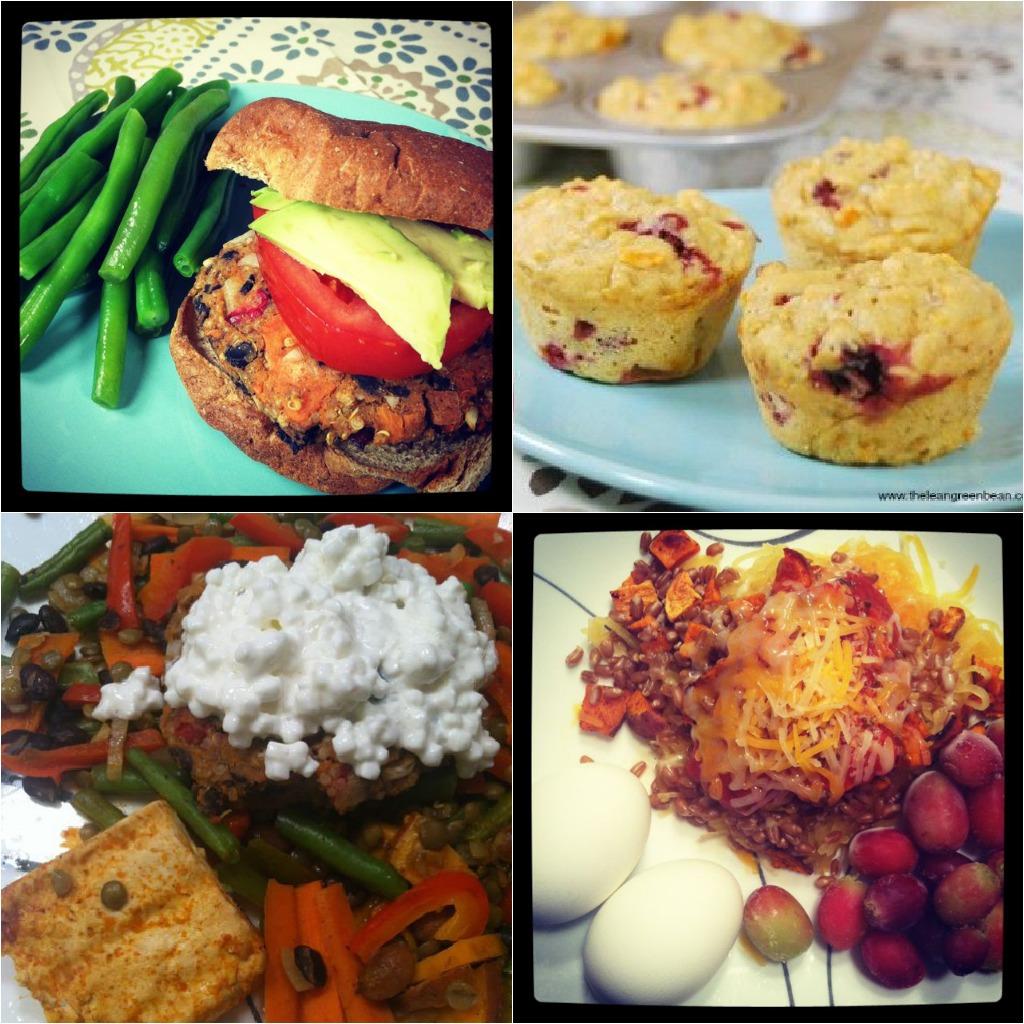 1. Black bean sweet potato burgers with quinoa and cranberries- recipe soon!
2. Cranberry Sweet Potato Cottage Cheese Muffins–
The hubby is not a breakfast eater, even though I'm constantly bugging him about it…but he's started eating these for breakfast during the week-
SO EXCITED!
3.Leftover night- hubby's plate- stir fry veggies, leftover veggie burger with cottage cheese, and some tofu 🙂
4. Leftover night- my plate- spaghetti squash with sauce and cheese, wheatberries, frozen grapes and hard boiled eggs.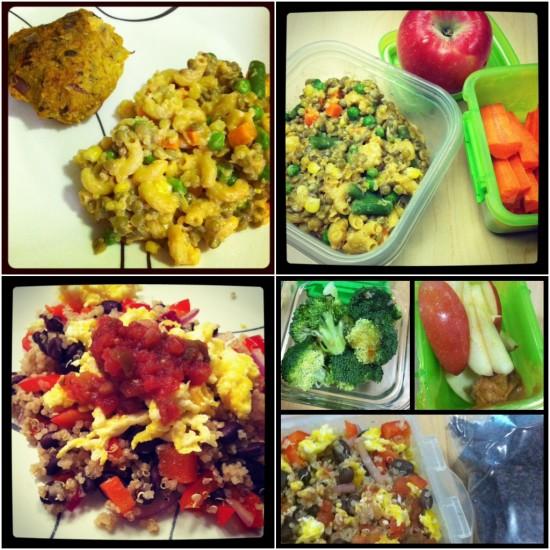 1. Lentil Veggie mac and cheese
I always add even more lentils and veggies than are in the recipe…
and this time I subbed quinoa for half the noodles!
I also made fish cakes- similar to the ones in this post
2. Lunch was leftover mac and cheese, carrots and an apple
3. Beans, peppers and onions, sauteed, plus quinoa
and topped with a scrambled egg and salsa
4. Same thing (my new fav combo!) with chips for scooping it up…
plus broccoli with italian dressing and apple with pb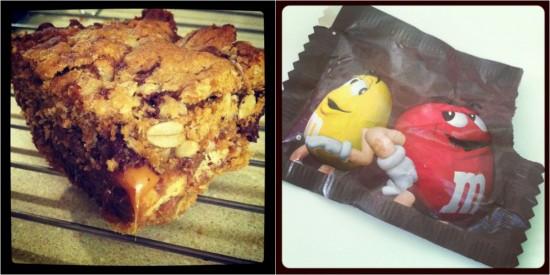 1. Candy Stuffed Peanut Butter Bars- yep…I went there. Recipe soon!
2. I heart fun-sized packs of m&ms 🙂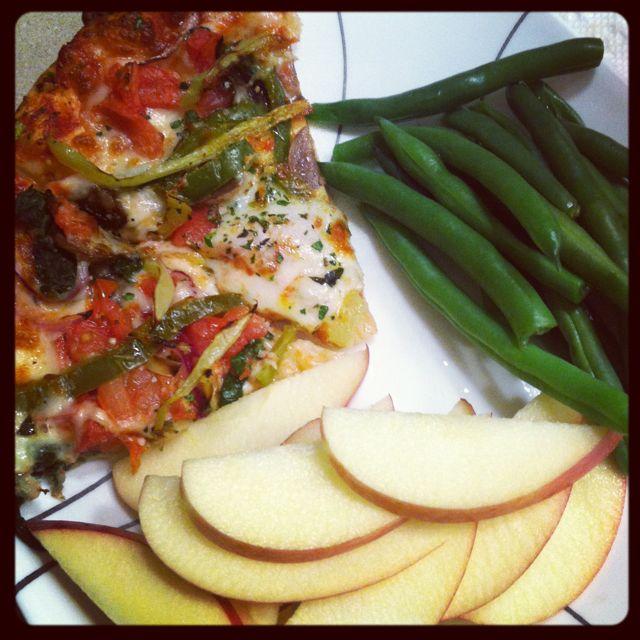 Practicing what I preach. In the internship rotation I'm at right now, I spend all day counseling obese kids. One of the things we talk about is making half their plate fruits and vegetables, and eating healthy sides even when they eat things like pizza. Over the weekend, hubby and I wanted pizza…so we picked one up from our favorite restaurant…and then we brought it home.
We each had a couple of pieces and we filled the rest of our plate with healthy sides likes apples and green beans 🙂
———————–
Happy Eating!
–Lindsay–