Hi Friends!
Time for another edition of Weekly Eats! In case you missed last week, you can click here to read about why i've chosen to start doing Weekly Eats posts instead of WIAW posts (plus see lots of good eats!). Now, let's take a look at what I've been eating for the past week.
Lunch Time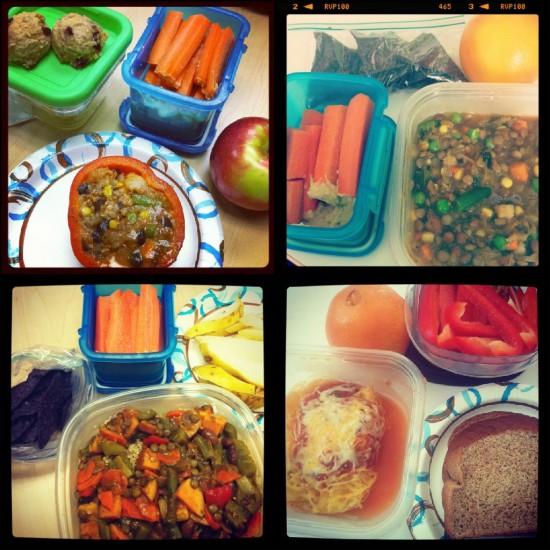 1. Leftover shrimp and black bean enchilada stuffed pepper
with carrots & hummus, an apple and some chickpea bites (recipe coming!)
2. Leftover lazy girl soup, carrots & hummus, an orange and tortilla chips
3. Spaghetti squash and quinoa topped with lentil veggie curry
plus chips, carrots and a pear
4. Spaghetti squash w/ spaghetti sauce & cheese,
red pepper strips, pb & j and an orange
For the soup:
Take a can of Amy's light in sodium lentil veggie soup. Add spaghetti squash, extra frozen veggies & lentils, plus more spices. Microwave til warm.
Devour half for dinner, save half for lunch!
Snacks and treats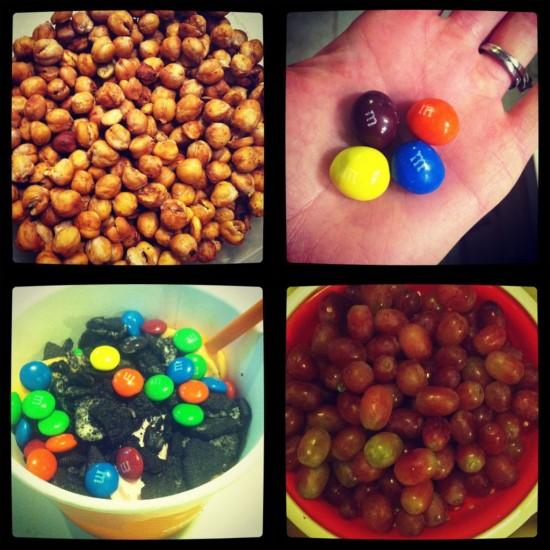 1. Roasted chickpeas
2. Fun size packs of m&ms for dessert
3. Fro yo date with on of my girlfriends
4. Grapes to be frozen…one of my fav snacks!
For the chickpeas
I'm working on an update post with my new fav method-
perfectly roasted without burning them!
Morning stuff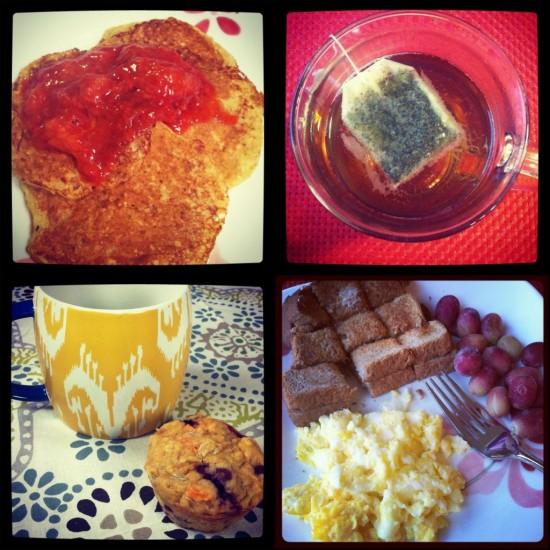 1. Experimental cottage cheese pancakes
2. Green tea on a rainy day
3. Coffee and muffins
4. Post crossfit eggs and toast with frozen grapes
For the pancakes
This was an experiment. And still a work in progress. I put 2 eggs, 1/2 c low fat cottage cheese, 1/2 a banana, 1/2 tsp baking powder and 1 cup oats in a food processor and blended for a little while, then cook like regular pancakes. Topped with 2 frozen strawberries that I defrosted and smashed up. The pancakes were alright..but I know I can do better. So stay tuned 🙂
Dinner Time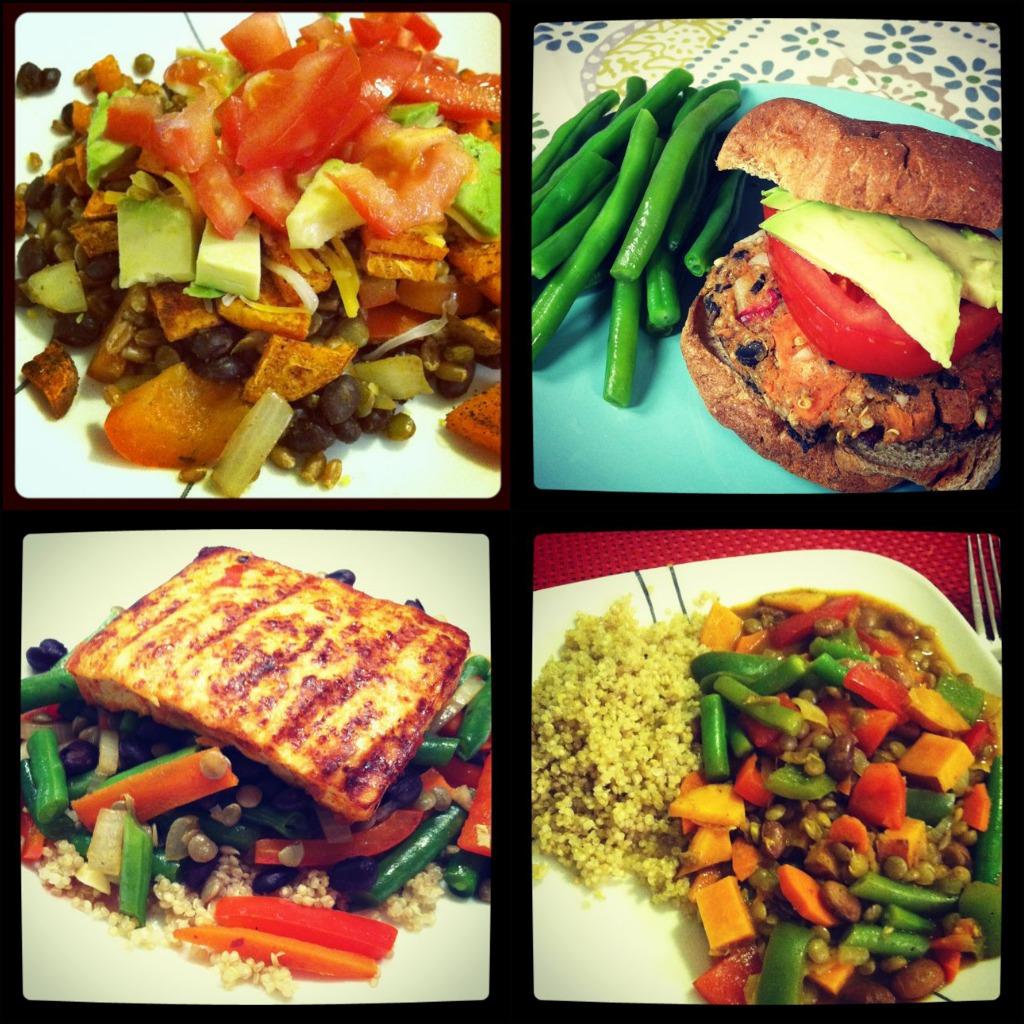 1. Mexican Wheatberries
2. Sweet Potato Black Bean Burgers with quinoa & cranberries
3. Sweet and Spicy Tofu over quinoa with veggies, lentils and black beans
4. Lentil Veggie Curry with Quinoa
For the Wheatberries
Cook some wheatberries, roast some sweet potatoes, saute some peppers, onions, garlic, black beans and lentils. Add cumin, cayenne pepper and paprika. Stir in the wheatberries once cooked. Put some of the mixture on a plate. Top with sweet potatoes and cheese. Add tomato, avocado and salsa. EAT!
For the burgers
RECIPE SOON! They're vegan AND gluten-free 🙂
For the tofu
I used this recipe but just cut the tofu into four pieces instead of cubing it. Then I grilled it on the george foreman.
Verdict is, we both like it better cubed and baked.
The marinade covers more of the tofu, and we cut it up anyways.
Lesson learned.
Eat your veggies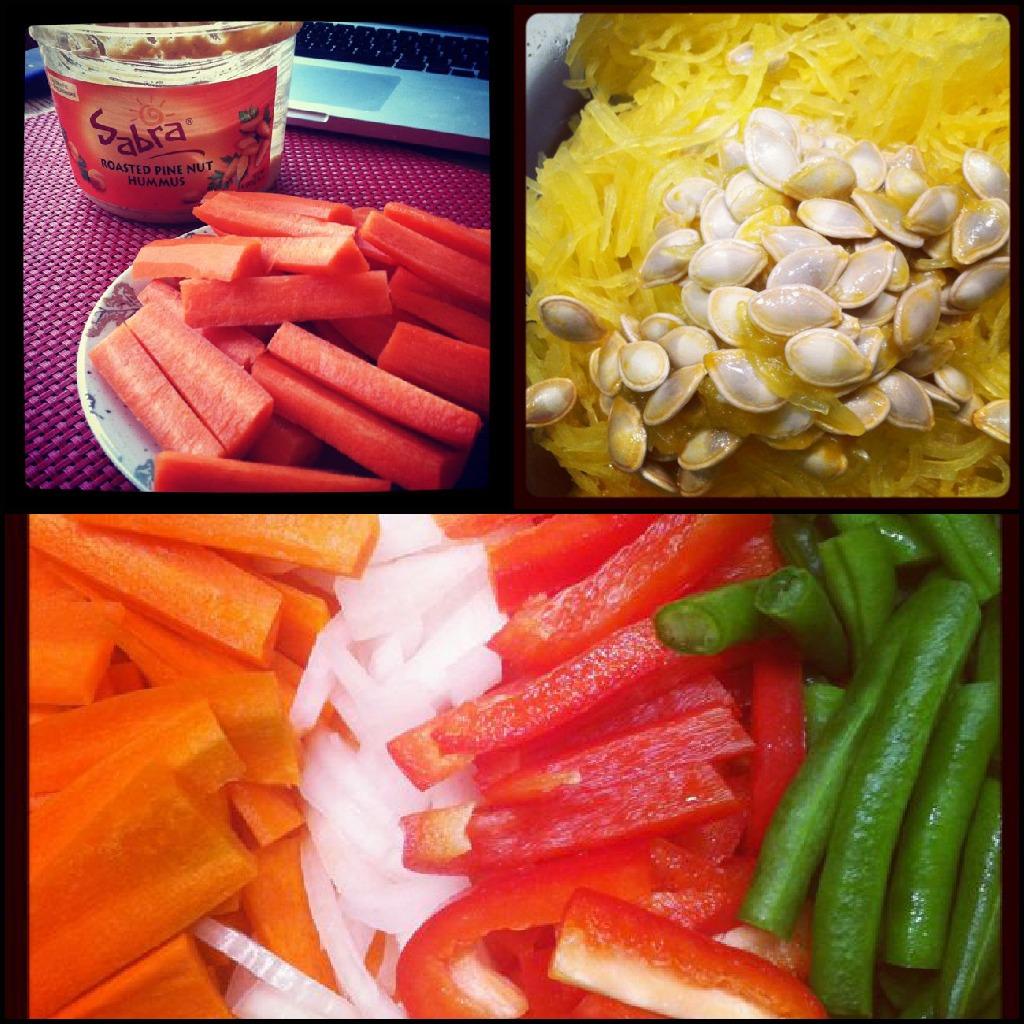 1. Carrots and hummus
2. Spaghetti squash WITH seeds (love them)
3. Veggies for the win!
Odds and Ends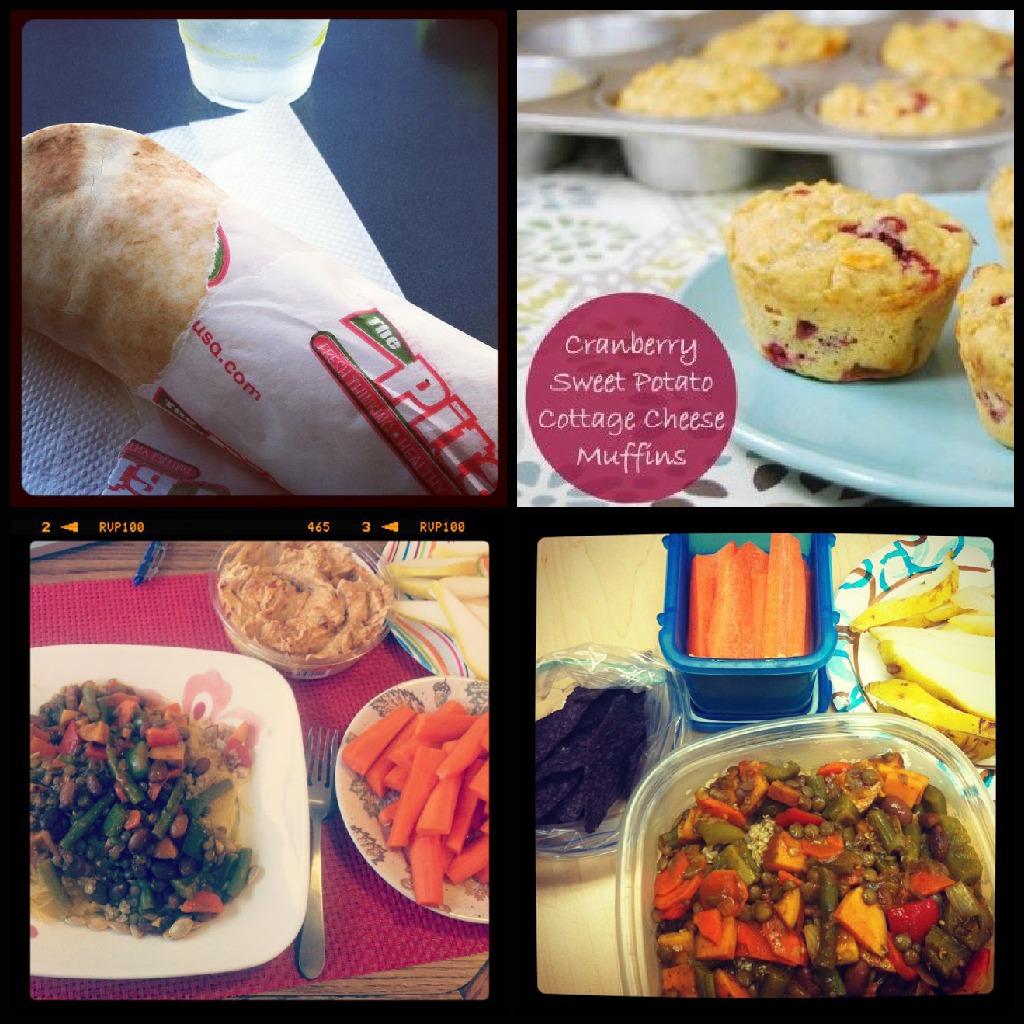 1. Pita pit before the OSU game
2. Lots of these Cranberry Sweet Potato Cottage Cheese muffins
3-4. Lunch so good I had it two days in a row:
Spaghetti squash and quinoa topped with leftover curry
with carrots and hummus, a pear and some chips!
————–
So there you have it! What have you been eating lately?!
Enjoy!
–Lindsay–