Hi Friends!
It's Wednesday. That means it's time to share some of my eats from the past week. More importantly, it means we're halfway through THIS week! I'm glad so many of you guys liked yesterday's post about what's in my grocery cart! I'll get to work on a weekend prep post because it sounds like you're interested!
For now, here are some of the things I've been munching on:
Weekend Eats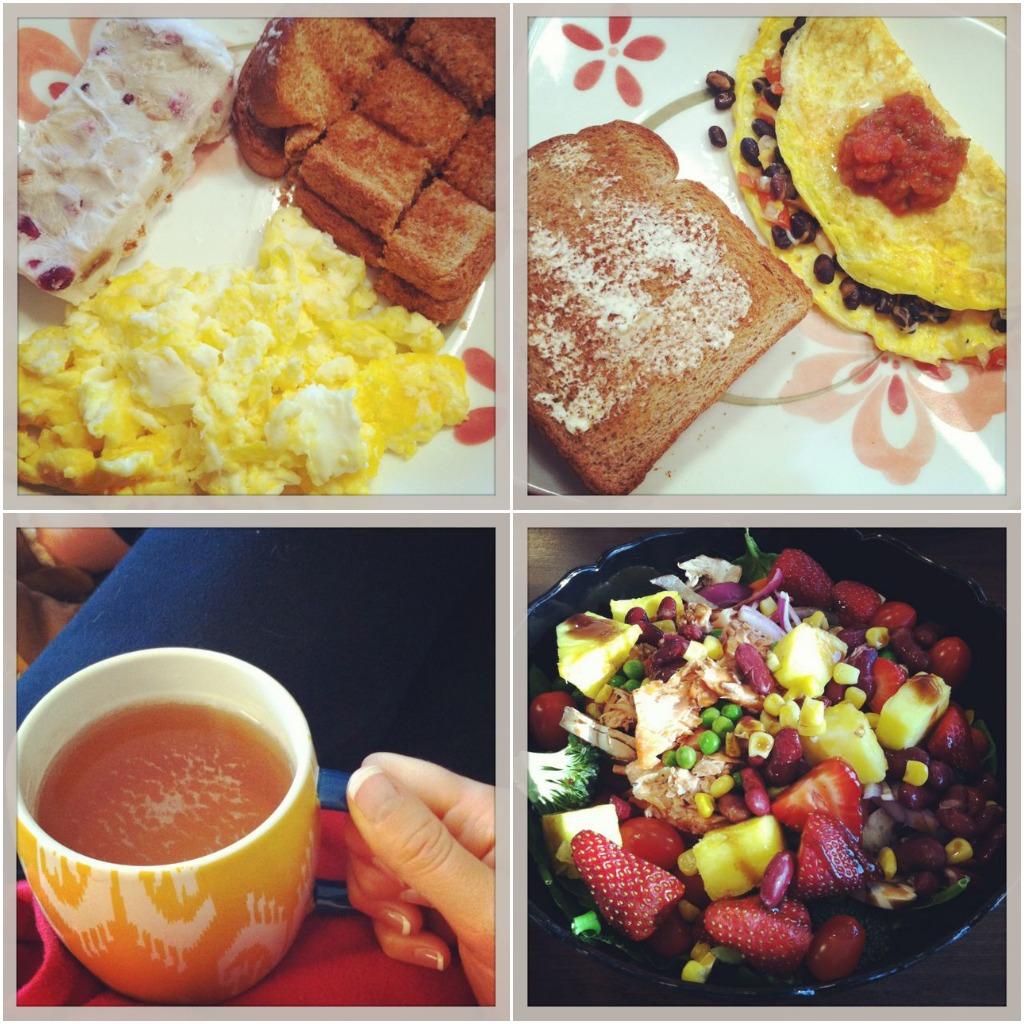 1. Scrambled eggs & toast w/ a Frozen Yogurt Trailmix Bar after crossfit.
2. I'm perfecting my omelet skills!
Black beans, pepeprs, onion & cheese w/ salsa.
3. Green tea for the win.
4. GIANT spinach salad from Earthfare while out running errands.
Weekday Lunches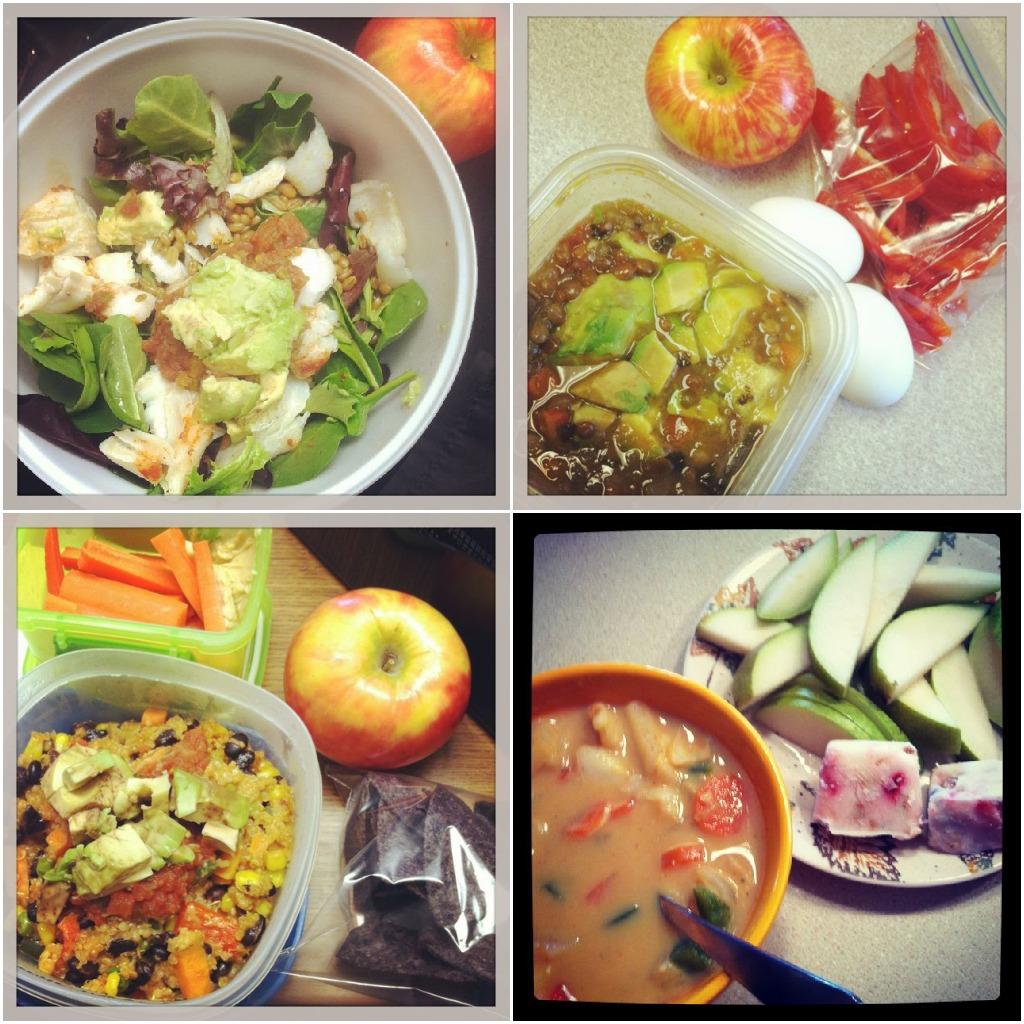 1. Fish taco salad w/ wheatberries, salsa, avocado & an apple.
2. Amy's low-sodium lentil veggie soup with extra lentils, wheatberries, spices and avocado added in..plus and apple and red pepper strips.
3. Leftover cheesy mexican quinoa w/ chips, carrots & an apple.
4. Leftover fish chowder, a pear and frozen yogurt trailmix bites.
Lunches & Dinner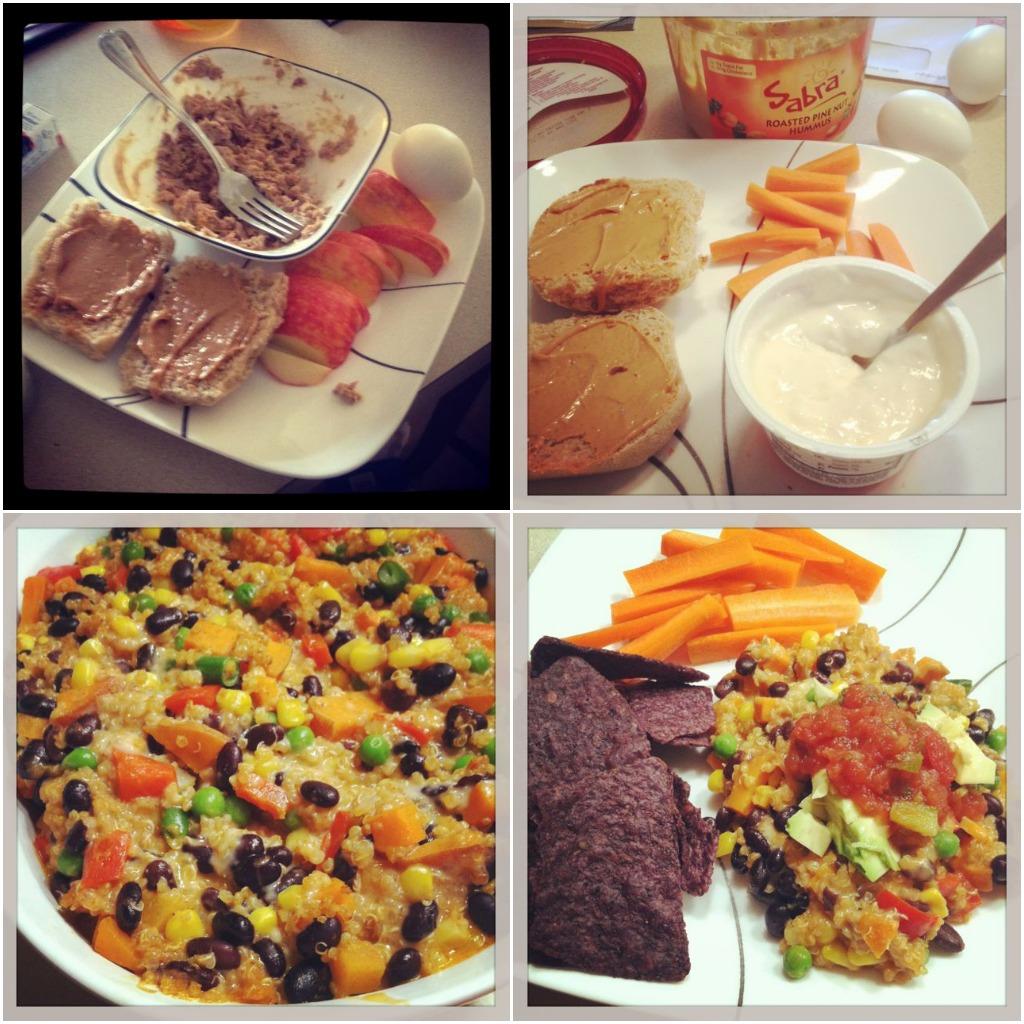 1. Hubby's lunch- Tuna salad w/ hummus & curry powder, an apple, a hardboiled egg and a Greek Yogurt Roll w/ peanut butter.
2. Hubby's lunch- Chobani, carrots & hummus, pb sandwich.
3 & 4. Cheesy Mexican Quinoa for dinner w/ what veggies I had on hand.
Snacks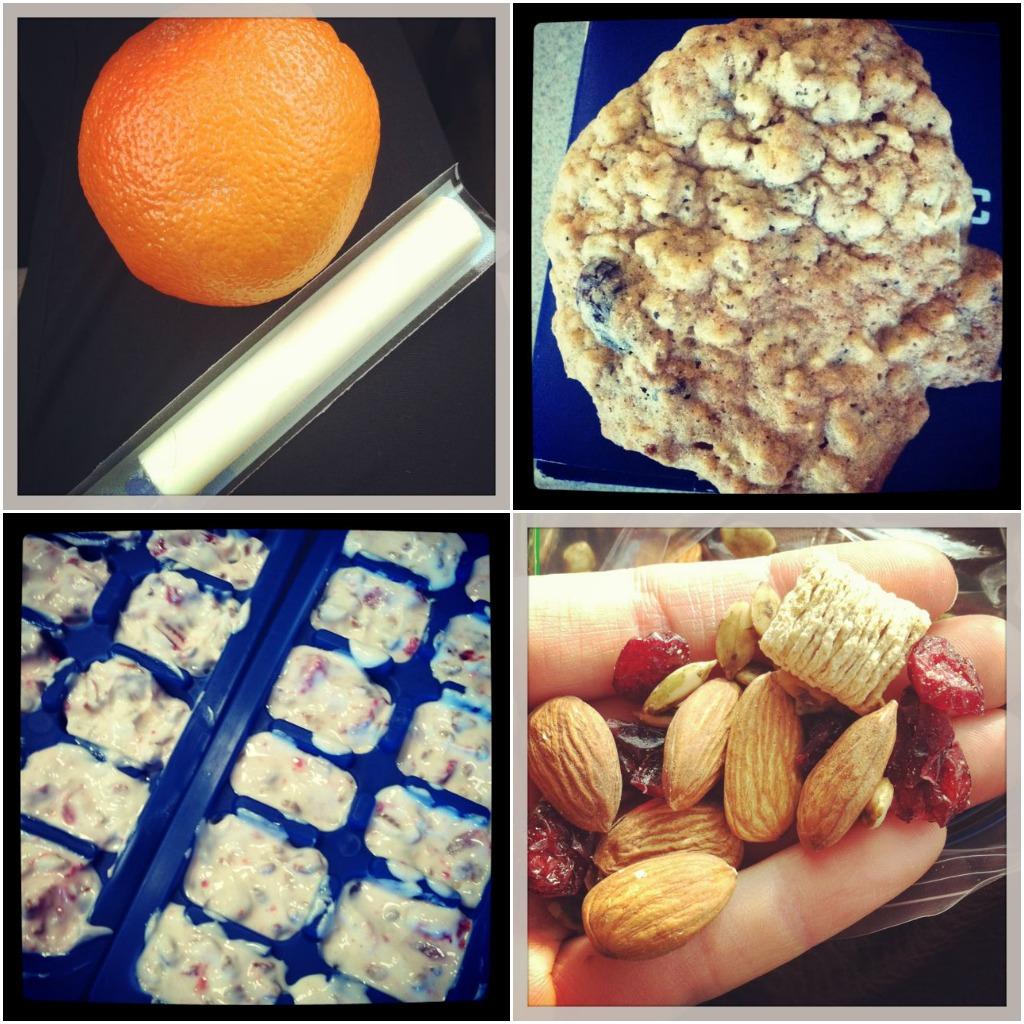 1. Proof that healthy snacks don't have to be expensive. I ran into the grocery store before class and came out with an orange and a string cheese. I spent less than $1.
2. Chai spiced Oatmeal Raisin Cookies from my foodie penpal. #addicted. Recipe here.
3. Frozen yogurt trailmix bars, in bite for for hubby & with no banana.
4. Trail mix- I packed a bag for each of us before we headed out to run errands on Sunday so we wouldn't get hungry, or crabby, or feel the need to stop for food somewhere else.
Dinners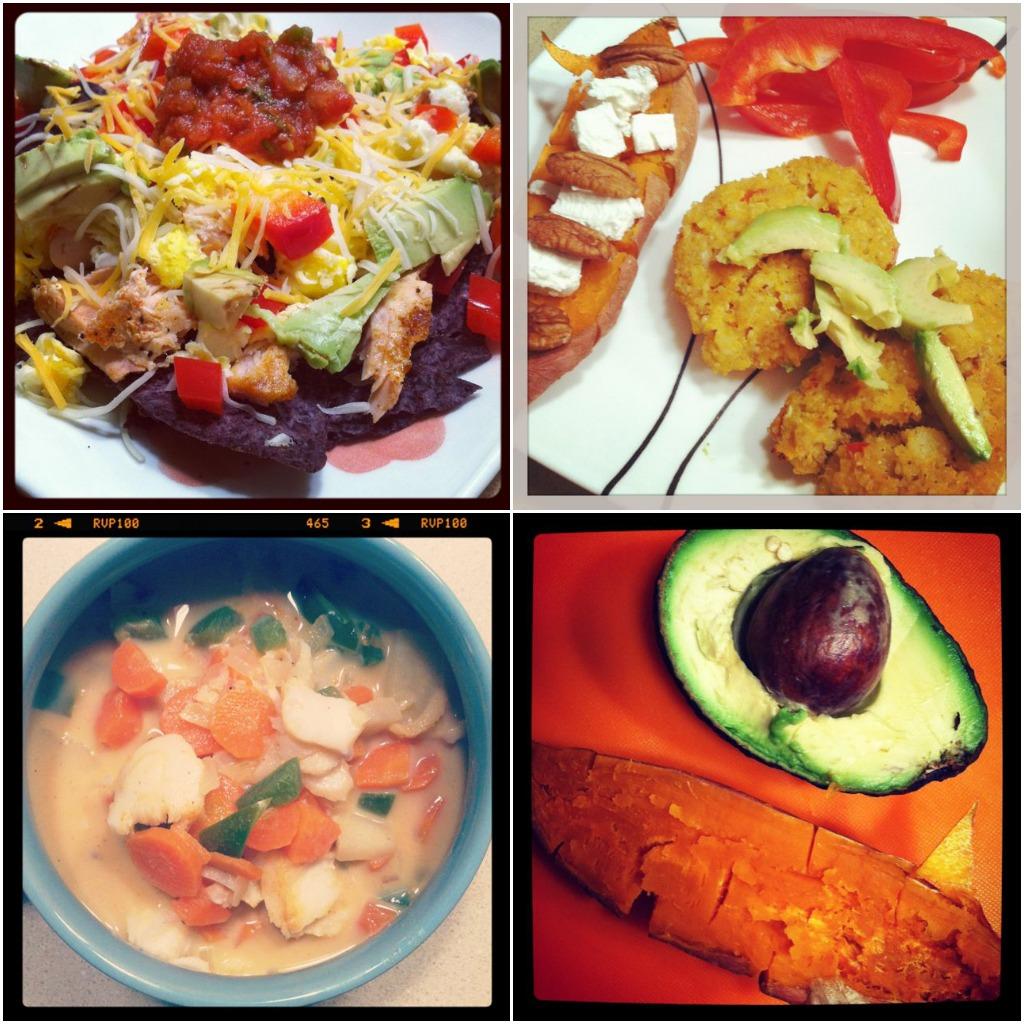 1. Salmon & Egg Nachos- Cook some salmon, flake it apart and spread over tortilla chips, add a scrambled egg, peppers, onions, avocado, cheese and salsa. SO GOOD.
2. Fish cakes- Not sharing this recipe because they were super crumbly but I posted a Fish Cake recipe over the summer if you're interested. Plus sweet potato with goat cheese and pecans and red peppers.
3. Fish chowder- basically just carrots, green peppers, onion, a potato, lots of fish (i used cod but prefer haddock), vegetable broth, skim milk, paprika, pepper and Old Bay seasoning! If you eat meat, add bacon.
4. Two of my fav foods!
Lunch & More Dinners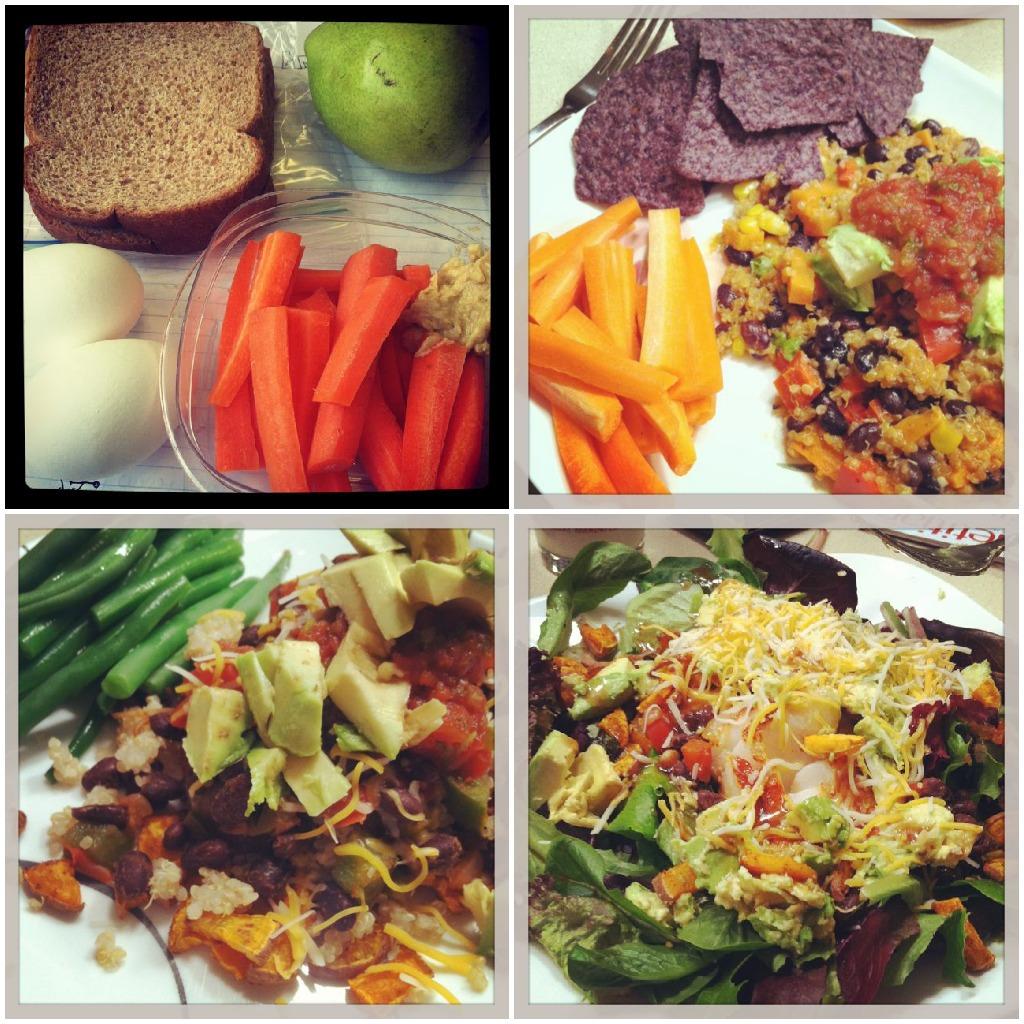 1. Pb & j, hb eggs, carrots & hummus and a pear
2. Cheesy Mexican Quinoa with chips and carrots
3. Deconstructed Loaded Mexican Sweet Potato. I was in the mood for roasted sweet potatoes so instead of microwaving and cutting in half. Topped with sauteed beans, peppers and onions, quinoa, cheese, avocado and salsa.
4. Hubby's fish salad with roasted sweet potatoes, beans, peppers, avocado and cheese.
Sunday Prep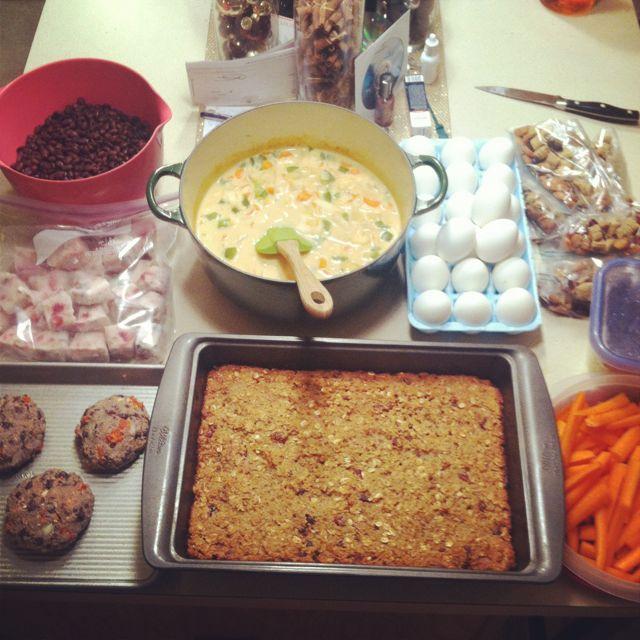 A snapshot of what I prepped this weekend:
Black beans for the freezer
Fish chowder
Hardboiled eggs
Trail mix- almonds, pumpkin seeds, dried fruit and a few Quaker Oat Squares. Usually I add roasted chickpeas as well but I ran out of time to roast them.
Carrots for snacking with hummus
Greek Black Bean Burgers- I used the recipe for my Asian Black Bean Burgers but made a few changes. I used 2 Tbsp hummus instead of pb, left out the thai chili sauce, sriracha, ginger and cilantro and added 3/4 tsp all-purpose Greek Seasoning, roasted a red pepper and diced that up instead of the carrots, and added 1/4 c crumbled feta.
Frozen Greek Yogurt Trailmix Cubes- This batch had strawberries, almonds, granola & a few chocolate chips with 1/2 vanilla, half plain yogurt.
Let's Chat: How were your eats this week? Make anything tasty?!
Enjoy!
–Lindsay–