Hi Friends!
If you have been reading my blog for a while now, you know that I often participate in WIAW. I've decided to stop participating for a couple of reasons. I know that I don't "truly participate" because I don't share one day's worth of eats. Instead, I've been using it as a way to share things I've been eating over the past week that didn't make it on to the blog. Because I know that's not how it was intended, I'm opting not to participate anymore. For me personally, I don't like to share everything I eat in a day because I've seen it lead to comparison and judgement- whether it's intentional or not.
Everyone is different. We all have different eating schedules, calories needs, likes and dislikes. There's no reason you need to eat the exact same way as someone else does. You need to do what works for you and your body. For these reasons, I very rarely share just a straight up summary of what I ate one day.
That being said, I in no way intend for this post to be disrespectful to Jenn or anyone else that participates in WIAW. It's an amazing weekly linkup that she's put together and it's grown so much since I first started participating. I always love visiting other people's WIAW posts (and I will continue to do so) because they're such great sources of inspiration for meal and snack ideas! All I'm saying is that it's no longer the best fit for me personally to participate.
However, I do know that a lot of you guys enjoy my WIAW posts. I think it's a great way for me to share some of the things that I pack in my lunch and some of the things I make for dinner that don't always have recipes or aren't new recipes. I know they provide inspiration and ideas for a lot of you so I want to keep sharing them.
So, instead of WIAW, Wednesday will now become Weekly Eats day! I'll share pics I've snapped over the past week or two of lunches I've packed, snacks I've eaten, what I made for dinner and treats I enjoyed 🙂 This is similar to the series I used to do called Lindsay's Lunchbox- but instead of being just lunch ideas, it will encompass a lot more of my eats! I hope you enjoy it!
I also know that sometimes I get lazy and just provide the pictures and not the recipes behind them. I always get a lot of requests for recipes on days that I do that, so i'll do my best to always explain the things I've made so that you guys can recreate them yourself!
So enough chatter…let's get to the good stuff! I almost always pack my dinner leftovers as part of my lunch the next day.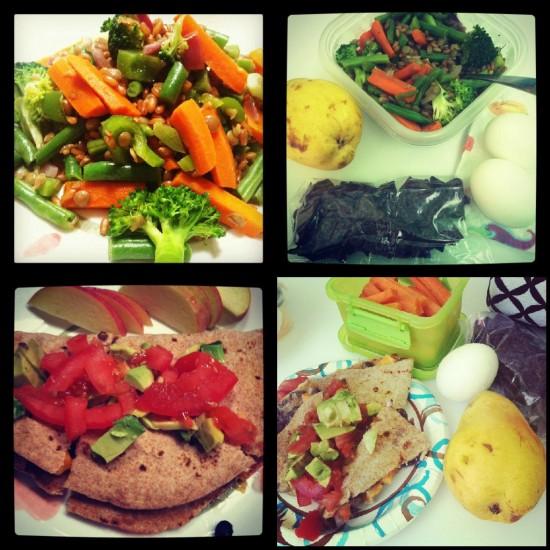 1. Dinner: Stirfry night: i used wheatberries, veggies and lentils
2.  Lunch: leftover stirfry, hard boiled eggs, tortilla chips and a pear
3. Dinner: sweet potato and black bean quesadilla with apples
4. Lunch: leftover quesadilla, carrots & hummus, hb egg, pear & chips
To make the quesadillas:
Just dice up some sweet potato and microwave for a couple minutes until soft, throw them in a tortilla with black beans, diced bell peppers,  some spices (i use cumin, paprika and cayenne pepper) and low-fat cheese. I use my George Foreman grill to get them nice and warm and golden brown, then  top with avocado and tomato or salsa!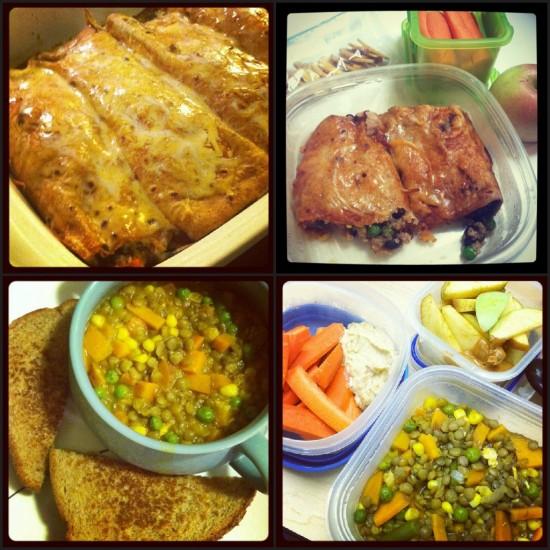 1. Dinner: Black bean, quinoa and veggie enchiladas
2. Lunch: Leftover enchilada, plantain chips, carrots and an apple
3. Dinner: Lentil veggie quinoa soup and grilled cheese
4. Lunch: Leftover soup, carrots and hummus, apples and pb
To make the soup:
I microwaved a diced sweet potato for 2 min, added to a pot with garlic, onion, a bag of frozen veggies, cooked lentils, spices and veggie broth and simmered until warm. I cooked the quinoa separately and put some in the bottom of each bowl, topped with soup and served!
To make the enchiladas:
I used 2 cups frozen vegetables (thawed), 1 1/2 c cooked black beans, 1 1/2 c cooked quinoa, 2 tsp cumin, 1 tsp paprika, 1 tsp cayenne pepper, 1/2 a can of reduced sodium cream of mushroom soup, 1/4 c 2% shredded cheese. Mix together in a bowl. Pour 1/4 c enchilada sauce in the bottom of a 9×13 pan and tilt the pan around to cover the bottom. scoop the mixture into 4 or 5 whole wheat tortillas and place seam side down in the pan. Top with 1/2 c enchilada sauce (use a brush to spread the sauce to cover all the tops of the tortillas. Top with another 1/4 c cheese, cover with foil and bake for 30 min at 375 degrees.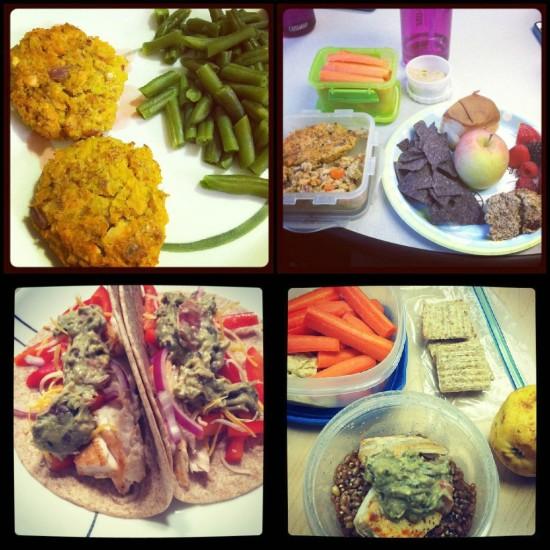 1. Dinner: Salmon Quinoa Cakes- It's this recipe w/ salmon instead tuna and I added 1/2 an avocado (mashed) to the mix.
2. Lunch: leftover salmon cake, leftover tuna salad, carrots and hummus, an apple, plus a few things from the potluck at work.
I always bring my lunch to potlucks if i'm not sure what food there will be.
The key to eating healthy is being prepared 🙂
3. Dinner: Fish tacos
4. Lunch: leftover wheatberries with fish and guacamole,
carrots & hummus, triscuits & a pear
For the fish tacos:
I pan sear either cod or mahi mahi and season with cayenne pepper and paprika. Break into chunks and place in whole wheat tortillas. Top with peppers, onions, cheese and guacamole! That guac is my Black Bean Guacamole . Sometimes I also add a grain like rice, wheat berries or quinoa and sometimes I throw in some black beans!
For the tuna salad:
One can low sodium tuna, half an avocado (mashed), a couple scoops of hummus, lots of curry powder and cayenne pepper and some chopped veggies (usually onion, carrot and red pepper)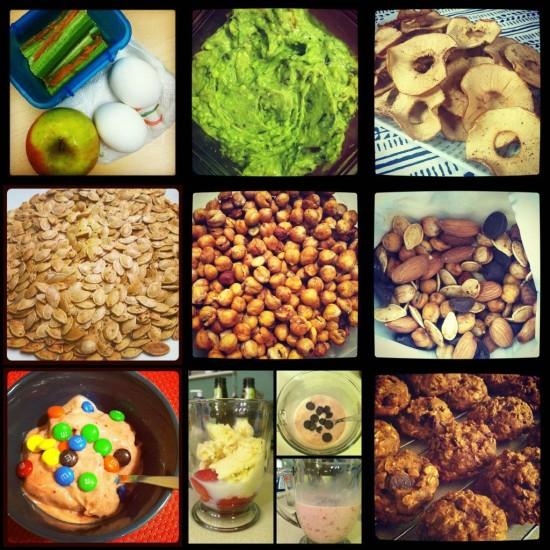 Some snacks and treats:
1. Celery and pb, an apple and some hardboiled eggs
2. Black Bean Guacamole
3. Baked Apple Chips
4. Roasted pumpkin seeds
5. Roasted chickpeas
6. Trail mix- pumpkin seeds, chickpeas, almonds, dark chocolate chips
7. Strawberry banana "fro-yo" with m&ms
8. Homemade strawberry milkshake
9. Pumpkin Oatmeal Cookies 
For the pumpkin seeds:
Rinse, let dry on paper towel for 30 min, cover baking sheet with foil, spray foil with cooking spray or olive oil, put the seeds on, mist with oil, season, bake at 375 for 25- 30 min, stirring every 10 min. Watch closely at the end!
For the chickpeas:
I tried a different way than normal and it worked really well! I rinsed the chickpeas and let them dry on a baking sheet for an hour or so. The I misted with olive oil, seasoned with paprika and cayenne pepper and put them in a cold oven. Turned the oven on to 425 and roasted for 40 minutes, stirring every 10 minutes. Then I shut the oven off and left them in there for another hour and a half. Perfectly crunchy and none were burned!
For the fro-yo:
Put some frozen banana chunks and a couple frozen strawberries in a food processor. Let them sit on the counter for 10 minutes or so. Then blend!
For the milkshake:
Put some ice cream in a mug. Add a little milk and some thawed out strawberries. Mash with a fork until mixed well!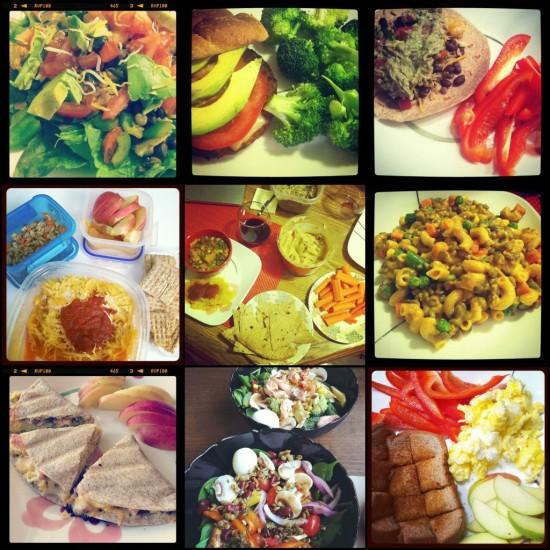 1. Burrito salad
2. Morningstar black bean burger with broccoli
3. random leftovers in a tortilla with guac and peppers
4. Spaghetti squash w/ sauce and cheese, tuna salad w/ crackers, apple w/ pb
5. Random dinner- soup & spaghetti squash with hummus
6. Lentil veggie mac and cheese 
7. Salmon and cheese breakfast quesadilla
8. Giant lunch salads from Earth Fare
9. Eggs and toast w/ an apple and peppers
For the quesadilla 
Scramble a few eggs. Put them in a quesadilla with leftover salmon and quinoa. Add a little cheese and put it on the George Foreman until golden brown!
For the spaghetti squash
Microwave the whole squash for 2-3 minutes to soften slightly and make it easier to cut. Cut off the ends and cut in half lengthwise. Scoop out the seeds. Please cut side down on a baking sheet and bake at 375 degrees for 45 min. Use a fork to scrape out the spaghetti strands. Top with spaghetti sauce and cheese and dig in!
—————–
 Whew! So there you have it! All I can say is thank goodness for instagram or I would never remember how I made half these things 🙂
Enjoy!
–Lindsay–