Hi Friends!
Time for another edition of Weekly Eats. We've had some tasty meals this past week. Let's take a look, shall we? I did a terrible job organizing the pictures this week so I apologize in advance.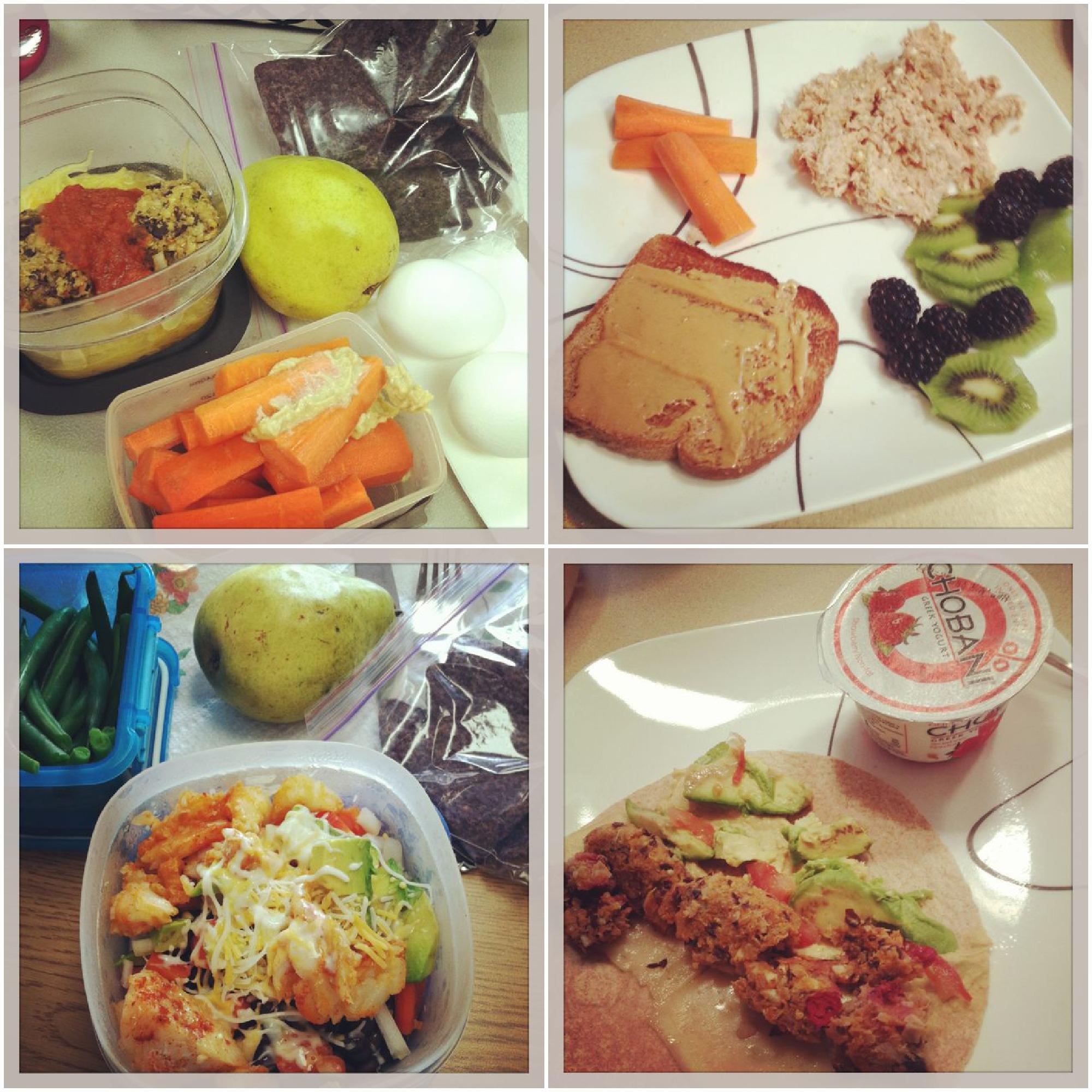 1. Black bean balls w/ spaghetti squash, eggs, carrots, chips & a pear
2. Part of hubby's lunch: tuna w/ cottage cheese, pb toast, fruit and carrots
3. Fish taco salad, green beans, pear and chips
4. Part of hubby's lunch: veggie burger wrap and a Chobani
*Several of you have commented about how hubby seems to eat less than me at lunch. Please keep in mind that I don't post everything that either of us eats. In addition, hubby tends to eat a lot of his lunch WHILE he's making his lunch. He often grabs a handful or two of almonds, eats a couple hb eggs,  etc while making his lunch so what's pictured is usually not everything he ate!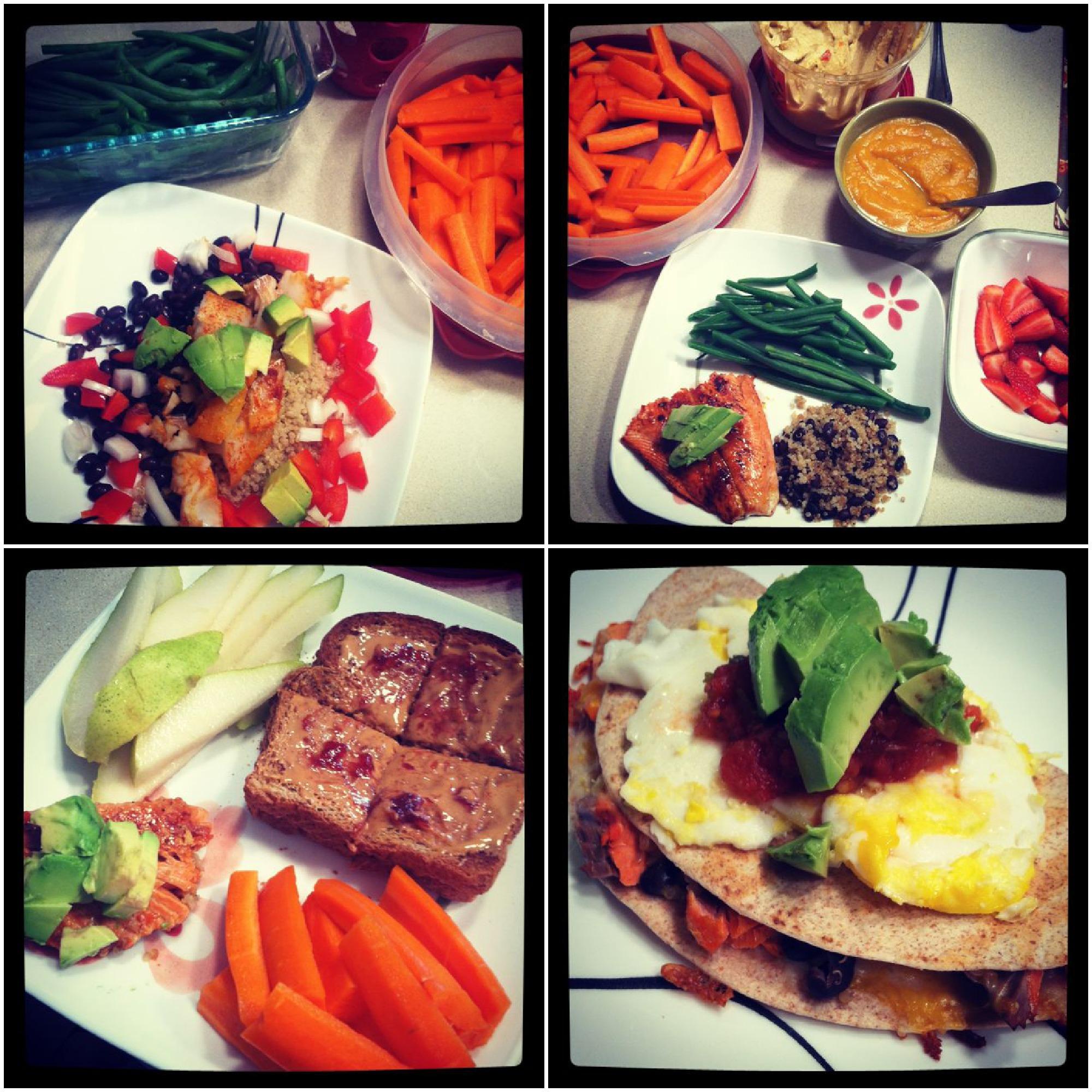 1. Fish over quinoa and black beans with veggies
2. Salmon, quinoa & beans, sweet potato soup, carrots and fruit
3. Leftover salmon, carrots, a pear and pb & j toast
4. Best thing I ate all week-
Salmon & black bean quesadila topped with a fried egg, salsa & avocado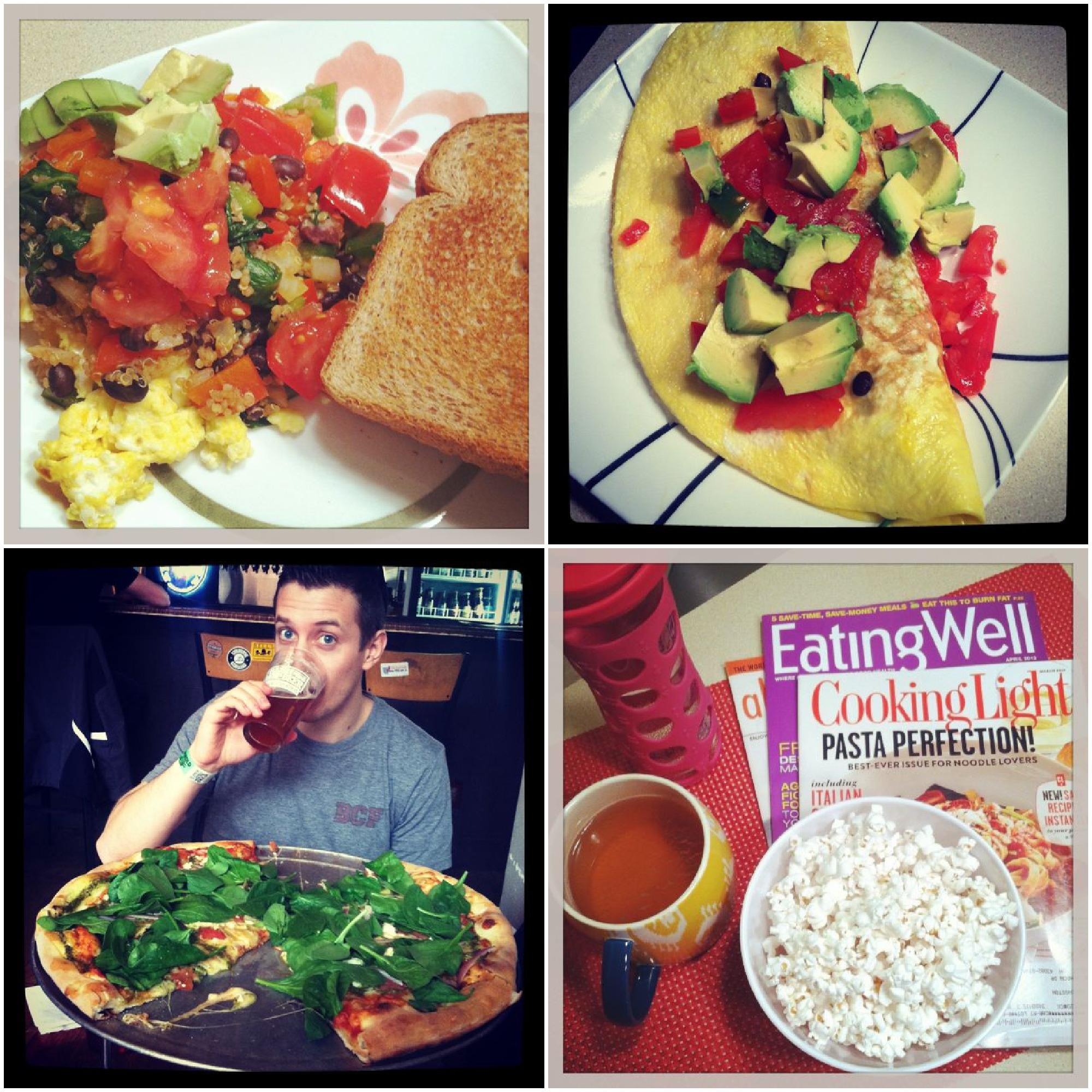 1. Scrambled eggs with sauteed veggies and toast
2. Monster omlet hubby made for us to share
3. Our fav pizza- artichokes, red onion, feta, tomato, pesto and cheese, topped with spinach
4. Popcorn and green tea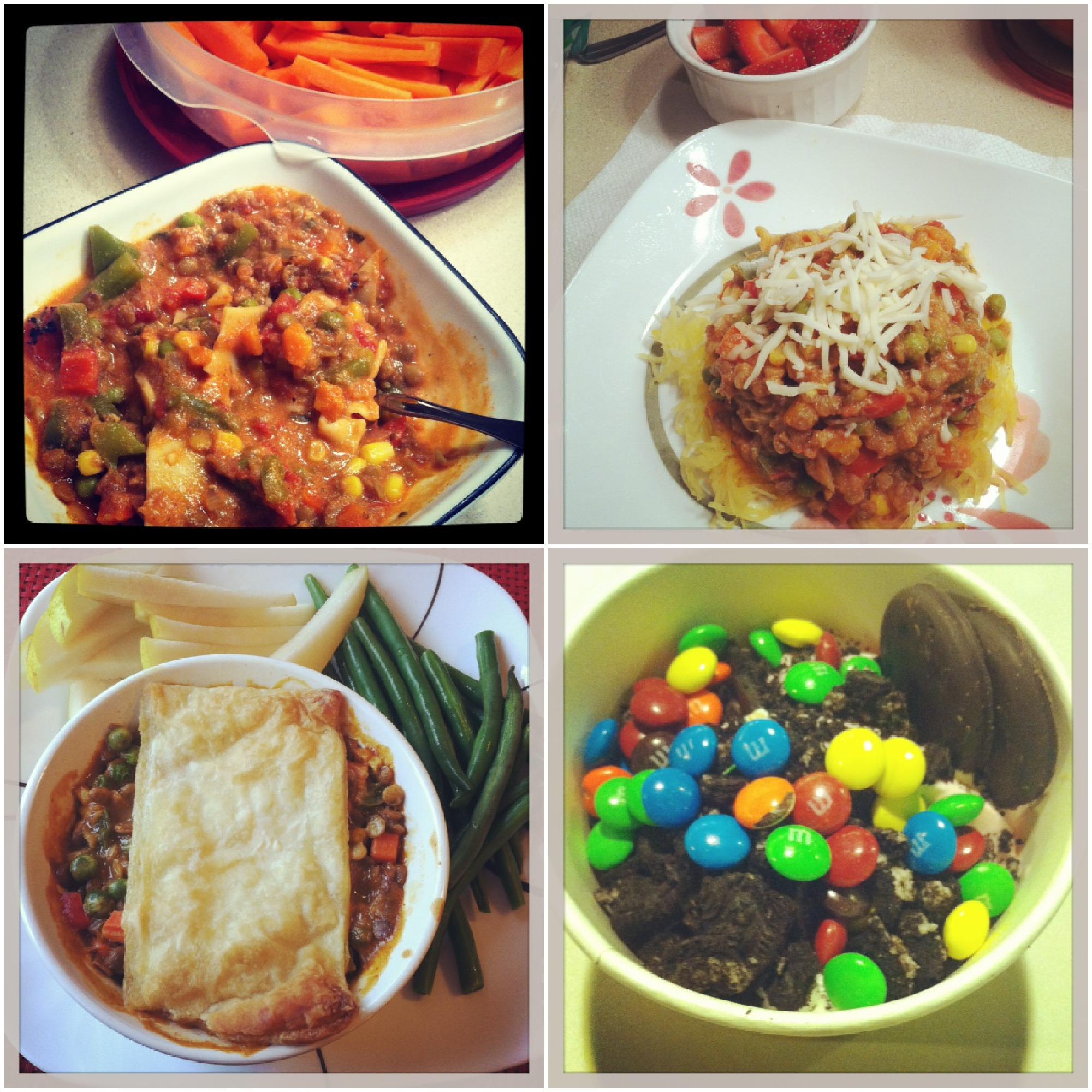 1. Lasagna soup- recipe coming soon!
2. The lasagna soup thickens up as it sits so the next night I had it over spaghetti squash and topped with a little cheese.
3. Lentil veggie pot pie with green beans and a pear
4. Froyo for the win! On my way there I was thinking how awesome it would be if they had thin mints as a topping since I didn't order any this year…and then they DID!! I was so pumped.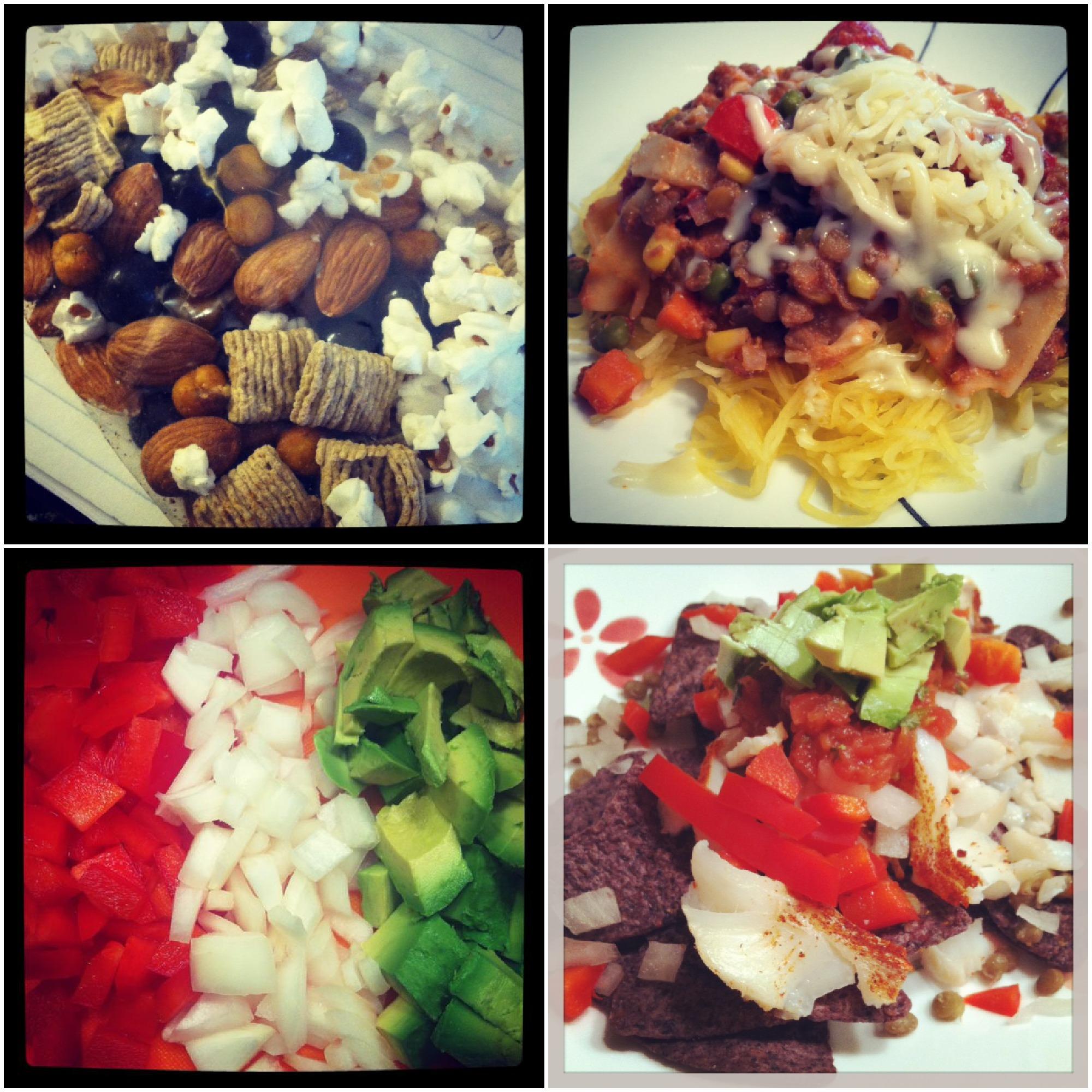 1. Snack time! Almonds, roasted chickpeas, dark chocolate covered powerberries from trader joes, popcorn and quaker oat squares
2. Repeat meal because it was so good
3. Mexican night!
4. Fish nachos- lentils, peppers, onions, fish, salsa, avocado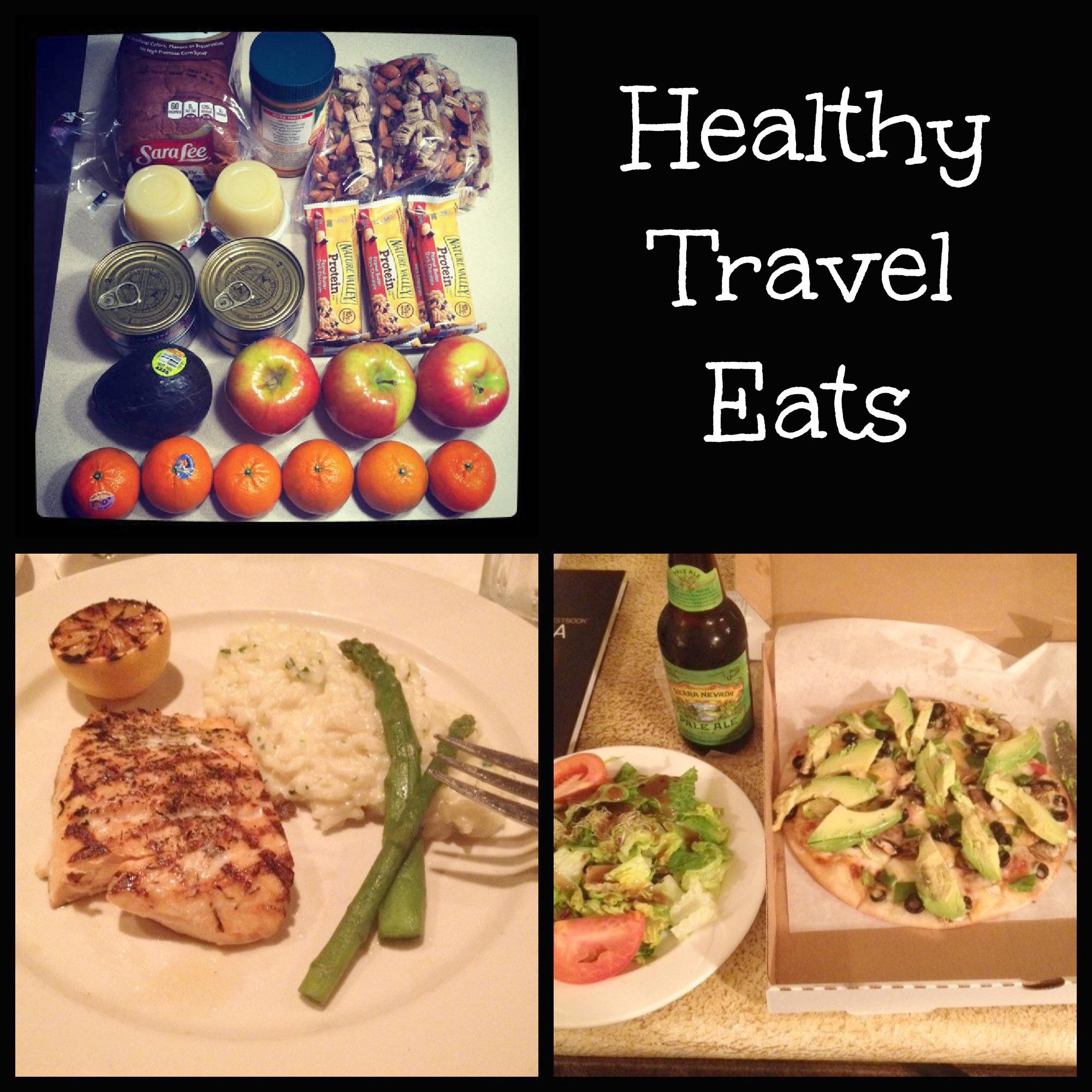 Hubby has been out of town since Saturday. He comes home tonight and I am SO happy! Before he left, we put together some healthy foods to put in his suitcase. Here's what we packed:
12 slices of bread
a jar of peanut butter
5 bags of trailmix- almonds, pepitas, cranberries & cereal
4 containers of applesauce
4 cans of low sodium tuna (with a pull top!)
6 Nature Valley protein bars
1 avocado
3 apples
6 clementines
Hubby had a Saturday evening flight so he used this food for dinner when he got to his hotel. He had a can of tuna with half the avocado, a peanut butter sandwich and some fruit.
Sunday morning he ate at the breakfast buffet. For lunch there weren't many vegetarian options so he ate in his room when he got back from his meetings. Sunday night he went out to eat and ordered the Salmon with risotto and asparagus (pictured above).
Monday morning he had the buffet for breakfast (eggs, fruit and french toast). Over the lunch break he actually took a cab to a nearby crossfit gym and completed a WOD, which was awesome. He ate a peanut butter sandwich, tuna and an apple after his workout. For dinner, he ordered room service. He got the veggie pizza, which he added the rest of his avocado to (luckily his room had a mini fridge so he was able to save the half he didn't eat on Saturday night), and a side salad, plus some clementines and a beer!
Not sure about Tuesday eats since I hadn't talked to him when I wrote this…but you get the idea! He ate the trailmix, protein bars and fruit as snacks throughout the trip as well!
I love how a little prep work before he left made it easy for hubby to eat healthy on his trip!
———————
Let's chat: Do you pack healthy food when you travel? What are some of your favorite things to pack?
Enjoy!
–Lindsay–