Hi Friends!
Time for more food prep inspiration!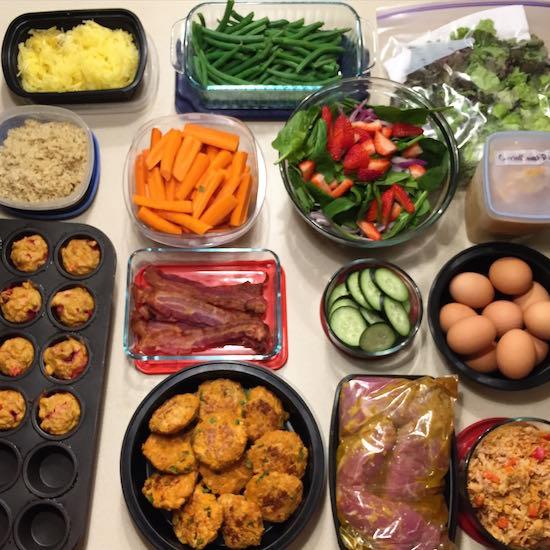 Last weekend I prepped:
Here's what some of you have been up to:
Nora at A Clean Bake –
Since I did so much last week and my freezer is pretty stocked with meals, I didn't do much for my house, but prepped several meals and snacks for friends who have a new baby. For them, I made easily-reheatable, entrees (broccoli quinoa casserole and chana masala with spinach added, based on
this recipe
), quick snacks (granola bars, banana bread muffins) and a grain-free pear coffee cake.
For my family, I prepped a lot of cooked and raw veggies,
oven-baked hard boiled eggs
(not pictured – they were in the oven when I took the picture!), chicken breast and a veggie-heavy 
paleo quiche
for quick breakfast and dinners. Other than that, we'll eat a lot of freezer meals this week!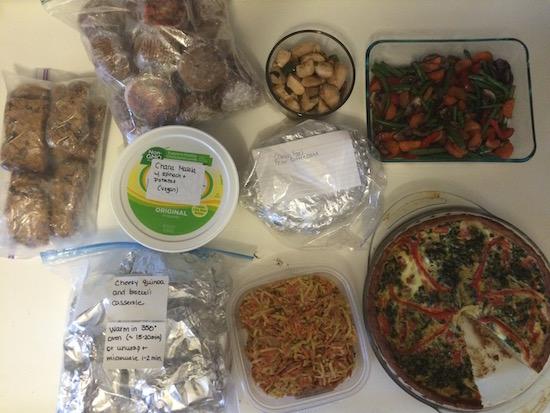 My food prep items: grab-n-go fruit, kale and romaine mix, chicken, hardboiled eggs, tomatoes, tuna salad, carrots, cucumbers, blackberries and Black Bean Fiesta Dip!
I grab fruit and eggs for breakfast on the days I work away form home. A lot of my items I toss together to make salads for lunch, that way dinner is the only meal I have to put a lot of work into during the week.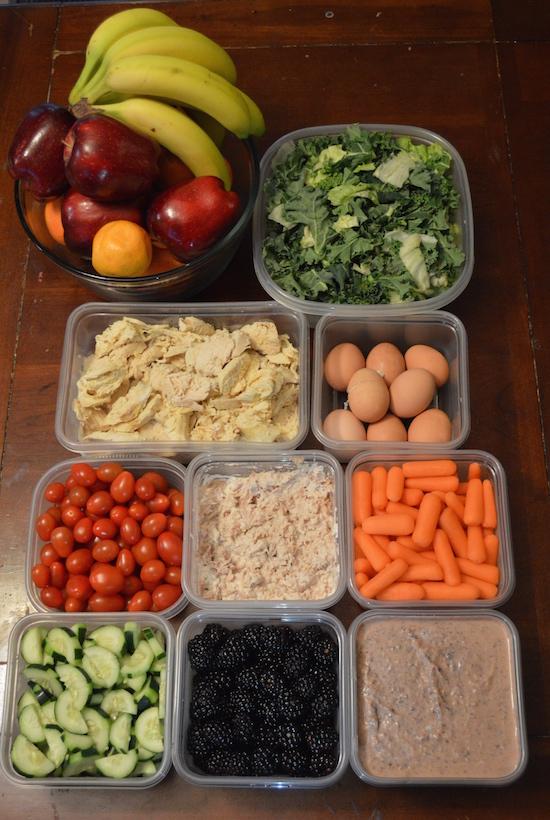 This past weekend I did my very first food prep! I can already see how it streamlines my week and makes it so much easier to make healthy choices!I prepared butternut squash for roasting for a later dinner, slow cooker honey garlic chicken and rice, a whole bunch of quinoa freezer burritos for snacks and work lunches, and pre sliced and mixed all my fruit for lunches!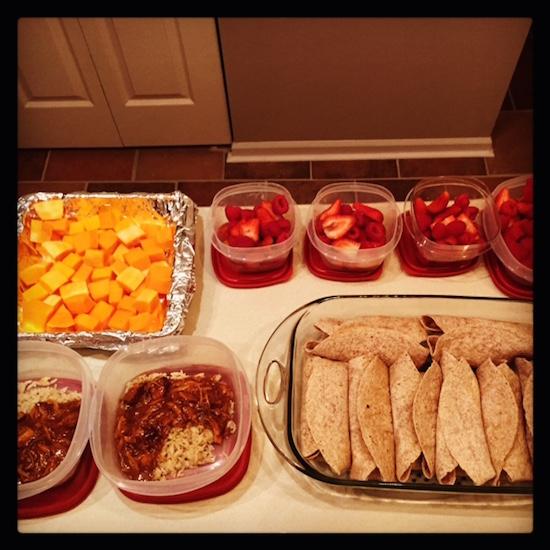 From the bottom left:Hard boiled eggs- such a great snack to have on hand or a quick breakfast!
Homemade brownie Lara bars- recipe is up on the blog. I leave some in the fridge and freeze a few too. They freeze pretty well which is great (or I'd eat them all).
Chicken salad made with homemade paleo mayonnaise, green apple, almonds slivers, and mustard.
Homemade paleo mayo- great to use throughout the week!
Paleo hidden veggie muffins- recipe from Against All Grain. These are great to freeze too!
Paleo tortillas- I use these throughout the week. Recipe also from Against All Grain.
Egg cups- these are an awesome snack. I put ham in a muffin tin then crack an egg on top. Then bake them at 375 for 15ish minutes.
Having snacks readily available is a life safer!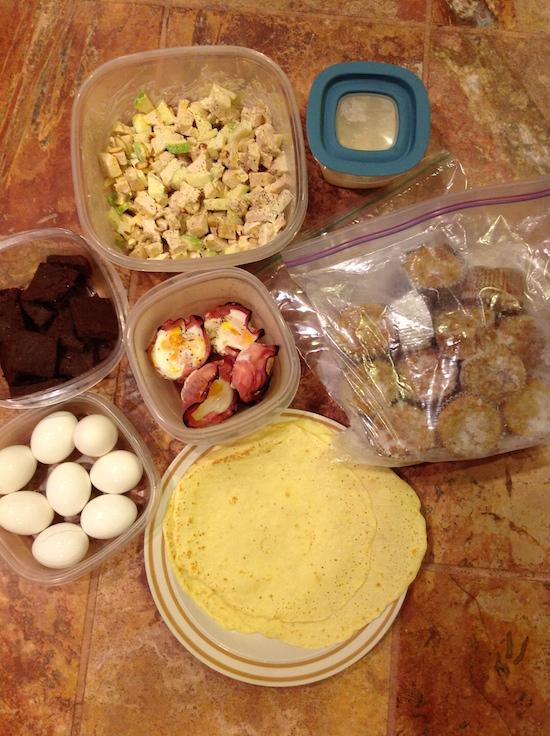 Are you food prepping this weekend? Send me your pic!

Here's what I need from you:
Email me the following:
1. Your Name
2. Your Blog URL (if you have one)
3. A photo of your food prep
4. A short description of what's in the photo. Tell me what you prepped and how you're going to use it during the week!
Every Sunday, I'll post a roundup of the photos I received that week so that you guys can see what others are preparing and hopefully get some inspiration and ideas! I'll keep this series going for as long as I receive photos, so send one every week if you want to!
Send to: theleangreenbean <at> gmail <dot> com
Tweet and Instagram your pics as well to inspire others!! Use the hashtag #sundayfoodprep . Remember that in order for a pic to be included in the post, you have to email it to me! If you have more than one pic, please make them into a collage before sending!
———————
Want more inspiration and tips? Read these:
15 Freezer Meals & Snacks
Top 10 Foods for Sunday Food Prep
How to Prep Food on the Weekend
Weekend Prep for Easy Weekday Meals
How to Eat Healthy in College
How to Eat Healthy During the Week
And check out the Food Prep Tab for links to all the previous Sunday food prep posts!
————
Let's chat: Are you prepping food today? Whatcha makin'?
Enjoy!
–Lindsay–