Hi Friends!
We got a little bit of food prep done over here last weekend. Not much, but in my opinion, anything is better than nothing!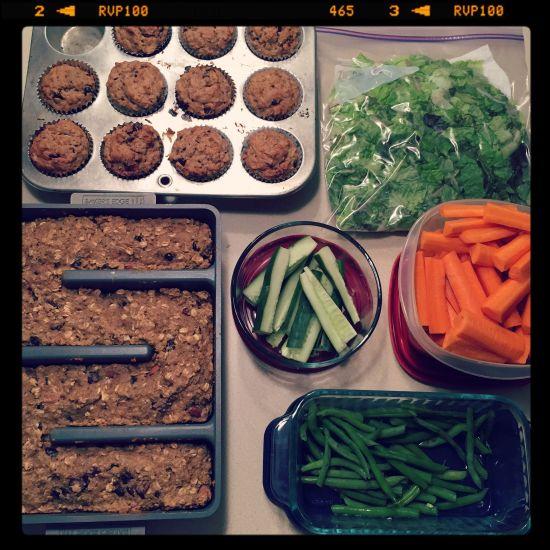 I made a batch of Quinoa Breakfast Bars for hubby to eat during the week and a batch of PB Banana Oat Muffins for me to snack on. I also prepped some veggies for snacking!
Here's what some of you prepped last week:
Amy at Healthy Hungry Happy – 
This is all food I prepped, then froze to use throughout the next week or so. Just started doing lots of freezer meals it's really nice and convenient!
Clockwise from the too left :
Whole wheat pancakes for my two year old (and sometimes me)
Elk meat and black bean burritos for quick lunches
Slow cooker turkey bolognese- I plan on having with spaghetti squash
Slow cooker Greek chicken breasts- I'll prep some quinoa with this
Pulled pork- cooked in the slow cooker. I'll thaw it when we need some for lunches or quick BBQ dinner.
Paleo pumpkin muffins- I like to freeze these then take out a couple at a time so I don't eat the whole bag at once 🙂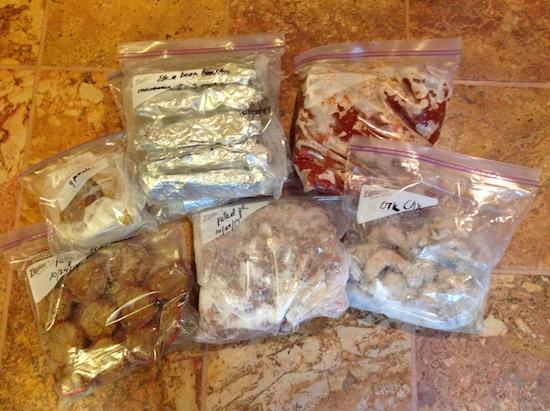 Laura –
This week I've prepared snacks in the hope of making better choices when I'm grazing.
Included in the pic are:
Apple crisps
Baked Sweet Potato
Hard Boiled Eggs
Chia Seed Pudding, one vanilla, one raspberry
Cucumber slices with mint and olive oil
Dates
Almonds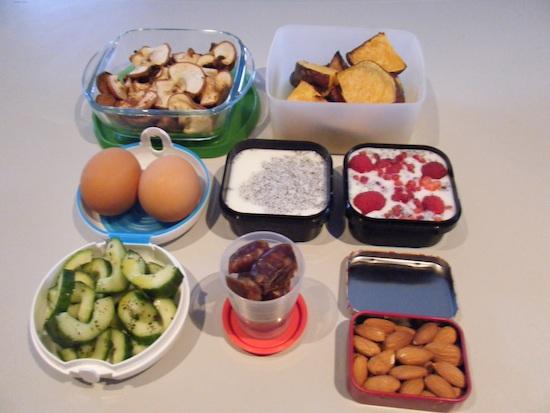 Amanda –
Starting from the top right corner:
– Washed and dried blueberries for smoothies and breakfast this week
– Made chicken sausage, butternut squash and kale soup (from Mountain Mama Cooks) for dinner tonight and leftovers during the week!
– Hard boiled eggs (quick snacks for me and the hubby
– Washed and chopped strawberries for breakfast, snacks, or smoothies
– Baked pumpkin spice energy bars for snacks (from Mountain Mama Cooks again…she's got some great recipes!). I've been making these each week and they're a huge hit in our house. Might have to stock up on pumpkin butter before it disappears from the TJ's shelves!
– Washed and chopped bell peppers for lunches, dinners, or a quick snack with some hummus
– Made warm lentil salad for lunches this week (from Simply Stacie)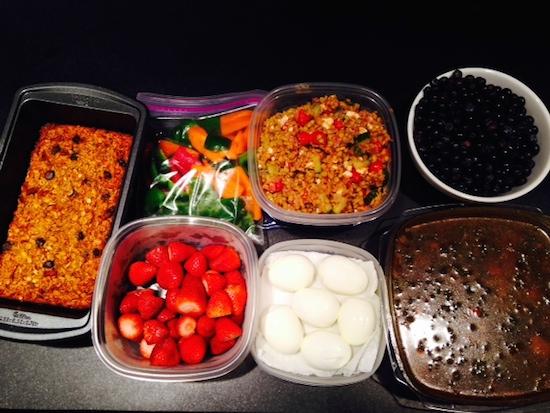 Dani at Dani California Cooks –
While I travel for work most weeks, it doesn't make sense to do too much food prep, but I do love taking pre-made breakfast items with me. So I posted about my Single Serving Baked Chia Banana Oatmeal.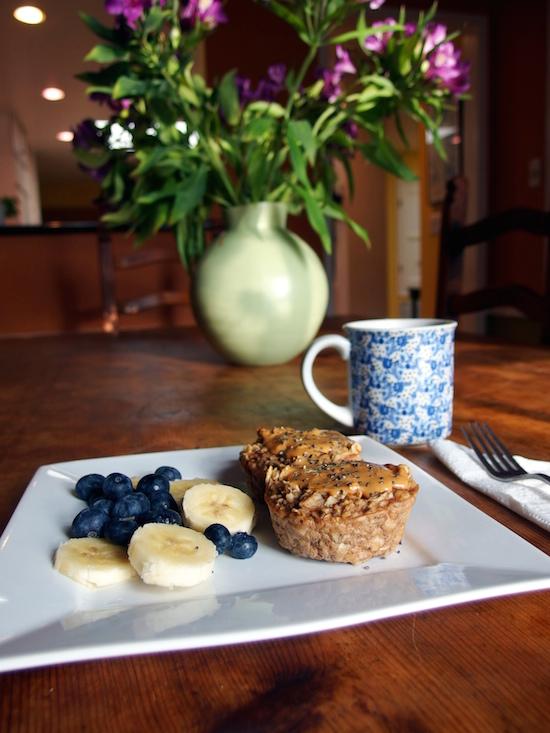 Sheryl –
Weekly prep!
Top left- Ezekiel bread portioned out. Roasted yellow squash/zucchini. Cooked lean ground beef. Sautéed mushrooms and extra zucchini.
Top right- veggie frittata (6 servings. 20% egg, 80% egg white), bagged sliced cucumbers
Bottom left- Steel cut oats
Bottom right- paleo spaghetti squash pie. (Dinner/lunch for a few days)
Not shown – slow cooker carnitas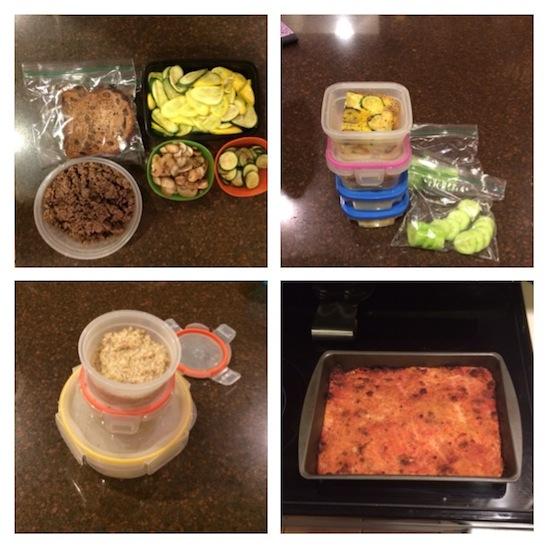 Are you food prepping this weekend? Send me your pic! I'm out of submissions!

Here's what I need from you:
Email me the following:
1. Your Name
2. Your Blog URL (if you have one)
3. A photo of your food prep
4. A short description of what's in the photo. Tell me what you prepped and how you're going to use it during the week!
Every Sunday, I'll post a roundup of the photos I received that week so that you guys can see what others are preparing and hopefully get some inspiration and ideas! I'll keep this series going for as long as I receive photos, so send one every week if you want to!
Send to: theleangreenbean <at> gmail <dot> com
Tweet and Instagram your pics as well to inspire others!! Use the hashtag #sundayfoodprep . Remember that in order for a pic to be included in the post, you have to email it to me! If you have more than one pic, please make them into a collage before sending!
———————
Want more inspiration and tips? Read these:
15 Freezer Meals & Snacks
Top 10 Foods for Sunday Food Prep
How to Prep Food on the Weekend
Weekend Prep for Easy Weekday Meals
How to Eat Healthy in College
How to Eat Healthy During the Week
And check out the Food Prep Tab for links to all the previous Sunday food prep posts!
————
Let's chat: Are you prepping food today? Whatcha makin'?
Enjoy!
–Lindsay–