Hi Friends!
No food prep for me last week as things were a little crazy with baby arriving!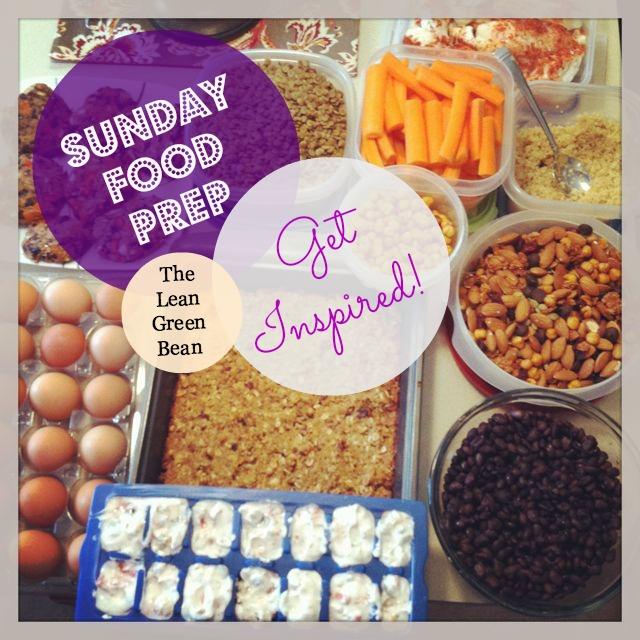 But lucky for you some readers still did their prep and sent pics for me to share!
—————-
Katie at Live Half Full –
Here's my food prep for the week!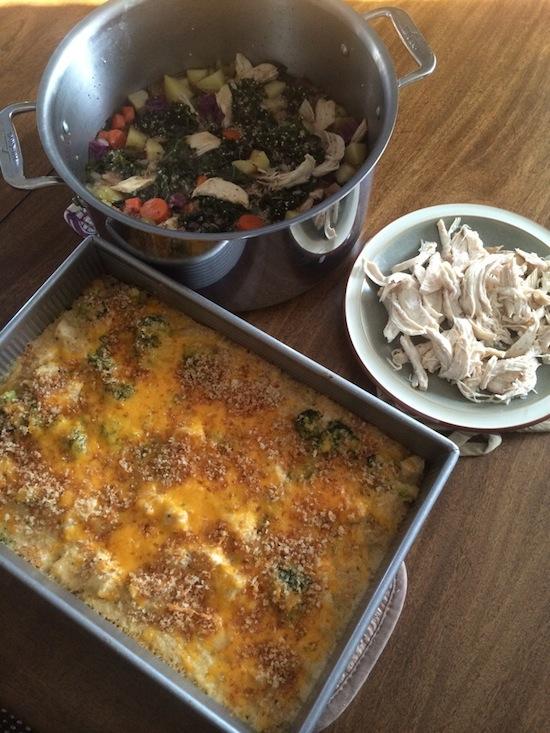 Athena at Fitness & Feta –
What I prepped:

Crock pot apple cinnamon oatmeal for breakfasts
Hard boiled eggs
Flourless apple chia muffins
No bake pumpkin spice energy balls
Snack baggies of peppers to eat with hummus
Snack baggies of grapes
Chicken, black bean, and zucchini casserole
Stacked harvest salads
Squash and chard gnocchi bake
Shannon-
I am a high school science teacher, wife of a Deputy Sheriff, mother of a 16 year old high school drummer, and a 12 year old 15+ hours a week dancer. Since June my husband and I have lost 100 pounds between us just by healthier eating choices and new workout habits. I chose CrossFit and my husband has been training at work. I have been desperate this year to create more time on our exceptionally busy weekdays. I spend hours driving in circles picking kids up and dropping off, and we all get  home at very different times. My husband also needs easy meals that travel well due to his schedule.
Then I found Lindsay's blog and the inspiration took over. This is my second week of dinner meal prep and it has worked beautifully. All our recipes have been adjusted to fit our new habits.
What is pictured is: grilled chicken, salad veggies, lettuce, Skinnier John Wayne Casserole, Turkey Chili, Turkey Burgers, Banana Bread, extra ground turkey for quesadillas or tacos, chopped onion, and jalapeño.
Are you food prepping this weekend? Send me your pic! I'm out of submissions!

Here's what I need from you:
Email me the following:
1. Your Name
2. Your Blog URL (if you have one)
3. A photo of your food prep
4. A short description of what's in the photo. Tell me what you prepped and how you're going to use it during the week!
Every Sunday, I'll post a roundup of the photos I received that week so that you guys can see what others are preparing and hopefully get some inspiration and ideas! I'll keep this series going for as long as I receive photos, so send one every week if you want to!
Send to: theleangreenbean <at> gmail <dot> com
Tweet and Instagram your pics as well to inspire others!! Use the hashtag #sundayfoodprep . Remember that in order for a pic to be included in the post, you have to email it to me! If you have more than one pic, please make them into a collage before sending!
———————
Want more inspiration and tips? Read these:
15 Freezer Meals & Snacks
Top 10 Foods for Sunday Food Prep
How to Prep Food on the Weekend
Weekend Prep for Easy Weekday Meals
How to Eat Healthy in College
How to Eat Healthy During the Week
And check out the Food Prep Tab for links to all the previous Sunday food prep posts!
————
Let's chat: Are you prepping food today? Whatcha makin'?
Enjoy!
–Lindsay–