Hi Friends!
Time for another quick round of Sunday Food Prep!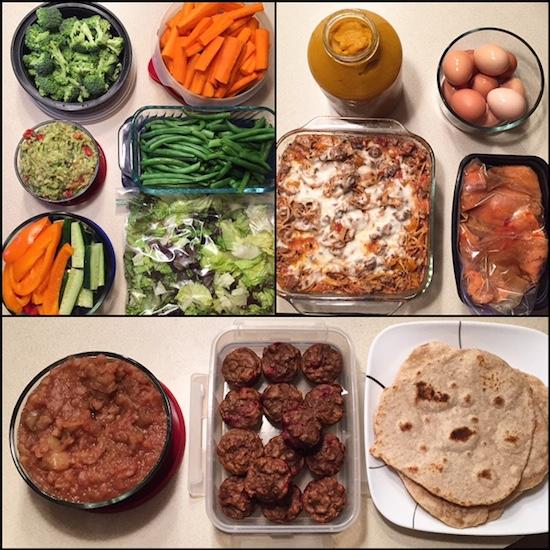 Last weekend I prepped:
Veggies
Homemade guac
HB Eggs
Spaghetti Pie- what happens when you start making lasagna and realize you have no noodles.
Salmon marinating in teriyaki sauce, a little thai chili sauce, grated ginger and garlic
Crockpot Applesauce– chunky, with lots of cinnamon
Sweet Potato Bites– made with chocolate nuttzo and fresh cranberries
—————-
And a few submissions from readers:
Alexandra of Get Big, Go To Work –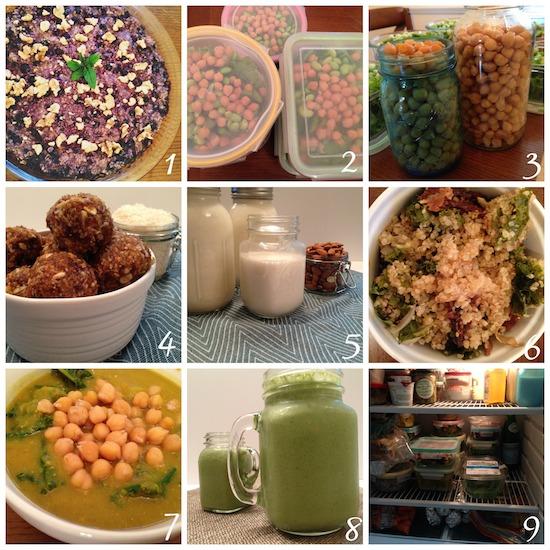 1. Baked oatmeal. Breakfast for the week.
2. Five salads for my lunches this week –>Lettuce, carrots, cucumber, peppers, chickpeas, edamame
3. Chickpeas galore. I use them on my salads and also in my soups/on other dinners.
4. Coconut cashew apricot bites – Quick afternoon pick-me-up (snack)
5. Homemade almond milk – I use it in my smoothies.
6. Sun-dried tomato, kale and chicken sausage quinoa bake for dinner
7. Lentil and butternut soup with kale and chickpeas for dinner.
8. Creamy mint smoothie for breakfast.
9. The current state of my fridge. It will be empty by
Saturday
!
I am the worst when it comes to meal planning! I feel like if I try to meal plan my husband I eat all of the meals in one day… impressed? With me starting night class for grad school in a few weeks it would be a dream for me to come home to a nutritious meal.
This week I prepped:
Zucchini Lasagna
Vegan meatballs from Tempeh for a pasta night
Chicken breasts for salads and wraps
Banana bread to go with coffee of course
Taco meat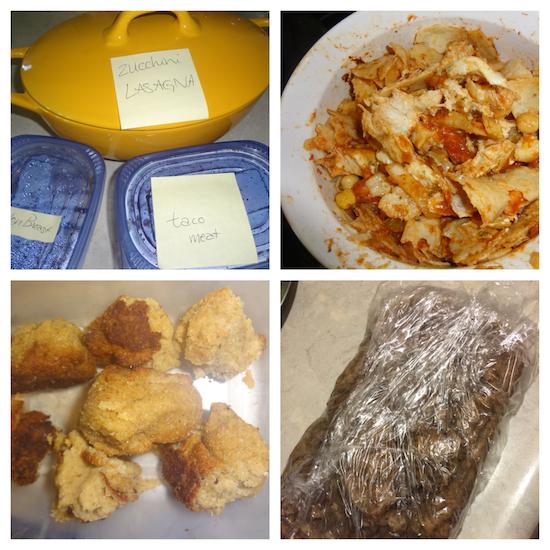 —————
Are you food prepping this weekend? Send me your pic! I'm out of submissions!

Here's what I need from you:
Email me the following:
1. Your Name
2. Your Blog URL (if you have one)
3. A photo of your food prep
4. A short description of what's in the photo. Tell me what you prepped and how you're going to use it during the week!
Every Sunday, I'll post a roundup of the photos I received that week so that you guys can see what others are preparing and hopefully get some inspiration and ideas! I'll keep this series going for as long as I receive photos, so send one every week if you want to!
Send to: theleangreenbean <at> gmail <dot> com
Tweet and Instagram your pics as well to inspire others!! Use the hashtag #sundayfoodprep . Remember that in order for a pic to be included in the post, you have to email it to me! If you have more than one pic, please make them into a collage before sending!
———————
Want more inspiration and tips? Read these:
15 Freezer Meals & Snacks
Top 10 Foods for Sunday Food Prep
How to Prep Food on the Weekend
Weekend Prep for Easy Weekday Meals
How to Eat Healthy in College
How to Eat Healthy During the Week
And check out the Food Prep Tab for links to all the previous Sunday food prep posts!
————
Let's chat: Are you prepping food today? Whatcha makin'?
Enjoy!
–Lindsay–