Hi Friends!
Time for another round of Sunday Food Prep. Here's what I prepped last weekend: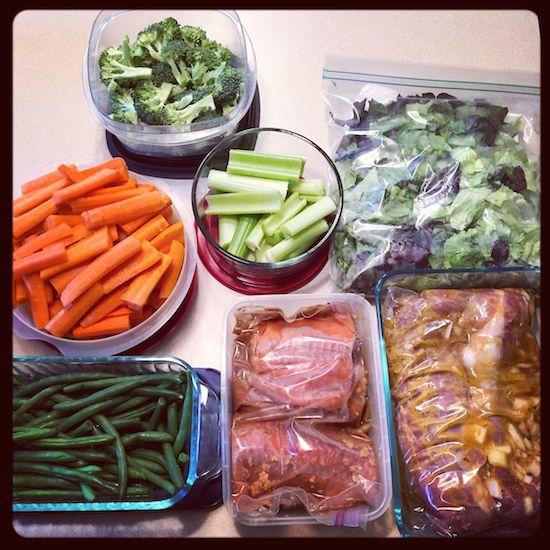 I kept it pretty simple this week and just prepped some veggies and then I also put my salmon and pork tenderloin in marinades so we could grill them the next night.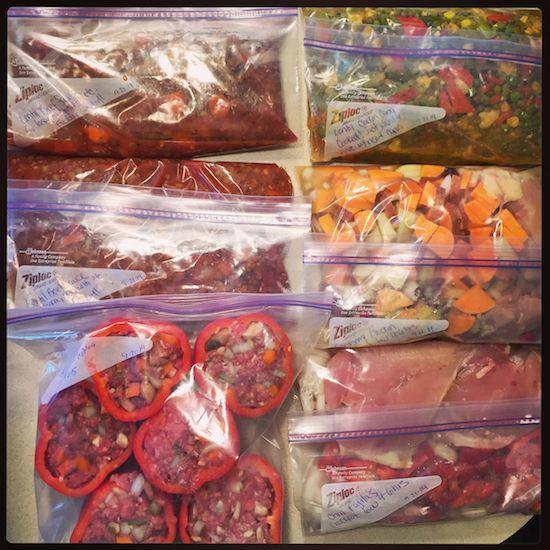 I focused most of my energy on prepping some freezer meals so we will have a nice, stocked freezer when baby arrives. I'm planning to do a whole post on all the stuff I prepped so stay tuned!
And for a little more inspiration, check this out:
Valerie at The Sweet Seed –
This weekly food prepping plan consists of three meals and two snacks. Egg whites, shrimp, and cod are the protein staples for this  menu. Breakfast includes 4 hard-boiled egg whites and about 1/3 cup of oatmeal topped with cinnamon. Hard-boiled eggs are a great food to prep ahead of time and eat on the run. For lunch, I prepared about 4 oz of cod with sweet potato and green beans. Dinner consists of a salad made from spinach, shrimp, sprouts, red pepper, and carrots. Simple, homemade dressings are the best so stick with 1 tbsp of olive oil and 1 tbsp of vinegar. For snacks, grabbed some non-fat Greek yogurt with berries, as well as a brown rice cake with 1 tbsp of peanut butter. Food prepping definitely saves me time, money, and stress during the work week. And it helps with healthy decision-making! Happy cooking!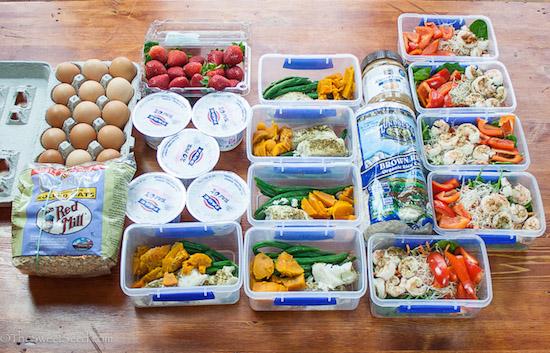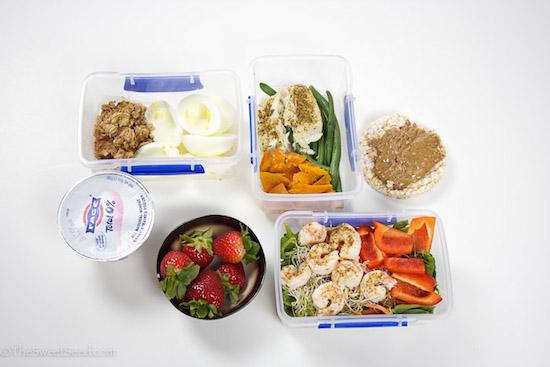 Are you food prepping this weekend? Send me your pic! I'm out of submissions!

Here's what I need from you:
Email me the following:
1. Your Name
2. Your Blog URL (if you have one)
3. A photo of your food prep
4. A short description of what's in the photo. Tell me what you prepped and how you're going to use it during the week!
Every Sunday, I'll post a roundup of the photos I received that week so that you guys can see what others are preparing and hopefully get some inspiration and ideas! I'll keep this series going for as long as I receive photos, so send one every week if you want to!
Send to: theleangreenbean <at> gmail <dot> com
Tweet and Instagram your pics as well to inspire others!! Use the hashtag #sundayfoodprep . Remember that in order for a pic to be included in the post, you have to email it to me! If you have more than one pic, please make them into a collage before sending!
———————
Want more inspiration and tips? Read these:
Top 10 Foods for Sunday Food Prep
How to Prep Food on the Weekend
Weekend Prep for Easy Weekday Meals
How to Eat Healthy in College
How to Eat Healthy During the Week
And check out the Food Prep Tab for links to all the previous Sunday food prep posts!
————
Let's chat: Are you prepping food today? Whatcha makin'?
Enjoy!
–Lindsay–