Hi Friends!
Yes, I realize today is Saturday, not Sunday…but I've got a Recipe Redux post that needs to go up tomorrow, so we're talking food prep today instead! Here's a look at what I prepped last week: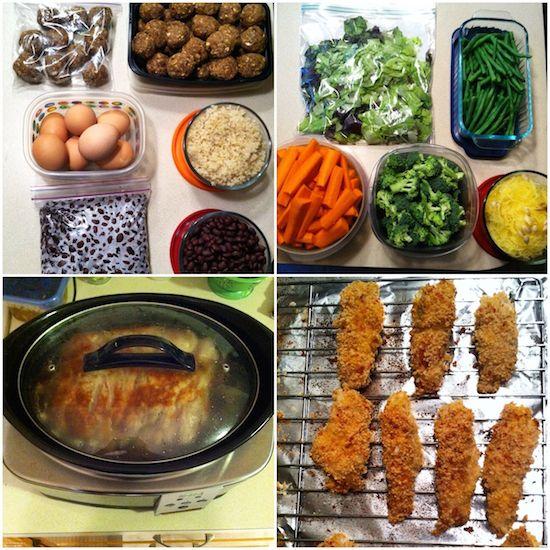 A double batch of my Pumpkin Pie Balls
HB eggs
Quinoa to make breakfast bars
Black beans for the friday and freezer
Veggies
Crockpot pulled pork with apples and red peppers
Crispy Baked fish
 ————-
And here's what some of you have been up to!
Faith at The Conscientious Eater –
This is my first time EVER food prepping, but since I moved to NYC I'm thinking it's going to happen weekly. In the photo there's a huge bag of roasted veggies to eat with hummus (below) as either a wrap or salad with tahini. In the middle is Cilantro Lemon Quinoa Salad with Avocado. Up top is Lentil Curry to eat with Brown Rice and a jug of Homemade Almond Milk. At the bottom is Pesto Pasta with Tomatoes and Mushrooms.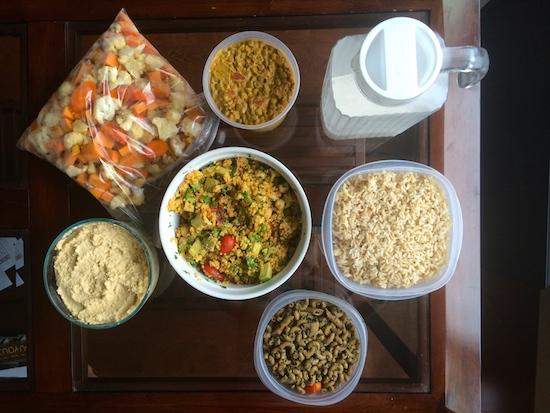 Nora at A Clean Bake –
This weekend was so busy that I didn't have time to prep as much as I usually would, but I made just enough to get us through most of the week! Here's what I made:
Steamed spaghetti squash to pair with turkey meatballs and marinara sauce I have in the freezer
Chicken sausages to eat for lunch with salads or leftover squash
Chicken breast that is marinating in olive oil, salt, pepper and chili powder for dinners
Paleo egg white, spinach and red pepper quiche, which is great for any meal
A huge pot of Chilean conger eel (whitefish) stew with extra veggies – great for the cold, damp days that are predicted this week!
Pre-washed baby spinach for salad, baby carrots and snap peas to pair with hummus for snacks
Plus we'll eat out one night because it's just that kind of week!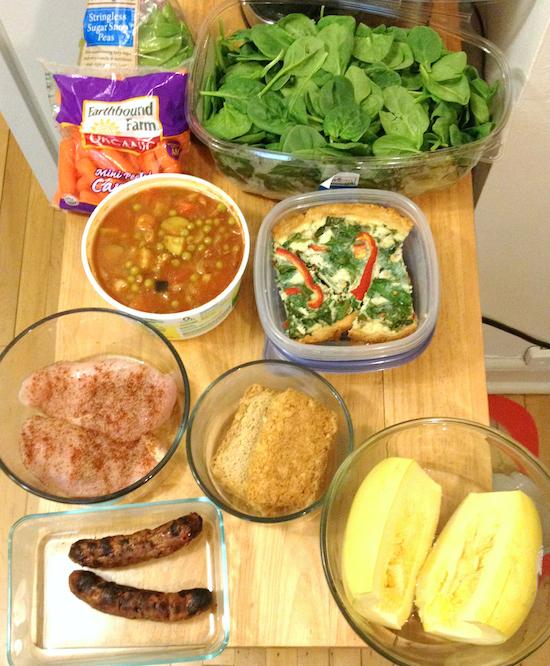 Clockwise, starting on the left:
Casserole version of Balanced Bites' buffalo chicken egg muffins
Steamed carrots
Grilled steak kabobs
Roasted hot Italian sausage, red potatoes, sweet onion, and green bell pepper with herbs
Steamed leeks
I like to have a few vegetable side dishes to mix and match with the heavier meat-based dishes throughout the week.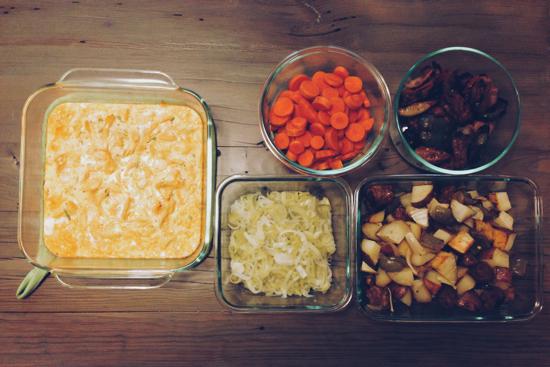 Last week's prep included: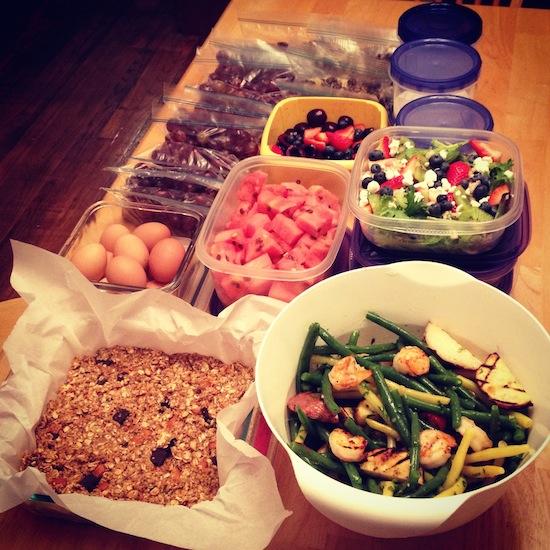 Jodie at Source One Nutrition –
This week I grilled chicken breast and spiced it up by making some curry, some BBQ and some with a peanut sauce.Threw three turkey burgers on the grill too.  I also baked some chicken tenders in the oven with artichoke and sun dried tomatoes. In addition, I made a nice one pot meal comprised of rice, Italian sausage, a little broccoli and red and green peppers. For vegetables, I roasted broccoli and yellow squash, carrots, as well as prepared some lima beans and corn. Finally, I baked some sweet potato muffins and have some fruit cut up in the fridge for easy access.
My husband and I will use a lot of this for lunches throughout the week and I really like to throw a quick dinner together out of some of these items as well. Having the proteins and even some vegetables pre-cooked allows me to have a meal ready in no time.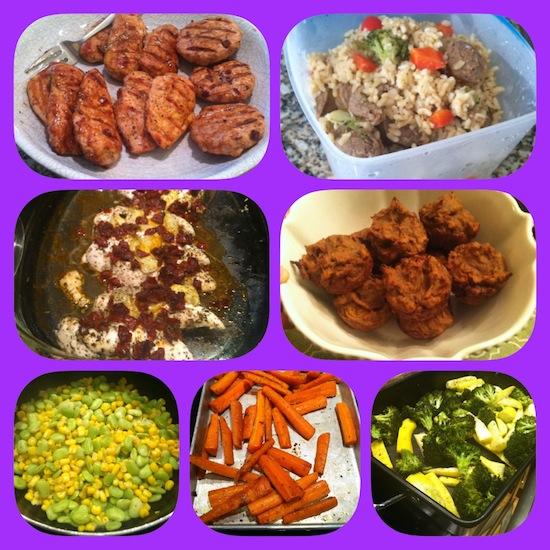 Are you food prepping this weekend? Send me your pic! I'm out of submissions!

Here's what I need from you:
Email me the following:
1. Your Name
2. Your Blog URL (if you have one)
3. A photo of your food prep
4. A short description of what's in the photo. Tell me what you prepped and how you're going to use it during the week!
Every Sunday, I'll post a roundup of the photos I received that week so that you guys can see what others are preparing and hopefully get some inspiration and ideas! I'll keep this series going for as long as I receive photos, so send one every week if you want to!
Send to: theleangreenbean <at> gmail <dot> com
Tweet and Instagram your pics as well to inspire others!! Use the hashtag #sundayfoodprep . Remember that in order for a pic to be included in the post, you have to email it to me! If you have more than one pic, please make them into a collage before sending!
———————
Want more inspiration and tips? Read these:
Top 10 Foods for Sunday Food Prep
How to Prep Food on the Weekend
Weekend Prep for Easy Weekday Meals
How to Eat Healthy in College
How to Eat Healthy During the Week
And check out the Food Prep Tab for links to all the previous Sunday food prep posts!
————
Let's chat: Are you prepping food today? Whatcha makin'?
Enjoy!
–Lindsay–