Hi Friends!
Time for another round of Sunday Food Prep!
Here's what I did last weekend.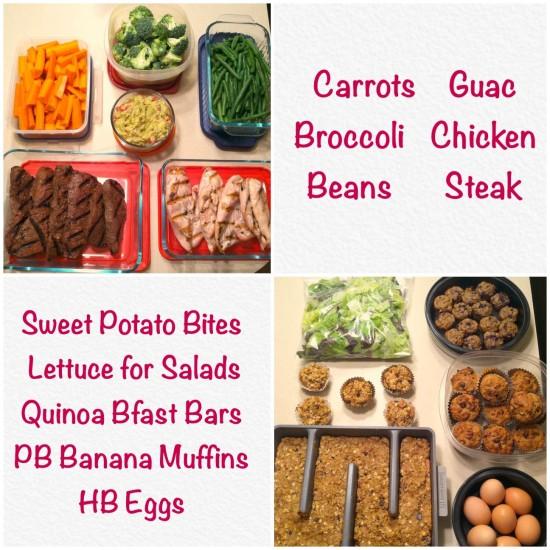 Here's what some of you have been up to:
Nora at A Clean Bake:
This week, we didn't have time to go grocery shopping so I am prepping and meal planning from what is already in the fridge, freezer and pantry. That means lots of salads and stir fry dishes to use up odds and ends!
So I prepared:
Spinach and kale for salads
Pearled barley
Hard boiled eggs
Chicken, pork, salmon and tofu (defrosting for dinners)
Cole slaw
LIghtly steamed brussels sprouts (great as a change-of-pace salad base) and string beans
Roasted cauliflower
PB&J overnight oats
Black bean veggie burgers
Frittata for breakfast
Chicken sausage
Pre-portioned carrots and celery + hummus
Sugar-free lemonade
This week Gus (5 month old yellow lab) wanted to say hi! He typically 
hangs around in the kitchen while I am prepping food for the week. He 
absolutely loves carrot sticks:) Here is what I did this week:
 – Washed and prepped organic romaine for salads
 – Washed, peeled and chopped carrots
 – Cut up strawberries (one container for me and one for my fiance for work)
 – Made a batch of peanut butter chocolate chip power bars (recipe on the blog!)
 – Cooked a large batch of orange chicken and broccoli for dinner 
Sunday
 and leftovers for lunch
 – Baked gluten free chocolate zucchini mini loaves to freeze in 
individual baggies and enjoy as an indulgent treat here or there!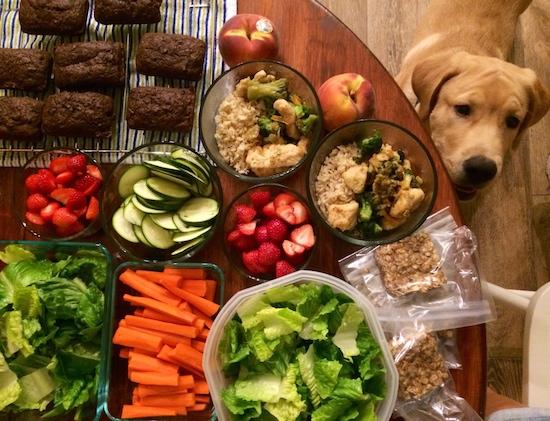 In this meal plan, I made egg cups for breakfast, fish + veggies + carbs for lunch, chicken + veggies + carbs for dinner, and fruit and nuts for snacks.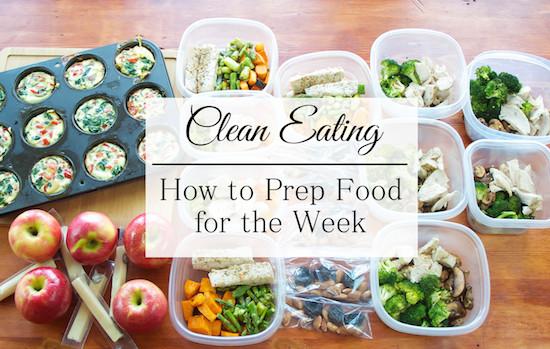 I prepped/cooked:
– banana chocolate chip raspberry muffins
– pulled chicken in the crockpot
– all the fixings for Mediterranean salads (chicken, quinoa, red peppers, red onion, grape tomatoes, feta and roasted red pepper hummus)
I had a muffin with fruit each morning. I made salads for lunch eat day with the ingredients in the big photo. We used the pulled chicken to top sweet potatoes with salsa. Also, one night I wanted something different for dinner, so I threw some pulled chicken, quinoa and random veggies into a bowl with salsa. It worked!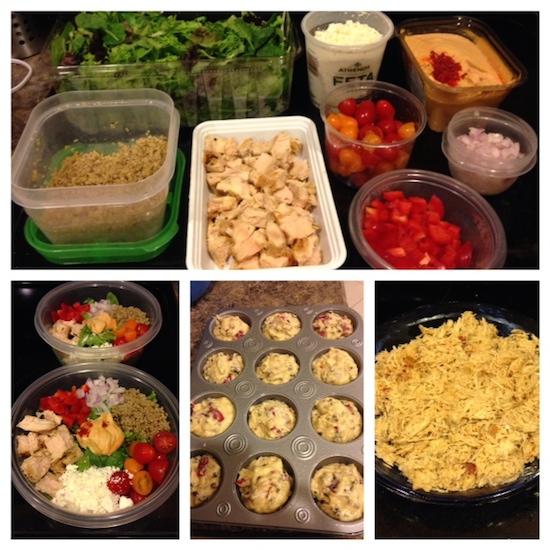 Are you food prepping this weekend? Send me your pic! I'm out of submissions!

Here's what I need from you:
Email me the following:
1. Your Name
2. Your Blog URL (if you have one)
3. A photo of your food prep
4. A short description of what's in the photo. Tell me what you prepped and how you're going to use it during the week!
Every Sunday, I'll post a roundup of the photos I received that week so that you guys can see what others are preparing and hopefully get some inspiration and ideas! I'll keep this series going for as long as I receive photos, so send one every week if you want to!
Send to: theleangreenbean <at> gmail <dot> com
Tweet and Instagram your pics as well to inspire others!! Use the hashtag #sundayfoodprep . Remember that in order for a pic to be included in the post, you have to email it to me! If you have more than one pic, please make them into a collage before sending!
———————
Want more inspiration and tips? Read these:
Top 10 Foods for Sunday Food Prep
How to Prep Food on the Weekend
Weekend Prep for Easy Weekday Meals
How to Eat Healthy in College
How to Eat Healthy During the Week
And check out the Food Prep Tab for links to all the previous Sunday food prep posts!
————
Let's chat: Are you prepping food today? Whatcha makin'?
Enjoy!
–Lindsay–