Hi Friends!
Happy Sunday. Time to inspire you to do a little food prep today 🙂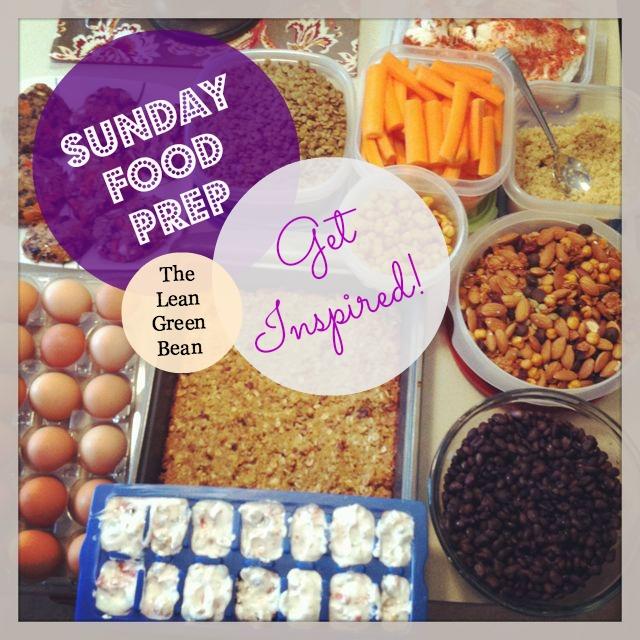 I didn't actually do any food prep last weekend. I took the weekend off for the first time this year! It was Easter and I also just finished my internship and knew I was taking a week to relax so I knew I'd have more time than usual to make lunches and dinners. Not to worry though. This upcoming week I'm starting my job search, etc so I'll definitely be doing some food prep today!
The great thing about this series is that I get so many submissions that I actually have posts filled several weeks ahead of time! So, I still have plenty of food prep inspiration to share with you guys today. Ready? Let's go!
 ———————–
Leslee at Her Happy Balance : I have an hour and a half morning commute each day into the city so I am up super early and rarely have time to make healthy lunches for myself in the morning, so food prepping on Sunday night really helps me to stay on track during he week. I made two different types of "assemble-at-work" pita sandwiches for lunch. One is an Italian sandwich with arugula, basil, hot soppresatta, fresh mozzarella, baked chicken breast, bean sprouts, and a dollop of pesto. The other is a Mexican sandwich with avocado, shredded skim mozzarella, black beans, bean sprouts, spinach, and taco sauce. I keep all of the components separated so they don't get soggy 🙂 As side snacks to the pita sandwiches, I have baked sweet potato wedges seasoned with parmesan cheese and brussel sprouts sautéed with rosemary and a little bit of brown sugar. String cheese and carrots with hummus are my other snack time staples. I'm definitely a huge advocate of food prepping now, thanks!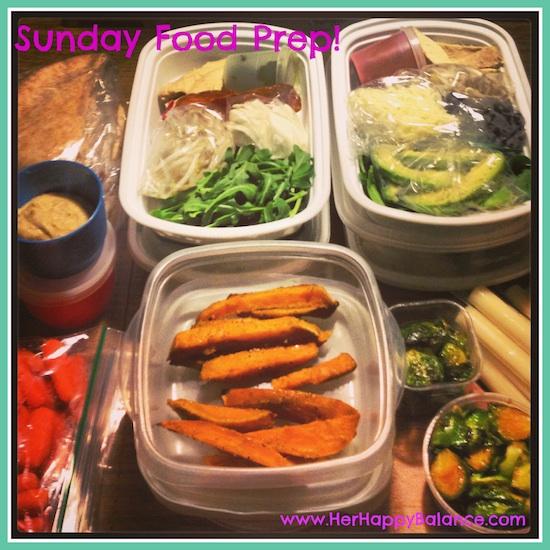 Kerry at The Adventures of Z & K : This was my first time doing a weekly prep and I have to say I felt SO much more prepared and organized as I started my work week. I really like to label things so took out my handy dandy Post-It labels and went to town! 1. Carrots & celery: I pack them in my lunch almost every day along with some almond or peanut butter for dipping. 2. Zucchini and red pepper: some I chopped to be roasted and used as a topping for a "Fall Harvest" Pizza, the rest to saute and serve alongside BBQ salmon. 3. Pizzert Babies: a chocolate baking creation from SkinnyMs.com. At 26 calories each, they are a perfect little chocolate dessert that you can top with almond butter and coconut (as per the recipe) or, my favorite, marshmallow fluff and crumbled graham cracker. 4. Healthy Cookies: with only three ingredients (bananas, oats and nuts) these "cookies" from Skinnytaste make a great AM snack to take with me to work. 5. Snack Mix: I cannot get enough of the flavored Blue Diamond almonds (toasted coconut and blueberry are my current favorites). Mix them together with Barbaras Multigrain Shredded Spoonfuls cereal and you have a great on-the-go snack.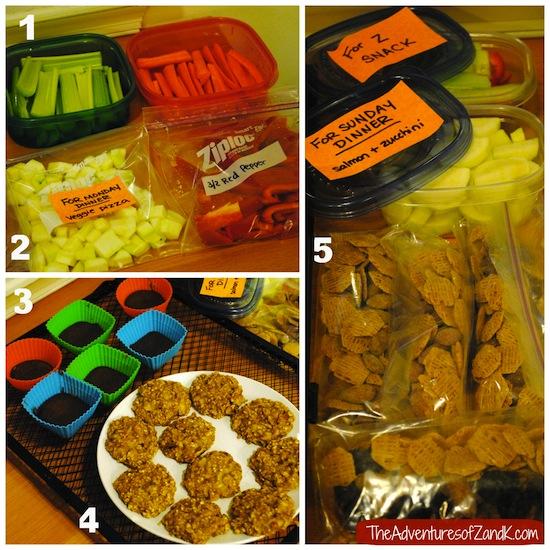 Morganne at Nut Butter Runner : Another successful Sunday food prep in our house!
Drained And Rinsed White Beans
Chocolate Banana Nut Muffins
Salad Romaine, Spinach, Cucumbers, Cherry Tomatoes, and Mini Peppers
Baked Chicken Breasts
Hard Boiled Eggs
Strawberries
PB & J Hummus
Spaghetti squash and salad provide an awesome base to any meal: just add some protein and you're good to go! So what protein to pick? Well we've got drained and rinsed white beans, baked chicken breasts, and hard boiled eggs to choose from! As always, tuna is always an option, too! Even though it may be getting warmer, I love to have soup for lunch or dinner. It makes packing lunches especially easy! For snacks we have quinoa breakfast bars (or hubby has them as part of his breakfast), hard boiled eggs, strawberries, hummus, and chocolate banana nut muffins. I spent a few hours putting these things together for a week full of easy, healthy eats!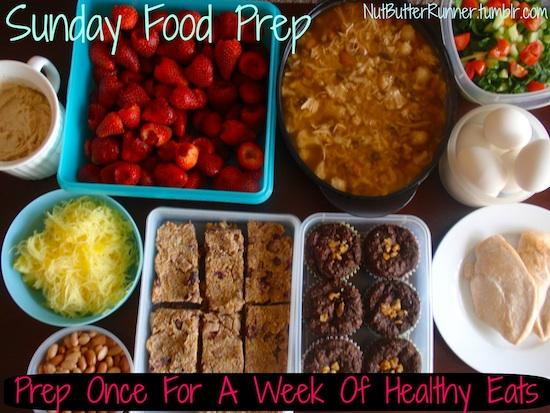 Lisa at Run Wiki : I was busy today! I made a black bean and corn salad, marinated beets, Spinach and feta mini frittas, sliced carrots, hard boiled eggs, chili (not pictured) lemonade (not pictured) and flax meal and protein cookies (not pictured) and went to Costco, whew!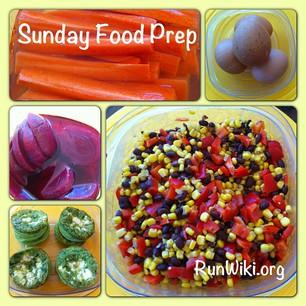 Kellie : I did my first documented Sunday food prep!
Spinach salad
Quinoa
Porkchops with sliced Asian pears and onions
Hard boiled eggs
Banana oat cookies (1 c. Rolled or quick oats, 2 bananas, Handful of chocolate chips if desired. Mash banana and oats together and spoon on nonstick cookie sheet and cook 15 minutes at 350F)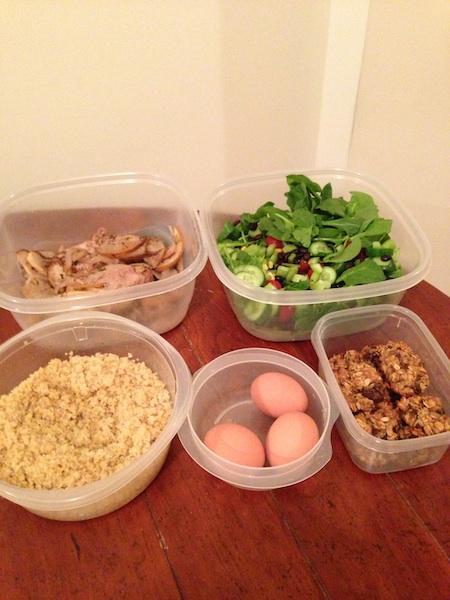 Amanda from The Nutritionist Reviews : This week, I made whole-wheat peanut butter chip muffins for my husband's breakfasts for the week. I love roasted vegetables and roasted up pans of beets, brussel sprouts and green beans. I soaked some garbanzo beans overnight and cooked them in the morning to throw over salads, have in tacos, etc. I also cooked up a batch of quinoa, veggie burgers, sweet potatoes and mashed potatoes. To learn more about my meal prep, check out my meal prep blog post.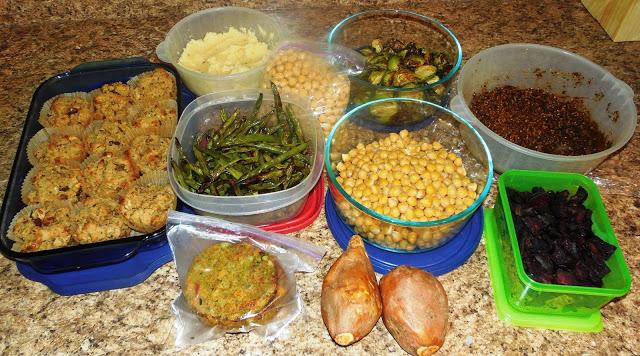 Dede at Purpose Driven Healthy Life : Snacks for the week: fruit, veggies and nuts!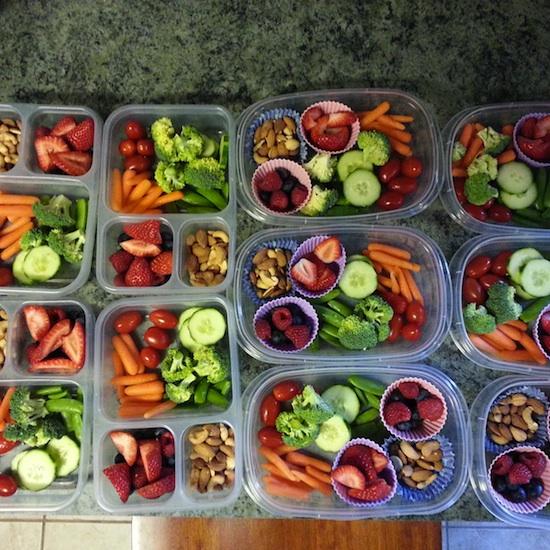 Cathy at Just Me : I've made 2 quick grab and go snacks….your frozen yogurt trail mix bars and some homemade granola bars both made with the kids in mind….but the hubby and I seem to be enjoying them more.  Waffles to freeze for the week for the kids to just pull out and pop in the toaster~ on the go food.  And then the stuffed shells….cheesey goodness while sneaking Popeye food on the kids.  I prepped enough for 2 meals.  This makes at least one meal quick and easy….just pull it from the freezer throw in a casserole dish top with sauce and bake!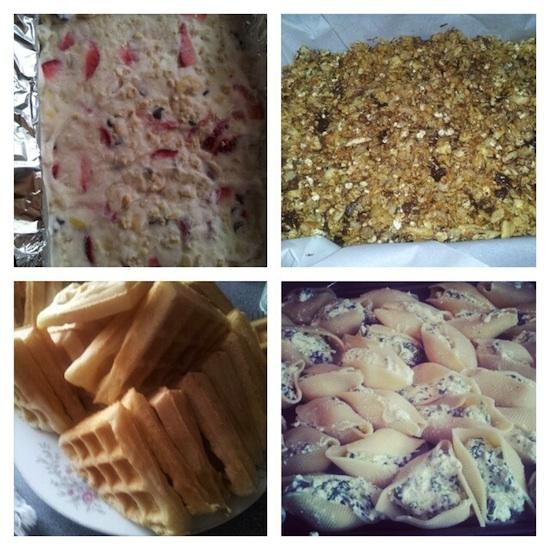 Susan at Susonia : I made crepes and cheesy mushroom filling, a frozen yogurt snack, chopped up cucumber, feta cheese and green onions as salad toppings, cooked some eggs, made whole wheat blueberry pancakes for my son (and myself), shredded carrots, made hummus and chopped some more carrots, and prepared three green smoothies to take and quickly blend in the morning for instant breakfast.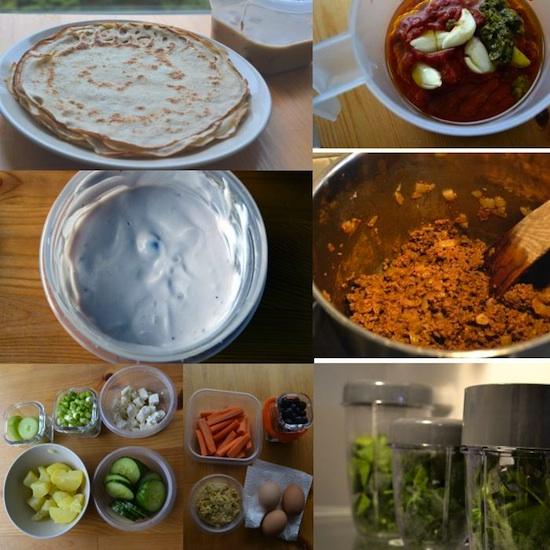 Good stuff, right?!
Are you food prepping this weekend? Want to submit a pic to be featured in an upcoming post?!
Here's what I need from you:
Email me the following:
1. Your Name
2. Your Blog URL (if you have one)
3. A photo of your food prep
4. A short description of what's in the photo. Tell me what you prepped and how you're going to use it during the week!
Every Sunday, I'll post a roundup of the photos I received that week so that you guys can see what others are preparing and hopefully get some inspiration and ideas! I'll keep this series going for as long as I receive photos, so send one every week if you want to!
Send to: theleangreenbean <at> gmail <dot> com
Tweet and Instagram your pics as well to inspire others!! Use the hashtag #sundayfoodprep . Remember that in order for a pic to be included in the post, you have to email it to me! If you have more than one pic, please make them into a collage before sending!
———————
Let's chat: Are you prepping food this weekend? Whatcha making?
Enjoy!
–Lindsay–