Hi Friends!
Time for a little food prep inspiration!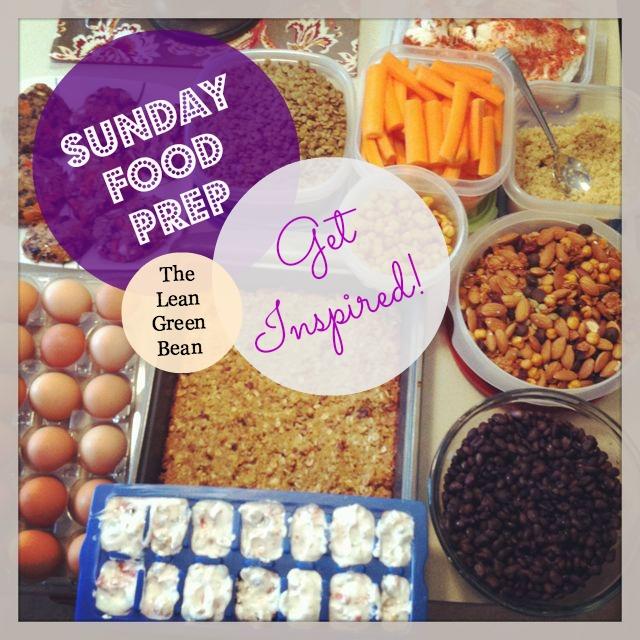 I didn't actually do any food prep last weekend because my mom and sister were in town through Monday and I was absolutely exhausted by the end of the weekend.
I did pull 2 chicken breasts and a package of ground beef out of the fridge on Monday. Hubby grilled himself some sliders Monday night, as well as chicken for me. While he was grilling, I sauteed a big pan of veggies and cooked some brown rice.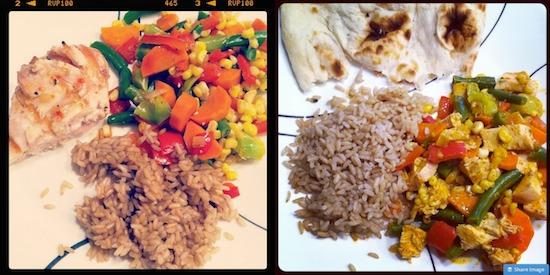 Monday night I ate chicken with Italian dressing, veggies and rice. Tuesday I repurposed the leftovers by adding a little coconut milk and curry paste and making chicken curry to eat with rice and some frozen naan from Trader Joe's!
————–
I also have a couple of submissions to share with you!
Andrea at MsDreaLou –
From left to right:

Quinoa Breakfast Bars (from your blog)
Trail Mix
Broccoli,celery, and carrots prepared for snacks or to dip in hummus.
Black Beans
Quinoa
Lentil, Kale, and Potato Soup
Pinto Beans
Black Bean and Quinoa Freezer Burritos
Boiled Eggs
Large Green Chopped Salad
Egg and Black Bean Breakfast Burritos (from your blog)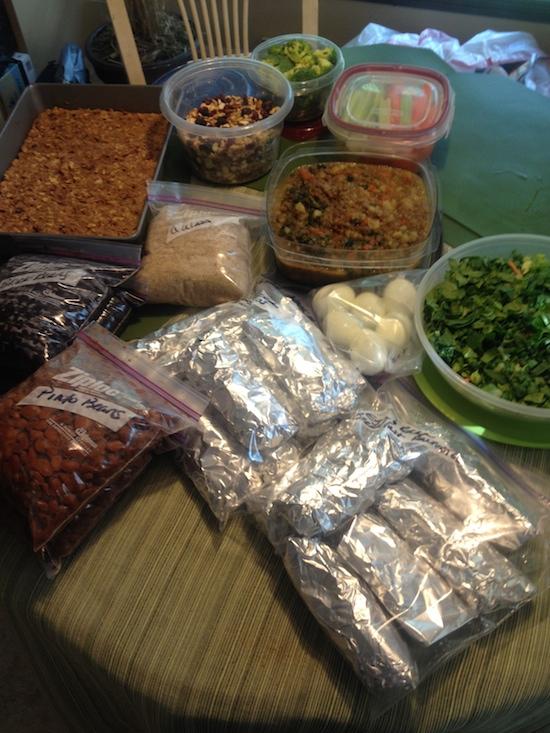 Carrie at Carried Away About Nutrition –
Sunday food prep simplifies my life, give it a try! Here is what I prepped this week:
 – Apple crisp (extra special treat requested by the fiance)
 – Slow cooker enchilada casserole with chicken and pinto beans
 – Cooked white chicken chili in the other crock pot
 – Washed and prepped fresh strawberries
 – Chocolate Chip Power Bars (recipe coming to the blog soon!)
 – Cooked a large batch of green beans and onions as a side for dinners
 – Diced two onions for weeknight cooking (who wants to cry every evening??)
 – Pealed and chopped carrots
 – Prepped salads to go for lunch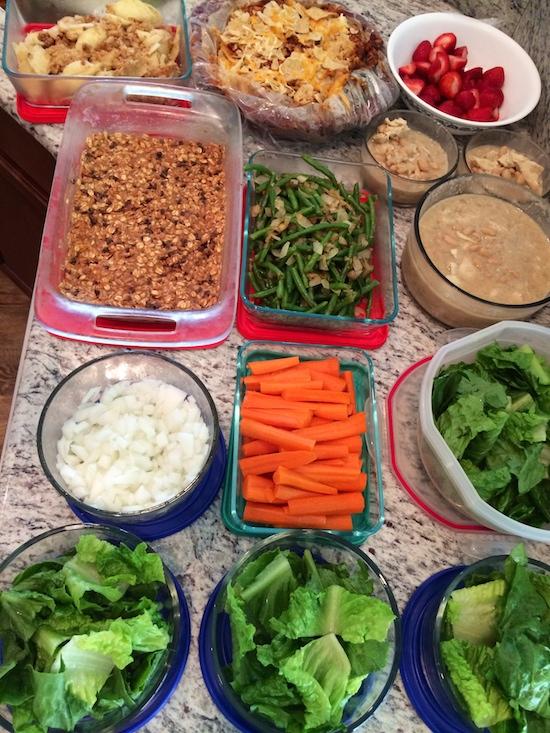 Nora at A Clean Bake –
This week I prepped tons of veggies including celery, cucumber, cauliflower, cabbage, green beans, brussels sprouts, baby lettuce, cucumber and snap peas.
I also made a few lunch options, including salads + HB eggs, sandwiches, chicken salad, and stir fry.
For dinner, I prepped paleo quiche and defrosted halibut. I'll also make some salads and light dishes for dinner out of some of those veggies.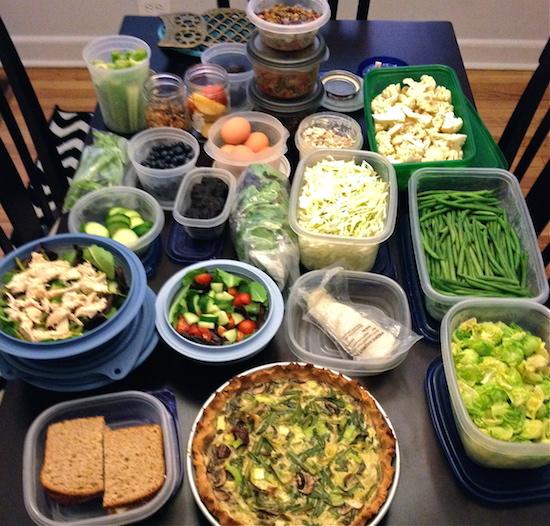 Are you food prepping this weekend? Send me your pic! I'm out of submissions!

Here's what I need from you:
Email me the following:
1. Your Name
2. Your Blog URL (if you have one)
3. A photo of your food prep
4. A short description of what's in the photo. Tell me what you prepped and how you're going to use it during the week!
Every Sunday, I'll post a roundup of the photos I received that week so that you guys can see what others are preparing and hopefully get some inspiration and ideas! I'll keep this series going for as long as I receive photos, so send one every week if you want to!
Send to: theleangreenbean <at> gmail <dot> com
Tweet and Instagram your pics as well to inspire others!! Use the hashtag #sundayfoodprep . Remember that in order for a pic to be included in the post, you have to email it to me! If you have more than one pic, please make them into a collage before sending!
———————
Want more inspiration and tips? Read these:
Top 10 Foods for Sunday Food Prep
How to Prep Food on the Weekend
Weekend Prep for Easy Weekday Meals
How to Eat Healthy in College
How to Eat Healthy During the Week
And check out the Food Prep Tab for links to all the previous Sunday food prep posts!
————
Let's chat: Are you prepping food today? Whatcha makin'?
Enjoy!
–Lindsay–