Hi Friends!
Time for more Sunday Food Prep. Last weekend I did my prep in two shifts- some in the morning and some in the evening. Here's what I did: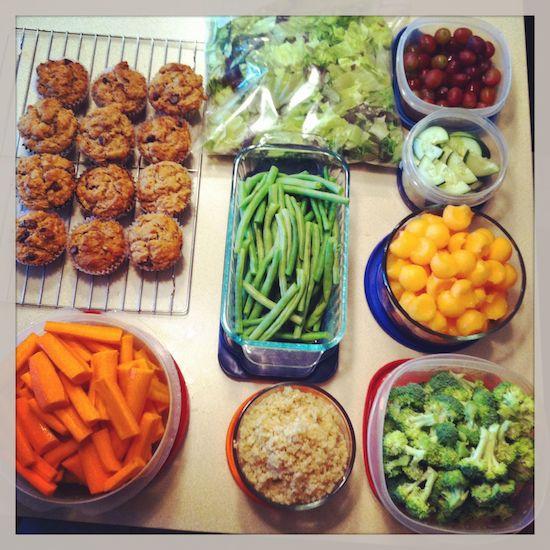 In the morning I got up, baked some PB Banana Oat Muffins, cooked quinoa to make breakfast bars and prepped fruits and veggies.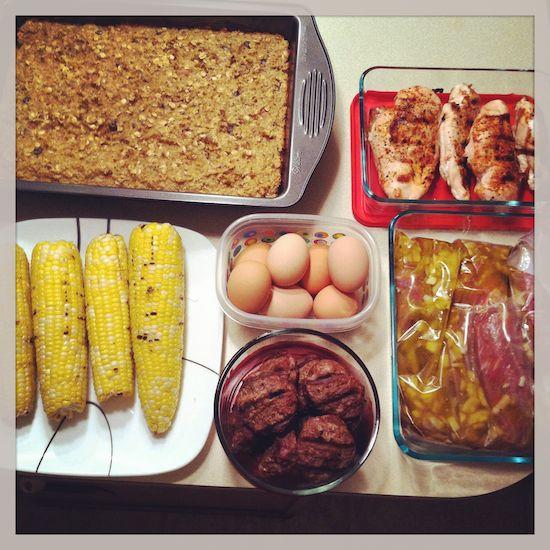 Then we headed to a cookout for the afternoon. When we got back, hubby fired up the grill and cooked sliders, chicken and corn and got his flank steaks marinating. I hardboiled some eggs and baked the Quinoa Breakfast Bars!
 —————–
Here's what you guys have been up to:
Anne at Curate Beauty –
-washed and cut fresh veggies (bell peppers, raw beets, celery and cucumbers)
– roast veggies (zucchini, red onions, garlic olive oil and salt & pepper)
– unpictured (boiled organic eggs and fresh salsa)
The raw veggies get diced and thrown in with prewashed greens along with some hummus, avocado or a boiled egg for easy salads lunches.
The tofu and roast veggies get tossed into either a miso soup broth or a quick stir fried with quinoa or brown rice for an easy dinner.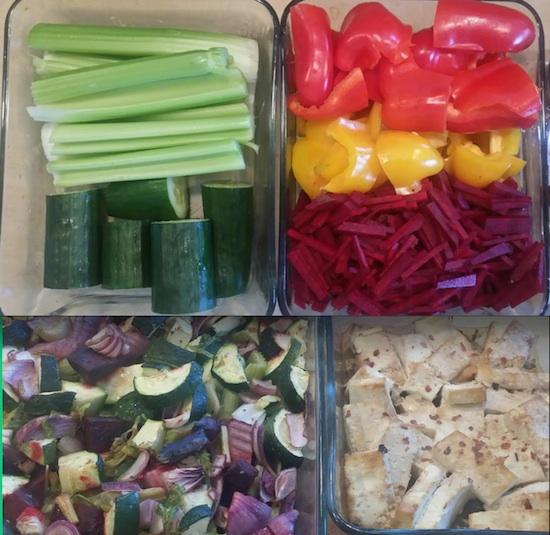 Watermelon
Raspberries with Greek Yogurt
Romaine Lettuce
Grape Tomatoes
Olives
Onion
Shallots
Green/Red/Yellow/Orange Bell Peppers
Carrot Sticks
Trail Mix
Chicken/Brown Rice/Asparagus
Cod/Brown Rice/Asparagus
Chicken/Brown Rice/Salad (Hubby)
Ono/Brown Rice/Salad (Hubby)
NOT PICTURED:
Turkey Sausage/Egg/Cheese Breakfast Burritos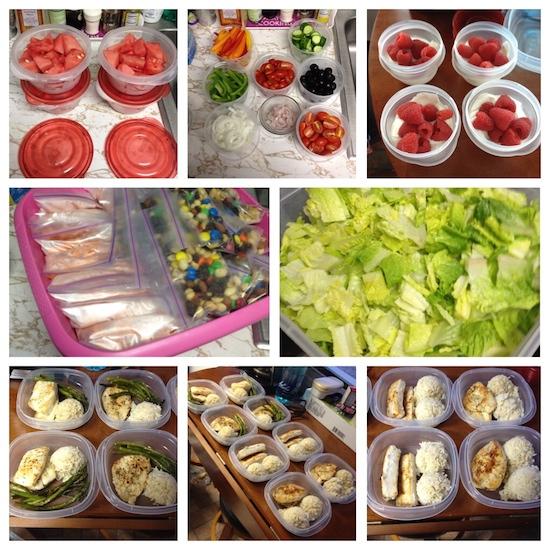 Vanessa –
Sweet Potato & Black Bean Chili, Salad with fruit and granola, Pork Tenderloin with mixed veggies, Coconut Energy Bites and my favorite Pumpkin Muffins. All gluten-free.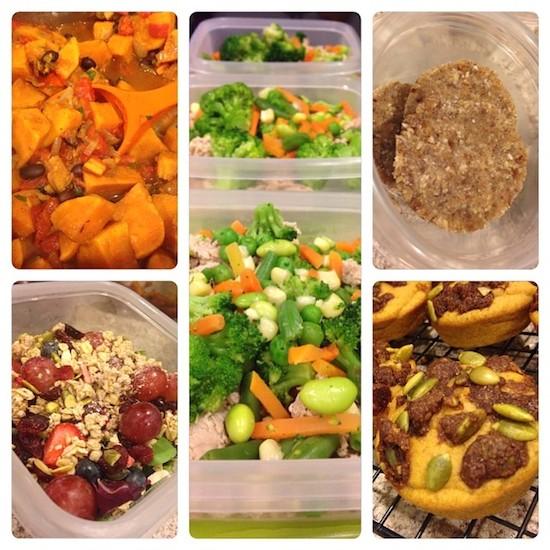 Naomi from Australia –
I've recently just hopped on the food prep band wagon and it's making my life so much easier! I've found it especially helps to increase my fruit & veggie intake! 
I prepped:
fruit for snacks (watermelon, grapes, strawberries)

cut up veggies for snacks and chucking in quick dinners (cauliflower, capsicum, shredded cabbage, carrot)

de husked corn ready to cook

roasted sweet potato & cauliflower for dinner sides

fried onion and kangaroo sausages for the base of 2 stir fry dinners

cooked a few cups of wild rice mix
Carrie at Carried Away About Nutrition –
This Sunday
 my focus was back to preparing for lunches throughout the week. Since I have to leave very early, I don't have extra time in the morning. Here is what I did:
 – Cooked extra chicken breast while making dinner 
on Sunday
 to have on my salads
 – Packed spinach and kale salads with diced carrots
 – Marinated zucchini in olive oil, lime juice and garlic to bake 
Monday
 evening
 – Hard boiled eggs for snacks
 – Packed cashew nut clusters in individual baggies as a snack
 – Washed fruits
 – Packed up left over chicken and veggie stir fry as another lunch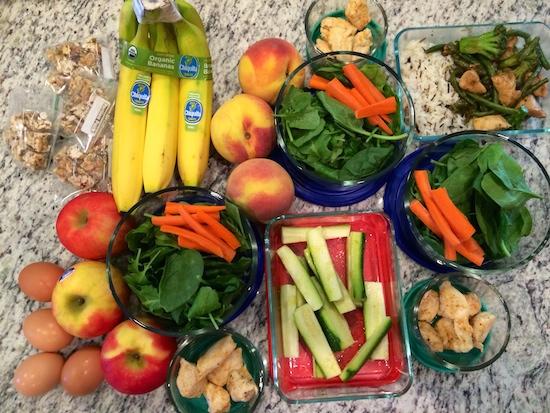 This week I prepared (from left to right):
Chicken soup with veggies and wild rice (It's chilly here!)
Shredded cabbage slaw for tacos
Diced red pepper for snacking
Salad for lunch
Crustless quiche for breakfast
Sliced mushrooms for a frittata I am making later in the week (we're eating a ton of eggs this week)
Buckwheat stir fry, portioned out for lunches
Washed blueberries
Hard boiled eggs
Shredded chicken for salad topping
Washed celery and cherry tomatoes for snacking
Washed and sliced leeks and asparagus, also for the frittata
Washed and chopped kale and washed spinach for salads
I also made a double chocolate zucchini bread for snack/dessert, which will be on the blog next week!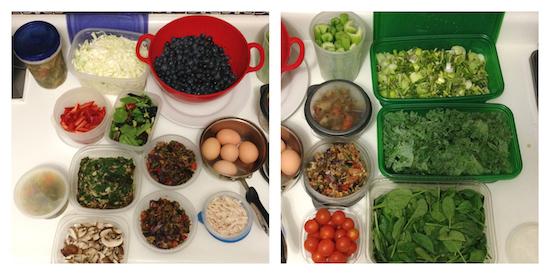 Are you food prepping this weekend? Send me your pic! I'm out of submissions!

Here's what I need from you:
Email me the following:
1. Your Name
2. Your Blog URL (if you have one)
3. A photo of your food prep
4. A short description of what's in the photo. Tell me what you prepped and how you're going to use it during the week!
Every Sunday, I'll post a roundup of the photos I received that week so that you guys can see what others are preparing and hopefully get some inspiration and ideas! I'll keep this series going for as long as I receive photos, so send one every week if you want to!
Send to: theleangreenbean <at> gmail <dot> com
Tweet and Instagram your pics as well to inspire others!! Use the hashtag #sundayfoodprep . Remember that in order for a pic to be included in the post, you have to email it to me! If you have more than one pic, please make them into a collage before sending!
———————
Want more inspiration and tips? Read these:
Top 10 Foods for Sunday Food Prep
How to Prep Food on the Weekend
Weekend Prep for Easy Weekday Meals
How to Eat Healthy in College
How to Eat Healthy During the Week
And check out the Food Prep Tab for links to all the previous Sunday food prep posts!
————
Let's chat: Are you prepping food today? Whatcha makin'?
Enjoy!
–Lindsay–