Hi Friends!
Time for another round of food prep. Here's what I did last weekend: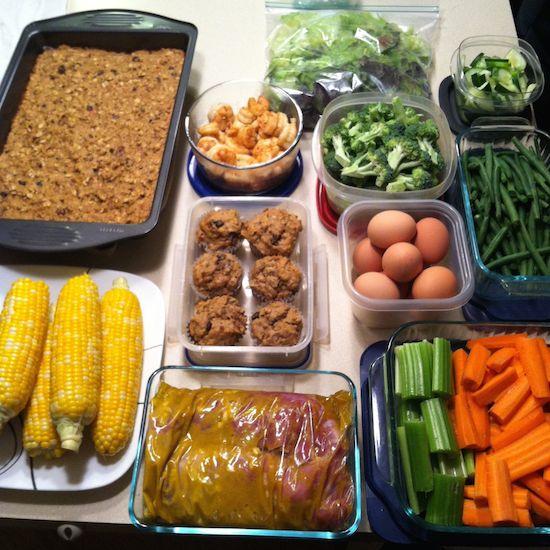 I prepped:
Corn
Quinoa breakfast bars
Shrimp- just sauteed with some pepper, sriracha and thai chili sauce
PB Banana muffins- recipe coming soon!
Got my pork tenderloin marinating- recipe coming soon
Veggies
Hard boiled eggs
Not a huge prep, but I had a lot of recipe development on tap for last week and I knew I'd be making some things for use to eat as well so it was plenty.
Here's the only submission I got last week:
Carrie at Carried Away About Nutrition –
I focus on having all the fresh items ready to go so I can easily throw dinner together after work. Additionally, when the veggies are already cut up and prepped we are more likely to eat them! Here is what I did 

on Sunday

:
 – washed and cut up fruit (strawberries, kiwi and lemons)
 – washed and prepped zucchini (to make zucchini "fries") and yellow squash (to quickly throw in the oven and roast with olive oil and seasonings)
 – trimmed green beans and diced onions
 – cooked and seasoned diced chicken for salads to bring to work
 – diced and cooked chicken apple organic and nitrate free sausage for breakfast
 – scrubbed sweet potatoes, ready to throw in the oven and bake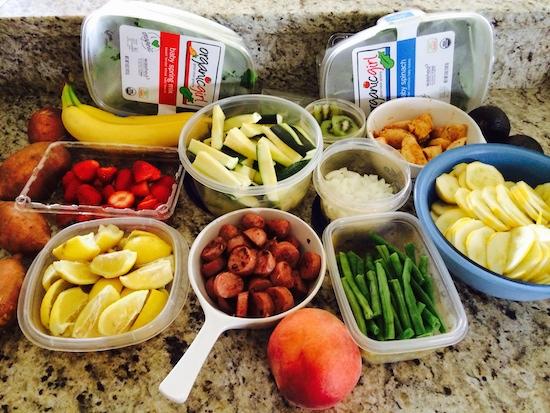 Are you food prepping this weekend? Send me your pic! I'm out of submissions!

Here's what I need from you:
Email me the following:
1. Your Name
2. Your Blog URL (if you have one)
3. A photo of your food prep
4. A short description of what's in the photo. Tell me what you prepped and how you're going to use it during the week!
Every Sunday, I'll post a roundup of the photos I received that week so that you guys can see what others are preparing and hopefully get some inspiration and ideas! I'll keep this series going for as long as I receive photos, so send one every week if you want to!
Send to: theleangreenbean <at> gmail <dot> com
Tweet and Instagram your pics as well to inspire others!! Use the hashtag #sundayfoodprep . Remember that in order for a pic to be included in the post, you have to email it to me! If you have more than one pic, please make them into a collage before sending!
———————
Want more inspiration and tips? Read these:
Top 10 Foods for Sunday Food Prep
How to Prep Food on the Weekend
Weekend Prep for Easy Weekday Meals
How to Eat Healthy in College
How to Eat Healthy During the Week
And check out the Food Prep Tab for links to all the previous Sunday food prep posts!
————
Let's chat: Are you prepping food today? Whatcha makin'?
Enjoy!
–Lindsay–