Hi Friends!
Time for some Sunday Food Prep Inspiration to help get you on track for next week!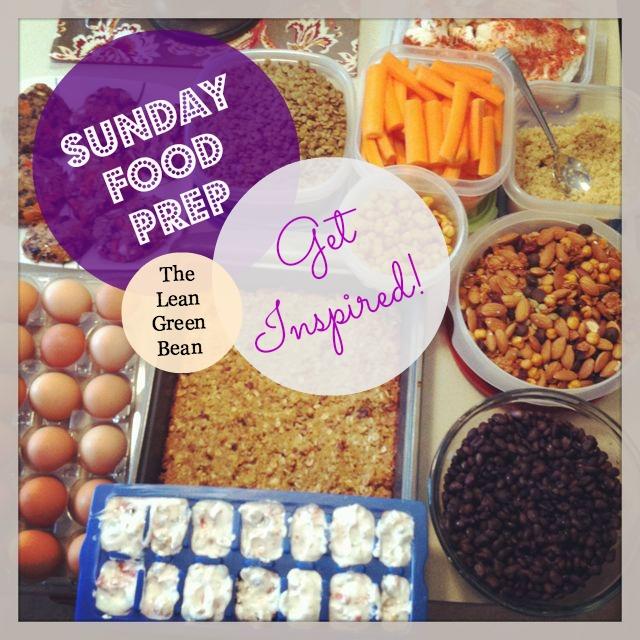 I didn't prep last week since I was returning from out of town, but check out what some of you guys have been up to!
Nora at A Clean Bake –
We just got home from a weeklong vacation 
on Saturday
 and had no food in the house. So this week's shopping and prepping was a massive undertaking!  This week's focus is on salads and other veggie-based dishes, so most of what I prepped was chopped veggies that can be thrown together in different combinations throughout the week.
For breakfast, I made gluten-free bagels and crustless veggie quiche. There is also frozen fruit and bananas to combine with the baby spinach for smoothies (not pictured).

For dinner, there is salmon, brown rice, 

paleo veggie burgers

, and roasted carrots (that were later pureed into a 

soup

). 

For snacks, there is chopped celery with hummus (not pictured), and roasted spiced chickpeas.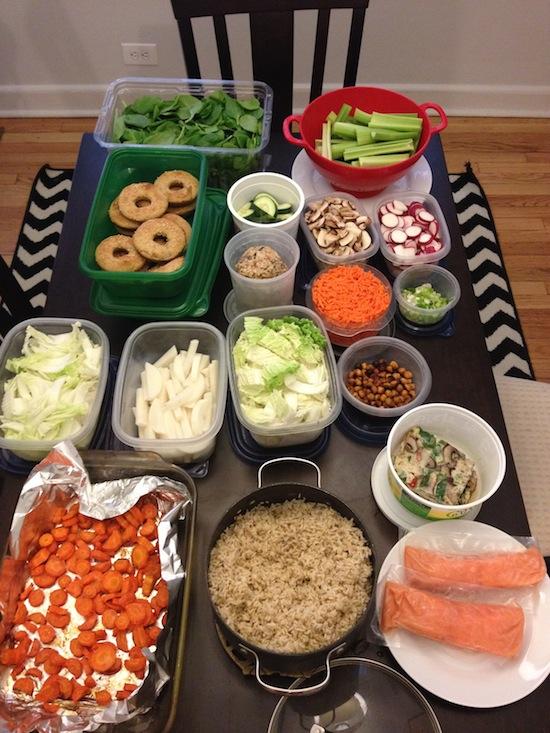 Summer:
This is one day late so we already ate some of it. I made Mexican salad in jars for lunches. They have
avocado dressing
, black bean, chicken, roasted sweet potato, and spinach. Then salt and vinegar kale chips, roasted sweet potatoes, cucumbers and
chocolate peanut butter energy balls
for snacks. Also made
Mexican shredded chicken
and beef and cabbage with tomato sauce in the crockpot(looks gross but tastes great!).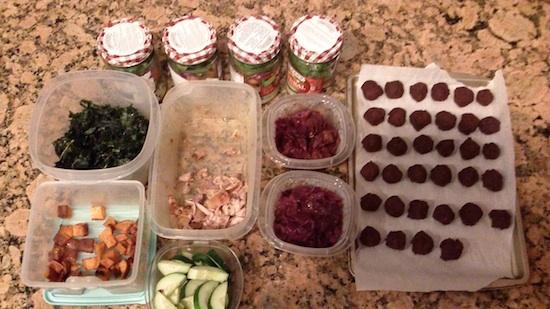 Anna:
I'm a grad student and I spend about 10 hrs a day in lab, so I need stuff to be quick and easy to re-heat during the week for dinners and to pack easily for lunch and snacks during the day.
Top Left:
-Mini meat loaves for dinners
-Sweet potato apricot walnut granola bars to eat quickly before my am runs or workouts
-Chicken chili verde for lunches
-1/2 a baked sweet potato (left over from the granola bars)
Top Right:
-Tons of fruits and veggies for snacks and meals!
Bottom Left:
-Snack baggies of almonds, apricots, pistachios and raisins
Bottom Right:
-Chopped lettuce for quick and easy salad making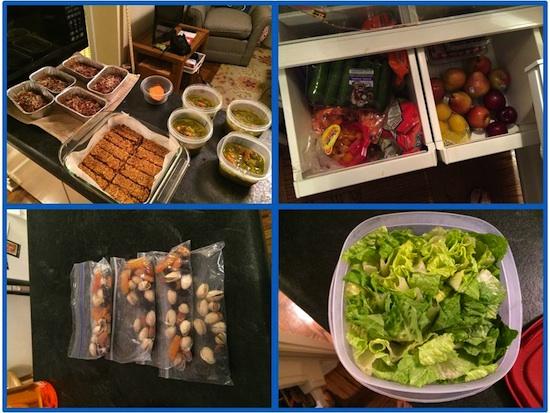 Brittney at Sweets 'N' Greens –
Since this week is a short one (yay for 3 day weekends!), I did a mini-food prep. I made skinny chicken tortilla soup for dinners, pumpkin pie protein chia seed pudding for breakfasts, my Greek Yogurt Tuna Salad for lunch, and hardboiled some eggs. I also bought fruit, avocados and turkey to snack on!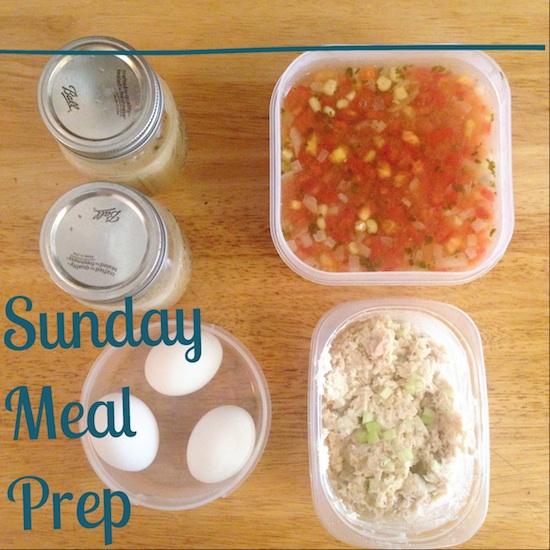 Jessica at The Lovely Foodie –
This is a weird food prep as I'm using what I have on hand before I head to the store this week. This is what I prepped:

Energy Bites
Ono (fish)
Turkey Hotdogs
Spaghetti Squash
Romaine Lettuce
Baked Chicken Thighs
Sausage and Egg Breakfast Burritos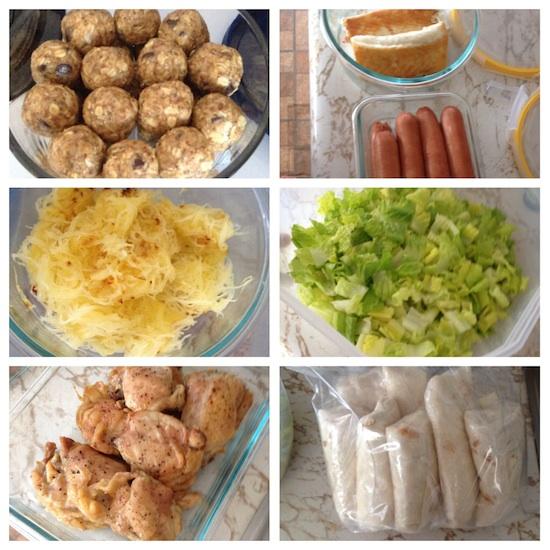 Are you food prepping this weekend? Send me your pic! I'm out of submissions!

Here's what I need from you:
Email me the following:
1. Your Name
2. Your Blog URL (if you have one)
3. A photo of your food prep
4. A short description of what's in the photo. Tell me what you prepped and how you're going to use it during the week!
Every Sunday, I'll post a roundup of the photos I received that week so that you guys can see what others are preparing and hopefully get some inspiration and ideas! I'll keep this series going for as long as I receive photos, so send one every week if you want to!
Send to: theleangreenbean <at> gmail <dot> com
Tweet and Instagram your pics as well to inspire others!! Use the hashtag #sundayfoodprep . Remember that in order for a pic to be included in the post, you have to email it to me! If you have more than one pic, please make them into a collage before sending!
———————
Want more inspiration and tips? Read these:
Top 10 Foods for Sunday Food Prep
How to Prep Food on the Weekend
Weekend Prep for Easy Weekday Meals
How to Eat Healthy in College
How to Eat Healthy During the Week
And check out the Food Prep Tab for links to all the previous Sunday food prep posts!
————
Let's chat: Are you prepping food today? Whatcha makin'?
Enjoy!
–Lindsay–