Hi Friends!
Let's talk food prep, shall we?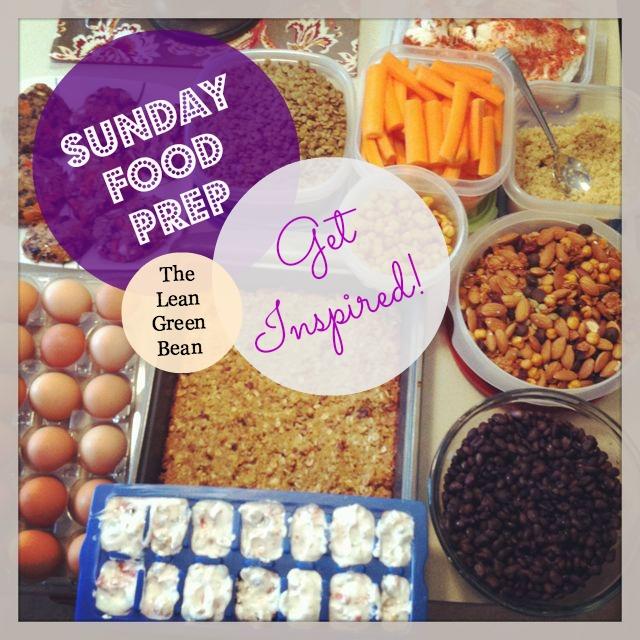 I didn't get around to food prepping last week since I was coming home from Chicago, but luckily several of you did a great job! Check out these food prep photos to get inspired for your own prep today!
Cheri at Beach Girl Musings
Poached chicken breast – shredded for salads or tacos
DIY lunchables – nitrate free deli meat, cheese, grapes, crackers, berries
Lasagna with ground turkey, tomato sauce, penne and cottage cheese – heavy on protein, light on pasta
Corn, tomato and avocado salsa
Cilantro lime shrimp ( for tacos topped with corn salsa)
Turkey burgers
Snacks and sides

Sliced strawberries and canteloupe
Brown rice
Hard boiled eggs
Greek yogurt with blueberries and sliced banana

Cho

pped

 raw veggies for snacks

Roasted sweet potato
Peanut butter/choc/oatmeal balls
Egg white patty sandwiches with a side of fruit
Scrambled egg beaters with cheese and spinach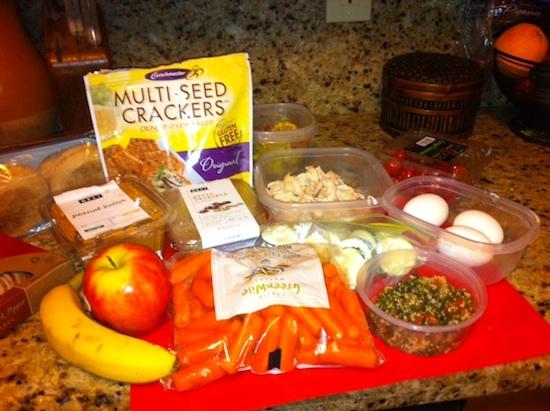 Brandi:
This week I've prepped from top left: chopped pineapple, roasted zucchini and carrots, Beet greens and butter lettuce with radishes, pulled chicken, roasted peppers and onions, cucumber, roasted beets (new favorite thing right now!), honeydew, nutbutterrunner's lemon dill tuna cakes, pulled pork, and roasted asparagus. So much work but definitely worth it for a week of healthy lunches and snacks for me and the hubs!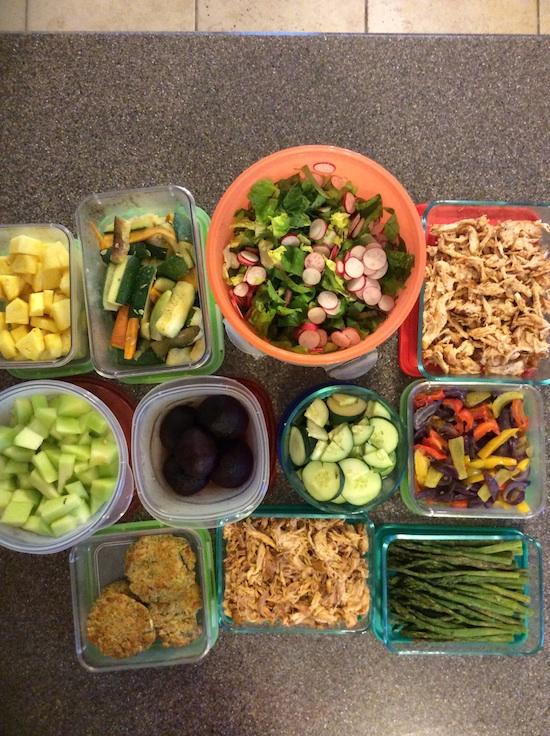 Emily at Zen & Spice :
Here I made chopped bell peppers, rinsed artichokes, sliced olives and spiralized zucchini noodles for lunch noodle salads. I made my boyfriend homemade sesame seed bagels for breakfast for the week, a big batch of whole wheat macaroni for his lunch, diced pineapple and my favorite, hard boiled eggs.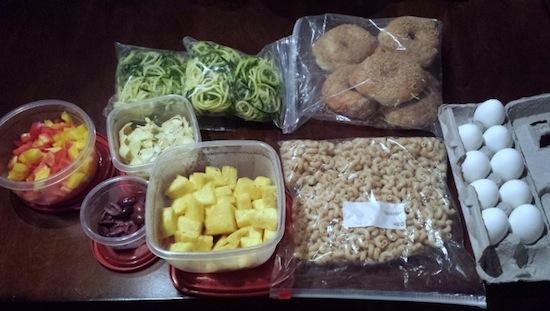 This was a big prep week! Breakfast muffins, spinach pesto, rinsed chickpeas, defrosted turkey, chopped cucumber, three bags of washed and dried romaine, three bags of washed and dried kale, spiralized zucchini noodles and hard boiled eggs!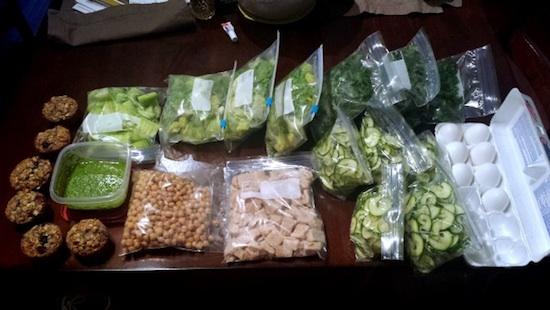 Gillian at That's G:
I'm studying for the bar exam right now, so I'm spending a lot of time at the library.  Having healthy food ready to go to take on campus has been HUGE for me so far, and I have been getting really into prepping on Sunday.  This week, I made Watermelon Caprese Salad (using this recipe from Whitney @ To Live and Diet), prepped lettuce and veggies for salads to top with ground turkey, cooked three chicken breasts to make with veggies for easy dinners, and divvied up snap peas, grapes, almonds, and pecans to take with me to school.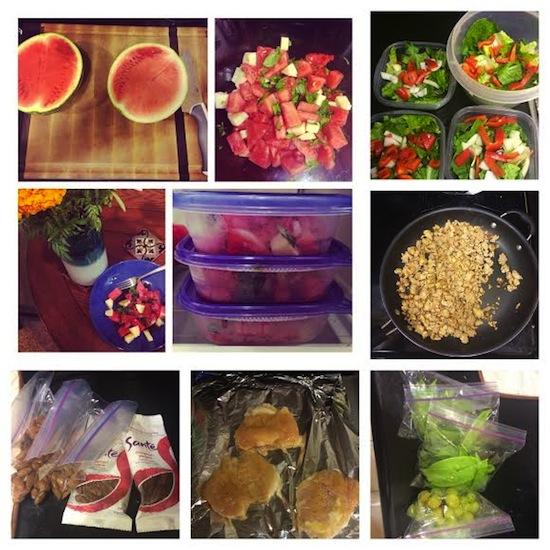 Are you food prepping this weekend? Send me your pic! I'm out of submissions!

Here's what I need from you:
Email me the following:
1. Your Name
2. Your Blog URL (if you have one)
3. A photo of your food prep
4. A short description of what's in the photo. Tell me what you prepped and how you're going to use it during the week!
Every Sunday, I'll post a roundup of the photos I received that week so that you guys can see what others are preparing and hopefully get some inspiration and ideas! I'll keep this series going for as long as I receive photos, so send one every week if you want to!
Send to: theleangreenbean <at> gmail <dot> com
Tweet and Instagram your pics as well to inspire others!! Use the hashtag #sundayfoodprep . Remember that in order for a pic to be included in the post, you have to email it to me! If you have more than one pic, please make them into a collage before sending!
———————
Want more inspiration and tips? Read these:
Top 10 Foods for Sunday Food Prep
How to Prep Food on the Weekend
Weekend Prep for Easy Weekday Meals
How to Eat Healthy in College
How to Eat Healthy During the Week
And check out the Food Prep Tab for links to all the previous Sunday food prep posts!
————
Let's chat: Are you prepping food today? Whatcha makin'?
Enjoy!
–Lindsay–