Hi Friends!
We're back again with more food prep inspiration!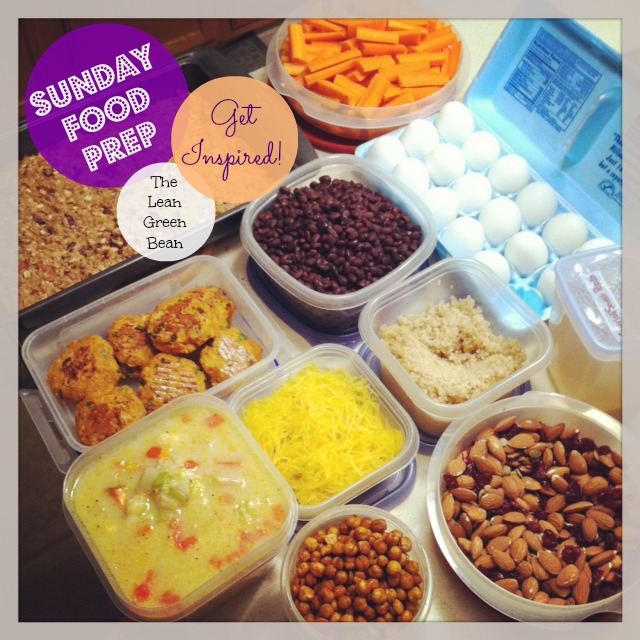 Here's what I made last weekend. I prepped in two parts because I had some stuff to do in the middle of the day. Part 1:
Trail Mix
Quinoa
Carrots
Lettuce for salads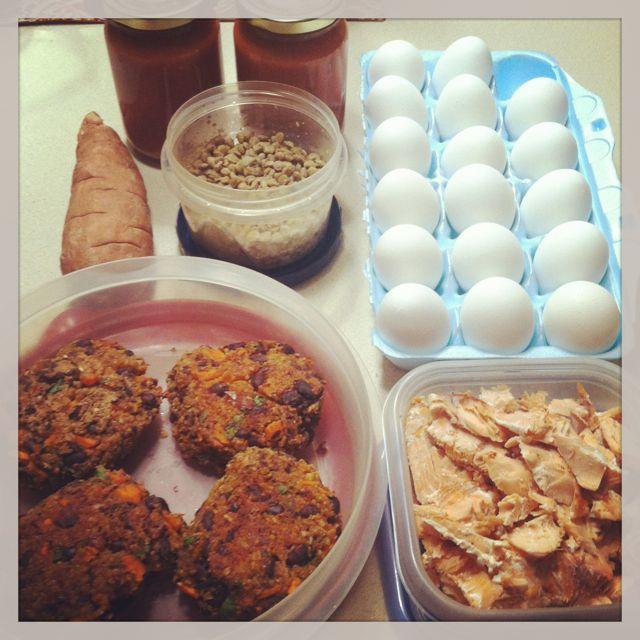 Salmon to top salads
HB eggs
Lentils
Roasted Sweet Potato
Crockpot Roasted Veggie Sauce
And here's what some of you guys have been up to:
Teresa:
The top left picture is everything after it stored in the refrigerator together with some of my favorite yogurts.  The top right is a picture of green leaf lettuce that I tore into small pieces and put in my salad spinner to wash.  Bottom center – in the crockpot is veggie lentil soup.  I have you to thank for turning me on to lentils!  I just love them.  To the left of the crockpot I have a couple bowls of oatmeal with added Greek yogurt.  Love eating it cold right out of the frig for breakfast.  Then I have some snack packs of baby carrots.  I will dip them in the spinach dip which is also made with yogurt.  Directly in front of the crockpot is a container of boiled eggs.  To the right of the crockpot are pre-made salads.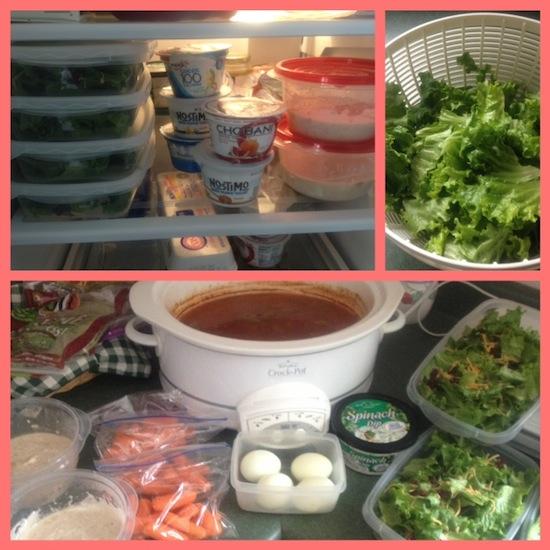 Anna from My Semi-Charmed Life :
I chopped up tons of veggies to snack on and quickly throw into meals for the week, now I have tons of bell peppers, carrots, onions and celery read to eat. For some protein I also prepped some hard boiled eggs to add to salads and snack on before hitting the gym in addition to making some homemade hummus. What I'm most excited about is that I saved time in advance for the week ahead by preparing veggies and ingredients to make these sweet potato & black bean tacos as well as this southwestern stuffed spaghetti squash!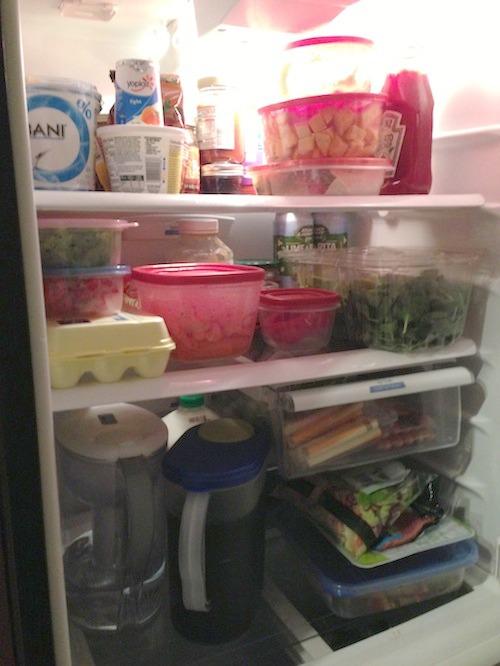 Silena :
The big pot holds dinner for the week. This week, a Korean Short Rib Stew. My husband and I started with making dinner for the week for a number of reasons: reduce food waste, save money, diet/health, and to save time! Now we go for a walk every night when we would have been making dinner! Then I started also prepping my own breakfasts and lunches, because dinners were working so well. This week for breakfast: homemade coconut yoghurt, boiled eggs and mango.
For lunches, I have an assortment of good stuff, ready to be combined at my whim in the morning! I have local chicken & sundried tomato sausage, smashed yams, steamed broccoli, fresh cucumber pickles, and cut veggies. I also have a chicken or tuna salad made up, without the chicken or tuna added in – the poached chicken is ready to go, though, along with some romaine to serve it on. I poach a lot of chicken, then freeze it, shredded, and take it out each week when I need it.
I also prepped my special treat mix – this amount will do me for a couple of months. It's a mix of dried fruits, berries, nuts, seeds and coconut. With this much healthy food prepped, I can face just about anything this week!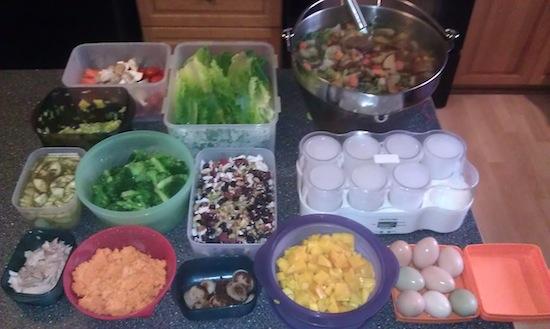 Brittany from Healthy in Detroit :
Banana blueberry paleo muffins
Cauliflower & broccoli
Italian meatloaf (paleo)
And breakfast 'pie' for the week, cooking overnight in the crockpot! (Eggs, sausage, sweet potato, onion, mushrooms & spinach.)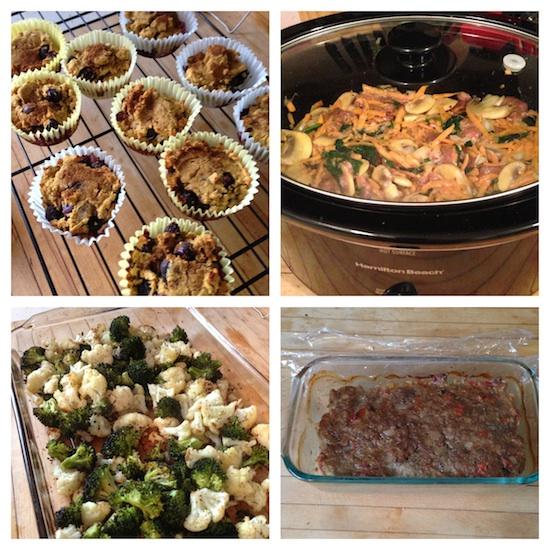 Jillian from Baby Doodah :
This is my first time EVER prepping lunch food ahead of time and I have to admit that you, your blog and your readers all inspired me to prep ahead so that I could make healthier choices all week. In the photo I have, spaghetti squash, green beans, carrots, radishes (my new obsession), shredded lettuce and spaghetti sauce. Not pictured were strawberries all washed and cut, ready for use and some shrimp all cooked and ready to be thrown in a wrap. Mmmm I am feeling very relaxed and ready for the week, it's been a long time since I could say that!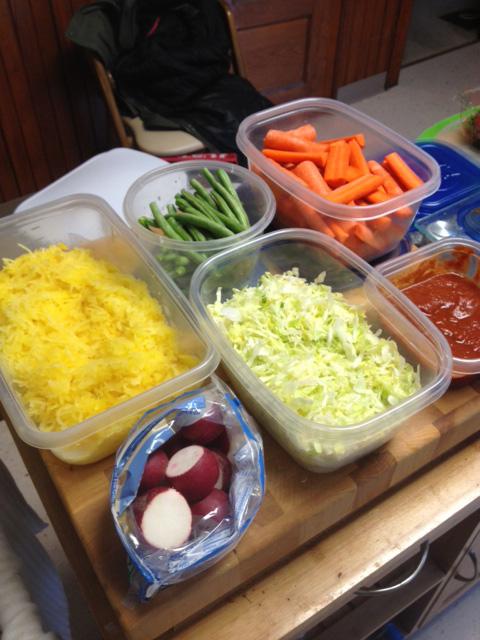 Jennifer :
So with your inspiration I have started doing much better at this and am continuing to plan things out.  The pictures attached are some of my snacks for the week (or more) I put together some dried cranberries, raw almonds, granola, and banana chips in a big baggie that I can take with me to my many offices during the week.  Next to it is a mixture of my first ever toasted chick peas and some wasabi peas that I bought.  I seasoned the chick peas with some cayenne, black pepper, chili powder, and a tiny bit of salt, spicy yum!  The other picture is my meal that I will eat on through the week for lunch.  It's a mix of butternut squash, chia seeds, quinoa, couscous, green peppers, onion, sunflower seeds, and some chicken breast.  Next to it is my attempt at some frozen greek yogurt bars. I prefer the plain and I added some granola, fresh blueberries, and fresh blackberries.  Not pictured are some chopped up celery, carrots, and green pepper and the rest of the yogurt that I will nibble on.  Tomorrow I am using the new food processor to make my first attempt at hummus!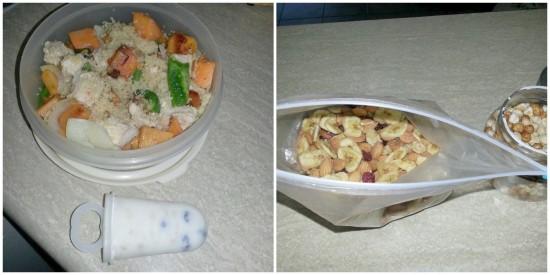 Emily from The Good Era :
This week, I cleaned and chopped up broccoli, cauliflower , and cabbage.  Then I made guacamole and cabbage for fish tacos later this week.  I also sauted onions and mushrooms for my husband to add to his eggs for breakfast, as well as made myself these muffins.  The bottles in the background are some homemade kombucha we prepped this weekend as well!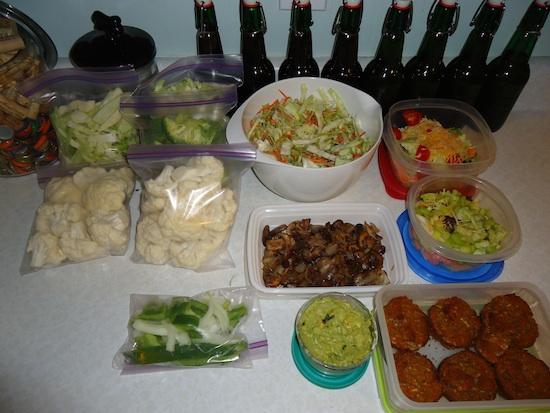 Divya from Eat Teach Blog :
I'm a big salad person. I think, aside from juicing and/or smoothies, it's the best way to get as many veggies in your meal as possible! I like to cut up all of my vegetables on Sunday so that I can just grab a handful of each and toss it into my salad. Not to mention it's SO easy to make an omelette in the morning!
And having pre-cut fruit is my SAVIOR. If I don't have something quick and easy to snack on, you can bet I'll grab a Snickers bar or something a lot easier to get my hands on.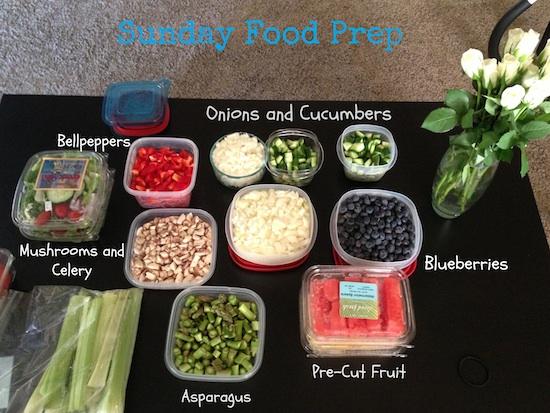 Mackenzie :
Since this was my first actual meal prep ever I stuck with simplicity. I eat three meals while at work. Snacks were blueberries mixed with plain Chobani Greek Yogurt for morning and fresh fruit for the afternoon. Lunch was grilled chicken chunks, brown rice, and a spinach salad with veggies. Pretty easy to do and made the first three days of the week super easy to have everything at hand when packing for working.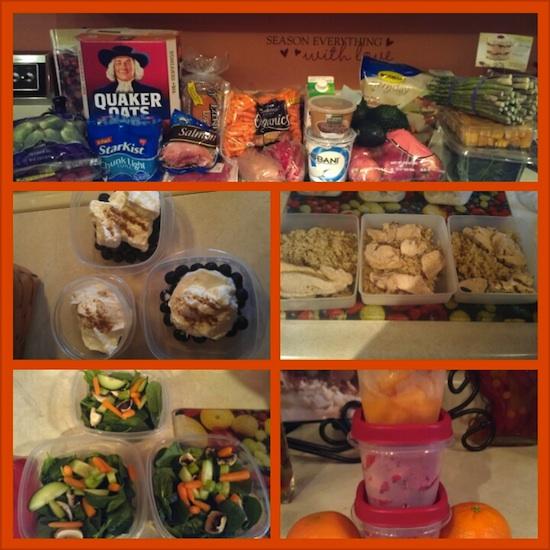 So much good looking food!! Don't forget to click over and check out some of the amazing blogs that these ladies write!
—————-
Are you food prepping this weekend? Want to submit a pic to be featured in an upcoming post?! Here's what I need from you:
Email me the following:
1. Your Name
2. Your Blog URL (if you have one)
3. A photo of your food prep
4. A short description of what's in the photo. Tell me what you prepped and how you're going to use it during the week!
Every Sunday, I'll post a roundup of the photos I received that week so that you guys can see what others are preparing and hopefully get some inspiration and ideas! I'll keep this series going for as long as I receive photos, so send one every week if you want to!
Send to: theleangreenbean <at> gmail <dot> com
Tweet and Instagram your pics as well to inspire others!! Use the hashtag #sundayfoodprep . Remember that in order for a pic to be included in the post, you have to email it to me! If you have more than one pic, please make them into a collage before sending!
———————
Let's chat: Are you prepping food this weekend?!
Enjoy!
–Lindsay–