Hi Friends!
Here's to another week of food prep!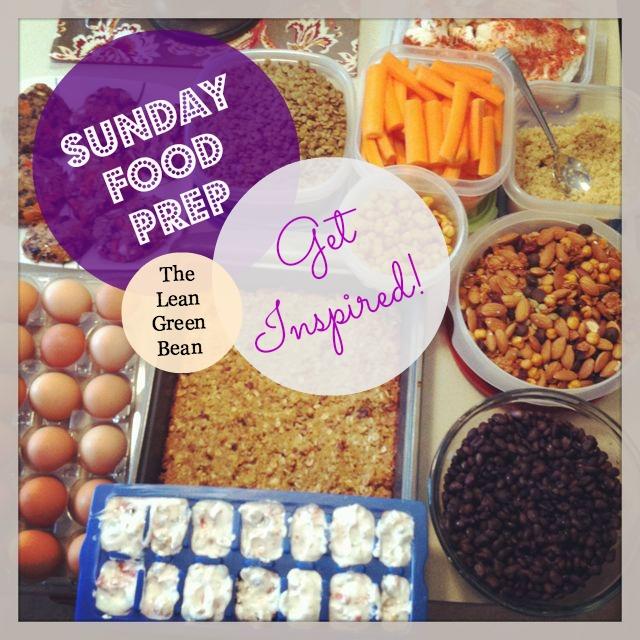 With last weekend being a holiday weekend and this being a short week, I didn't actually do any food prep. We did go grocery shopping though, so here's how we survived the week:
Hubby ate peanut butter sandwiches for breakfast instead of his quinoa breakfast bars and went out to lunch two of the four days. On weeks I don't prep, I've noticed I eat a lot of eggs for lunch. But this past week meat just wasn't sounding good to me, so eggs were just fine. For diners, I made lasagna on Tuesday, burrito bowls on Wednesday and mac and cheese with leftover veggies and beans, plus some chicken sausage on Thursday. On Friday night we ate leftover lasagna.
Here's what a few of you prepped:
Jessica at The Lovely Foodie:
I prepped a lot of stuff this week. Note that all the meat was for my husband. Hooray for being prepared!
Energy Bites
Spaghetti Squash
Marinara
Veggie Curry
Chicken Breast
Steak
Fish
Turkey Hotdogs (not pictured)
Chicken Burgers (not pictured)
Onions, Bell Pepper, Celery, Broccoli and Carrots
Sausage and Egg Burritos
Brown Rice
Honey Banana Muffins
Romain Lettuce
Japanese Cucumbers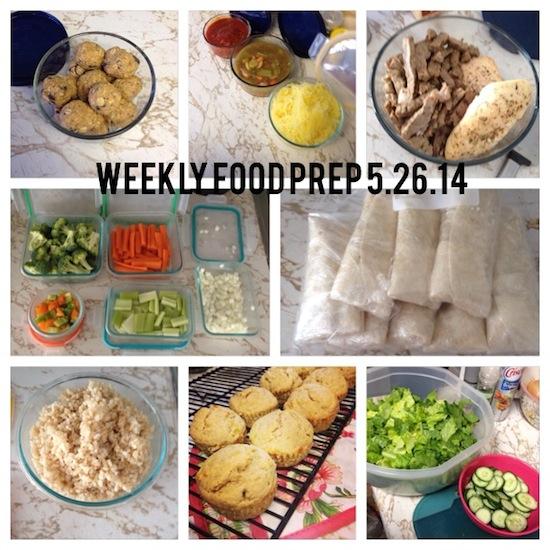 Nora at A Clean Bake –
This week I prepped (from left to right, top to bottom):
1) Roasted sweet potato "fries" which make a great side or salad topping
2) Baked chicken breasts, which I will shred for enchiladas and salads
3) Veggie Fritatta for breakfasts (it reheats really well!)
4) Paleo veggie burgers
5) Washed and cut strawberries for snacks/breakfast
6) Steamed green beans
7) Chopped tomatoes for salads and enchiladas
8) Sliced cucumbers for salads and snacks
I also have a big box of pre-washed baby spinach that I use for lunch salads and dinner side salads throughout the week. I eat a lot of salads, if you can't tell!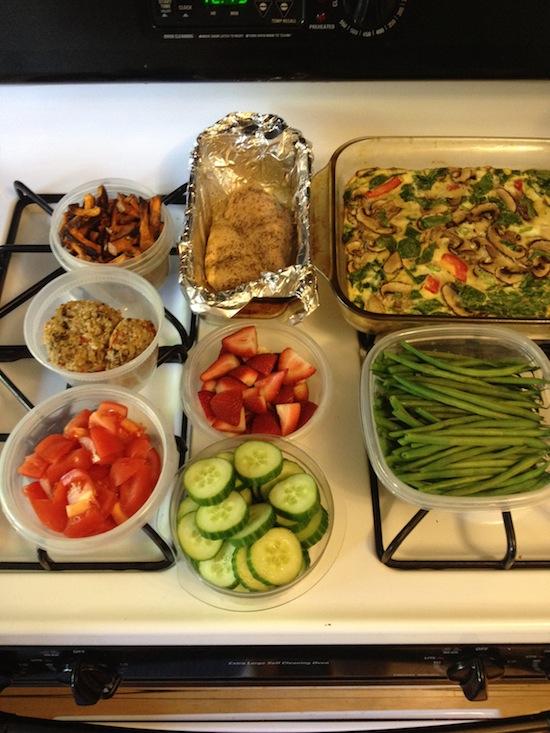 Cindy's Sunday Foodprep-Veggie essentials!
First things first, Veggies! Carrots, onion, cucumber, peppers, chickpeas, and lettuce, oh my!!
These veggies make it very easy to grab a quick salad or make one of my favorite pita hummus sandwichesà WW pita bread, 2 T hummus, handful romaine lettuce, peppers, with reduced fat feta cheese. Add some chicken if you got it. I also, bag up granola to add to Greek yogurt or one of my favorite summer saladsà Romaine lettuce and spinach with strawberries, red grapes, and diced apples. I am loving light raspberry vinaigrette with it.. Another salad is the classic Greek salad with romaine lettuce and spinach, reduced fat feta cheese, red onions, peppers, and chickpeas. Just throw some oil and vinegar on it and eat up. Of course you gotta have snacks. I baggie up cucumbers, carrots and peppers to eat with hummus or by themselves.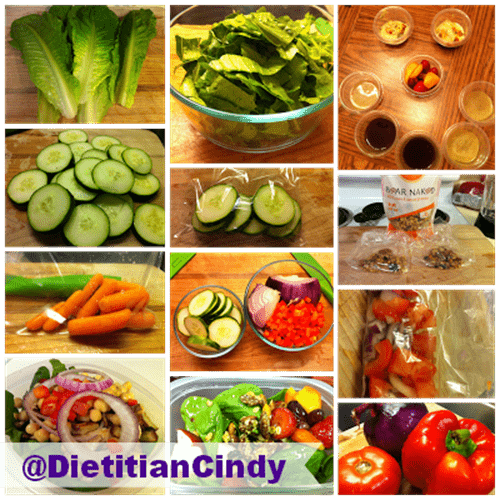 Are you food prepping this weekend? Send me your pic! I'm out of submissions!

Here's what I need from you:
Email me the following:
1. Your Name
2. Your Blog URL (if you have one)
3. A photo of your food prep
4. A short description of what's in the photo. Tell me what you prepped and how you're going to use it during the week!
Every Sunday, I'll post a roundup of the photos I received that week so that you guys can see what others are preparing and hopefully get some inspiration and ideas! I'll keep this series going for as long as I receive photos, so send one every week if you want to!
Send to: theleangreenbean <at> gmail <dot> com
Tweet and Instagram your pics as well to inspire others!! Use the hashtag #sundayfoodprep . Remember that in order for a pic to be included in the post, you have to email it to me! If you have more than one pic, please make them into a collage before sending!
———————
Want more inspiration and tips? Read these:
Top 10 Foods for Sunday Food Prep
How to Prep Food on the Weekend
Weekend Prep for Easy Weekday Meals
How to Eat Healthy in College
How to Eat Healthy During the Week
And check out the Food Prep Tab for links to all the previous Sunday food prep posts!
————
Let's chat: Are you prepping food today? Whatcha makin'?
Enjoy!
–Lindsay–