Hi Friends!
Here's a look at what I prepped last week during my Sunday Food Prep: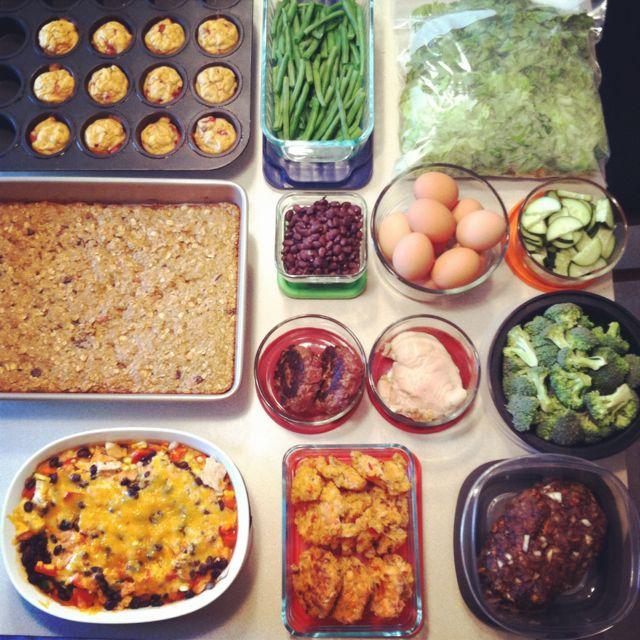 I made:
 Mexican Enchilada Casserole – just a lot of veggies mixed with cooked chicken and black bean and topped with a little cheese and some enchilada sauce mixed with greek yogurt.
Veggies
Black Beans
Hard Boiled Eggs
Hamburgers for hubby
A piece of chicken I didn't use for the casserole
Salmon Cakes – used salmon instead of tuna
Meatloaf for hubby
 ————-
And here's what some of you have been up to:
Melanie at Melanie Ash Fitness–
Prepped this week: steamed green beans, lean chicken breast (crockpot), sweet potatoes, rice, steamed broccoli & cauliflower, fresh veggies sliced.
Not pictured: buffalo balls, turkey balls, roasted zucchini & yellow squash, quinoa pasta, tilapia
During the week I some days I eat at home and others I take my food with me, it depends on the day and the meal but either way all I have to do is measure it out and heat it up, or throw in a container and put it in my cooler bag. It also helps me plan my meals day by day because I know what I have available!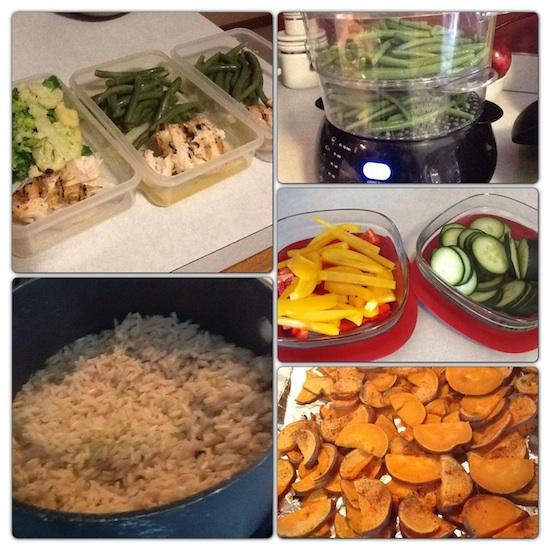 Brandi –
I've made Lindsey's balsamic jalapeño turkey burgers, coconut oil roasted Brussel sprouts-butternut squash-onions, pineapple chopped, hb eggs, quinoa, sliced peppers and onions for turkey sausage night!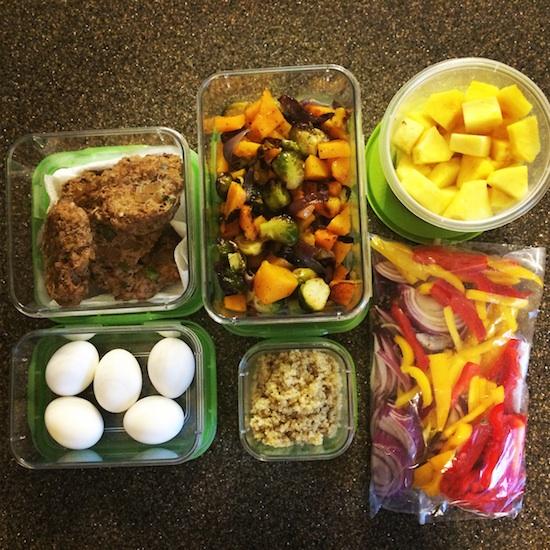 Lizzie –
My homemade "cereal"= raw oats, unsweetened shredded coconut, 

craisins, sunflower seeds, sliced almonds, cinnamon and nutmeg. I add 

some chia seeds, maple syrup, and almond milk in the morning and eat 

it up!

Mason Jar Salads= I make six at a time and they last up to a week. I 

have been loving this dressing. 
Vegetable and Sausage Dutch Oven Bake – can be made with any assortment 

of veggies!

Coconut Lemon Bombs –  for delicious, healthy snacking.
Cauliflower Rice – for burrito bowls or with roasted veggies
Pork Carnitas –  so delicious, to be eaten in a burrito bowl or with a 

side of vegetables, from 

Brussels roasted with bacon
Cut up Pineapple
Roasted Beets and Sweets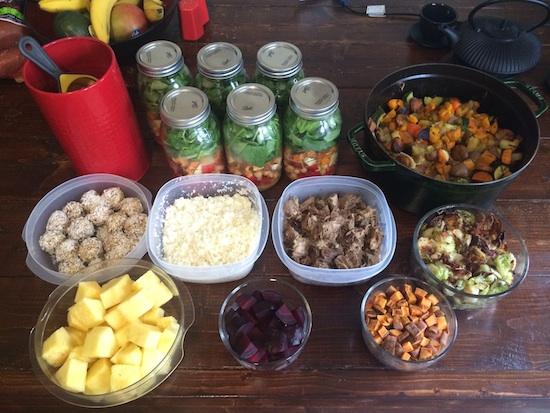 Summer –
I made crackpot salsa verde chicken thighs with peppers, brown rice with steamed snap peas and zucchini seed veggie burgers for dinners. I cut up cucumbers and strawberries for snacks and made my husbands lunches(3x) including veggie burgers, steamed broccoli, cucumber strawberry mix and couscous with red peppers with hotdog. (using leftovers from Sunday BBQ)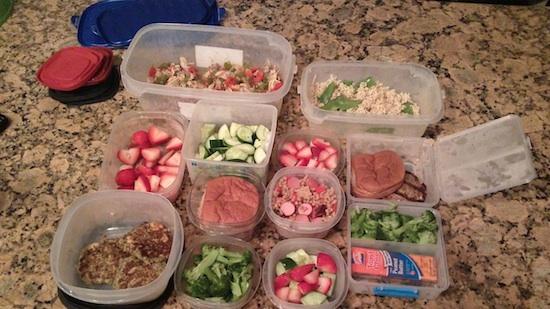 Roxanne at By Bun –
This week, I made a big batch of veggie spring rolls (made with shredded carrots, brown rice, spinach, and crusted tofu – all wrapped up in rice paper).  Then every Sunday, I always restock what I call my 'snack bin' that lives in my fridge.  In my bin I have pre-portioned and healthy snacks to grab and throw into a lunch.  It ranges from blueberries, almonds, mini bell peppers, carrots, celery etc.  On top of that, I prep small containers of greek yogurt or cottage cheese.  Not to mention, I almost ALWAYS have a big bowl of hard boiled eggs ready to go!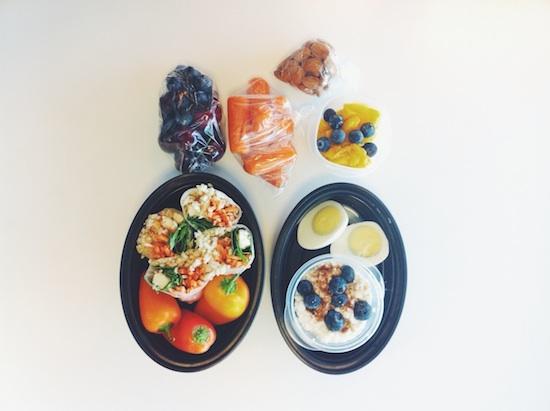 Are you food prepping this weekend? Send me your pic! I'm out of submissions!

Here's what I need from you:
Email me the following:
1. Your Name
2. Your Blog URL (if you have one)
3. A photo of your food prep
4. A short description of what's in the photo. Tell me what you prepped and how you're going to use it during the week!
Every Sunday, I'll post a roundup of the photos I received that week so that you guys can see what others are preparing and hopefully get some inspiration and ideas! I'll keep this series going for as long as I receive photos, so send one every week if you want to!
Send to: theleangreenbean <at> gmail <dot> com
Tweet and Instagram your pics as well to inspire others!! Use the hashtag #sundayfoodprep . Remember that in order for a pic to be included in the post, you have to email it to me! If you have more than one pic, please make them into a collage before sending!
———————
Want more inspiration and tips? Read these:
Top 10 Foods for Sunday Food Prep
How to Prep Food on the Weekend
Weekend Prep for Easy Weekday Meals
How to Eat Healthy in College
How to Eat Healthy During the Week
And check out the Food Prep Tab for links to all the previous Sunday food prep posts!
————
Let's chat: Are you prepping food today? Whatcha makin'?
Enjoy!
–Lindsay–