Hi Friends!
Time for more food prep inspiration! Here's what I prepped last week: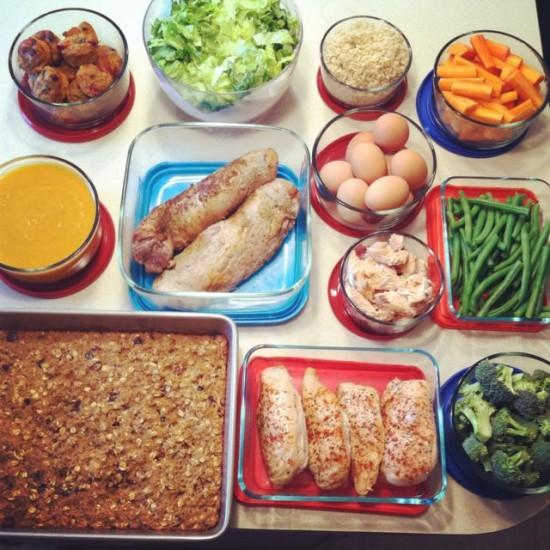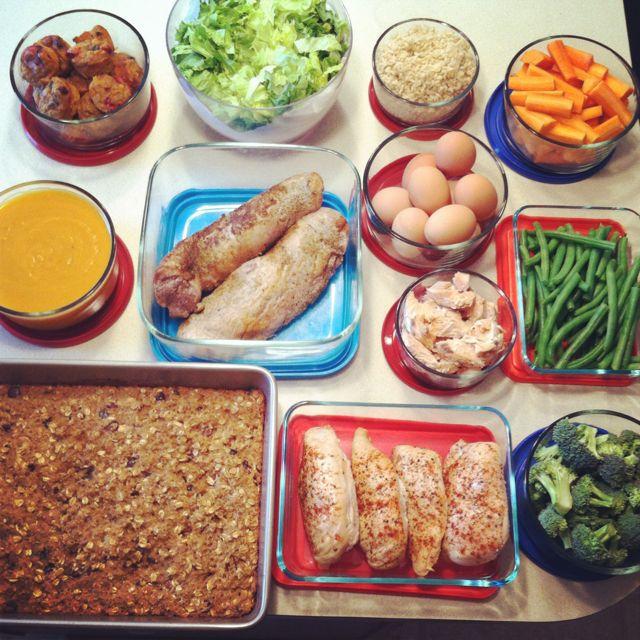 I made:
Quinoa Breakfast Bars
Sweet Potato Soup
Sweet Potato Bites
Lettuce
Pork Tenderloin
Chicken
Broccoli
Salmon
Beans
Eggs
Brown Rice
Here's what you guys have been up to:
Allie-
Shredded chicken in the crockpot for chicken salad and enchiladas. Hard boiled eggs for snacks. Overnight oats for breakfast on the go. Salads w broccoli slaw, mixed greens, craisins, chickpeas, tomatoes and mushrooms- lunch all week! Not pictured – apples, bananas and pre-portioned bags of grapes and blueberries. I workout in the morning so it's important for me to have breakfast and lunch ready to go so I can grab them before heading to the gym and then straight to work!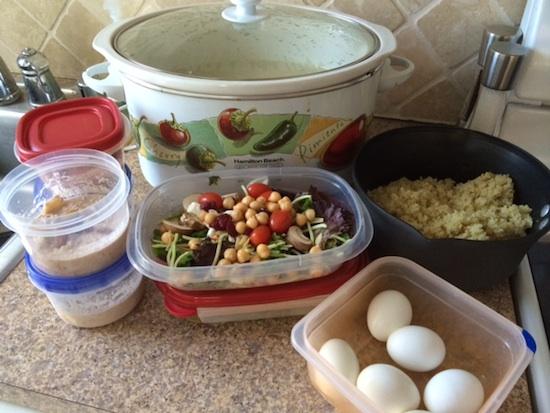 Claire at Intuitive Appetite –
• Salads & Dressing
• Toasted walnuts & pecans
• Spiralized veggies
• Ghee (clarified butter)
• Roasted beets
• Okra & Tomatoes
• Cauliflower Rice
• Roasted Garlic
I typically like to prep all my veggies on Sunday, as I find it makes putting meals together during the week much easier! This way there is no excuse not to eat them everyday! This week I made a couple of salads to accompany lunches and also toasted some nuts for toppings. I made a quick salad dressing with avocado oil and raspberry balsamic. I also made a batch of ghee (clarified butter), which is great for roasting vegetables. Okra and tomatoes are a great dish served on top of the cauliflower rice. Cauliflower rice is easy to make in the food processor and can be served with a variety of dishes. Beets will be used as a side dish and sprinkled with goat cheese and balsamic. The spiralized zucchinis will be served with a meat sauce for a quick dinner. I will be using the spiralized sweet potatoes to make a red curry from the
Inspiralized Blog
. Finally, I love roasting the cloves from a whole head of garlic to keep in the fridge. I have been known to eat entire cloves, but they are also a great addition to chicken dishes, salads, or pastas!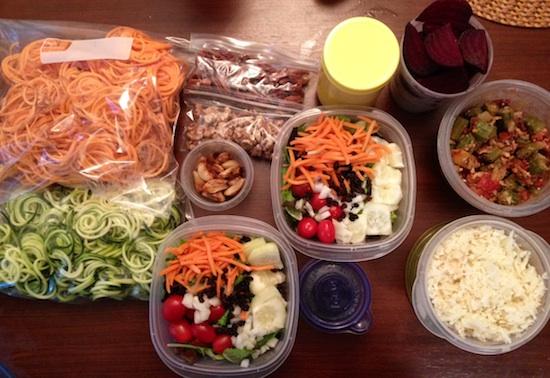 Here's a brief description of what I did for my meal prep:
Protein- chicken or tilapia. I seasoned all the chicken differently to keep it interesting.
With 2 of these sides:
Sweet potato, brown rice, zucchini and spinach with chickpeas sautéed in garlic and lemon juice, lightly salted oven roasted carrots, or quinoa with black beans.
Not bad for my first attempt, eh?
It only took about 2 hours total, dish washing & all. Now I don't have to cook for the rest of the week! That makes this busy grad student very happy.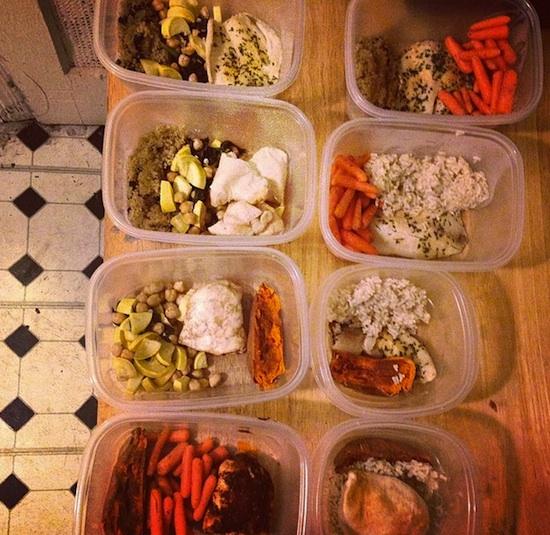 From left to right, going clockwise: an assortment of snacks, string cheese with nuts, baggied fruit, and yogurt with strawberries; broccoli sauteed in the bacon fat leftover from frying up bacon for the salads and ground pork rinds for low-carb breading (used it for my 
Oven-Fried Chicken Breast
); salads for lunch: tuna and BLT avocado; 
Breakfast Casserole Muffins
. 🙂
1. Roasted Veggies
2. Chicken Breasts and Fish
3. Oatmeal Sandwich Bread
4. Cut Fresh Veggies
5. Packaged Carrots and Nuts
6. Boiled Eggs
7. Salad-In-A-Jar(s)
8. Greek Yogurt and Blueberry Preserves
9. Turkey Sausage and Egg Breakfast Burritos
10. Chicken and Fish Packed lunches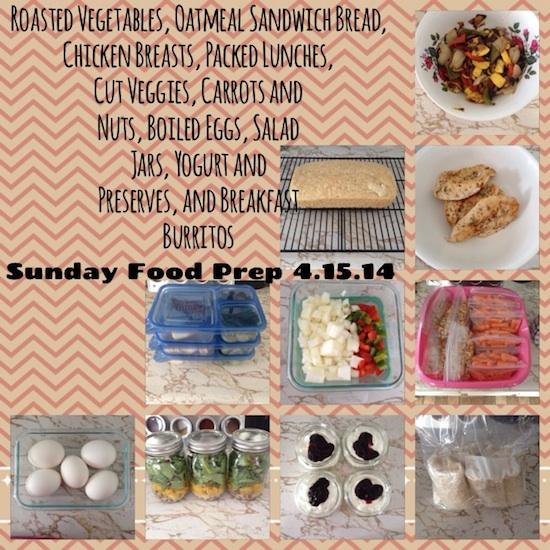 Are you food prepping this weekend? Send me your pic! I'm out of submissions!

Here's what I need from you:
Email me the following:
1. Your Name
2. Your Blog URL (if you have one)
3. A photo of your food prep
4. A short description of what's in the photo. Tell me what you prepped and how you're going to use it during the week!
Every Sunday, I'll post a roundup of the photos I received that week so that you guys can see what others are preparing and hopefully get some inspiration and ideas! I'll keep this series going for as long as I receive photos, so send one every week if you want to!
Send to: theleangreenbean <at> gmail <dot> com
Tweet and Instagram your pics as well to inspire others!! Use the hashtag #sundayfoodprep . Remember that in order for a pic to be included in the post, you have to email it to me! If you have more than one pic, please make them into a collage before sending!
———————
Want more inspiration and tips? Read these:
Top 10 Foods for Sunday Food Prep
How to Prep Food on the Weekend
Weekend Prep for Easy Weekday Meals
How to Eat Healthy in College
How to Eat Healthy During the Week
And check out the Food Prep Tab for links to all the previous Sunday food prep posts!
————
Let's chat: Are you prepping food today? Whatcha makin'?
Enjoy!
–Lindsay–