Hi Friends!
It's Sunday. That means I've got some more food prep inspiration for ya!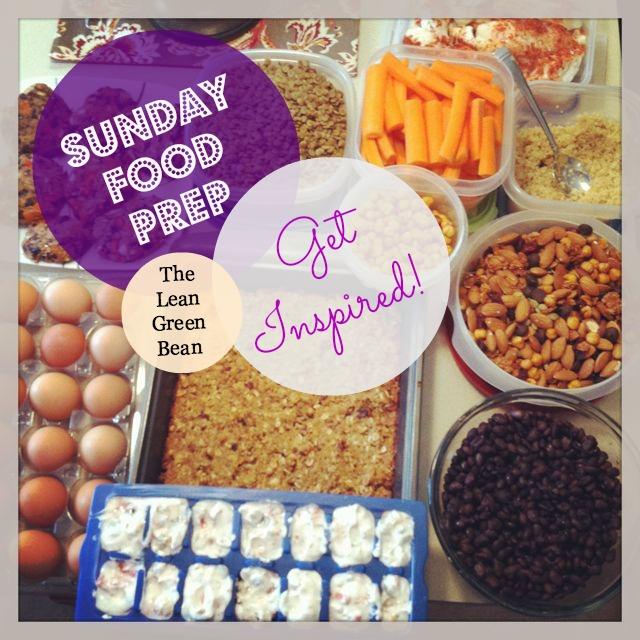 Here's what I made last weekend: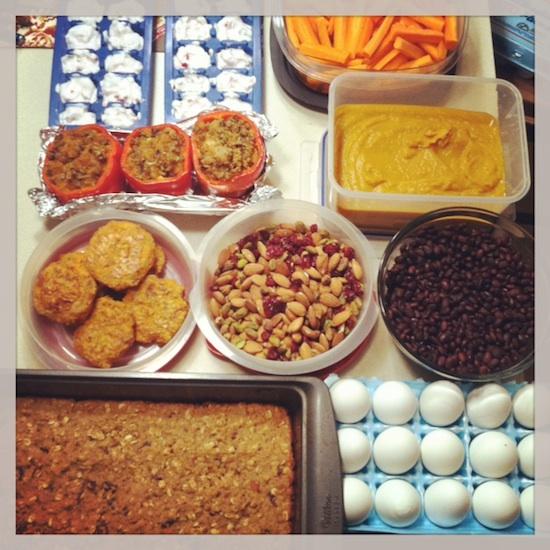 I was tired, but still managed to make the following:
Shrimp & Lentil Stuffed Peppers
Carrots
Trail Mix
Black Beans
HB Eggs
And here's what everyone else has been up to!
Sara @ Fitcupcaker :
I made a version of my Blueberry Muffin Bake called the Berry Protein Loaf.  This has tons of protein and fruit to keep you full for the morning. I divided it into 4 servings, so each can be reheated whenever I want them!
I also hard boiled some eggs just to have on hand for quick snacks or for a salad topping. I washed and chopped carrots and celery.  These are great to have for dipping in peanut butter or humus!  Easy to pack for lunch!
Last but not least I made my No bake protein cookies!  Delicious and healthy to satisfy my sweet tooth!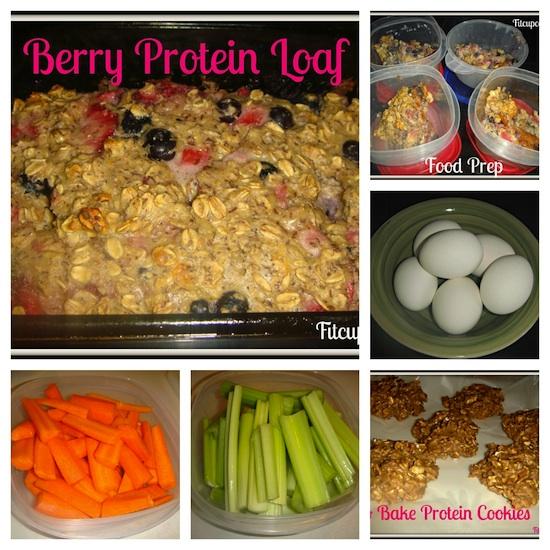 Cassie @ Back to her Roots :
I've always been a big of fan of food prep, but now that I'm working from home full-time, it's really important to make healthy food accesible for me. If it's super easy to just grab a handful of carrot sticks instead of dig my hand into the chocolate chip bag, I'm so much more apt to eat healthy. Here's what I did for the week.
Chopped carrots, celery, cucumbers and cherry tomatoes: I'm pretty terrible about browsing the contents of the fridge when I'm bored (or, honestly, procrastinating), and having these veggies around for just that kind of bored eating really helps keep me on track.
Peanut butter chia granola bars: Great for snacks or a grab-and-go breakfast.
Blueberry banana overnight oats: I'm terrible about eating breakfast. But I've found I'm a lot better at it if I make it super easy. What's easier that pulling a jar out of the fridge and sticking a spoon in it?
Fruit and Greek yogurt parfaits: Another great breakfast option, but I really love these for snacks. Tons of protein and a little burst of sugar from the fruit. Awesome for an afternoon pick-me-up.
Roasted veggie and black bean rice: I made extra rice, black beans and spicy roasted veggies from a recipe over the weekend, so I mixed it all together to make a great lunch option.
Hard-boiled eggs: My favorite source of cheap and portable protein.
Salads-in-a-jar: I'm not a huge salad fan, but in these I have roasted chicken, feta, sprouted lentils and other salad veggies. Yum!
Peanut butter date balls: I'm not eating sugar right now, so these date-sweetened balls of protein area a great snack and sub-in for dessert right now.
Hummus tuna salad: We love to eat this with rye crisps. I mix in tuna, hummus, celery, walnuts, fennel seeds and lots of salt and pepper.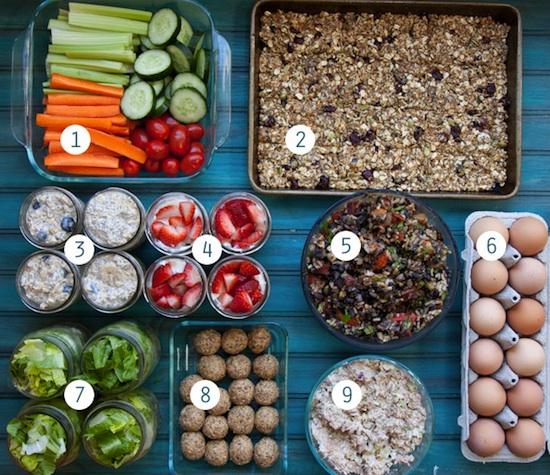 Taylor @ Mama Tay LeMay :
I prepped hardboiled eggs, salsa chicken, turkey taco meat, two bbq pork slow cookers, black bean soup, pumpkin protein bars, cheesy quinoa bites, egg muffins, and turkey muffins/meatballs and then I prebagged veggies for convenience – Recipes can be found in THIS POST.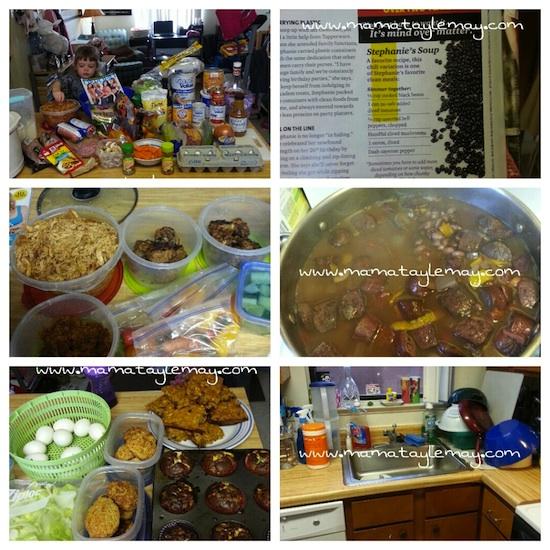 Jessie from Jumping JE :
I used to be so in awe of the co-workers with matching tupperware sets who would bring gourmet lunches everyday. So polished, so organized and so ahead of the game. It was a mystery how they did it, and it always seemed to be the women who had the most going on in their personal lives who could pull it off! A second job, children, a serious workout schedule – you name it!
Once I entered the blogging world I was enlightened by the secret of weekend food prep and I've never turned back! My staples each and every Sunday are 2 cups worth of dry quinoa, a huge pot of steamed veggies, grilled chicken, hard boiled eggs, an easy packable treat (trail mix, energy bites), bananas for every day, yogurt for every day and a few more veggies and fruits to round out the meals.
If you're not doing weekend food prep you're missing out on one of the most time-saving activities you can do for yourself!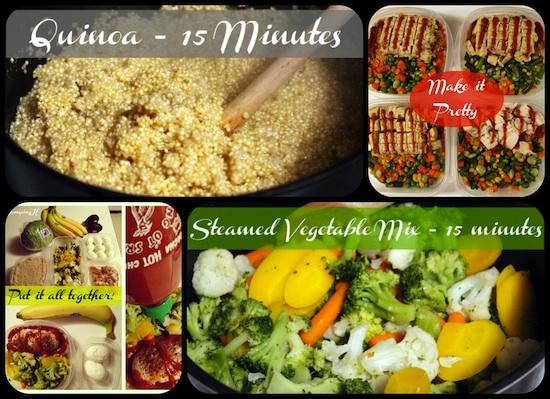 Morganne from Nut Butter Runner :
This week is my Spring break so I didn't have to do too much to prep for the week, but I still wanted to do some things to make my life (and the hubby's!) a little easier!
So I made more individual spinach herb frittatas and quinoa breakfast bars for the mornings and snacks. I love these to snack on, but the hubby will warm them up for breakfasts!
I hulled 3 pounds of strawberries and cut up a pineapple for easy grabs. I baked a spaghetti squash and some chicken for lunches or dinner, and also made a batch of quinoa. And lastly I made some hard boiled eggs for snacks or lunches!
Prepping once for a week full of healthy eats makes life so much better!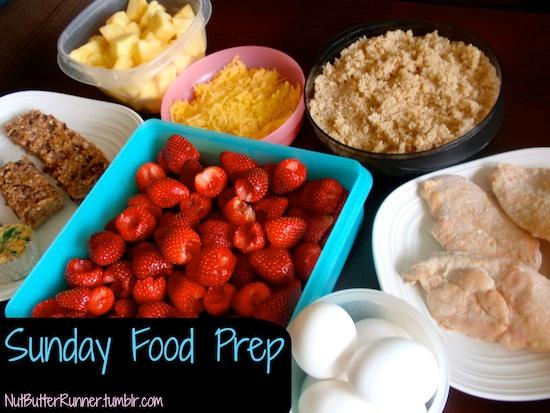 Kat from Sneakers and Fingerpaints :
I usually make kale, broccoli, zucchini and other green veggies every Sunday. We roast them with light olive or coconut oil and   sea salt. Also, we put chicken breast in the crockpot to cook throughout the day to get tender. Then we make quinoa and basmati brown rice. Typically I don't cook whole meals, but make many different lunch options for us to make our healthy bowls for lunch or dinner in some cases; with me studying for my CPT exam and us both working full time it's been the easiest way for us to eat clean and on the go!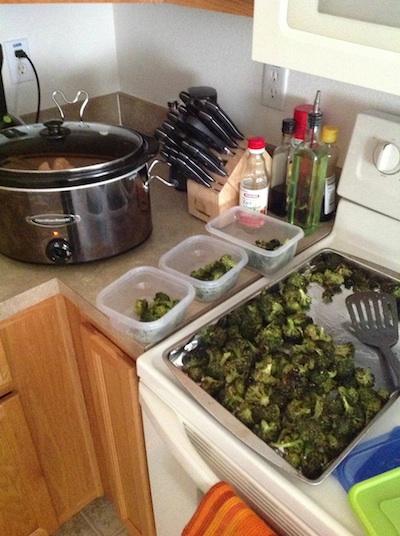 Abby:
Mini frittatas: eggs and egg whites with spinach, red pepper and feta
Chicken and black beans: 1 10oz can of chicken breast, 1 can of black beans and 1 can Rotel tomatoes with green chilis. I found this recipe on pintrest but swapped out tuna for chicken because I knew I would be making the salmon salad this week too
Salmon salad: 1 14oz can of wild Alaskan salmon and 2/3 cup 2% Greek yogurt (next time I think I will only use 1/2 cup Greek yogurt for this amount of salmon)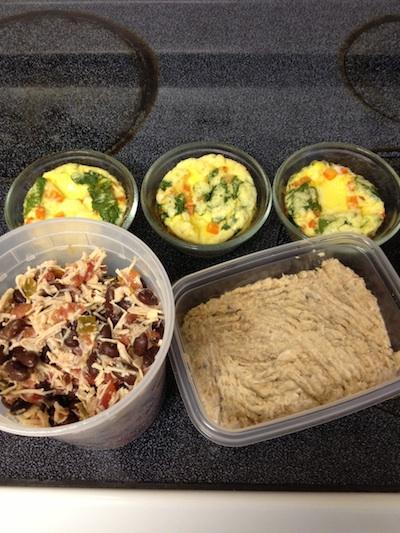 Deb from It's All About Me Fitness :
Thai Butternut Squash Soup from freezer (2 weeks ago food prep), Chana Masala (Indian chick pea stew ~ crock pot version), hard boiled eggs, quinoa bars, black eyed peas for spicy side dish later in the week and Greek Orzo Salad w/ Pepperoncini & Kalamata olive!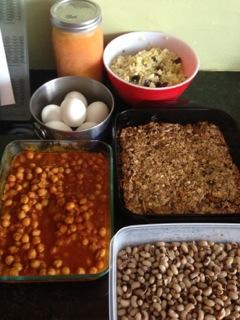 Amy from A Mrs. and a Mr. for Life :
Whole Grain Vegan Blueberry Muffins
Kale, Potato & mushroom mix
Vegan Cream of Broccoli
Whole grain noodles with cabbage
Baby carrots
Red and Green grapes
Trail mix
Oranges
The blueberry muffins are for breakfast or quick snack.
Kale, potato & mushroom mix, Vegan cream of broccoli and whole grain noodles with cabbage are for lunches and dinners.
Baby carrots, grapes, trail mix and oranges are for snacks.
I also have peanut butter, apples, and other various options for my juicing.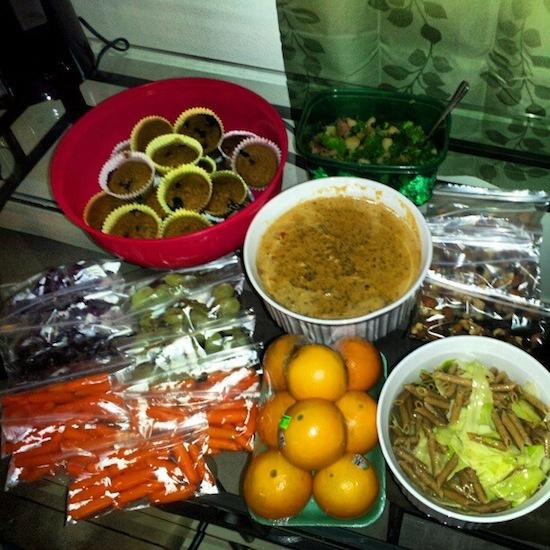 Inspiring isn't it?! Be sure to check out all the amazing blogs that are linked to in this post! Such great ladies!
Are you food prepping this weekend? Want to submit a pic to be featured in an upcoming post?! Here's what I need from you:
Email me the following:
1. Your Name
2. Your Blog URL (if you have one)
3. A photo of your food prep
4. A short description of what's in the photo. Tell me what you prepped and how you're going to use it during the week!
Every Sunday, I'll post a roundup of the photos I received that week so that you guys can see what others are preparing and hopefully get some inspiration and ideas! I'll keep this series going for as long as I receive photos, so send one every week if you want to!
Send to: theleangreenbean <at> gmail <dot> com
Tweet and Instagram your pics as well to inspire others!! Use the hashtag #sundayfoodprep . Remember that in order for a pic to be included in the post, you have to email it to me! If you have more than one pic, please make them into a collage before sending!
———————
Let's chat: Are you prepping food this weekend?!
 Enjoy!
–Lindsay–