Hi Friends!
Time for more food prep inspiration!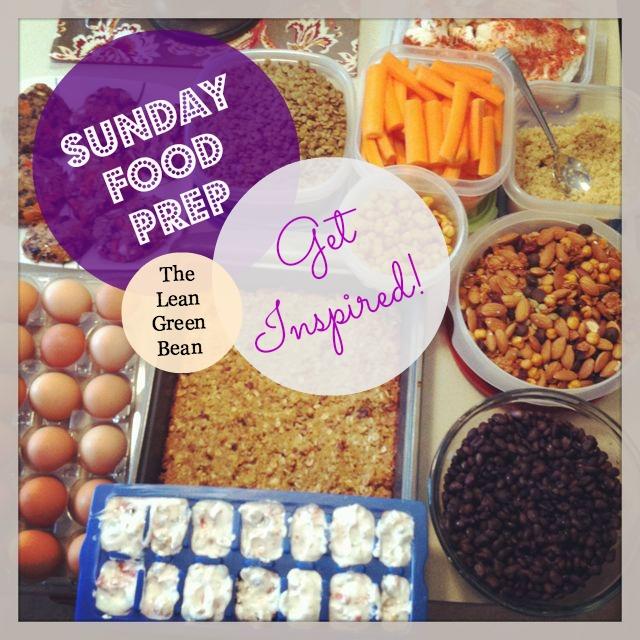 Like I mentioned, I didn't have time to prep last weekend. Instead I shared 10 Foods That Freeze Well that can help you out on busy weeks when you just can't find time to prep!
Lucky for me, though, you guys are on top of your game…so here's what you've been up to in the kitchen:
Lena at Lean Lena –
Every Sunday I prep my lunches and snacks for the week. This week I made salads (lettuce, chicken breast, quinoa, sweet potato, bell pepper, green onions, feta), a turkey breast sandwich, and celery, carrots, apples and string cheese for snacks.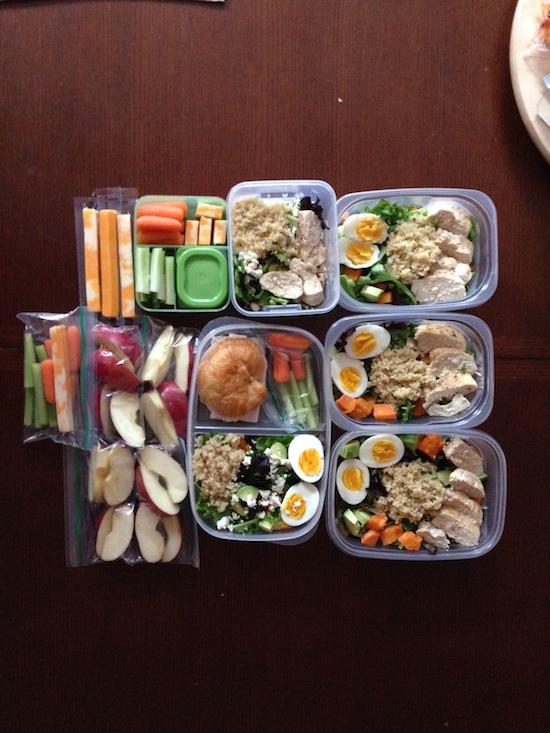 Morganne at Nut Butter Runner –
This week's food prep was all about maximizing my time in the kitchen. I wanted to take advantage of the nice weather outside and spending time with friends and family, so it was all about multitasking!
Kabocha squash
Peppers
Energy bites
In total, I probably spent an hour actively prepping food for the week.
If you are interested in food prepping, I recommend going in with a plan and making it easy for yourself. Start small with a few basics that you know will help make your week easier!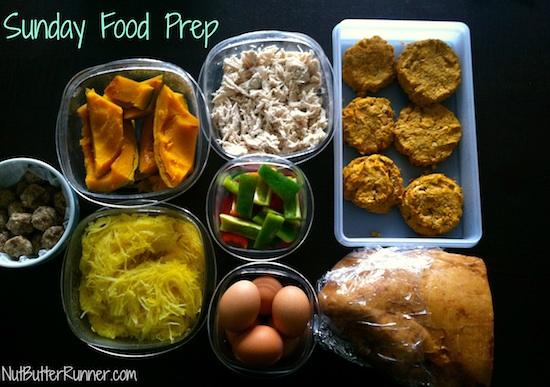 Lynn at Nutrition.Health.Life –
Sundays are busy days at our house. J  cleans (could I be any luckier?!) while I cook up a storm in the kitchen. During rotations I just don't have time to cook during the week. And if I do have time, I really don't want to slave away in the kitchen after a 10-12 hour day. Here is an example of what we eat for the week:
Back Left – Salads
Fresh lettuce washed and chopped, ready to eat
Celery sticks, washed and trimmed
Cucumbers and Tomatoes, washed and diced, ready for salads
Front Left – snacks
Mixed nuts (low salt), 1/4 cup portions in individual baggies
Center – Breakfast and Lunch
Roasted mixed vegetables with wheat pasta and balsamic vinegar. Roasted veggies are so easy – just throw them in a large pan, toss with olive oil and spices, and roast at 425F for 30 minutes stirring every 10 minutes or so to prevent burning.
Egg Bakes – the easiest way to get a vegetable serving in before 7am
Back Right – Dinner
Crock pot chili, half for this week and for the freezer for a week when I don't want to cook 
Front Right – Dessert
Black bean brownies, because pregnant women love chocolate and desserts…and since I'm a dietitian I will feel less guilty if I know they are full of nutritious black beans.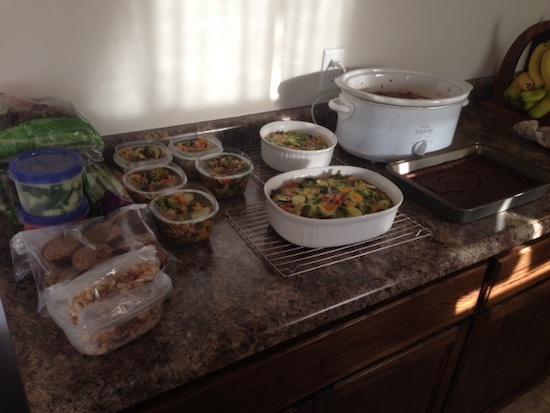 Regan at Healthy Aperture –
Green Smoothie Bags for the freezer (inspiration from Sally @ Real Mom Nutrition) – pineapple, peaches, bananas & spinach
Roasted Pork Tenderloin
White Bean Salad (I've started building my salads in reverse to keep the dressing and "wilting" ingredients on the bottom. Keeps the salad fresher and puts all the "goodies" on top when inverted into salad bowl later)
Salad in a jar (also built in reverse) – these are greens, black beans, cherry tomatoes, pineapple and a dressing made of canola oil, lime juice, crushed chipotle peppers and ground cumin
Sauteed chicken tenders
Roasted Veggie Lasagna – made with roasted red, yellow & orange bell peppers, roasted asparagus, whole grain lasagna noodles and filling of cottage cheese, beaten eggs and whey powder, topped with mozzarella and Parmesan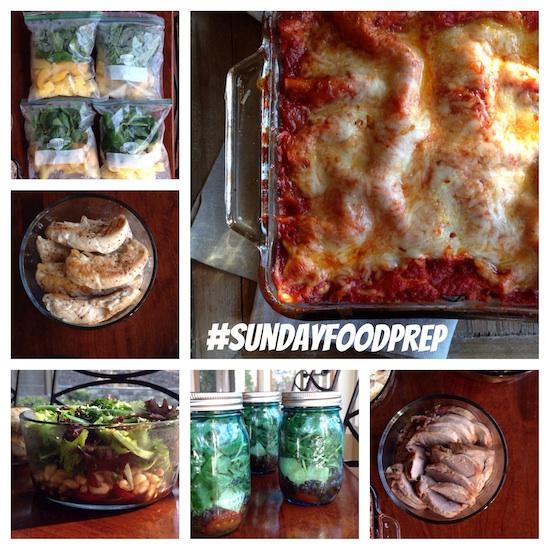 Katie at 24 Carrot Life –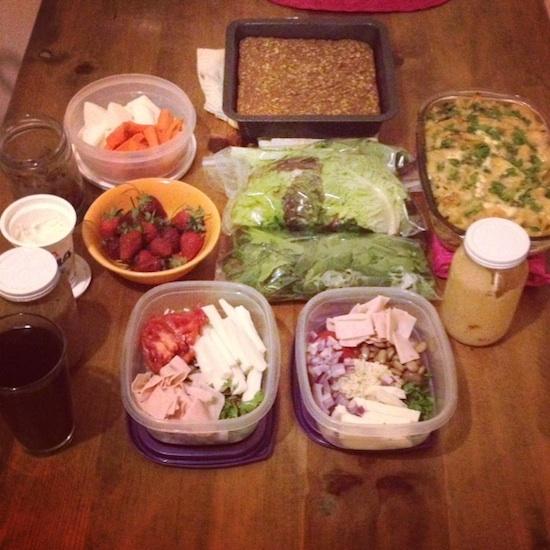 Are you food prepping this weekend? Send me your pic! I'm running low on submissions again.

Here's what I need from you:
Email me the following:
1. Your Name
2. Your Blog URL (if you have one)
3. A photo of your food prep
4. A short description of what's in the photo. Tell me what you prepped and how you're going to use it during the week!
Every Sunday, I'll post a roundup of the photos I received that week so that you guys can see what others are preparing and hopefully get some inspiration and ideas! I'll keep this series going for as long as I receive photos, so send one every week if you want to!
Send to: theleangreenbean <at> gmail <dot> com
Tweet and Instagram your pics as well to inspire others!! Use the hashtag #sundayfoodprep . Remember that in order for a pic to be included in the post, you have to email it to me! If you have more than one pic, please make them into a collage before sending!
———————
Want more inspiration and tips? Read these:
Top 10 Foods for Sunday Food Prep
How to Prep Food on the Weekend
Weekend Prep for Easy Weekday Meals
How to Eat Healthy in College
How to Eat Healthy During the Week
And check out the Food Prep Tab for links to all the previous Sunday food prep posts!
————
Let's chat: Are you prepping food today? Whatcha makin'?
Enjoy!
–Lindsay–