Hi Friend!
Time for more food prep inspiration! Here's what I prepped last week: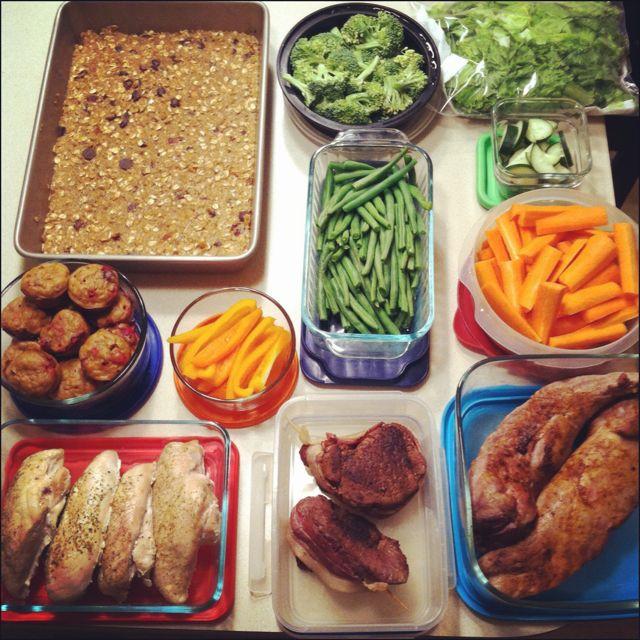 Chicken
Hubby make steaks
Pork tenderloin
Veggies
Here's what you guys have been up to:
Jessica at Lovely Foodie –
Here's my Sunday Food Prep:
Chicken Breasts, Fish, Carrot Sticks, Sausage Egg and Cheese Burritos (I'll freeze them and use when needed) Protein Bars with Peanut Butter, Oats, Vegan Protein Powder, Raisins and Almonds and some Hard Boiled Eggs.  Not Pictured: Lettuce for Salads, and Sliced Veggies.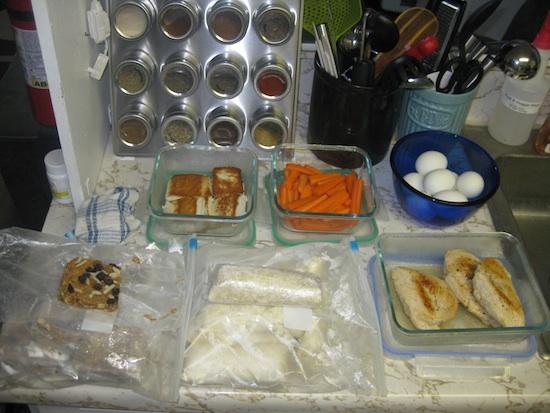 Clare at Fitting It All In –
I  was craving salads during the week, but needed something I could easily bring to school with me. To save time. I chopped and washed a mix of lettuces and placed them in individual  bags for each day. Then I chopped peppers, cherry tomatoes and cucumber. Those went into individual baggies with some drained black beans as well. Now all I have to do is sliced on avocado and toss with dressing!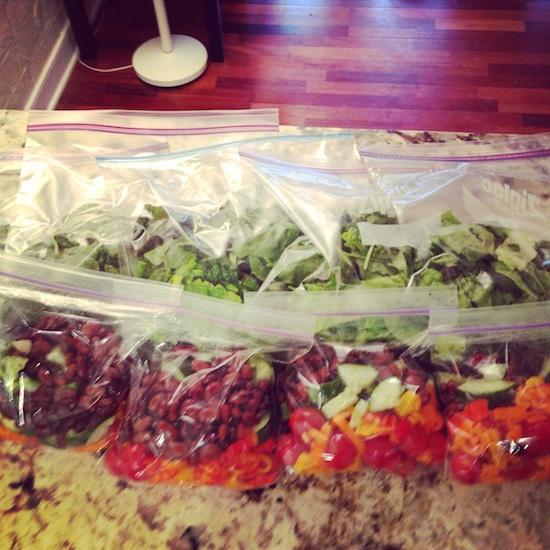 Megan at Life on Planetmarsz –
I washed and cut up celery to have on hand either for snacks or to cook with later (I ended up eating the celery with my lunch everyday). I made my husband some chicken salad so he can just grab it for his lunches either at work or when he's at home (fat free mayo, diced celery, dill relish), and put them in two separate grab-and-go containers. I tried a new cookie recipe for when I get hit with my sweet tooth (
blueberry oatmeal cookies
). I also tried a protein muffin recipe so I can grab one for a mid-morning snack for work. I changed the recipe from the 
pumpkin cinnamon roll protein muffins
 I found on 
Pinterest
. I also pre-made Italian turkey meatballs for a 
meatball casserole
. Finally I pulled out some  beef veggie soup from the freezer that M's mom had made for us. I've been taking some for my lunches at work along with a sandwich.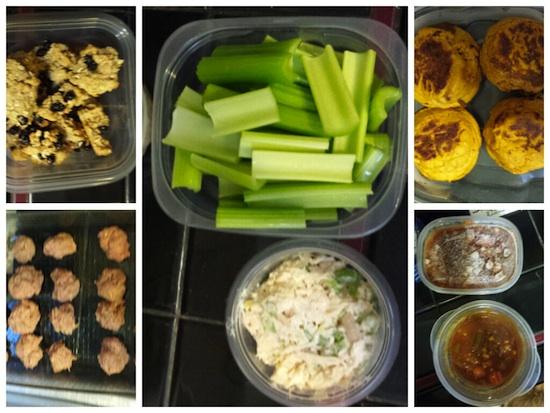 I made some hard boiled eggs for snacking/breakfasts, chopped up some lettuce for a salad at lunch tomorrow. I also roasted the squash to make the enchilada filling and made the sauce for them. Lastly I made a batch of my 
Whole Wheat Pizza Dough 
since I was out and will need it on Friday for pizza.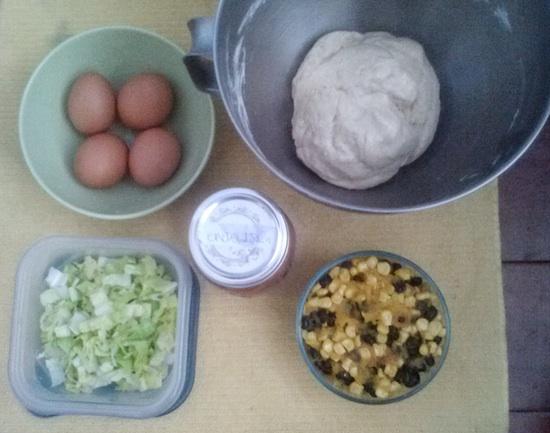 I wanted to keep things simple this week with a few basics! A couple of protein options prepped will make it easy to get through the week. So here's what we have: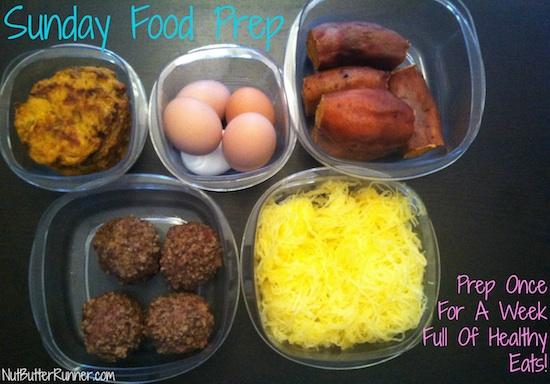 Kelly at The Fit Skool –
Here is my sunday food prep:
oven roasted potatoes these are great for a side dish or with eggs at breakfast!
Chicken breasts for easy sandwich or salad toppers
Apple & fennel salad a great refreshing side dish at lunch time
Pumpkin Bran Muffins I love these muffins for breakfast or for an on-the-go snack
Snap peas & carrots for quick portioned snacks
Mixed nuts and dried fruit a yummy filling snack
Peanut butter protein bites great post workout fuel
fresh fruit another great healthy snack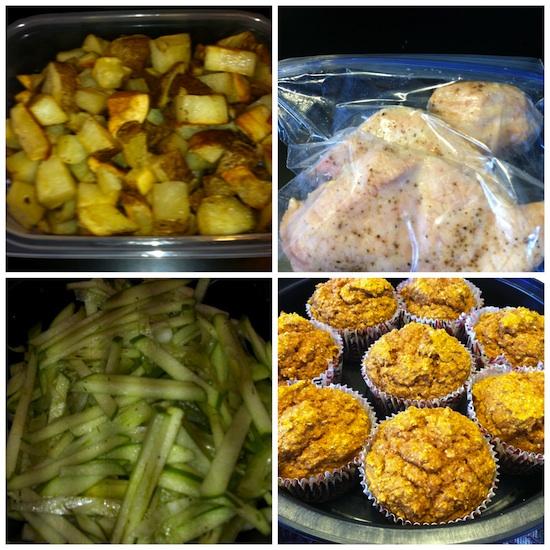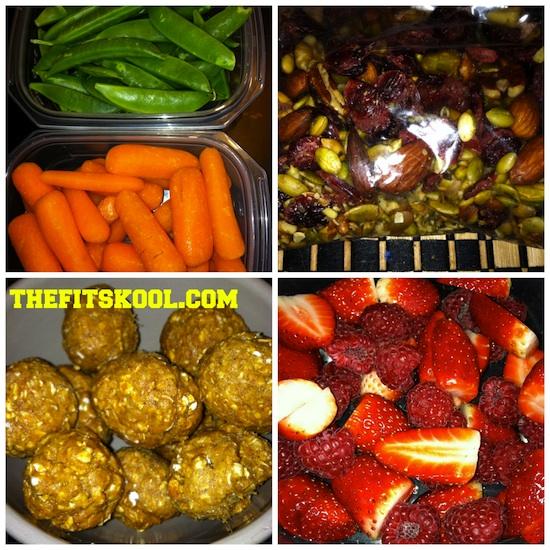 Are you food prepping this weekend? Want to submit a pic to be featured in an upcoming post?! 

Here's what I need from you:
Email me the following:
1. Your Name
2. Your Blog URL (if you have one)
3. A photo of your food prep
4. A short description of what's in the photo. Tell me what you prepped and how you're going to use it during the week!
Every Sunday, I'll post a roundup of the photos I received that week so that you guys can see what others are preparing and hopefully get some inspiration and ideas! I'll keep this series going for as long as I receive photos, so send one every week if you want to!
Send to: theleangreenbean <at> gmail <dot> com
Tweet and Instagram your pics as well to inspire others!! Use the hashtag #sundayfoodprep . Remember that in order for a pic to be included in the post, you have to email it to me! If you have more than one pic, please make them into a collage before sending!
———————
Want more inspiration and tips? Read these:
Top 10 Foods for Sunday Food Prep
How to Prep Food on the Weekend
Weekend Prep for Easy Weekday Meals
How to Eat Healthy in College
How to Eat Healthy During the Week
And check out the Food Prep Tab for links to all the previous Sunday food prep posts!
————
Let's chat: Are you prepping food today? Whatcha makin'?
Enjoy!
–Lindsay–